Valentine's Day celebrates love in all its shapes, colors, relationships, and rhythms and Crush Arizona was the perfect way to remind us how much we all care about each other.
---
Crush Arizona once again united us with music, friends, and love. The single day event brought us back to the Rawhide Western Town & Event Center for some great headliners and even greater company. Whether you brought your significant other to the event or were the single pringle of your group, the night was full of great memories worthy of the Valentine's Day celebration.
Relentless Beats and Insomniac Events captured everything we love about raves on the perfect scale for an event of its size. Crush Arizona was well organized, the production was on point and the people that attended helped showcase the true meaning of Valentine's Day, a celebration of love for one another. Read on for three of my favorite things about this year's edition and be sure to check out the rest of our photo album on Facebook!
From kandi trades, to rave anniversaries, and an actionable throwback, everyone made memories at Crush Arizona.
---
PLUR is the cultural expectation at events like Crush and it is alive and well.
Peace Love Unity Respect, it's an exchange of self in the form of kandi bracelets, necklaces, or cuffs. At most events, you can find attendees that wear a few pieces of kandi while other attendees can hardly find space on their arms for them. Each piece takes time to make ranging from a few minutes to hours depending on complexity.
I don't normally wear kandi when I have my camera with me. The pieces all along my arm can get in the way of how I need to take a photo. Just before Kaskade's set I met Jesse, Courtney, and Dylan. Three friends that had brought Jesse to his first event. Their smiles were infectious and we all bonded over the fact that Kaskade would be playing.
While we were chatting Dylan noticed that I wasn't wearing any kandi and initiated the handshake. He gave me a multi-colored piece with the word Kaskade across it. They lived in Arizona and after we exchanged information we promised to meet up for Phoenix Lights in just over a month. I wasn't wearing any that night, but now I know I'll have the chance to give him one in the future.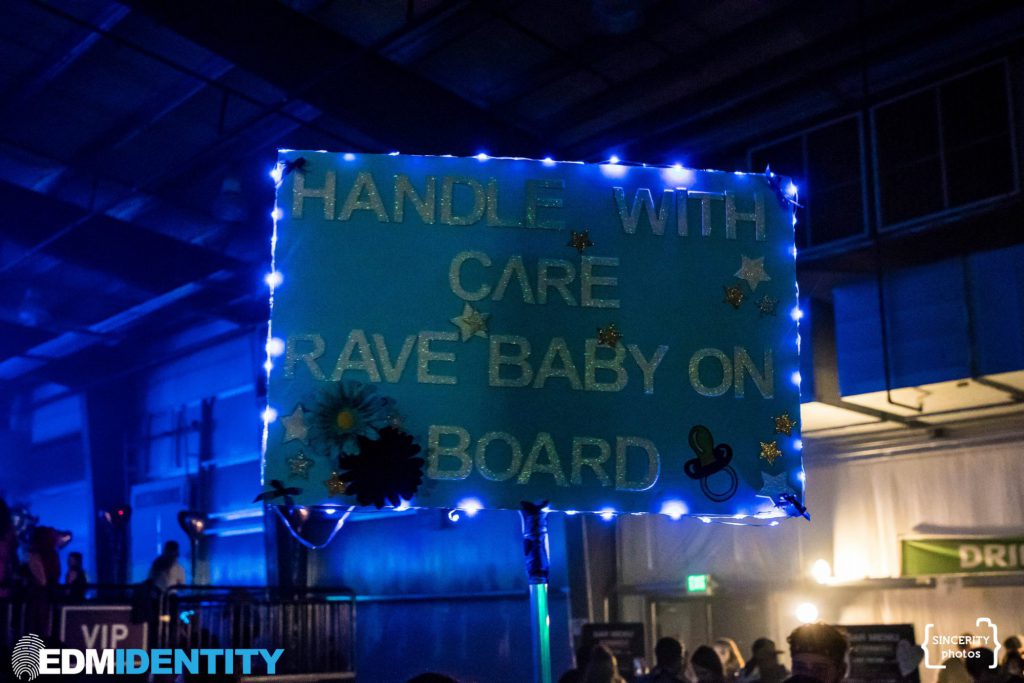 Totems are great ways to make people smile and the fastest way to find your friends
The totems at Crush Arizona were a combination of creative and personal. We saw many of the same totems from previous Arizona events as well as a few new ones. One group brought an inflatable air dancer, the kind that you see outside of car washes or dealerships. He was red and wore a name tag that read Lt. Dan. Another group on the rail was using Kaskade's face on a poster board shaped like a heart.
The totem pictured above was from a group helping celebrate the 3 year anniversary of a couple of their friends. They had first met at Crush Arizona and this year were celebrating the baby they now had on board. Ranging from poster board to giant perlers depicting a scene from the One Piece anime, each way the groups chose to display their totems they were all pretty great.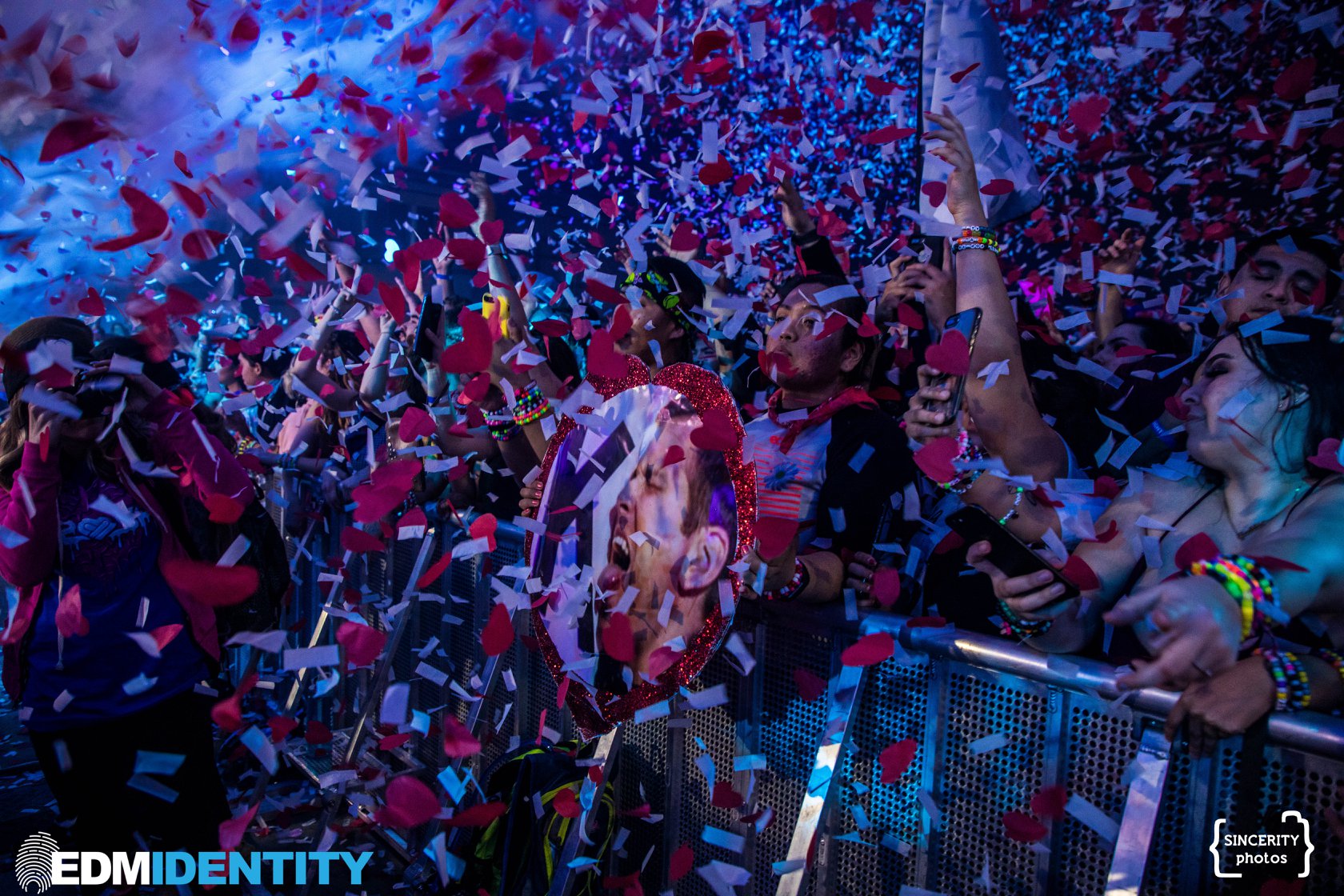 The production of Crush Arizona was perfectly assembled, decorations, lasers, confetti, and of course a sense of humor
Inside the warehouse was the stage. Lined with giant LED panels on both sides and one behind the DJ deck encompassed by a giant heart design. The lights, lasers, and visuals were very fitting for each DJ that performed. Additionally, when the confetti cannons went off there were paper hearts mixed in too.
A part that made us smile was how they trolled the crowd about Carnage's performance. Just before his set they got on the mic and said that due to a petition circulating they would be canceling Carnage's performance. As everyone let the news sink in and thought that Kaskade would be on next, Carnage got on the mic and said a few choice words to the petitioners. It was a light-hearted move that definitely made us laugh.
One of my favorite installations in the venue was a giant, red, and glittering heart above a cardboard stump. It was designed like a tree so that attendees could write their names on it. By the end of the night, almost the entire body was covered in names and hearts. A beautiful throwback to the times when lovers would carve their initials into tree stumps.
What was your experience like at Crush Arizona this year? Let us know in the comments!
---
Connect with Crush Arizona on Social Media: