See what new additions Torque Events has for their festival!
---
Los Angeles may be the City of Angels, but for two days in March, Sacramento, CA will be the City of Unstoppable Wubs with the introduction of Metropolis Festival. Presented by Torque Events, the Phase 1 lineup of this fest included gnarly bass masters FuntCase, Subtronics, and many more. With an already stacked lineup, I wasn't sure who could've possibly been added to the card to surpass my expectations, but I'm happily surprised.
The second phase of the Metropolis lineup reached deep into the grotesque dubstep arena we know and love and pulled out Downlink and MUST DIE!, who will be headlining the festival alongside FuntCase. Also added to the card are TrollPhace, HEKLER, and XaeboR, who will undoubtedly amplify this groundbreaking experience and make Metropolis Festival a must-do on your spring event checklist.
Torque Events, circa March of 2017, is a company created by Isabella Kelly and Cameron Almasi after working at larger event companies. Their mission is to "create an experience for those who want to roll the windows down, hit the gas, and watch the road disappear beneath them." With a lineup like Metropolis', they're sure to accomplish all of that and more.
Metropolis will be taking place March 9-10 in 2018 in Sacramento's CWH Event Center. All ages are welcome, and there will be a 21+ VIP area. Free water will also be available at the event – with how hard you'll be going, you're going to need it.
If you're in the area and are in need of some serious neckbreaking, I fully recommend checking out this event and raving into the night with Dr. Ozi, Ray Volpe, and many more. Tickets for Metropolis are on sale here, so be sure to grab yours!
---
Metropolis 2018 Phase Two Lineup: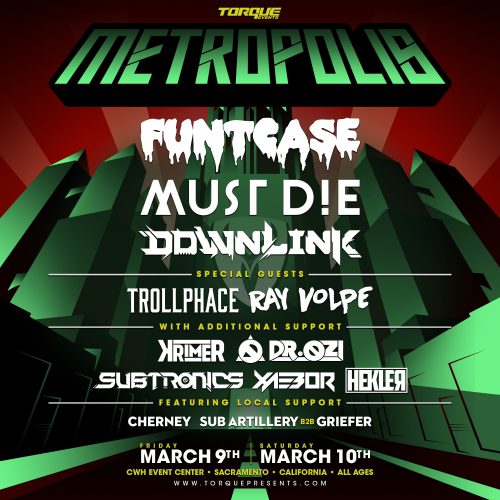 ---
Metropolis 2018 Phase Two Lineup by Artist:
Funtcase
MUST DIE!
Downlink
TrollPhace
Ray Volpe
Krimer
Dr. Ozi
Subtronics
XaeboR
HEKLER
Sub Artillery
Griefer
Cherney
---
Connect with Torque Events on Social Media: