Insomniac's annual spring festival in Southern California, Beyond Wonderland, is set to return this coming March!
---
Over the past few weeks, Insomniac Events has been teasing their followers on the Beyond Wonderland social media account with videos showing off the history of the festival. While generating hype surrounding this year's edition of Beyond Wonderland SoCal, the question remained as to which dates this festival would be returning. As of this weekend, that question has been answered.
Found on flyers after Countdown NYE this past weekend was some more info regarding the 2018 edition of Beyond Wonderland SoCal. Slated for March 16 & 17, the event will return to the NOS Events Center to take Headliners on a journey into a world full of costumed characters and awesome production elements for an unforgettable weekend. Tickets for Beyond Wonderland SoCal 2018 will go on sale Thursday, January 11 at 12 pm.
The event will only be further enhanced by the soundtrack over the course of the event and while the lineup hasn't been released yet, we definitely expect to see it soon. Last year's edition of the festival featured a stacked lineup that brought with it plenty of quality sets. Artists like Diplo, Illenium, Paul Van Dyk, Chris Lake, and more swayed crowds in all the right ways over the course of the event.
Beyond Wonderland SoCal 2018 Dates & Venue Flyer: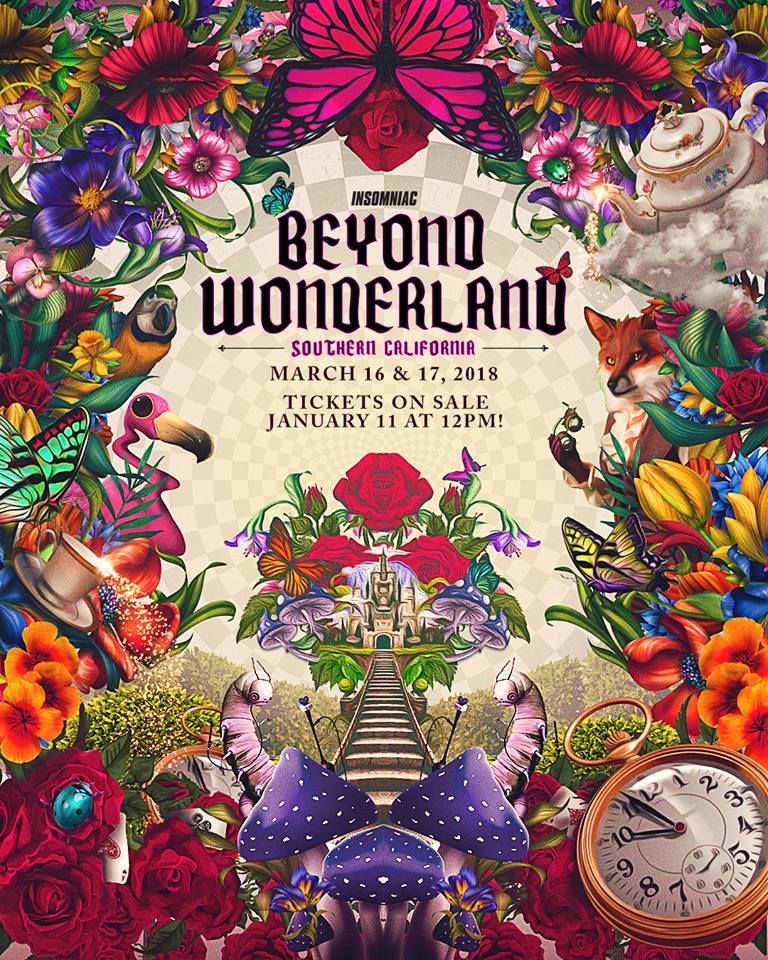 Posted via their Facebook Page for Beyond Wonderland, videos highlighting the festival's past trailers and festivities gave a look into the history of the event and the changes that have been made. One of our favorite memories from the event was Armin van Buuren bringing ASOT 550 in the pouring rain back in 2012 for an unreal experience. Check out the Facebook Video below and get pumped for what is in store this coming March!
Will you be attending Beyond Wonderland SoCal this year? Let us know in the comments!
---
Beyond Wonderland SoCal 2018 – Essential Info:
Dates: March 16-17, 2018
Times: 5 pm – 2 am PDT daily
Ages: 18+
Location: The National Orange Show NOS Event Center -690 Arrowhead Ave, San Bernardino, California 92408
Tickets: On sale January 11 at 12 pm at beyondwonderland.com
Facebook Event Page: HERE
---
Follow Beyond Wonderland SoCal on Social Media: