Get to know rising star Downlowd in this week's Artist Spotlight!
---
Originally from Texas but recently finding a new home in Los Angeles, Downlowd has already made some moves in the scene this year. He first caught our ear with the release of tracks "Well Connected" and "Unplugged", leaving us seriously impressed. Downlowd's music is as energetic as it is technical and if you've been searching for a talented artist to subscribe to, he's the perfect fit.
Not just an electronic artist but a storyteller as well, his recent releases are paired with the tales of the character named after him, Downlowd, and some visually stunning artwork that we can only hope will be turned into a graphic novel or animated series in the future. Listen to his exclusive guest mix below and read on to learn more about the past, present, and future of Downlowd!
You can catch Downlowd on New Year's Eve at Exchange LA in the Gallery from 12am to 2am. He'll be ringing in the new year with an epic set so make sure to catch him! Tickets are on sale now via Ticketfly!
Stream EDMID Guest Mix 096 || Downlowd on Mixcloud:
---
Your sound is absolutely infectious, blending elements found in the bass realm with electro house to really bring some energy with it. What influences helped you develop this unique sound?
I'm honestly a huge fan of storytelling. I grew up fostered by TV and books while my parents were away at work. We went on a trip to LA where we visited Disneyland and Universal Studios when I was very young; everything was totally larger than life back then… I feel like that might have somewhat seeded my desire to tell stories just like all these awesome people before me. My fascination with dance music also came to fruition at a young age, and I legitimately think it started with watching Blade… I remember seeing that blood rave scene in the theatre and thinking to my seven-year-old self, "This is sooo fucking coooool."
My dad sold cars with a dude that sold bootleg cd's for extra cash, so when I was actually around my dad, there was a pretty wide assortment of music in my life; I ended up listening to a decent amount of dance music from time to time, growing up. What started off with more of an interest in rock music, so Rob Zombie and Nine Inch Nails segued into artists like The Crystal Method, Fatboy Slim, The Chemical Brothers, and Moby.
My mom loved pop music, so I was also into Kylie Minogue, Whitney Houston, and O.M.C., but it wasn't until I heard Daft Punk that something really lit up inside me… To me, their message was that electronic music was something more than the plasticity of modern club/pop radio was so strong… It brought a lot of artistry to something that, I think, seemed very one-dimensional to a lot of people.
After my band broke up in high school, I started hitting up these parties around El Paso that would eventually introduce me to Trance and House music… I've always listened to everything, though. When I decided to start producing music I was enamored with the blog scene, fidget, and complextro artists like Deadmau5, Lazy Rich, Felguk, Soulwax, and Porter Robinson were essential.
But for a long time, because I was so into everything, I had a really difficult time honing my sound, but I've grown to believe that that's all part of the process. There are a million people trying to achieve success as a superstar musician in the electronic realm alone, and though I do see quite a bit of success in following trends, I've noticed it's better to just do you and if do it right, people will appreciate your message and buy in to your brand, the same way
I was sold on Daft Punk or Deadmau5. I know this answer is way longer than you'd probably anticipated for the sake of time, as time has gone on and music has progressed, I guess my taste and direction has followed in its own weird way.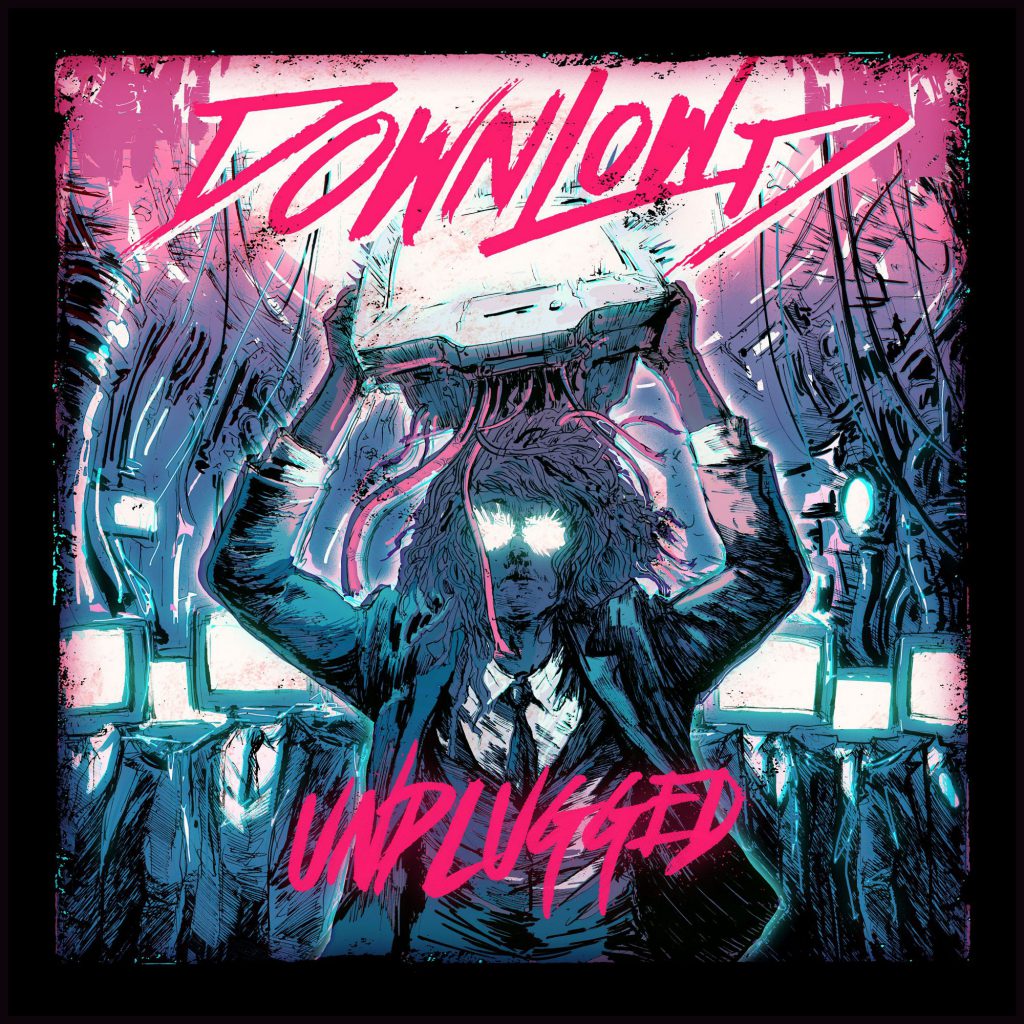 Released alongside your most recent tracks are the first chapters of the story of Downlowd. Do you have plans on turning this story into a graphic novel or animated feature at some point in the future?
Absolutely. Have had some great stuff in the works for some time now and I am super excited to unleash it. I don't want to give away too much, but it's a really fantastic adventure. I've been putting my everything into this, so it's important to get as much as I can right. All I can say is 2018 is going to be a very exciting year for Downlowd.
Working with the title of your energetic tune "Unplugged", do you find yourself having to reset from the digital world from time to time?
I think it's way too easy to get wrapped up in what everyone else is doing, which can be a problem, so I think it's definitely important to get out there and be human for a little bit as often as you can. That being said, there are so many communities online that bring a lot of good to a lot of individuals out in the world, so whether or not everyone needs to unplug at some point is subjective, I'm sure… but I do have to get away for a couple of days from time to time and just work without any noise at all.
Unfortunately, for Downlowd that's not really an option.
If you could plug into another electronic music artist and sync the data in their brain with yours, who would you choose and why?
This is a tough question. Probably Rob Swire or Zedd because they're both ridiculous in terms of composition, production, sound design, engineering, and songwriting. I'm also a huge fan of guys like Boys Noize, Deadmau5, and Switch though – their music is always so forward-thinking I can't help but love that.
As a computer head, what type of rig setup do you use on a daily basis, and do you favor any specific brands in particular?
I pretty much exclusively work on mac devices. I have a 15" MacBook pro named Bart. He's my best friend. I'm using him to input this text right now, actually!
I would love to build my own PC for gaming and production, etc… unfortunately, it's not really a viable option at the moment, but it's definitely a goal for the future.
Do you have any thoughts on artists using blockchain technology in the music scene?
I'm a huge fan of the blockchain. The power of decentralizing information and cutting out the middleman is really going to reform things for so many industries. I'm a huge fan of crypto as well, and I think the real investment there is the technology… not necessarily the coins. I'm beyond excited for the future. Soon we might even be able to transfer our consciousness into machines. What a time to be alive.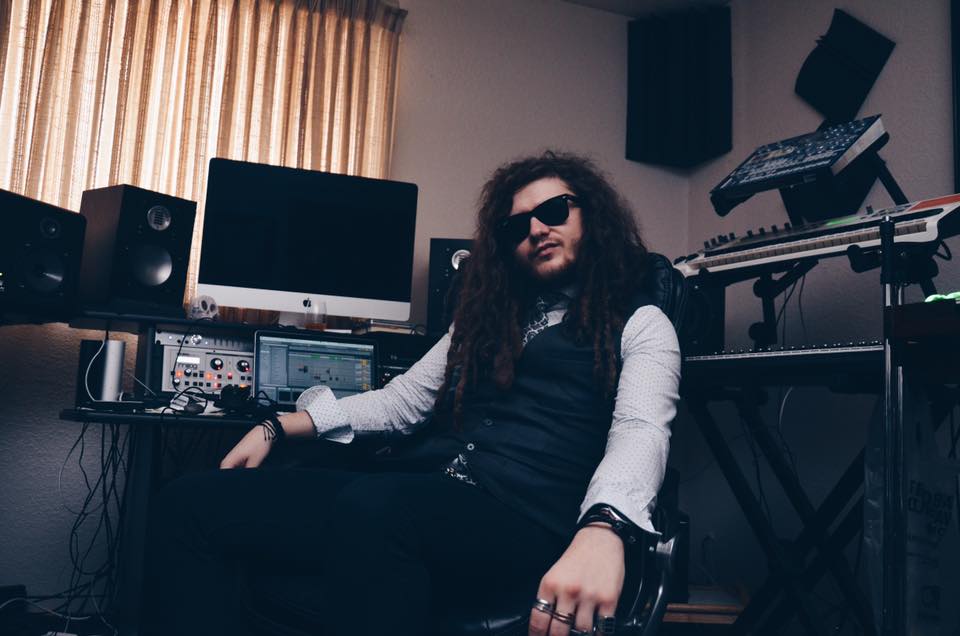 The apocalypse is upon us and you can only upload a handful of artists' tracks to your mp3 player. Which artists make up your soundtrack to the end of the world?
Man, it depends on the scenario! If I'm fighting off hordes of undead I definitely need some Olivier Giacomotto, Kozoro, Zomboy, Botnek, Darth & Vader, The M Machine (PanceParty), Ajapai, and Switch.
If I have to save the girl/save the world I'm probably trying to listen to Booka Shade, Zedd, Nine Inch Nails, Deadmau5, Saosin, Brand New, Lazy Rich, Infected Mushroom, Sade, & Sigur Ros.
If we're just all dying and it's the end of the world hot n heavy romance playlist: Gandalf head nod 10-hour version.
With the end of the year quickly approaching, what are some of your favorite moments from 2017?
2017 was a rollercoaster of a year… I'm a firm believer in pursuing your dreams. This last year I uprooted my life and moved from New York City to LA, which was insane. Dropping the apostrophe, releasing music again, and receiving an actual positive response has been so moving…
Honestly restarting anything can sometimes be more difficult than starting something new. I'm so grateful for any fans that I might have garnered, anyone that's stuck around with Downlowd, and anyone that's believed on me over the course of this epic journey. I'm beyond excited to see what the future brings.
Do you have any resolutions or goals that you'd like to achieve in the new year?
I'd really like to just continue building this world and telling Downlowd's story in hopes that it might reach more people and give hope. I have a remix coming soon for Fly By Midnight – who are really talented guys that are totally blowing up in the college scene.
I'm working on SXSW and WMC this next year along with other selected dates. Over the next couple of months, I'm working on original music, working up to an EP in March that includes Downlowd's current canon along with some other very exciting goodies…
This year, I'm just really focused on building my team and executing what's already planned. I'm extremely excited about everything. If anyone is interested please follow along with Downlowd's adventure via Spotify, SoundCloud, or iamdownlowd.com!
Finally, if you could create the perfect slice of pizza, which toppings would be on it?
I'm a total motherfucker when it comes to pizza. I like everything. I like nothing. I like pizza. I think great pizza is more about the quality of dough and water than the toppings… I would want my pizza to be extra crispy, yet still buttery and crisp on the crust front. And definitely a tomato/marinara sauce because I don't really fuck with white sauce all that often.
Toppings:
Mozzarella
Canadian bacon (sliced like pepperoni)
Pickled Jalapeños (light)
Green Chile (left half)
Mushrooms
Olives
Pineapple (right half)
Tomatoes
Light onion
A garlic butter drenched crust
I love food.
---
Follow Downlowd on Social Media:
Website | Facebook | Twitter | Instagram | SoundCloud | Spotify