Last weekend, Vancouver's OG studio master Stylust Beats brought his Batshit Crazy Tour to the Red Room in an all-out Sleeveless Records takeover hosted by 

Digital Motion Events.
---
The namesake of Stylust Beats' ongoing tour is his upcoming Batshit Crazy EP, set to drop this Halloween. Those that came out to Red Room got a sneak peek at the album's bangin' title track, as well as other special highlights just for this show. 
Only this crazed crowd bore witness to INEO Studios' amazing custom visuals and chiropteran stage design!
The DJs themselves appeared ready to take flight with two tall bat wings spread wide on either side of the decks. Stylust's grinning Trap Cat lurked behind the podium with its signature bandana mounted in front. Mapped visuals projected hypnotic imagery and manic bats grimacing in a neon rage. The 3D stage installation melded artist, music, and visuals into one rich sensory experience.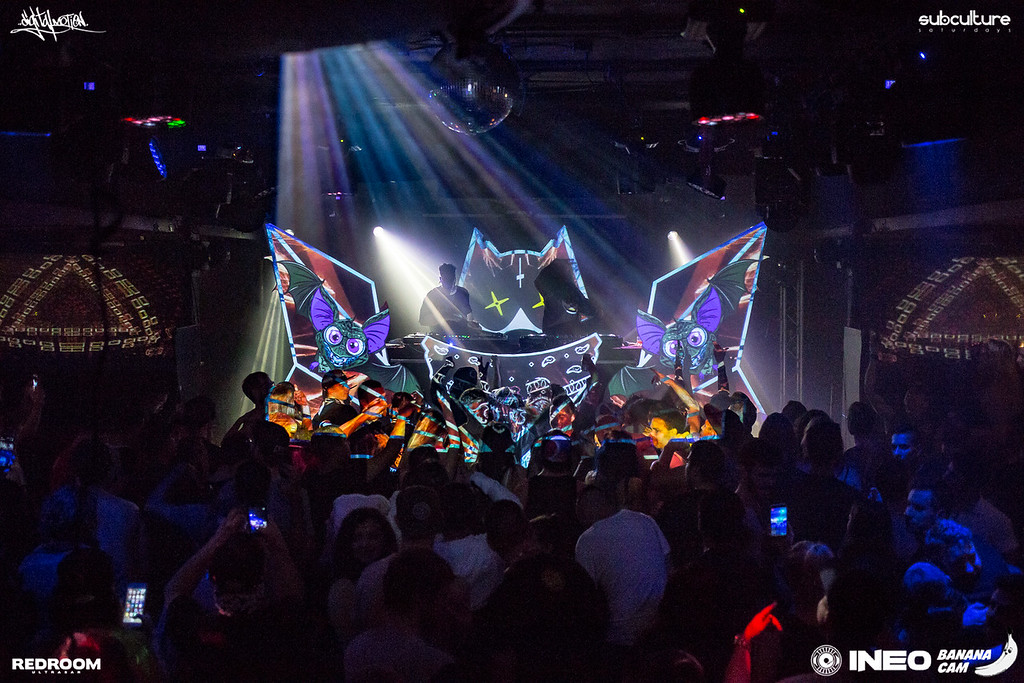 The night was piloted by a warm gathering of BC's Sleeveless Records family.
Carlos Vendetta brought us into gear with all things bass before we launched into the night with Victoria's heavy west coast bass duo Pigeon Hole, ripening our musical palates with their trippy, experimental hip-hop style.
Stylust jumped right into it with his creamy dubstep/hip-hop fusion. His skill level markedly clear as he worked, mixing fiendishly without headphones and skillfully bantering with old friend Dizzy D, who came out last minute to emcee just for this show. Their back-and-forth was so tight, I thought they might have made a preemptive telepathic arrangement before the show.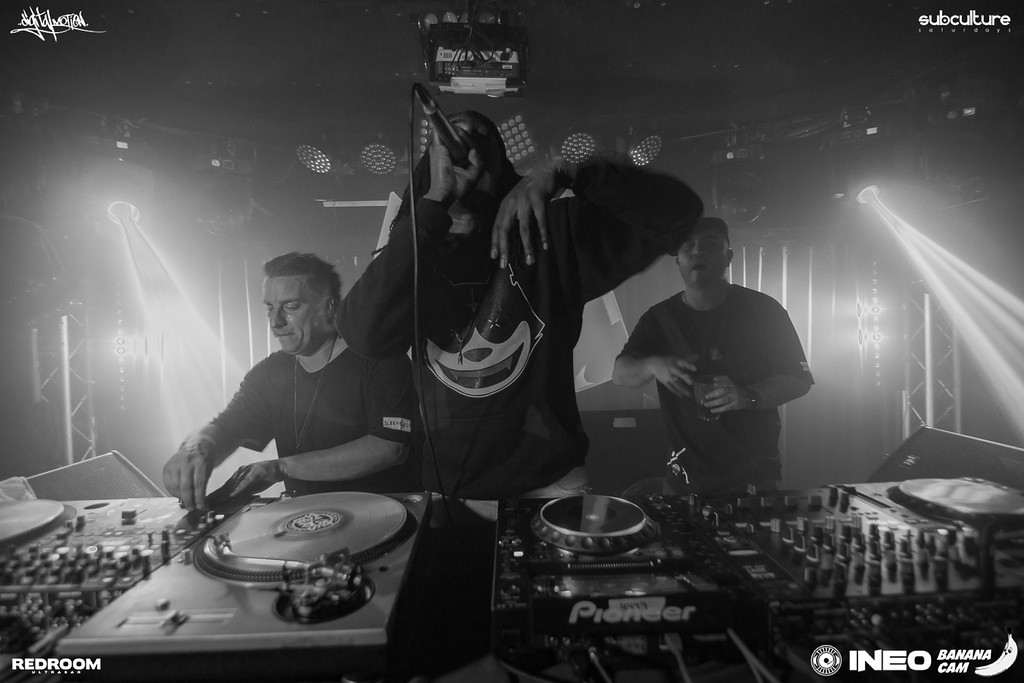 Stylust Beats has amassed a dense repertoire of genre-bending original tracks in his years quaking the bass scene.
Many of them have become long-running staples in his live sets. "Maybe I'm Dreamin'" is a classic, originally written for Shambhala, which its lyrics reflect in one of the verses. When rapping to it live, however, Stylust personalizes the lyrics to the respective locales where it's being played. It's a nice, welcoming touch for him to shout out to your city or event, which was the case here in Vancity. 
Another classic is his remix of hip-hop hit "Big City Life", a nostalgic ballad that instantly brings the feels despite whatever grime it was mixed into. We were basking in its heartfelt melancholy when he abruptly cut the track mid-play. "I've been playing that in every set for like seven years straight," he explained. "But f*ck that… How about Big City Life Part Two, y'all?!" Then, fellow Vancity Sleeveless Warrior Gisto came out to join him in premiering "Bump in the Road", co-produced with Pineo & Loeb.
I've witnessed a couple Stylust sets this year that have had a similar trajectory, one that this show followed as well.
It began with a more hip-hop-centric, upbeat flow, then progressively descended into a deeper, darker underworld. Indeed, it "gets kinda mental by the end," Stylust admits. The gateway to that pulsing netherworld was forced wide open once he dropped Zeke Beats and Eprom's unreleased mind-shredder "Humanoid 2.0". It threw me right back to one of my most memorable experiences of this year, his Village set at Shambhala. Once again, I was helplessly enveloped in this skillfully constructed musical membrane, swimming through a viscous torrent of bass and bouncy rhythmic layers. 
I finally resurfaced for air when he called for us to wave our bandanas in the air for his grimy final track. Stylust creates an interesting mashup for "Bandana" where he starts off with the original, which he produced, then lends the second drop to the bold collaborative VIP remix, in which you can hear percussive jungle influence of Costa Rican badass JLEON. I'm hard-pressed to imagine a better finish to such a killer run.
I felt like I'd attended a particularly special show.
Stylust closed the night by giving a warm shout-out to all the Sleeveless Warriors and BC fam who came out, in addition to some of his actual relatives that came out to show support. It was a pleasure to have gone crazy with this particular crowd.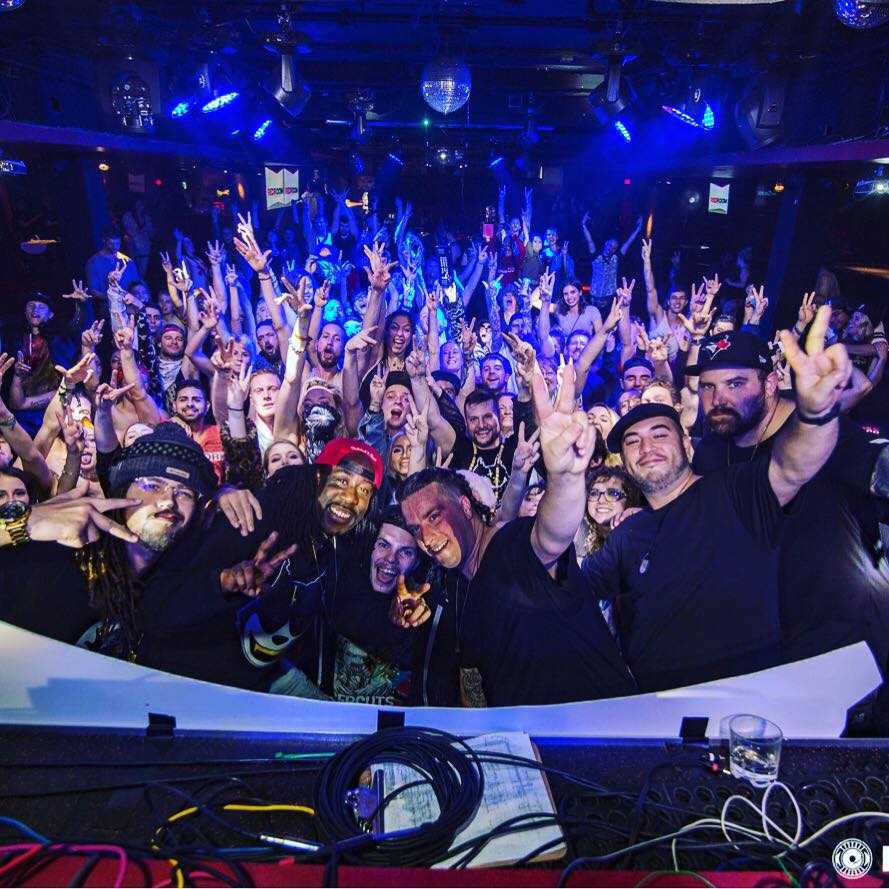 ---
Catch Stylust Beats on his Batshit Crazy Tour!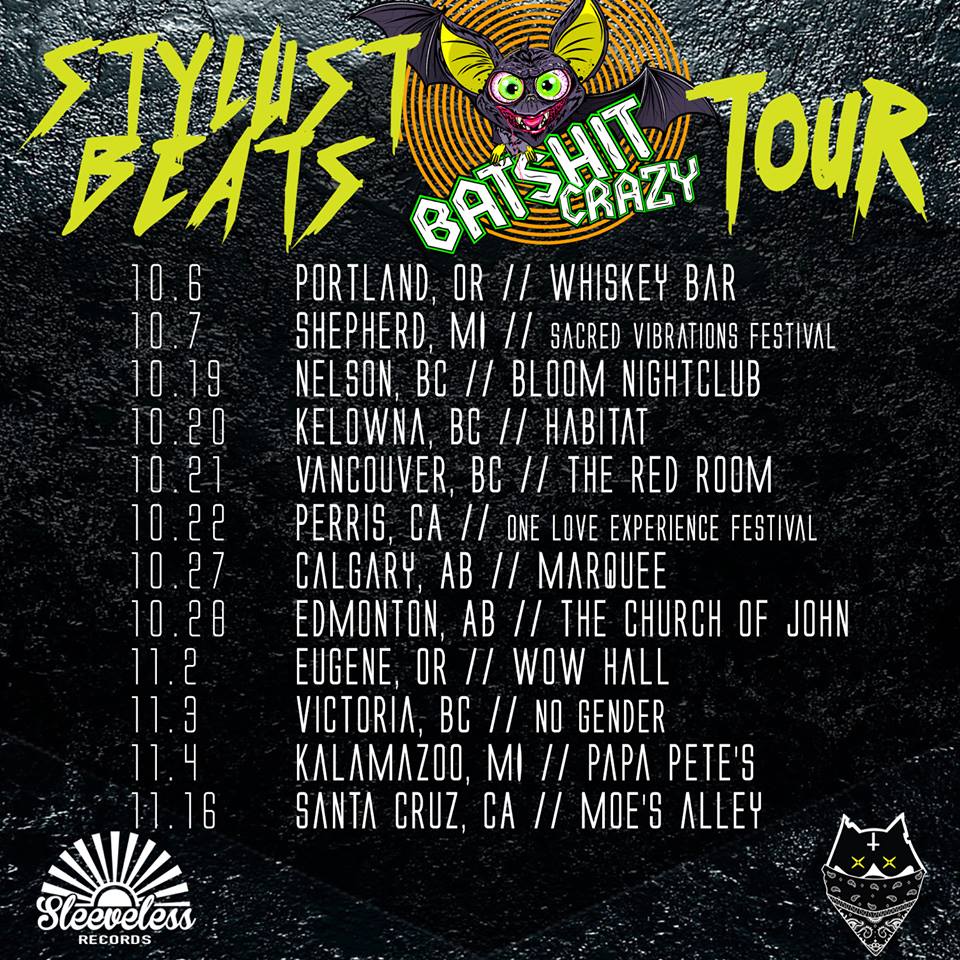 Be sure to check out Stylust Beats' Batshit Crazy EP, out today!
---
Connect with Stylust Beats on Social Media:
Facebook | Twitter | Instagram | SoundCloud
Feature Photo Credit: Banana Cam