Life Is Beautiful 2017 has come and gone, but the memories will last forever.
---
The Downtown Las Vegas event has become one of my favorites to attend and this year was the best yet. Life Is Beautiful was held during the weekend of September 23-25 and hosted a variety of musical acts, larger than life art, world-class food, and inspirational speakers.
This year's music headliners included Chance the Rapper, Muse, and Gorillaz with support from Lorde, Blink-182, The XX, Kaskade, Wiz Khalifa and Pretty Lights. With a diverse musical lineup, there was something for all ears and supplementing the day with Vegas vibes, art, speakers, and amazing food made for an extremely fulfilling weekend.
Life Is Beautiful always has stellar lineups, but when I saw Gorillaz were headlining I knew I would have to make the trek to Vegas.
Hands down my favorite set of the weekend. My festival days began in 2011 when I attended my first Coachella and ever since I have dreamt of seeing Gorrilaz live. I remember listening to Demon Days on repeat throughout high school and it could pretty much be the soundtrack to my adolescent years. So to say I was excited to see them was an understatement and although their newest album, Humanz, doesn't embody their original sound it's what makes the album stand out to me. Music changes and the direction Damon Albarn chose to take this new album makes me appreciate it even more. There are a variety of featured artists on Humanz and it was no coincidence that some of them performed before Gorillaz earlier in the day Sunday.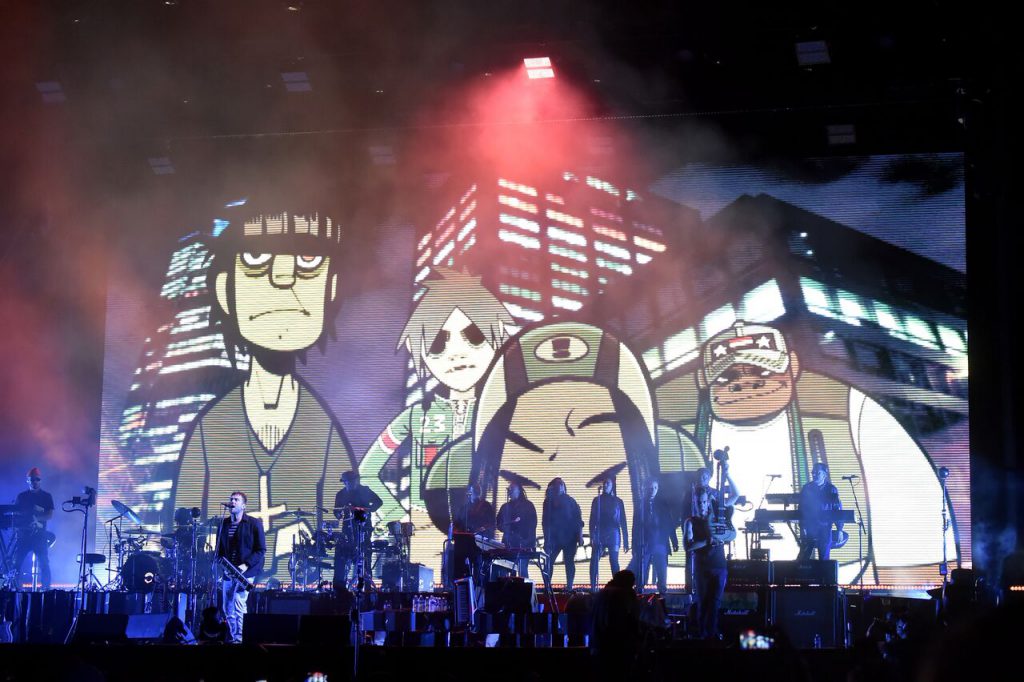 Damon, the band and six back up singers took the stage and opened with M1 A1 from their 2001 self-titled album. From there Gorillaz took listeners on a journey through their eclectic catalog of music including tracks from Plastic Beach and Demon Days to their newest album Humanz. Vince Staples, Pusha T, and De La Soul all performed their respective tracks from Humanz and Peven Everett, Jamie Principle, and Jehnny Beth all made appearances during the set. The icing on the cake, though, was during the encore when Vincent Mason gave us the "Feel Good Inc." intro laugh. Something I had been waiting years to hear live. All around the set was better than I could have ever imagined and everyone was vibing to every track. I'll check that off my bucket list now!
If it wasn't for the fact I've never seen Gorillaz live, my second favorite set of the weekend would definitely be Muse. The UK trio has long been one of my favorite bands and every time I see them they play an amazing show. Matt Bellamy and company rock so hard during their set you would think they have at least 5 people in the band. Throughout the set, they played my favorite tracks from across their entire album selection and they even had more to play by the time they encored with "Knights of Cydonia". If you want to get a taste of what I'm talking about watch their set from Life is Beautiful here!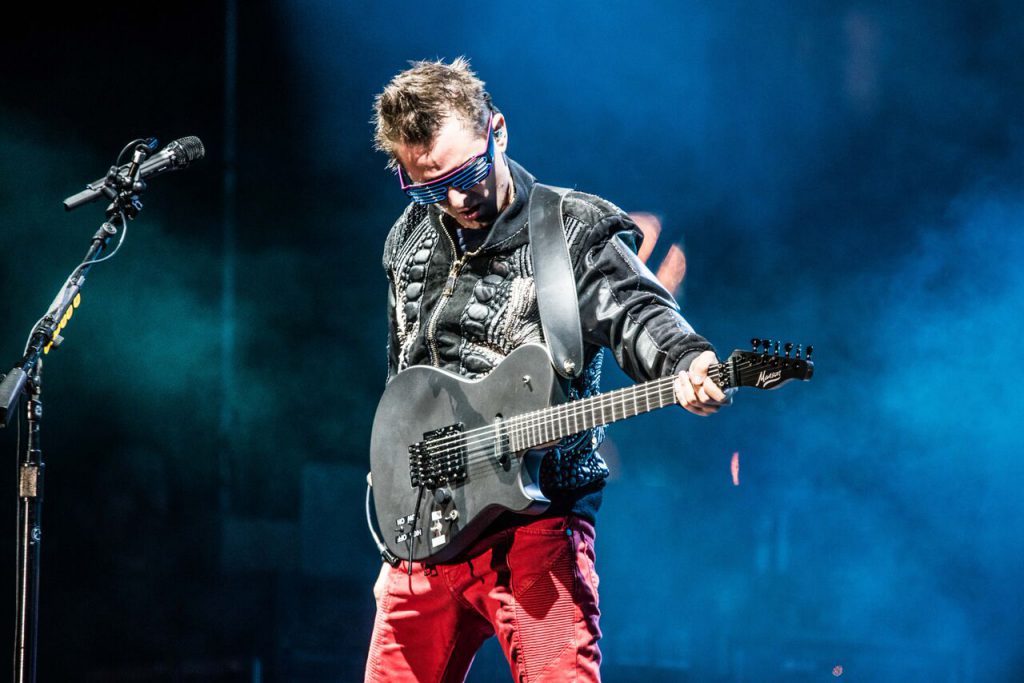 Pretty much every set I saw was killer except the let down of Blink-182. We left Chance the Rapper at the Downtown Stage to see Blink at the Ambassador and I instantly regretted it. Although I really like Matt Skiba the sound at the Ambassador stage wasn't adjusted until Sunday so you could barely hear the music unless you were really close. Also, looking back on it I really wish I had seen Big Wild at the Fremont stage rather than ZHU on the Downtown Stage. ZHU didn't bring the high energy set I was looking for and I feel seeing Big Wild in the hangar-like tent would have been much more of a dance party. You live and you learn! Besides those two music hiccups, the Vegas vibes were the real glue to the whole weekend.
Vegas Vibes
There is something special about hosting a festival in Downtown Las Vegas. Fremont Street is pretty much a mini strip that's more low key, less expensive, more fun, and everything is closer to each other than the Las Vegas Boulevard strip. No matter what time you go out there will always be people gambling and having a good time. Even though I had a blast in the festival I had just as much fun outside. After the event, the streets of Downtown Vegas would flood with festival attendees and everyone would make their way to different hotels and dive bars around the area. We went to a few of the local bars including The Griffin and Oddfellows to keep the dance party going. The coolest thing about these local spots is you enter and it looks like a normal bar, but then you cruise through the back hallway and it opens up into a larger dance floor.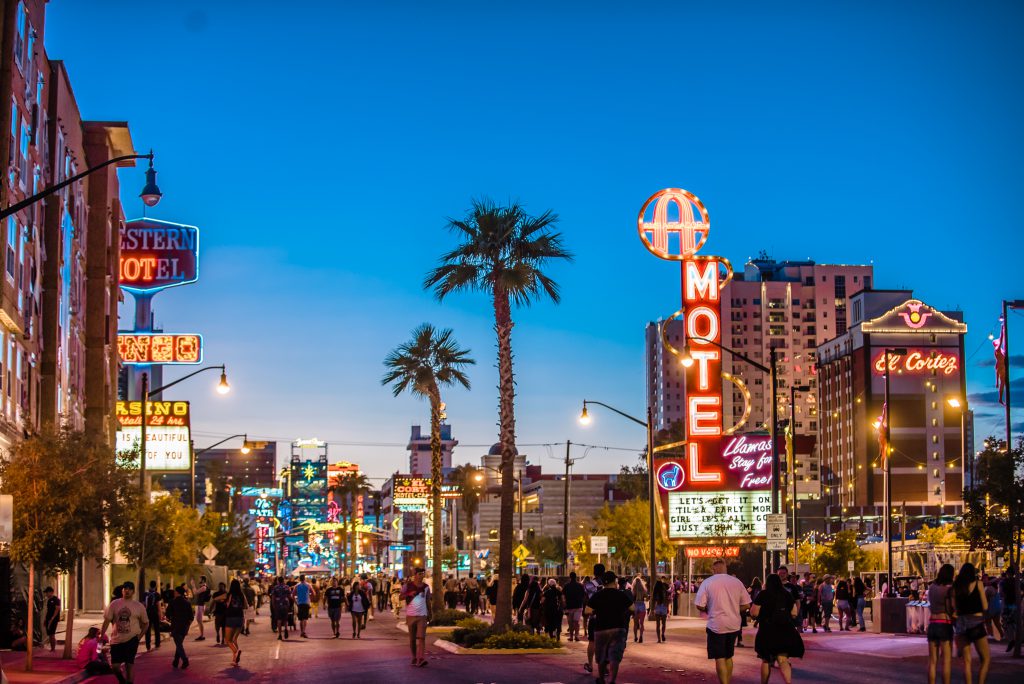 There were also some really cool pool parties that you could RSVP for and my group decided to see Capital Cities at The Grand. I'm really glad we did because we were already awake and we ended up missing Capital Cities in the festival, but I feel like the smaller intimate pool party blew their festival set out of the water. Did I mention that if you are of legal drinking you can drink anywhere in Vegas, including the streets? I remember walking from place to place with beer in hand and when we left places with bottled beverages the establishment would give us a red cup for the road. Talk about service!
Some of the things that differentiate Life is Beautiful from other festivals are the art, food, and speakers.
Life is Beautiful has been using art to bring the city to life and it gives the fest a really cool vibe. There are large-scale installations scattered throughout the grounds and paintings on the sides of hotel walls that will stop you in your tracks just to gaze at the intricate and mind-boggling pieces. This year Life is Beautiful also brought back the Art Motel by Meow Wolf which is something that was missing from last year's event. The first story rooms of a small motel located close to the Huntridge stage all get a makeover as each room is transformed into some crazy interactive installation.
My favorites were definitely the laser harp and fart room. The laser harp room was dark and had vertical lasers running from the ground to the ceiling with each laser programmed to a corresponding music note. As you ran your fingers through the lasers you would create music and with a bunch of people in the room, the sounds got really crazy. The fart room was really funny because it had a bunch of foam on the walls and floor, but there were also whoopie cushions embedded throughout. So as you walked through the room your steps would make fart noises and it made my inner child very happy.
Bill Nye also made his return to Life is Beautiful and presented a 1-hour talk about sustainability and how we can save our world! His talk took place on the Fremont stage and attracted a large audience as he touched on similar topics from his new Netflix series Bill Nye Saves The World. It was really neat to see one of my favorite childhood stars live in person talking about real-world issues we as a population need to address.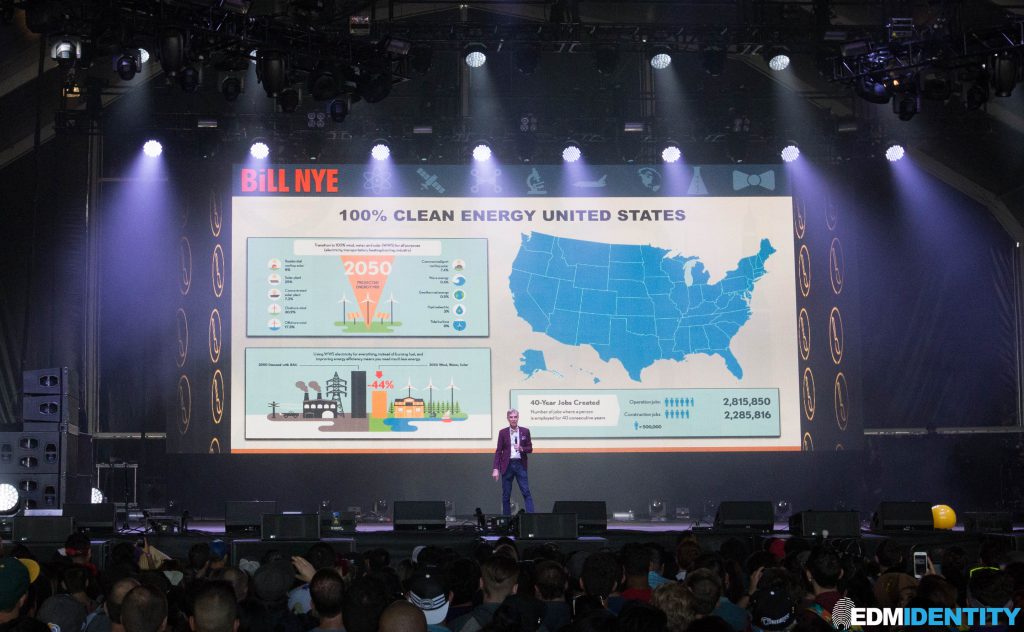 Lastly, I have to mention the food. Life is Beautiful always partners with tasty food vendors to ensure festival attendees are well fed throughout the weekend. My brother and I ate some Afters Ice Cream and it was one of the best things I ate all weekend besides a Dirt Dog Hot Dog. There is nothing better than satisfying your hangover with a juicy and greasy hot dog topped with an array of flavors for your taste buds. I really wish I would have eaten more throughout because I saw and smelled so much delicious food. Everything from dumplings to mac and cheese cheeseburgers to empanadas and anything in-between.
I highly suggest attending Life is Beautiful in 2018. It is a one of a kind festival with good music and vibes, but even better people. After hearing about the Route 91 Festival one week after Life is Beautiful I wanted to extend my sincerest condolences to anyone affected by this horrific tragedy. Let's show the world that love will unite us and that the concept of Life is Beautiful will always shine through.
---
Check out the Life is Beautiful 2017 Recap Video!
---
Connect with Life Is Beautiful on Social Media:
Website | Facebook | Twitter | Instagram
Feature Photo Credit: Carlos Lopez