ABGT250 is just over a week away! Snag all your essential information and get ready for your trip to The Gorge, or join us virtually via the livestream!
---
In just over a week, fans will travel from around the world to gather for ABGT250, the latest milestone celebration of Above & Beyond's Group Therapy radio show. Set to take place in the stunning Gorge Amphitheatre in Washington State, the trio's first-ever weekender promises to be an experience unlike any other.
Looking for more information on the artists playing at The Gorge this September? Check out our artist series for an in-depth look.
ABGT250 Essential Info:
Dates: Saturday, September 16 – Sunday, September 17
Show times: Saturday: 5pm-1am | Sunday: 11am-8pm
Venue Address: Gorge Amphitheatre – 754 Silica Road Northwest, George, WA 98848
Ages: 18+
Box Office Hours: 1pm-10pm on Saturday, September 16
Campground Hours: 4pm on Friday, September 15 – 10am on Monday, September 18
Acceptable Forms of Identification for Entry
United States or Canada drivers license
Government-issued passport (must include photo, name, and date of birth)
Expired government-issued identification will only be accepted with temporary DMV documentation that is valid and proves you are going to receive a new valid ID
Unacceptable Forms of Identification for Entry
Consular identification
Foreign government-issued drivers licenses
Download the official ABGT250 App on iOS and Android.
---
ABGT250 Set Times: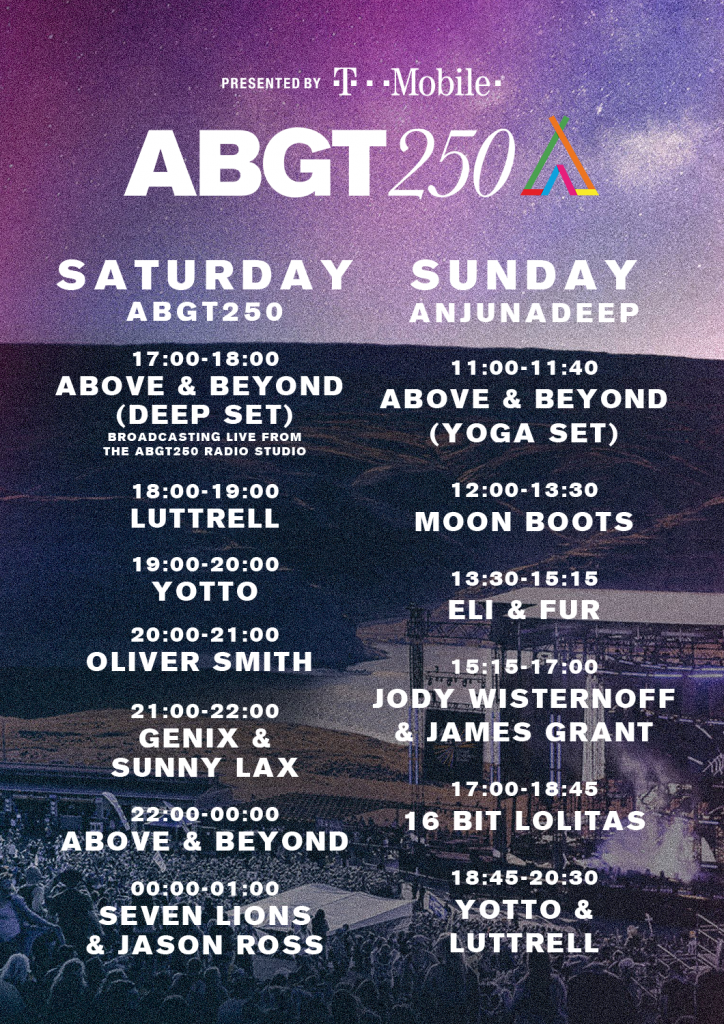 Saturday, September 16
5:00-6:00: Above & Beyond (Deep Set)
6:00-7:00: Luttrell
7:00-8:00: YOTTO
8:00-9:00: Oliver Smith
9:00-10:00: Genix & Sunny Lax
10:00-12:00: Above & Beyond
12:00-1:00: Seven Lions & Jason Ross
Sunday, September 17
11:00-12:00: Above & Beyond (Yoga Set)
12:00-1:30: Moon Boots
1:30-3:15: Eli & Fur
3:15-5:00: Jody Wisternoff & James Grant
5:00-6:45: 16 Bit Lolitas
6:45-8:00: YOTTO & Luttrell
Don't forget – Above & Beyond will be hosting a movie night for those who will be arriving on Friday, September 15. Join your fellow campers for a screening of Above & Beyond Acoustic Live at The Hollywood Bowl!
---
ABGT250 Festival and Parking Maps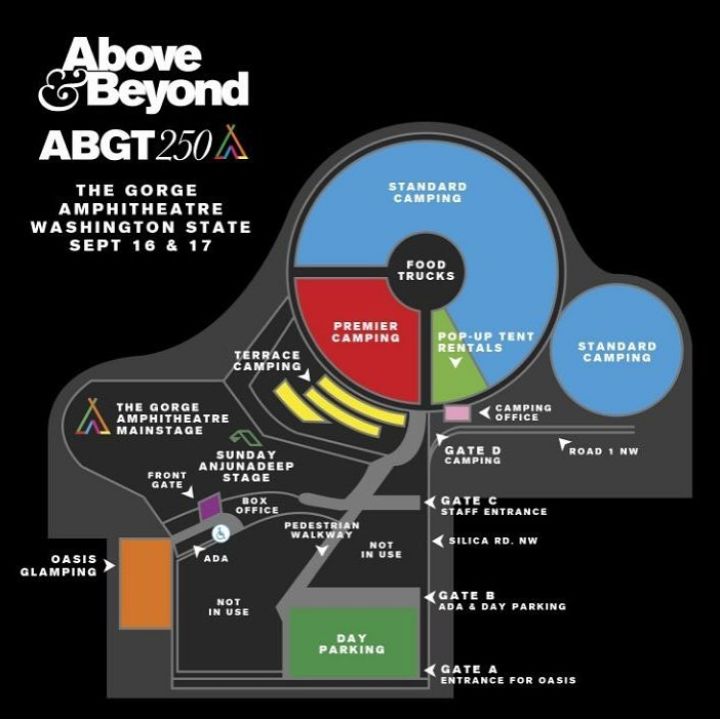 ---
Livestream Information
Can't make it to The Gorge for ABGT250? You're in luck – both days of the event will be streaming live via Twitter. Join the global celebration on Saturday, September 16 starting at 5pm Pacific Time and Sunday, September 17 starting at 12pm Pacific Time. Head to aboveandbeyond.twitter.com (USA only) or ABGT250.com/live (rest of the world) to take part in the festivities.
Don't forget to use the hashtag #abgt250 to be part of the livestream!
---
Reminder To Mind Your Belongings
Unfortunately, many people have reported pickpockets, bag slashings, and theft of wallets, smartphones, purses and other valuables during this festival season. While this small number of bad apples in the bunch doesn't define an entire crowd, there are opportunistic people who come to these events to take advantage of unsuspecting party goers and it's important to be mindful of your valuables while at ABGT 250.
Pay attention to who's around you and what's going on around you. Keep your wallet and phone in your front pocket(s) if you can. Treat your phone the same way you would treat cash; don't set it down on a table or bar and look away. If a friend isn't standing behind you in a crowd, be careful of your backpack or purse, and don't put valuables in a pocket that could easily be unzipped by someone behind in a crowded spot without you realizing.
Festivals, in general, are a very densely populated place and are a well-known place where pick-pocketing of unsuspecting people occurs. It's easy to find yourself in a crowded environment in a line, at a stage in the festival, elevator, or even out on the street where someone could slip your wallet or phone our of your pocket or bag in a matter of seconds. Stay alert, be careful, and make sure to not carry more than what you need!
---
ABGT250 Do's & Don'ts
Permitted Items
One 20oz factory sealed bottle of water
Water containers including Camelbaks, provided they are empty
1-gallon Ziploc bag of snacks. All snacks inside must be factory sealed.
Small, non-professional still cameras (no removable lenses)
Prohibited Items
Professional cameras with removable lenses
Video cameras, including Go Pros
Camping Guidelines
There is a strict limit of 6 people per campsite. If your party is larger than 6 people, please purchase the proper number of campsites.
Alcohol is permitted within the confines of your individual campsite if you are 21+, but no open containers or alcohol consumption are allowed in public areas or the roads.
Underage use or possession of alcohol will not be tolerated.
No illegal drugs or drug paraphernalia.
No firearms or weapons of any kind.
No fireworks, fire pits or open fires.
No large parties, mini kegs, kegs or binge drinking devices.
No kiddie pools or blow up pools.
No pets are allowed at the campgrounds.
Unauthorized vending of food or merchandise, including alcohol, is prohibited under WA state law.
You must possess a concert ticket to enter into the campgrounds.
Vehicles entering the campground cannot be larger than 40 feet.
If you wish to tow an additional vehicle, you may be required to purchase an additional campsite.
Only one vehicle is allowed per camping space no matter the pass level. You do not need a camping pass for each person in your party.
You cannot reserve spaces for groups arriving later. A staff member will direct you to your camping space and spaces will fill up on a first come, first serve basis.
You cannot leave a car in the festival parking lots and join a camping group. You will need to purchase a camping pass and bring your car into the camping area.
Obey all posted "No Trespassing" signs.
Violation of any campground rule or policy may also lead to fines or possible incarceration under applicable state criminal laws, and/or Grant County ordinances prohibiting disturbing the peace or creating a public nuisance.
Bicycles, but they may not be used on the pathway between campground and Amphitheatre or left at the entrance to the festival
Camping stoves/propane stoves, but you must report them upon arrival at the campgrounds. The safety officer will make sure that you have proper fire extinguishers with you if you plan to use a stove.
Check out our camping essentials guide for some tips on what to bring to the festival!
---
Follow Above & Beyond on Social Media:
Website | Facebook | Twitter | Instagram | SoundCloud | YouTube