Panorama NYC 2017 Set Times, Festival Map, & More!
---
The time has finally come! Panorama NYC is upon us and will be taking place at Randall's Island Park tomorrow through Sunday! Stay in the know with the latest information about the festival so you can have an amazing weekend. Read on for festival do's and don'ts, set times, and all things Panorama!
If you're planning on spending a little more time in the city, make sure to check out our article on what to do while you're here as well here!
Not sure who to catch? Check out these suggestions from Sydney and Christopher!
---
Panorama NYC Music Festival 2017 Essential Info:
Dates: July 28 – 30, 2017
Show times: Gates open at noon each day, last performance goes on at 9:20 PM each night
Venue Address: Randall's Island Park New York City
Ages: All ages welcome, free admittance for children 2 and under
Acceptable Forms of Identification for Box Office/Will Call ticket pick up:
Any valid (non-expired) government-issued ID
Unacceptable Forms of Identification 
Any fake or tampered with forms of ID
The Box Office/Will Call will be located on Randall's Island at the East and West festival entrances and will be open from 11:30AM – 9:30PM, Friday through Sunday. You will need to show a valid form of ID to pick up your tickets.
---
Panorama NYC 2017 Set Times: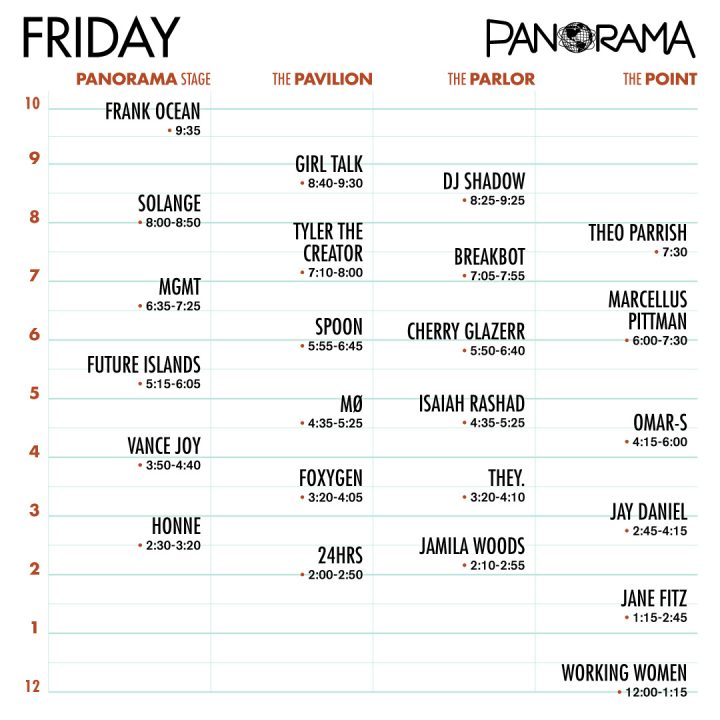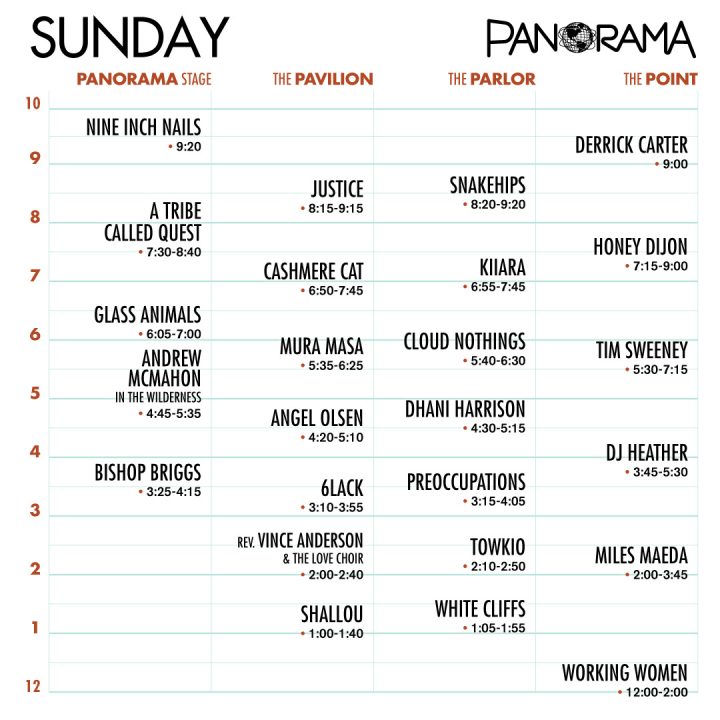 The Point Lineup: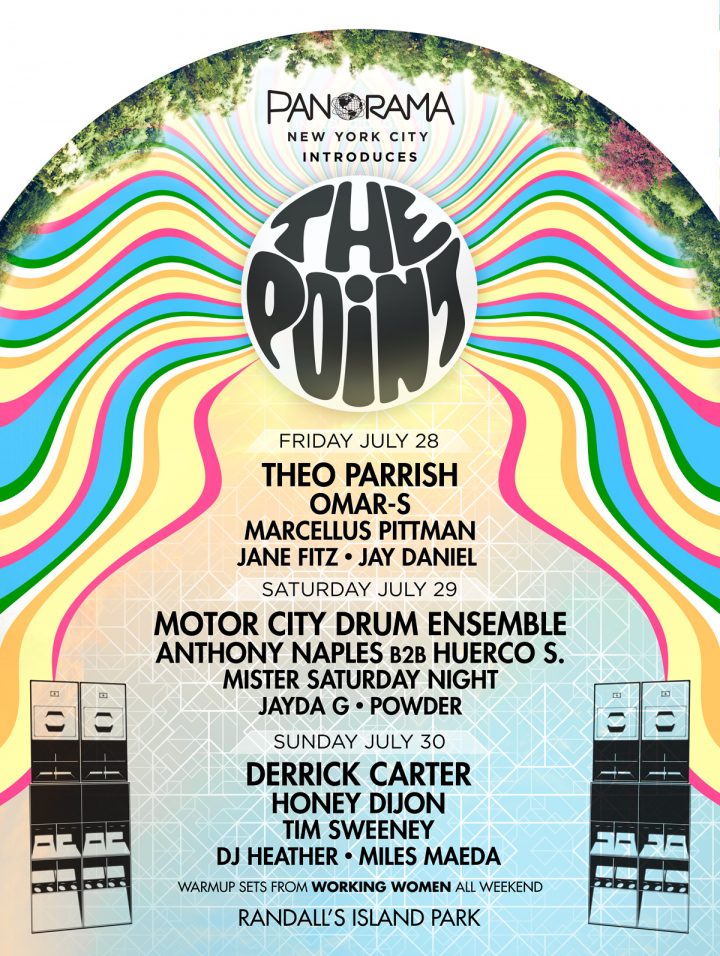 ---
Panorama NYC 2017 Festival Map

---
Reminder To Mind Your Belongings:
Unfortunately, many people have reported pickpockets, bag slashings, and theft of wallets, smartphones, purses and other valuables during this festival season. While this small number of bad apples in the bunch doesn't define an entire crowd, there are opportunistic people who come to these events to take advantage of unsuspecting party goers and it's important to be mindful of your valuables while at Panorama NYC.
Pay attention to who's around you and what's going on around you. Keep your wallet and phone in your front pocket(s) if you can. Treat your phone the same way you would treat cash; don't set it down on a table or bar and look away. If a friend isn't standing behind you in a crowd, be careful of your backpack or purse, and don't put valuables in a pocket that could easily be unzipped by someone behind in a crowded spot without you realizing.
Festivals, in general, are very densely populated places and are a well-known place where pick-pocketing of unsuspecting people occurs. It's easy to find yourself in a crowded environment in a line, at a stage in the festival, elevator, or even out on the street where someone could slip your wallet or phone our of your pocket or bag in a matter of seconds. Stay alert, be careful, and make sure to not carry more than what you need!
---
Panorama Music Festival 2017 Do's & Don'ts
Feel free to bring:
Your young children (2 & under are free!)
Baby strollers
Backpacks & purses (smaller than 20″ x 15″ x 9″)
Binoculars
Blankets & beach towels
Bug spray (non-aerosol)
Camelbacks or equivalent (EMPTY)
Ear plugs
Hats
Hula hoops
Mobile phones and chargers
One empty or factory-sealed water bottle (Max size 2L, must be nonmetal)
Sunscreen (non-aerosol only)
Leave these at home:
Aerosol containers, including sunscreen and personal beauty products
Air horns and/or megaphones
Alcoholic beverages of any kind
Your pet (unless they're a service animal)
Any container of liquid other than 1 factory sealed bottle of water (2L)
Bota bags
Bicycles
Cameras with detachable lenses
Camping tents, canopies, or shade structures of any kind
Chairs of any kind
Chinese lanterns
Coolers of any kind (besides those advanced for medical use)
Drones or any other remote flying device
Multi-use e-cigs
Metal Water Bottles / Canisters
Fake IDs
Fireworks, sparklers, firecrackers, and/or incendiary or explosive devices of any kind
Flags and/or flagpoles
Focused light devices (including laser pointers)
Outside food & beverage (besides one factory-sealed water bottle)
Framed backpacks
Glass containers of any kind
Hammocks
Illegal or Illicit substances of any kind
Kites
Large bags, purses, or backpacks (larger than 20″ x 15″ x 9″)
Mace/pepper spray
Marker pens or spray paint
Musical instruments
Professional audio recording equipment
Tailgating, grilling, or BBQing equipment
Scooters or personalized motorized vehicles (unless in accordance with ADA regulations)
Selfie Sticks
Skateboards, rollerblades, 'hoverboards'
Sleeping bags
Sporting equipment (frisbees, footballs, whiffle balls, basketballs, soccer balls, etc.)
Stickers
Stuffed animals
Totems
Umbrellas
No Unauthorized vending or solicitation materials (handbills, flyers, beach balls, samples, etc.)
Walkie talkies
Water guns, water balloons, and/or any kind of water projectile
Weapons, knives, or firearms of any kind
NO TOTEMS ARE ALLOWED INTO PANORAMA! 
---
Connect with Panorama Music Festival on Social Media:
Website | Facebook | Twitter | Instagram | Facebook Event Page