Awakenings Festival, one of the biggest annual techno events, is taking place in the Netherlands on June 24 – 25!
---
Awakening Festival is one of the most well known and esteemed techno only festivals in the world. For many technophiles, Awakenings is perceived as the gold standard of events and not to be missed. The event will be taking place in Spaarnwoude, Deelplan Houtrak, an outdoor space in The Netherlands. The 17th edition of the festival is being celebrated in a big way as over 100 illustrious techno artists are slated to play between 8 different stages over the 2-day period. The lineup includes techno heavy hitters Adam Beyer, Ben Klock, Sven Vath, Joorn Voorn, The Black Madonna and more!
I'll be the first to admit that I don't listen to nearly as much techno as other genres and gravitate more to Chicago and Detroit techno but I have much respect for all of its forms. This summer I will be traveling to Amsterdam to attend a few days of Luminosity and plan on attending this one as well! I can't wait to feel the rich beats pulsating through me.
2-Day GA Weekend Passes, Single Day Passes and Shuttles are now available HERE! If you're like me and considering travel from abroad, check out the variety of travel packages HERE!
---
Awakenings Festival 2017 Event Information:
When: Saturday, June 24 and Sunday, June 25 2017
Festival Hours: 12PM – 11PM
Where: Spaarnwoude, Deelplan Houtrak in Halfweg, Netherlands
Ages: 18+
RSVP on Facebook: HERE
Price: € 95 EUR Combination Ticket
Tickets: HERE
---
Awakenings Festival 2017 Lineup: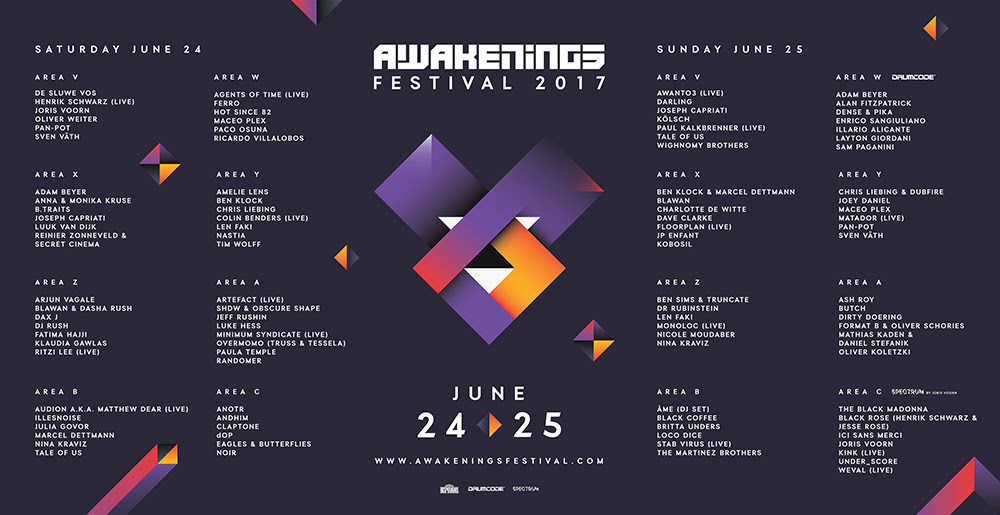 ---
Awakenings Festival 2017 Lineup By Artist:
Adam Beyer
 Agents Of Time Live
 Alan Fitzpatrick
 Ame (Dj Set)
 Amelie Lens
 Andhim
 Anna & Monika Kruse
 Anotr
 Arjun Vagale
 Artefact Live
 Ash Roy
 Audion Aka Matthew Dear Live
 Awanto3 Live
 B.Traits
 Ben Klock
 Ben Sims & Truncate
 Black Coffee
 Black Rose ( Henrik Schwarz & Jesse Rose )
 Blawan
 Blawan & Dasha Rush
 Britta Unders
 Butch
 Charlotte De Witte
 Chris Liebing
 Claptone
 Colin Benders (Live)
 Daniel Stefanik & Mathias Kaden
 Darling
 Dave Clarke
 Dax J
 De Sluwe Vos
 Dense & Pika
 Dirty Doering
 Dj Rush
 Dop
 Dr Rubenstein
 Dubfire
 Eagles And Butterflies.
 Enrico Sangiuliano
 Fatima Hajji
 Ferro
 Floorplan Live
 Format B & Oliver Schories
 Henrik Schwarz Live
 Hot Since 82
 Ici Sans Merci
 Ilario Alicante
 Illesnoise
 Jeff Rushin
 Joey Daniel
 Joris Voorn
 Joseph Capriati
 Jp Enfant
 Julia Gover
 Kink (Live)
 Klaudia Gawlas
 Kobosil
 Kolsch
 Layton Giordani
 Len Faki
 Loco Dice
 Luke Hess
 Luuk Van Dijk
 Maceo Plex
 Marcel Dettmann
 Matador Live
 Minimum Syndicat Live
 Monoloc
 Nastia
 Nicole Moudaber
 Nina Kraviz
 Noir
 Oliver Koletski
 Oliver Weiter
 Overmomo (Truss & Tessela)
 Paco Osuna
 Pan-Pot
 Paul Kalkbrenner (Live)
 Paula Temple
 Randomer
 Reinier Zonneveld & Secret Cinema
 Ricardo Villalobos
 Ritzi Lee Live
 Sam Paganini
 Shdw & Obscure Shape
 Stab Virus (Live)
 Sven Vath
 Tale Of Us
 The Black Madonna
 The Martinez Brothers
 Tim Wolff
 Under_Score
 Weval Live
 Wighnomy Brothers
---
Connect with Awakenings via Social Media:
Facebook | Twitter | SoundCloud | Instagram | Website