Could the breakbeat genre be coming back from the ropes? Insomniac Events suggests yes with their latest event announcement, Planet Rock!
---
Insomniac Events is turning back the clock and bringing the funk with their newest event, Planet Rock! Hosted at both Ruby Skye in San Francisco on May 12, and at Lot 613 in Los Angeles on May 13, it is the first event of the newest genre to be revived by Insomniac. Planet Rock focuses solely on the breakbeat genre, which has received much love as of late by tastemakers and fellow artists alike who are looking to the past for inspiration today. As one of the original genres to help push electronic music where it is today, the funky breaks and broken beats are embedded in the work of many artists today too.
The inaugural edition of Planet Rock features a fantastic lineup with artists Krafty Kuts, Freestylers, DJ Icey, Sinden, and LO '99 who will be getting crowds rocking to the beat. Expect to see some seriously technical work, as breakbeat is one of the genres that really allows for turntablists to show off their stuff and wow crowds too.
Read Insomniac Founder and CEO Pasquale Rotella's thoughts on the launch of Planet Rock:
"I've been a massive breaks fan since the days I first experienced underground warehouse parties and desert raves," said Pasquale Rotella, Founder and CEO of Insomniac. "Breakbeats always created such a positive vibe on the dance floor, and hyped up dancers to bust out and interact through their creative styles. I want Planet Rock to foster that same raw energy, and we've assembled a wide range of old-school and new-school DJs for this special show."
Get a taste for Planet Rock with this Spotify Playlist:
---
Planet Rock 2017 Event Flyer: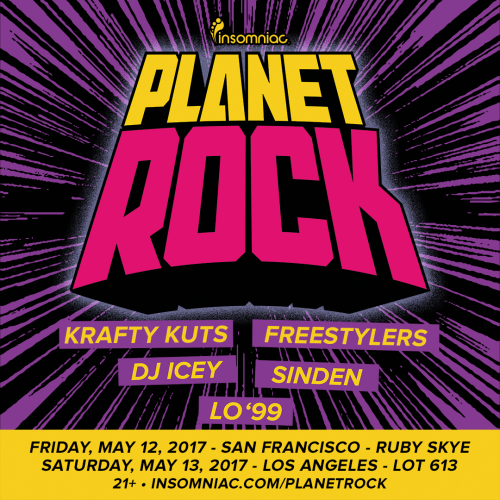 ---
Connect with Planet Rock on Social Media:
Website | Facebook | Twitter | Instagram | Facebook Event Page (LA) | Facebook Event Page (SF)