Okeechobee Round II: Through the Eyes of Evan Ratzlaff
---
Greetings, fellow festival lovers, I have returned from the portal yet again unscathed, with a well-nourished soul, a depleted body all in the name of the love for music. Along with this quest for love comes a plethora of new mind-bending experiences to share…this is my review and experience at Okeechobee Music & Arts Festival 2017!
What I find most enjoyable about the experience at a camping festival is you get to step away from your ego-driven lifestyle that is pushed upon you by the culture we are immersed in. We are constantly told day in and day out that we should care about "X" and dress like "Y" while acting like a "Z". All of that mindset begins to dissolve as you make your way to the festival. Yes, the packing is stressful. Yes, the security can be rather intense. But these stresses of leaving the typical routine of society behind are more than worth it even if only for the reminder of what truly matters because what truly matters is you. Your associations, your enjoyment, and the connections you make with friends you may have not even met yet. So before we consume or produce anything in this life one must ask themselves; is the action worth doing? The answer to Okeechobee Music & Arts Festival is yes.
Let's discuss a little more in-depth the ups, downs, ins, and outs of "The Portal".
First off, the venue is surreal. While the setup was exactly the same it was also completely different, this year was even more astonishing than the year before. The new installations to Jungle 51 along with several other new artistic works that were added made the nightlife of Okeechobee worth skipping out on sleep. There was also a "living tree" in the campgrounds, which I found to be an awesome idea. Incorporating art structures within the area that isn't the main attraction really puts the festival goer in a position where they have to interact with others to find these hidden gems.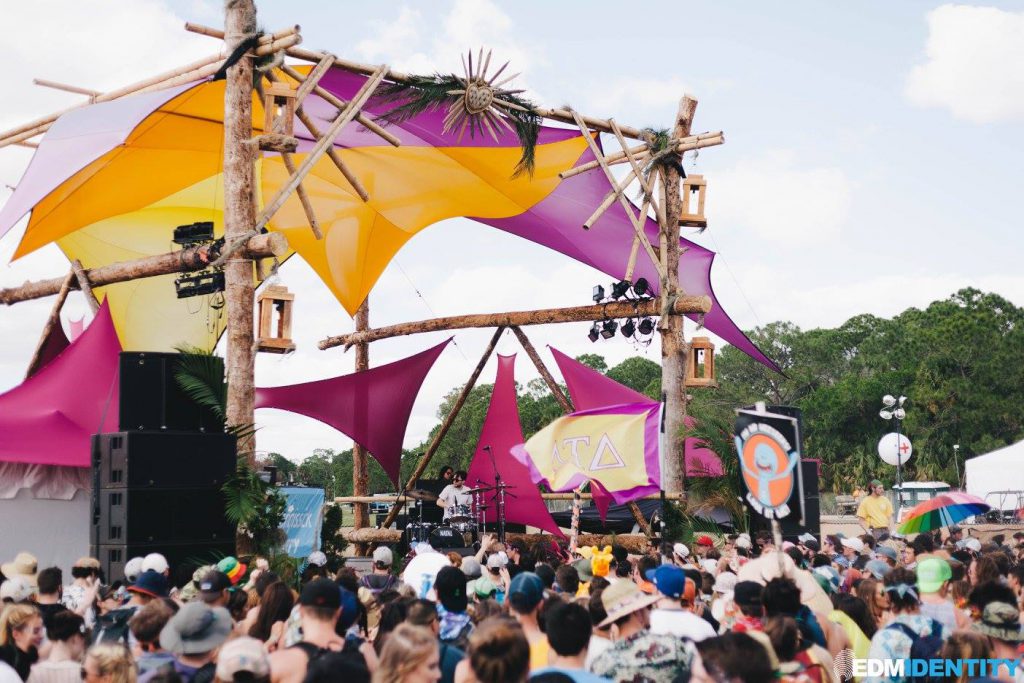 One thing I noticed was that there were so many more stages than last year!
Even if they were just mini stages with some smaller named artists, I still found myself enjoying the sets just as much as the bigger stages. The Trash Palace in ChobeeWobee Village became a hit side stage for anyone into the weird and wonky. Halcyon was like a club scene that you would find in the movie Tron with explosive techno beats you just can't help but pump your fist to. I found the Microdose VR projection with visuals by Android Jones and audio by Evan Bluetech to be a stellar addition to ChobeeWobee's night-time experience. One night they actually projected the visuals people were seeing in the booth on the lake. Along with the music from the Incendia stage over by Aquachobee, this setup was rather reminiscent of the Kalliope at Bonnaroo.
In 2016 I chose to volunteer at Okeechobee and be a part of the production. I highly recommend volunteering at the festival for those who care enough to be more than just a consumer. Each experience had its ups and downs, though. Volunteering had its advantages because it allowed me to learn the lay of the land days before the festival even started, which turned out to be a fantastic bit of knowledge to rely upon this year. Being a volunteer also gave me access to free showers and VIP areas where I actually met Chandler Riggs, who plays Carl on The Walking Dead! When I wasn't working a shift in VIP, I was working all around the Be, Here, and Now stages so missing artists I wanted to see was most definitely not an issue. The crowd was friendly and everyone seemed like nothing less than family.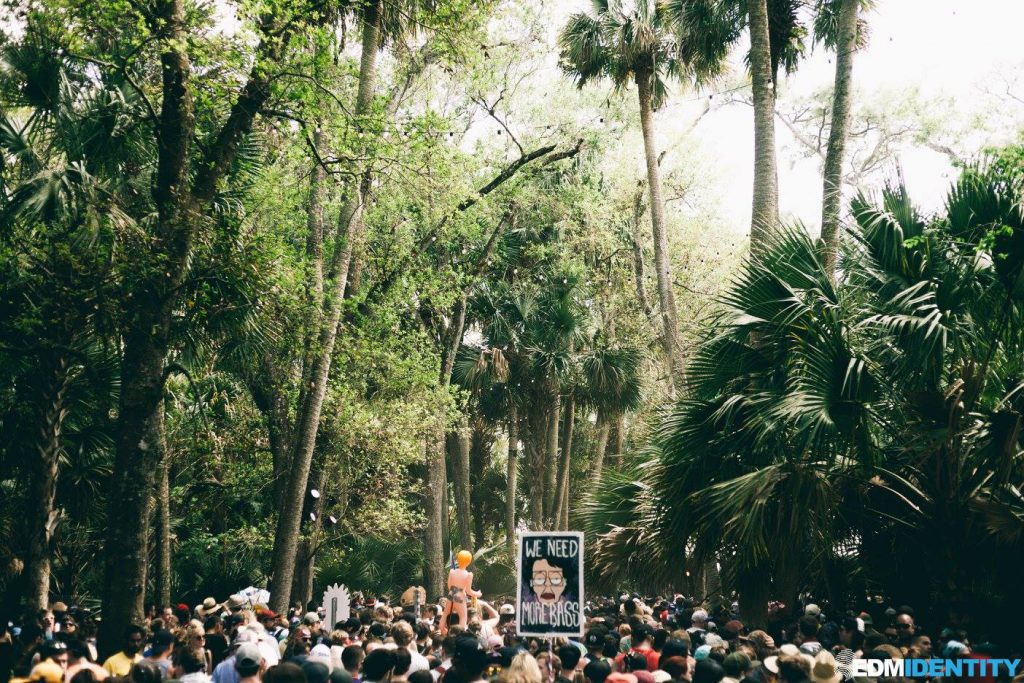 Round two was a whole different story, though.
This year I was able to enjoy the festival through the eyes of an actual attendee, but things had changed a bit. The crowd seemed to be a bit more selfish, security took their job way too seriously at times. An example of this was when I had an empty backpack that felt a little "too heavy" for someone's liking. Nothing was inside but it caused the line to be backed up and delayed as the guard checked an empty bag very thoroughly for a solid five minutes. Now, I'm all for safety at festivals, but when security takes their job way too seriously it actually causes more of a hindrance than a help.
Upon arrival on Friday, we parked our car on the side of the road where there was no camping last year and set up shop. Our spot was very close to the center of the festival, yet far enough away that there was no disturbance when trying to rest up for the next day. The downside of that spot? We were about 15 yards away from the porta potties, which was both good and bad. The intense amount of wind kept fresh air blowing through, so the majority of the time smell was not an issue. However, when the cleaning truck came through, our campsite turned into what I would expect New York to smell like on a hot summer day after everyone has had their morning coffee.
Choosing to venture into the festival grounds, we ventured to the main area. Immediately we began to feel the love, agitation, and laughter mix together into this feeling of terrified excitement of freedom infused with chaos. My top favorite artists on Friday were without a doubt Perpetual Groove, Wiz Khalifa, and Flume. The best part about Wiz Khalifa, aside from the stellar performance, was when he commended the security team for smoking with the crowd. Nothing like a festival to bring people together! I had also caught Space Jesus' set and was disappointed compared to the other times I have seen him. In a positive light, I'm thankful for this as I would've missed Mac Demarco otherwise. Mac Demarco is an artist who I was definitely happy that I caught at the festival. His performance was very intimate and you could see him not just as a performer, but as an actual person as well.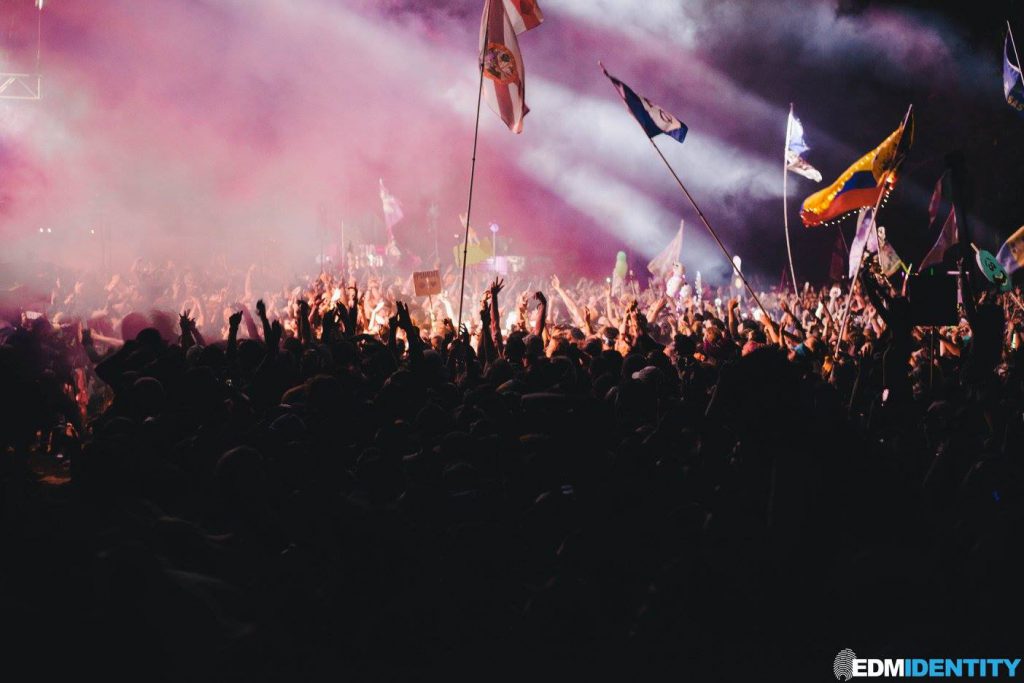 The food choices were just as outstanding and delectable as last year.
One of the crowd favorites seemed to be the Gouda Boys. They were the star of the show with crazy delicious dishes such as the "Scarface" which is no little friend. The Scarface features your standard hoagie with a not so standard filling of tender mouth-watering pulled pork snuggled next to two thick slices of maple smoked bacon and blanketed with smoked gouda mac and cheese. Normally I like to meal prep dank burritos and PB&J sandwiches at the festival because I'm a "baller on a budget", but choosing Gouda Boys was most definitely a proper way to start the weekend.
Saturday was when the festival truly started to wear upon everyone but in the best of ways. On our way to see The Revivalists we ran into…or rather tried our best to avoid…a young Asian man of outstandingly naked proportions. His eyes looked like black holes and he draped his arms behind him like wings, dragging his fingertips across anyone within reach. Following close behind this overtly free spirit was a squad of police officers making an effort to contain their grins and laughter as they did their job.
As the night wore on, the shenanigans increased and Okeechobee slowly became a bass fiend fiesta in honor of the intense lineup at the Be Stage.
The festivities started with Griz, to remind the crowd of what it means to be funky, then led to Rae Sremmurd to get the party hyped in the lead up to the landing of Bassnectar, who brought forth nonstop headbanging and feelings of being on another planet. When Bassnectar ended, we wandered aimlessly for a moment gathering our bearings. Stumbling upon the Jive Joint, we were overjoyed to realize this specific installation was added to interact with the attendants. A weird mixture of unsettling skits and humorous antics took place in this trippy little corner of ChobeeWobee village, and no matter how long you stayed to watch the entrancing silliness, you were captivated nonetheless.
Sunday was absolutely beautiful. Partaking in the yoga workshops all weekend made it so that I wasn't 100% drained on this day. I actually had the energy to pack up my campsite and enjoy some of the other workshops before checking out Soja. The other artists we chose to see before leaving that night were Ganja White Night and Pretty Lights. Ganja was fantastic, always a good show with those guys and no complaints there. Pretty Lights, on the other hand, was terrible, but only because of the obscene amount of totems in the way. The visibility was shot and even though the music was enjoyable, they're called Pretty Lights for a reason. Because of this experience, I believe it would be best to ban totems at Pretty Lights sets or at least set a distance limit so people can still see.
Leaving the portal on Sunday night before Nightmares on Wax played was disappointing, yet a highly responsible move as I could feel the pull of reality becoming stronger with the setting sun.
Real life beckoned and I came to its call as one should. The drive home that night was exponentially easier than what my friends were telling me about leaving Monday morning. I will take a five-minute drive out of the venue over an exhausting five-hour departure to the main road any day. As far as taking the journey through the portal this year as a regular attendee, I can safely say that Okeechobee stepped up their game in some areas while just simply keeping the ball rolling in others. Not everything needs improvement, but after researching about how others felt, I found that many would disagree. The issue that most people seemed to have with the portal was the lack of ability to contact others due to the absence of cellphone service. In Okeechobee's defense, they did promote using FireChat to communicate with others, so maybe better promotion of that app would have helped resolve this issue.
Another problem was most definitely the sound of the stages, or rather the lack thereof. The Aquachobee stage stood out most to me during Space Jesus' set, when I could actually hear someone's conversation word for word and they weren't right next to me. Finally, like I mentioned earlier, the crowd also seemed to be a bit more selfish compared to last year. I feel that is more than likely due to increased popularity combined with the lack of people attending from last year to explain the message of love to newcomers. If we want to spread the love we first have to give it in order to receive it in return.
Taking into consideration that my group was only attending three days, the positives definitely outweighed the negatives throughout the weekend. Our camping spot was prime, as my other festival buddies were close to a mile away from the entrance the portal, and they had purchased four-day passes! My festival experience began with camping festivals, so I may be a bit biased, but I believe that they are the most enjoyable and cost-effective when compared to others. As long as you don't spend a majority of your time walking to and from the areas you need to go, it's always a good time. Outside of the minor amount of negatives I experienced, the overall rating I would give for Okeechobee this year would be a 9.5 out of 10. I am already looking forward to attending Okeechobee in 2018!
---
Connect with Okeechobee Music & Arts Festival:
Website | Instagram | Twitter | Facebook | SoundCloud | YouTube