Ultra Music Festival 2017 Set Times, Festival Map, & More!
---
The clock is ticking down as Ultra Music Festival in Miami approaches closer with every second. To get you ready for the weekend full of fun in the sun, we've compiled some super important information for you so that your weekend can be as much fun as possible. They have now released more names to round out Phase 3 of the lineup, after stunning additions on the initial and 2nd phase announcements. Whether you're planning on checking out sets from the realm of house, techno, and trance, or getting down and dirty with some epic trap and dubstep sets, scroll down for those set times and Phase 3 additions!
Click HERE to check out the second phase of the Ultra Music Festival lineup!
Click HERE for our Miami Music Week information and exclusive giveaways!
---
Ultra Music Festival 2017 Essential Info:
Dates: March 24-26, 2017
Show times: Friday 4PM – 12AM | Saturday 12PM – 12AM | Sunday 12PM – 11PM
Venue Address: Bayfront Park – 301 North Biscayne Boulevard, Miami, Florida, USA 33132.
Ages: 18+ to dance, 21+ to drink(and VIP)
ACCEPTABLE FORMS OF IDENTIFICATION FOR ENTRY:
Valid U.S. passport or U.S. passport card
Valid foreign government-issued passport (must have photo and date of birth)
Valid foreign government-issued identification card or drivers license (must have photo and date of birth) along with a photocopy of a valid passport from the same country as the identification card or drivers license provided
U.S. military ID (active duty or retired military)
Valid U.S. Drivers Licenses or other state photo identification cards issued by a State Department of Motor Vehicles (or equivalent) for the sole purpose of identification (must have photo and date of birth)
Valid Native American tribal photo ID (must have photo and date of birth)
Valid Canadian Drivers License or Identification Card (must have photo and date of birth)
UNACCEPTABLE FORMS OF IDENTIFICATION FOR ENTRY:

School identifications
Expired identifications of any kind
Birth Certificates
Social Security Cards
Voter Card
Photo copies of any identifications
Consular identification
---
Ultra Music Festival 2017 Set Times:
Click on the images below!
---
Ultra Music Festival 2017 Festival Map: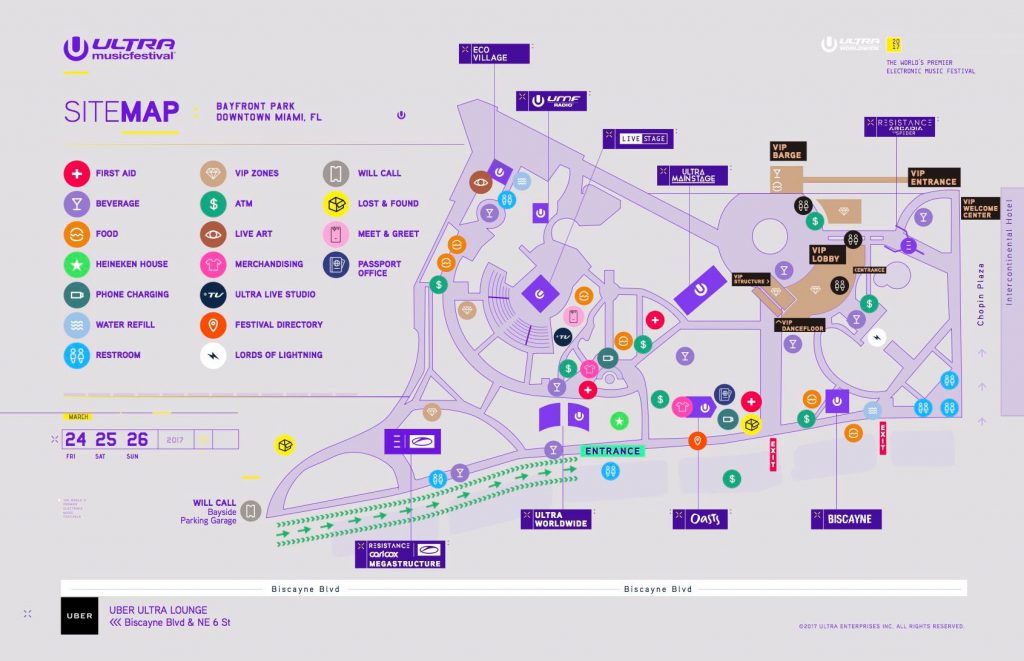 ---
Reminder To Mind Your Belongings
Unfortunately, many people have reported pickpockets, bag slashings, and theft of wallets, smartphones, purses and other valuables during this festival season. While this small number of bad apples in the bunch doesn't define an entire crowd, there are opportunistic people who come to these events to take advantage of unsuspecting party goers and it's important to be mindful of your valuables while at Ultra Music Festival.
Pay attention to who's around you and what's going on around you. Keep your wallet and phone in your front pocket(s) if you can. Treat your phone the same way you would treat cash; don't set it down on a table or bar and look away. If a friend isn't standing behind you in a crowd, be careful of your backpack or purse, and don't put valuables in a pocket that could easily be unzipped by someone behind in a crowded spot without you realizing.
Festivals, in general, are very densely populated places, and are a well-known place where pick-pocketing of unsuspecting people occurs. It's easy to find yourself in a crowded environment in a line, at a stage in the festival, elevator, or even out on the street where someone could slip your wallet or phone our of your pocket or bag in a matter of seconds. Stay alert, be careful, and make sure to not carry more than what you need!
---
Ultra Music Festival 2017 Do's & Don'ts
PROHIBITED ITEMS:
No illegal or illicit substances, drugs, or drug paraphernalia
No weapons of any kind including, but not limited to, pocket knives and self defense sprays
No flammable items or liquids including aerosols and fireworks
No markers, pens or spray paint
No backpacks, purses, or bags allowed except bags made of clear plastic, clear vinyl, or clear PVC not exceeding 13"x17"
No stuffed animals
No facial masks
No outside food or beverage including alcohol
No bottles, cans, canteens, flasks, or coolers
No opened over-the-counter medication or eye drops
No opened packs of cigarettes or tampons
No pacifiers or glow sticks
No balloons, balls, inflatable balls, frisbees or flying disks
No umbrellas, chairs, blankets, sleeping bags or tents
No bicycles, skateboards, hover-boards, scooters, or personal motorized vehicles
No drones or unmanned aerial vehicles
No animals except for service animals assisting an individual with a disability. "Comfort," "therapy" or "emotional support" animals do not meet the definition of a service animal and are not permitted entry to the Event.
No large chains, chained wallets or spiked jewelry
No laser pens, laser pointers, or similar focused light devices
No water guns, squirt guns, spray bottles or misters
No musical instruments, noisemakers or air horns
No professional cameras, flash cameras or video and audio recording equipment, or camera poles
No poles, sticks, or "totems"
Additional items may be prohibited at the discretion of law enforcement or security officials.
ACCEPTABLE:
Yes to hydration packs that are not backpacks (empty upon entry)
Yes to bags made of clear plastic, clear vinyl, or clear PVC (not exceeding 13"x17")
Yes to one-gallon clear, plastic zip-top bag
Yes to fanny packs
Yes to small clutch bags, approximately the size of a hand, with or without a handle or strap is allowed
Yes to cell phones
Yes to sunglasses and hats
Yes to illuminated or glowing jewelry or costumes
Yes to sealed packs of cigarettes upon entry
Yes to non-professional cameras
Yes to action cameras, such as GoPro's
Regarding action cameras – yes to strap headwear or non-extendable handles
Yes to earplugs
Yes to flags and banners (no corporate or company branding; no hard poles)
Yes to powdered make-up
Yes to feminine products (sealed upon entry)
Yes to prescription medication (you must have the prescription/label in your name with you)
---
Clear Bag Policy
In order to expedite entry into the Event and to continue to promote the safety of employees, crew, festivalgoers and others, there shall be a limit on the size and type of bag that may be brought into the venue.
Although festivalgoers are encouraged not to bring bags to the Event, the items outlined below are permissible:
• Bags made of clear plastic, clear vinyl or clear PVC, which do not exceed 13"x17" in size
• One-gallon clear zip-top bag
• Small clutch bags, approximately the size of a hand either with or without a handle or strap is allowed
• Hydration packs, which are NOT backpacks, will be allowed
• "Fanny-pack(s)" or similar waist-packs will be allowed
• Exceptions will be made on a case-by-case basis for medically required items after proper inspection
Have a question about your bag? Email us at [email protected] with an attached picture of your bag and we will do our best to provide advice.
Please note, we are not in the position to make any final/definitive rulings on bags. All we can do is provide advice, but ultimately all final decisions will be made by security at the gates.
---
Follow Ultra Music Festival on Social Media: