Calling all fashion-forward Insomniac VIPs, this is definitely a "can't-miss" experience in Los Angeles!
---
Insomniac's VIP events division, SKYDECK Experiences, has teamed up with Style Fashion Week this year to bring a four-day, three-night music art and fashion extravaganza. Taking place in Los Angeles from Thursday, March 9 to Sunday, March 12 at the Pacific Design Center, the event is sure to impress. Featured throughout the weekend will be international designer runway shows, live music, an extensive art market, and even a performance from Cirque Du Soleil's Zumanity!
A cocktail reception kicks off the weekend on March 9, with music provided by a "renowned dance music artist" who will be named at a later date. Photo booths and live music will be provided for guests in attendance, and SKYDECK Experience Guests will enjoy plenty of plush seating, bottle service, and plenty of great views of the catwalk. Each night will feature runway shows to showcase the works from designers like Malan Breton, Moods of Norway, Mario De La Torre, Disco Panda, WANGLILING, Thomas Wylde, and Adrian Alicea.
Tickets for Style Week Fashion Week Los Angeles are now on sale HERE. SKYDECK Experiences tables are also available via email request to [email protected]
Check out the SKYDECK Experiences X Style Fashion Week Los Angeles Info: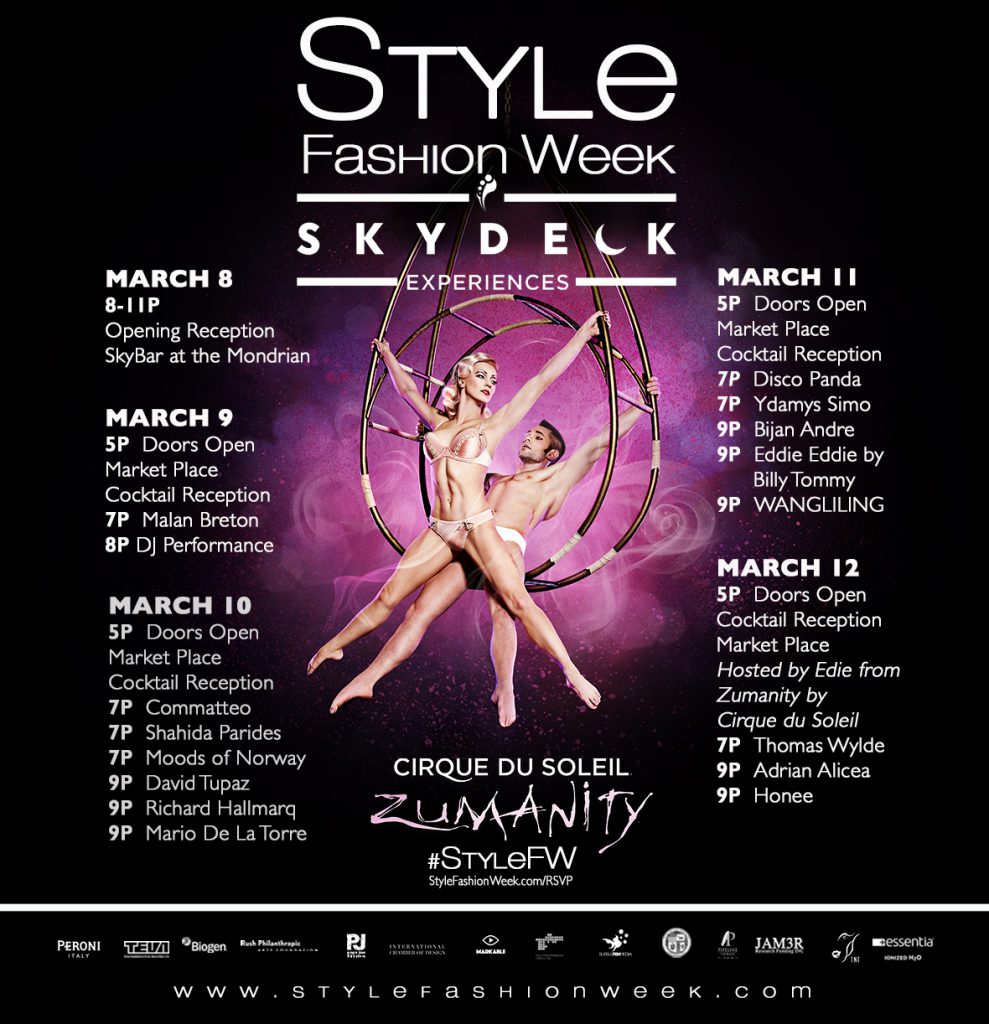 ---
About SKYDECK Experiences
As the premier VIP services brand for one of the largest and most successful event producers in the world, SKYDECK Experiences by Insomniac delivers professional, top-quality VIP services while maintaining a unique personality that enhances the guest experience at every level. Providing a wide range of VIP services, the SKYDECK Experiences Management team will oversee and execute VIP production & design, provide a dedicated Front of House Team, hire the best VIP staff in the business and provide full event support from start to finish. SKYDECK Experiences takes a creative outlook and approach to taking care of the world's most important VIP clientele.
About Style Fashion Week Los Angeles:
Style Fashion Week (www.stylefashionweek.com), producer of globally recognized fashion events, provides top designers a world-class platform to showcase their collections. Each year Style Fashion Week presents the season's must-see shows, unforgettable performances, and exclusive installations. Our expansive Style Marketplace immerses guests in fashion as well as art and design. Guests directly engage with brands throughout the week. Style Fashion Week represents the diverse cultures of New York, Los Angeles, Miami, Palm Springs and Dubai, integrating international designers, media, celebrities and commerce season after season.
---
Connect with Insomniac Events:
Website | Facebook | Twitter | Instagram | SoundCloud | YouTube
Connect with Style Fashion Week: