Tonight is the night that San Francisco falls in love at Insomniac's Annual Valentine's Day themed event, Crush!
Returning to Bill Graham Civic Auditorium tonight, February 11th, headliners can expect special decor and captivating production that will dazzle your rave bae and/or squad. So what are you waiting for? Grab your tickets for Crush SF and head into the city for a night full of love and lasers. Below you'll find all the essential info you will need along with a special playlist to get you excited for the night ahead.
Having trouble deciding how to do your make-up for the night? check out our Crush SF 2017 || Valentine's Themed Makeup Inspirations! ♥
---
Crush SF 2017 Essential Event Information
Date: Saturday, February 11, 2017
Hours: 6:00pm-1:00am
Location: Bill Graham Civic Auditorium – 99 Grove St, San Francisco, CA 94102
Age Restriction: 18+
Event Page: HERE
Tickets: Purchase HERE
Acceptable Forms of Identification for Entry
YES Any US government-issued driver's license or ID card containing a photograph and date of birth
YES US or foreign government issued passport containing a photograph and date of birth
YES Foreign government-issued driver's license or ID (must be accompanied by color photocopy of passport)
Unacceptable Forms of Identification for Entry
NO School ID
NO Consular ID
NO Birth certificates
NO Photocopies of any ID
---
Crush SF 2017 Lineup & Set Times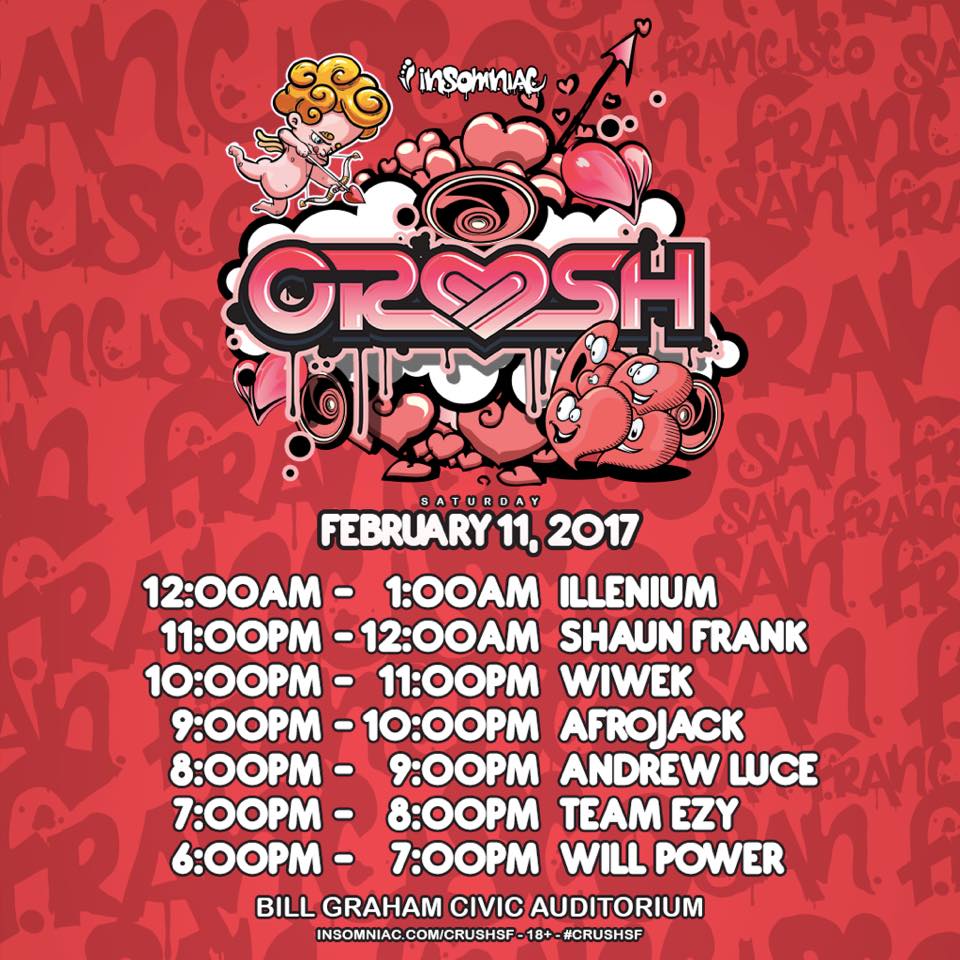 ---
Crush SF Playlist
---
Crush SF Do's & Don'ts
Permitted Items
YES Small bags, single compartment backpacks, & purses (maximum 12″x12″)
YES Official Insomniac water bottles—must be empty upon entry
YES CamelBaks with no more than two main compartments and one smaller compartment—must be empty upon entry
YES Cell phones
YES Fanny packs
YES Sunglasses & hats
YES Lighters and sealed packs of cigarettes
YES Earplugs
YES Sealed lip balm & gloss
YES Powder makeup and sealed tampons
YES Glowsticks & glowing/illuminated costumes or jewelry
YES Sealed packs of gum
YES Physician-prescribed medication that is not expired (must show physician's prescription and consult with a safety officer upon entry)
YES Hula hoops (including led hoops)
YES Flags/banners or handmade signs (no corporate/company branded and no hard flag poles)
YES Festival totems or decorated pool noodles (Please Note: Security varies at Bill Graham Civic Auditorium and often times totems must be deconstructed if they believe it is a safety issue.)
YES Non-professional flash/still cameras, handheld video devices under 6″ (Sony Action Cam, GoPro, etc.)
YES E-cigs or vapes that do not have refillable liquid chambers
Prohibited Items
NO Illegal substances
NO Drugs or drug paraphernalia
NO Pets
NO Massagers
NO Laser pointers and air horns
NO LED gloves or LED microlights used for light shows
NO Pacifiers, dust masks or gas masks
NO Eye drops
NO Over-the-counter medication (available inside from a first aid station)
NO Liquid makeup or unsealed tampons (upon entry)
NO Glass, cans, cups or coolers
NO Markers, pens or spray paint
NO Large chains or spiked jewelry
NO Stickers, flyers
NO Balls or Frisbees
NO Tents, large umbrellas, chairs or blankets
NO Bota bags
NO Large purses, bags or backpack (over 12″×12″)
NO Stuffed animals or dolls
NO Open packs of cigarettes (upon entry)
NO Outside food or beverages (including alcohol and candy)
NO Weapons of any kind (includes pocket knives, pepper spray, fireworks, etc.)
NO Professional photo, video, or audio recording equipment (no detachable lenses, tripods, big zooms or commercial-use rigs)
---
Mind Your Belongings
Unfortunately, many people have reported pickpockets, bag slashings, and theft of wallets, smartphones, purses and other valuables. While this small number of bad apples in the bunch doesn't define an entire crowd, there are opportunistic people who come to these events to take advantage of unsuspecting party goers and it's important to be mindful of your valuables while at Crush SF.
Pay attention to who's around you and what's going on around you. Keep your wallet and phone in your front pocket(s) if you can. Treat your phone the same way you would treat cash; don't set it down on a table or bar and look away. If a friend isn't standing behind you in a crowd, be careful of your backpack or purse, and don't put valuables in a pocket that could easily be unzipped by someone behind in a crowded spot without you realizing.
---
Get updates about Crush 2017 on Social Media
Website | Facebook | Twitter | Instagram | YouTube
Featured Photo Credit: Insomniac Events