Fresh Entertainment is gearing up for another Hostile takeover on January 27th at Los Globos!
---
Fresh Entertainment is gearing up for a bass heavy installment of Hostile. The takeover will be delivering five hours of hard, pounding heavy-hitting beats from five artists, two of which will be making their Los Angeles debut. Dr. Ozi is headlining the event and making his first Los Angeles appearance. A Toronto-based artist, Dr. Ozi is an innovative and powerful force bringing heavy synths and bass. Next, Disciple Records boss Myro is also headlining the event and will also be making his Los Angeles debut. Myro is bringing Oolacile, the latest addition to the Disciple Records family to the event as well. The Los Angeles native is bringing heavy Dubstep with a unique and experimental twist. Rounding out the lineup are Los Angeles-based
Rounding out the lineup are Los Angeles-based Sphynxx and Canadian Subject31, the latter amazed the audience at the inaugural event. Fresh Entertainment fans love Hostile events. The commitment and dedication to curating artists from around the world and bringing the harder sounds of Dubstep, Trap, Drum and Bass and more.
---
Fresh Presents Hostile – Event Information:
Date: Friday, January 27th, 2017
Ages: 18+
Hours: 9PM – 2AM
Venue Address: Los Globos – 3040 Sunset Boulevard Los Angeles, CA 90026
---
Fresh Presents Hostile – Lineup: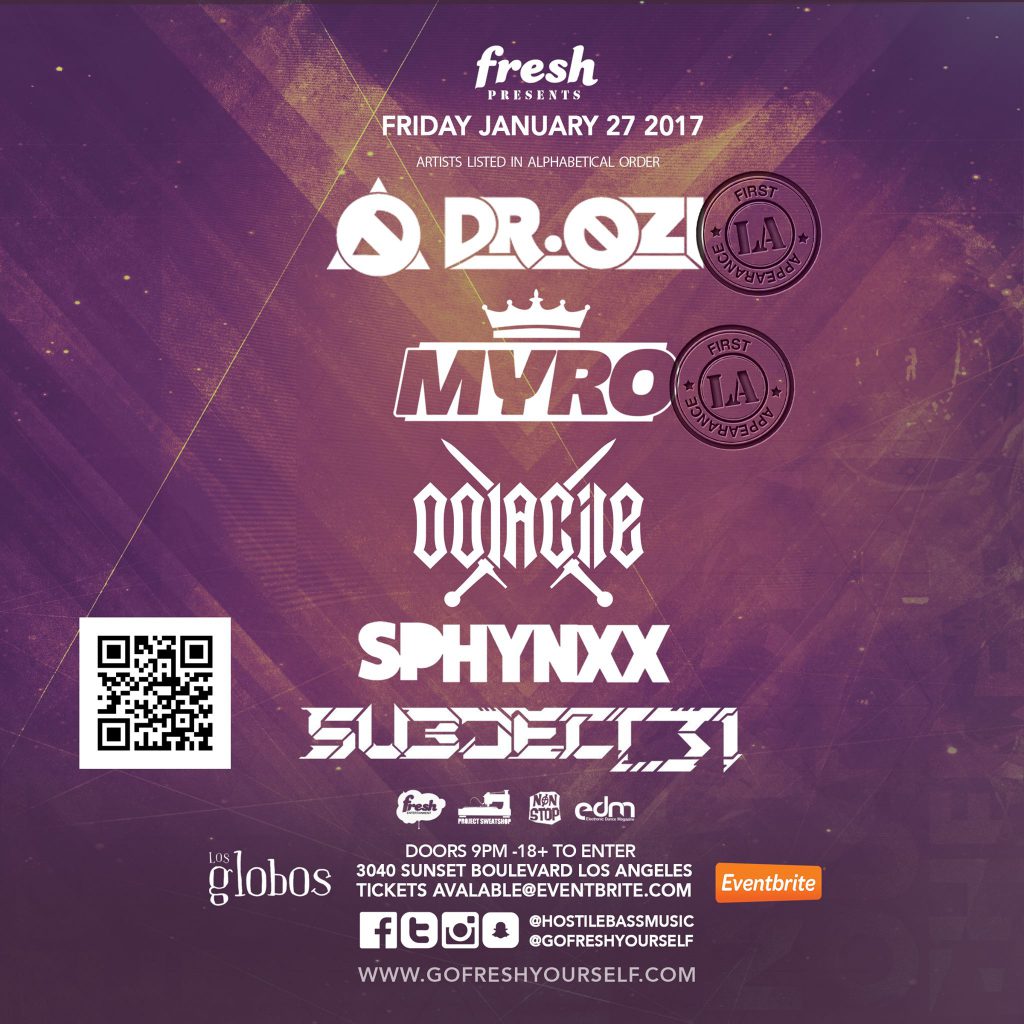 ---
About Fresh Entertainment:
From inception, Fresh Entertainment has steadily grown to become one of the best loved electronic music event producers in California. Fresh has built a strong, loyal following by staging themed events that deliver exciting production value and creative, innovative artist lineups. While many event producers are content to feature the same DJs year after year, Fresh strives to create the first California events to showcase the electronic stars of tomorrow.
Some of the artists who made their very first California and USA appearances on the Fresh stage include Andy Moor, Sean Tyas, Headhunterz, Mustard Pimp, Myon & Shane 54, Daniel Kandi, Datsik, Dash Berlin, Mt Eden, Tonic and more. Many of these artists have gone on to become legitimate headliners at festivals and clubs worldwide. By being the first to bring these artists to California, we fulfill our mission: To always stay innovative, cutting edge, and FRESH.
---
Follow Fresh Entertainment on Social Media