Groove Cruise Miami 2017 Set Times, Activities, & More!
---
Groove Cruise Miami sets sail every year to a beautiful, tropical destination and has been coined the world's largest floating dance music festival. With beach parties on the island the ship is destined to and 96 hours of non-stop music from a wide variety of artists, the Groove Cruise can easily be said to be one of the best electronic music cruises in existence. We realized that there is so much to remember and so much to know for Groove Cruise Miami, so hopefully this essentials post, packed with tons of good information, will help you!
We at EDM Identity know that internet access will be spotty on the high seas (though WiFi is available for purchase as well as an internet cafe), in anticipation of that, we've prepared a PDF version you can download to your phone by clicking here!
Learn more about my in-depth experience on GCMIA 2016. 
Check out the EDM Identity Official Groove Cruise Miami 2016 Aftermovie!
---
Groove Cruise Miami 2017 Essential Info:
Event Start:  Monday, January 23rd @ 12:00 PM
Event End: Friday, January 27th @ Disembarkation
Venue Address: Port of Miami, Carnival Victory Ship Terminal (Miami Cruise Ship Terminal Directions & Parking)
Facebook Event: https://www.facebook.com/events/226326224402640/
Acceptable Forms of Identification for Entry

If you are a US Citizen, passports are highly recommended, but you may also use a Birth Certificate (original or certified copy) and Government-Issue Photo ID.
U.S. Alien Residents need a valid Alien Resident Card. Non-U.S. citizens need a valid passport and a valid, unexpired U.S. Multiple Re-entry Visa, if applicable.
Non-US Citizens will need a passport, and possibly a Visa, depending on your country of citizenship.
All documents must be VALID! Expired passports, driver's licenses, visas, etc. will not be accepted.
It is YOUR responsibility to make sure you have the correct documentation to board the ship. For more information about passport requirements, please visit www.getyouhome.gov and www.travel.state.gov.
If you have any specific questions about your situation, or if you are not a US Citizen, please call US Customs and Border Protection at 877-CBP-5511 to be sure your identification is satisfactory.
---
Groove Cruise Miami 2017 Set Times:
Monday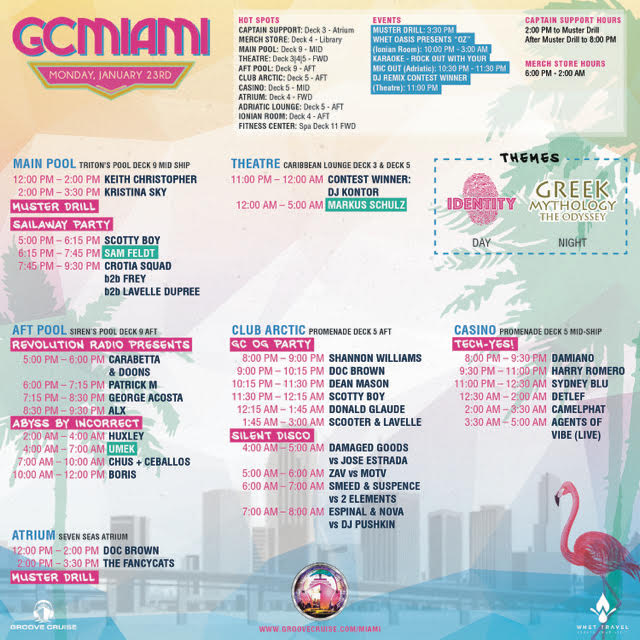 Tuesday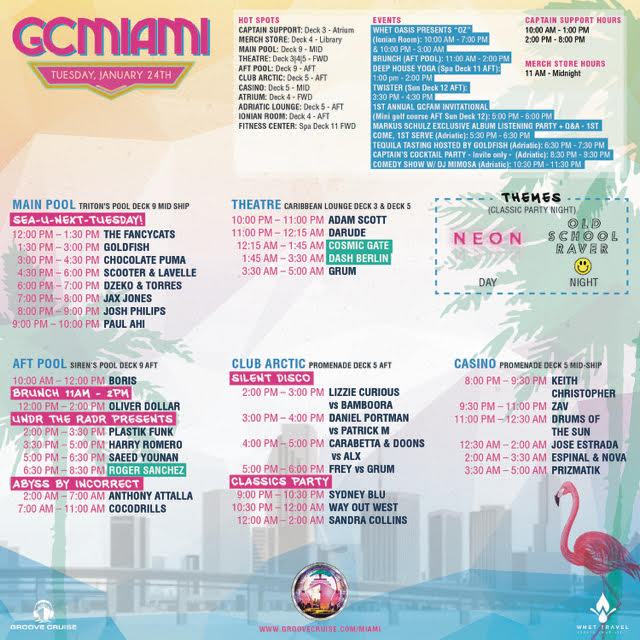 Wednesday
Thursday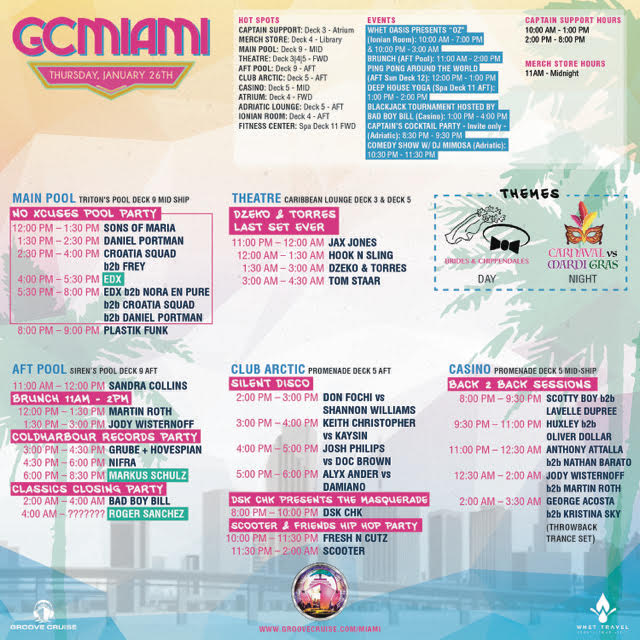 ---
Groove Cruise Miami 2017 – Carnival Victory Cruise Deck Plans:
Explore the Carnival Victory by heading over to Carnival's website. You can check out key locations on each deck, including pictures! This is also a great location cabin numbers of any friends that you have on the ship!
You can also see these deck plans on the Carnival HUB app — download now so you'll have it on the boat!
---
Groove Cruise Miami 2017 Activities:
Whet Travel has lots of epic activities in store for GCMIA attendees this year. Activities are a great way to meet other members of the #GCFAM on the ship and to switch it up!
Deep House Yoga
Time: Tuesday 1/24 & Thursday 1/26 from 1:00 PM – 2:00 PM
Location: Spa Deck 11
Music by: Alissa Jo
Instructed by: Valerie Rutka
Karaoke
Time: Monday 1/23 from 10:30 PM – 11:30 PM & Wednesday 1/26 from 8:30 PM – 9:30 PM
Location: Deck 5 – Aft (Adriatic Lounge)
ROCK OUT WITH YOUR MIC OUT!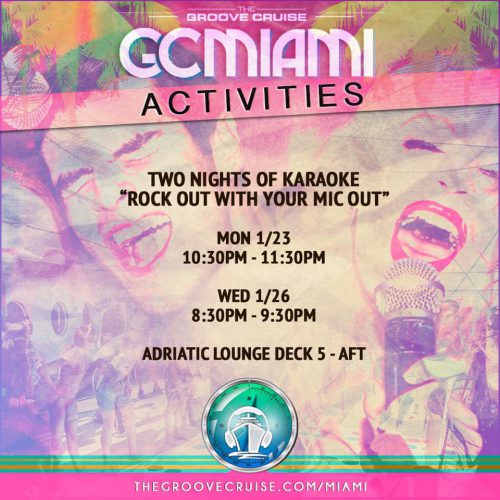 Mini-Golf Tournament with the artists!
Time: Tuesday 1/24 from 5:00 PM – 6:00 PM
Location: Deck 12 Aft (Mini-Golf Course)
Play with these artists: Cosmic Gate, Croatia Squad, EDX, Hook n Sling, Jochen Miller, Nick Warren, Sam Feldt… and more!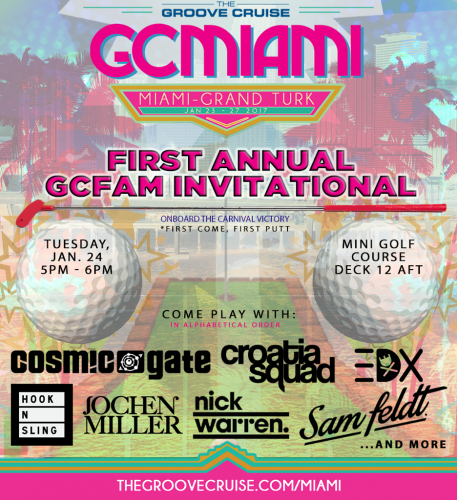 Ping Pong "Around the World" Challenge with the artists!
Time: Thursday 1/26 from 12:00 PM – 1:00 PM
Location: Deck 12 Aft (Sun Deck)
FIRST COME, FIRST SERVE!
Play with these artists: Andrew Rayel, Darude, EDX, Nore en Pure, Scooter and Lavelle, Umek… and more!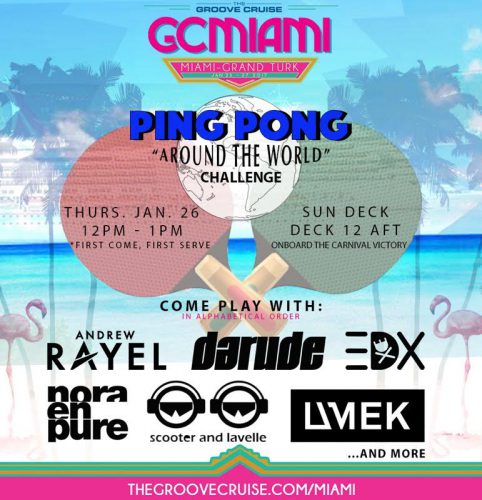 Black Jack Tournament
1st Tournament: Tuesday 1/24 from 1:00 PM – 4:00 PM
2nd Tournament: Thursday 1/26 from 1:00 PM – 4:00 PM
Location: Deck 5 Mid (Casino)
Hosted by Bad Boy Bill!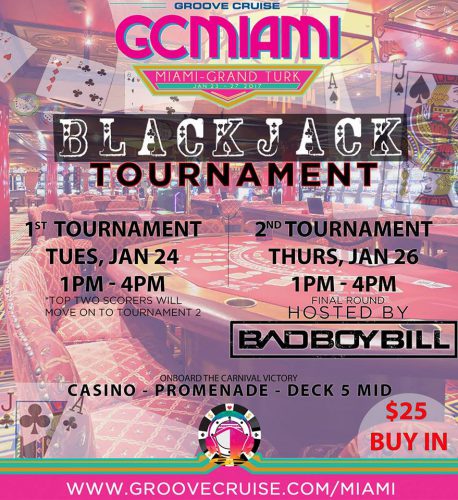 Markus Schulz pres. Dakota The Nine Skies Listening Party + Q & A
Time: Tuesday 1/24 from 5:30 PM – 6:30 PM
Location: Deck 5 Aft (Adriatic Lounge)
FIRST COME, FIRST SERVE!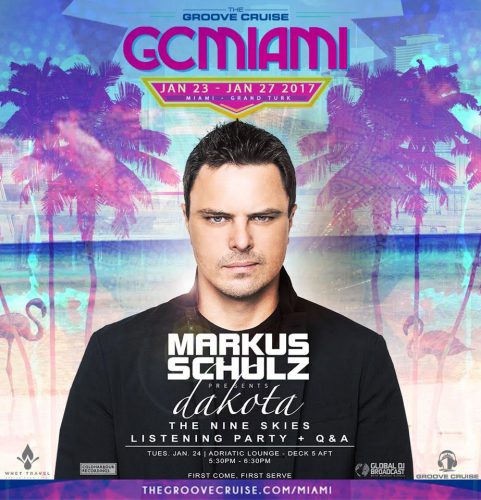 ---
Groove Cruise Miami 2017 Additional Food Options:
All new this year to Groove Cruise Miami are some awesome extra food options from Whet Travel. These food options are all you can eat, but cost extra. They also have specified time frames, so make sure to take note! The cost of the food is $30 pre-sale (you can book them ahead of time on Whet Travel's website) and $35 onboard the ship (per person). Of course, there is a free buffet… but who wouldn't want to partake in some extra scrumptious breakfast for dinner, Asian, Mexican, or Middle Eastern cuisine?
Note: Last day to book in advance is 1/16/17!
Check out all your options below:
---
Groove Cruise Miami 2017 Beach Party:
Wednesday, 1/25 at Margaritaville on Grand Turk!
Optional open bar — $75.00 per person. Reserve ahead of time with Whet Travel.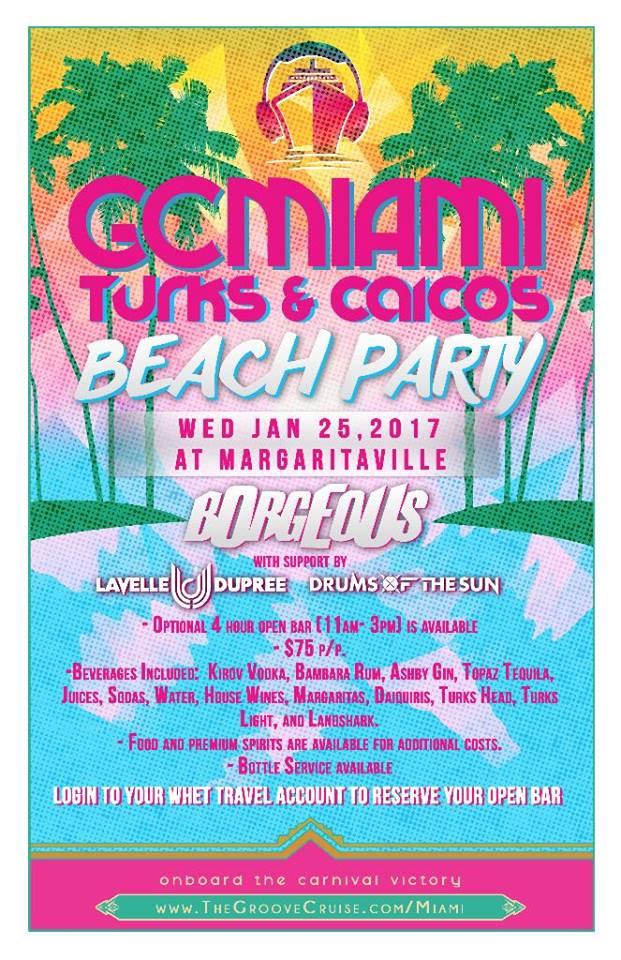 ---
Groove Cruise Miami 2017 Pre / Post Parties:
Looking for something to do pre or post Groove Cruise? Check out the official Groove Cruise pre and after parties. Official parties so far include:
Official Bon Voyage Pre-Party – January 20th
Time: Friday, 1/20
Location: Heart Nightclub
Lineup: Hobo, Yaya
Official Poolside Pre-Party – January 22nd
Time: Sunday, 1/22 from 3:00 PM – 10:00 PM
Location: Clevelander Miami Beach
Lineup: Doc Brown, Keith Christopher, Sydney Blu, George Acosta, Patrick M, Bamboora, Scooter and Lavelle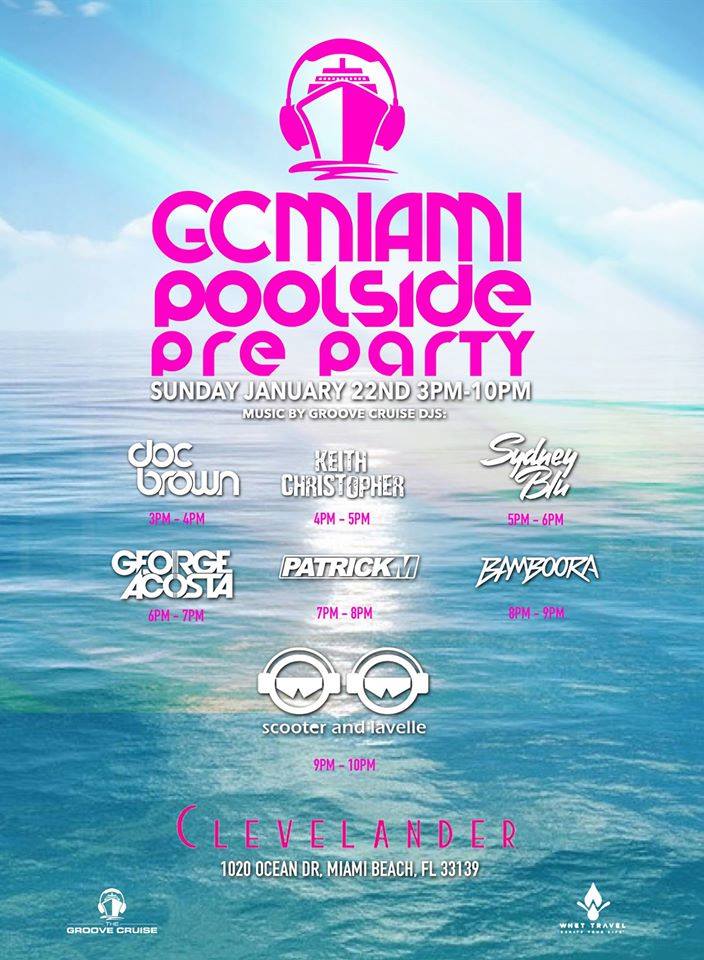 Official Bon Voyage Pre-Party – January 22nd
Time: Sunday, 1/22 from 9:00 PM – 2:00 AM
Location: E11EVEN Miami
Lineup: Tom Staar, Scottyboy, Damaged Goods, Lizzie Curious + Special Surprise Guest!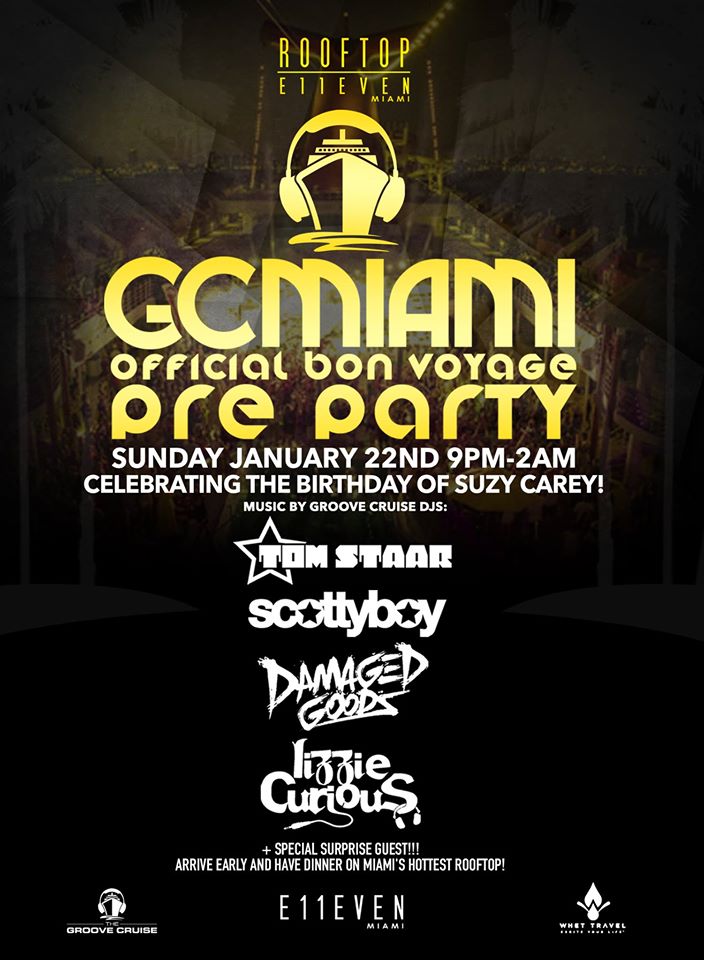 Groove Cruise Recovery Party – January 27th
Time: Friday, January 27th @ 4:00 PM
Location: Wynwood 5th Ave
Lineup: George Acosta, Lavelle Dupree, Keith Christopher, Jenny Disko – Opening sets by: Silvio Rodrigues & Brian Perez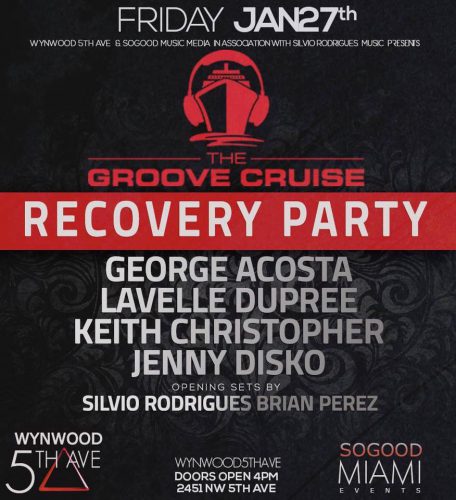 ---
Groove Cruise Miami 2017 Themes & Body Paint:
Don't forget the themes! There's still time to order some items for epic costumes for themes this year. From identity (express yourself!) to Carnival/Mardi Gras… there's plenty of ways to get creative and shine on each day and night. Let your creativity soar — it's a great way to spark conversation with new friends!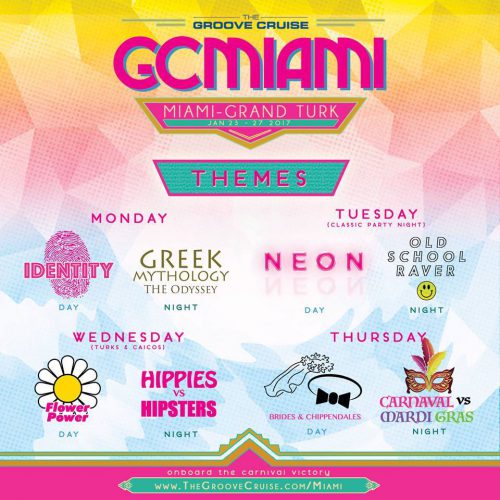 ---
Whet Foundation Donations:
Every year on Groove Cruise, the Whet Foundation and Groove Cruise work together to help children and teens in need. If you have any unwanted clothes in your closet, shoes, belts, or school supplies lying around, you can donate them on the ship at the Merchant Store. A detailed list of requested items can be seen here: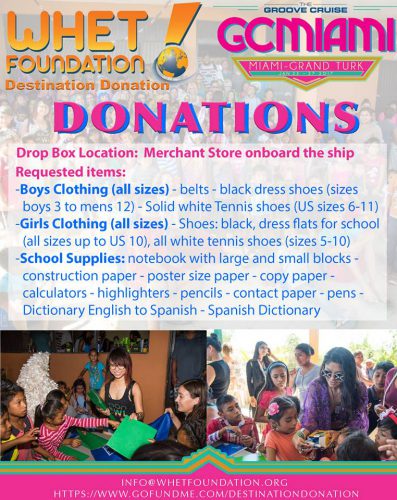 ---
Groove Cruise 2017 Miami Pro-Tips & FAQ:
Don't Forget To…
Complete Carnival's mandatory online check-in by 11:59 ET on 1/22 (don't procrastinate – what if something goes wrong!).

Remember to PRINT YOUR BOARDING PASS and bring it WITH you along matching government-issued photo ID (drivers license for USA citizens or passport for foreign guests) and passport/birth certificate when you arrive at the cruise ship terminal to prevent boarding delays.

Blind Faith Mafia members: Pick up your thank you gift at the Captain Support Desk anytime after 5 PM on Monday.
Beverages & Alcohol
Guests can bring on 1 bottle of wine each. There is a $15 corkage fee if you want to drink the wine in the main dining room, steakhouse, or bar. If you open it yourself in your room, you are not charged.
All alcoholic beverages beyond your 1 bottle of wine are prohibited and will be confiscated if found.
You CANNOT bring on bottle water. You can pre-order a pack ($4.50 for a 12 pack) and have it delivered to your room on the Carnival Fun Shop. There are also other beverage purchase options on the Fun Shops such as soda, bloody mary mix, etc.
You are allowed to bring on a maximum of 12 sealed, unopened cans/cartons (no bottles) of 12 ounces each or less per person.
You are allowed to bring one cooler (there are no refrigerators in normal staterooms). The cooler must be no larger than 12″ x 12″ x 12″.
You can pre-order alcohol to your room through the Carnival Fun Shop. If you pre-order, the bottles will be cheaper than onboard prices.
Staying Connected at Sea
Download the Carnival HUB app on your mobile phone. The app works in airplane mode. It includes a day-by-day schedule, deck plans, account balance, etc.
It also includes Onboard Chat Access, where you can communicate with other attendees. This costs $5 per day (Social Package). There are three packages for staying connected:

Social ($5 USD per day) – Access the most popular websites and applications. Includes: Facebook, Twitter, Instagram, Pinterest, Linkedin, Facebook Messenger and WhatsApp. Does not include access to other websites or apps.
Value ($16 USD per day) – Surf all your favorite sites, including e-mail, news, sports, weather, banking, and finance. Note: Does not support Skype calling or music streaming (such as Spotify).
Premium ($25 USD per day) – From e-mail to Skype, our Premium plan promises the fastest possible connection, at speeds up to 3 times faster than our Value Plan. Supports Skype video calling, where coverage allows.
Captain's Cocktail Parties
Held on board two nights during the cruise, includes a complimentary open bar for one hour each night. Tickets are $80 per person and include admission to both events. Book this ahead of time on Whet Travel's website.
Useful Links
---
Connect with Groove Cruise on Social Media:
Website | Facebook | Twitter | Instagram | SoundCloud