After a 16 year run, Carl Cox has announced that his Global Radio Show will come to an end!
---
Carl Cox announced today that he will be retiring his Global Radio show after airing for 16 years. The news was announced on Facebook that the last show will air at the end of February. Over the next seven weeks, Carl Cox will be pulling out all the stops featuring exclusive sets and special guests on the last few shows left.
For those unfamiliar with the radio show, it was a four-part, two-hour radio show. Global Radio kicked off with the Global Warmer, Carl's biggest tune of the week, then the Global Lowdown, music from one of his favorite labels. Next, it was on to the Global Alliance – a 30-minute guest DJ set, finishing off with Going Global – an hour mix from Carl's International Diary.
Do you think Carl Cox will continue to produce a radio show in some aspect, possibly similar to Deadmau5's new BBC1 Residency? Leave your thoughts and comments below!
Carl Cox's Official Facebook Announcement:
---
Carl Cox's Official Announcement: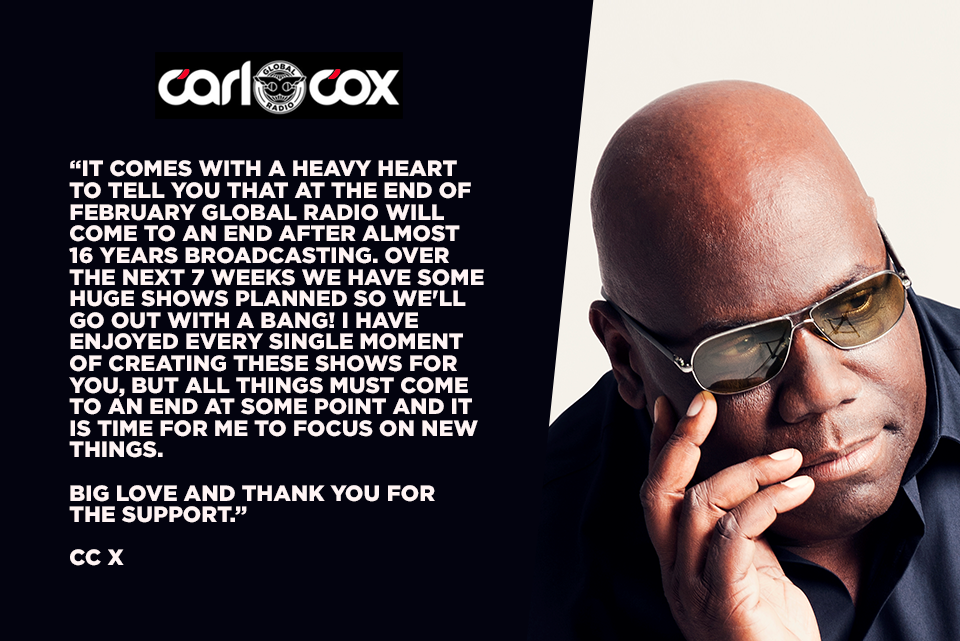 ---
Listen to Global Radio 715 – Live from Hyte Berlin:
---
About Carl Cox:
A musical ambassador since he was in short trousers, a professional DJ since his early teens, a veteran of acid house and a champion of techno, Carl Cox emits a love of his work that is dangerously infectious. Check him when he's behind the turntables and you can't mistake his ecstatic visage, dripping with sweat as his head bobs up and down to the beat, his hands pumping the air whenever they're not manipulating the turntables, his body swaying back and forth, frequently taking to the mike to share word on the latest underground tune he's about to break. You name it, Carl's been there and done it, but he's never lost sight of the point of it: playing music, breaking tunes, spreading love, celebrating life.
---
Follow Carl Cox on Social Media:
Website | Facebook | Twitter | Instagram | Mixcloud
Featured Photo Credit: YosiMamia.com