Infinity NYE had massive potential, but experienced some roadblocks in the 2017 edition.
---
I'm always down for convenience, especially on New Year's Eve which is arguably the busiest day in terms of nightlife. Living in San Diego, I was apprehensive to fight tooth-and-nail to get into any of the outrageously packed clubs downtown, and OMFG was just not as appealing to me this year. Therefore, when I found out that Infinity NYE was back for its second year at the Town & Country Convention Center in San Diego, CA, I just had to attend.
Having never attended before, I was very curious as to how this event would turn out. Held at the Town & Country Convention Center, it was located right next to the Fashion Valley mall but the lineup was what really drew me in. It was dotted with acts such as G-Eazy, Illenium, Dillon Francis, and Dada Life plus some additional support, making it a fairly good lineup. The event had expanded to two days, December 30th and December 31st, and went from 9pm to 2am on day one and 8pm to 3am on day two.
Our high spirits about New Year's and Infinity NYE were soon shot down even before we physically got inside the venue.
My friends and I were extremely excited to get to the venue. It was the day before New Year's Eve and this was an event we were really looking forward to. The UBER driver dropped us off right in front of GA entry line right around 9:30pm. I got my pass from Will Call and we went through security. Security was a brief check, however, they immediately instructed my girlfriend and her roommate to remove and throw away all of their kandi they brought in. My girlfriend was quick to point out to one of the security guards there that kandi was allowed per Infinity's own website. He quickly corrected the security guards and made sure they knew that kandi was allowed inside this event. They were able to retrieve their kandi and walk in, however, it is not the best first impression to portray to paying attendees.
About five minutes after walking past security, we were approached by three police offers and were instructed to take off our backpacks and hand them to them so they can be searched. We obliged and everything went well, but we were weirded out about why we were searched. Yet again, not a way to treat your paying attendees.
After that, though, things began to look up!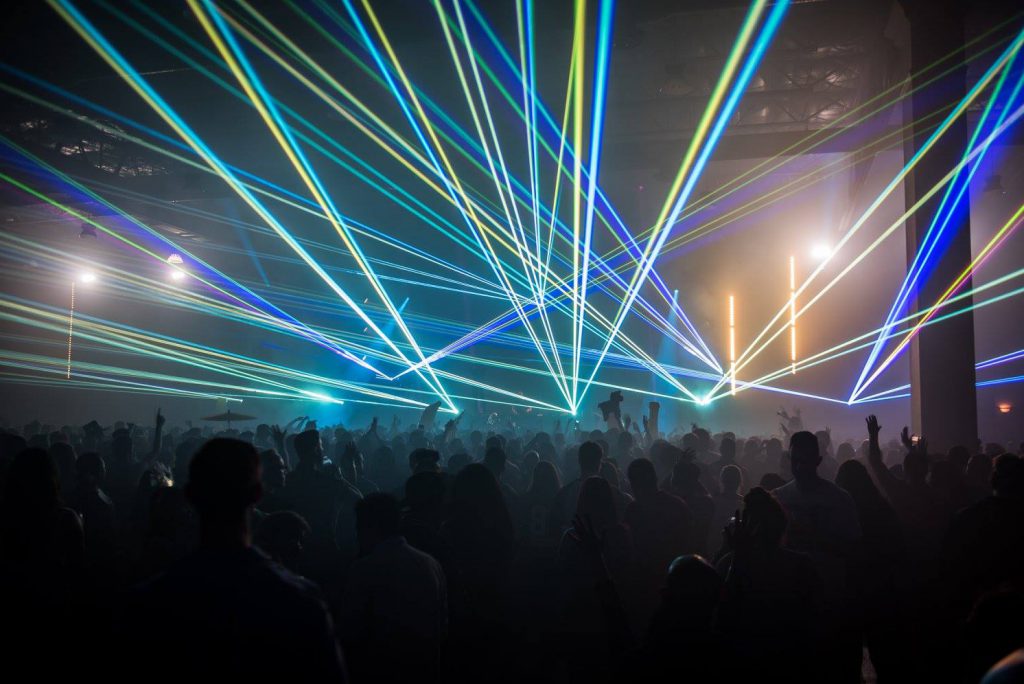 After finally arriving at the Infinite Stage and I was thoroughly impressed with the venue. The Town & Country Convention Center is mostly indoors and it is a spacious area, basically a hotel with big ballrooms. The Infinite Stage sounded absolutely amazing in terms of sound, much much better than a lot larger scale events I have attended (ahem….Hard Events). The LED screens used for visuals were adequate and placed in a manner that the crowd could easily see them. The crowd in attendance was extremely diverse too. You had your seasoned ravers dancing alongside actual club-goers who were astonished to see gloving and shuffling takiing place.
We began dancing and enjoying ourselves to the few openers we heard. It was looking up to be a great time despite the issues earlier.
But like a rollercoaster, what goes up must come down…
Right around the time when We Are Treo took the stage, my girlfriend lost her wallet. We frantically searched around for it but it was nowhere to be found. She suspected she left it at the bar, so we headed back there. We asked a few bartenders if they saw her wallet or if there was a Lost & Found and they were very indifferent to the plea for help. One guy even just shrugged his shoulders…not helpful in the least.
Not going to let that get us down, we canceled her debit card and went on with the night. It was then when we noticed it was around 12:10am and that G-Eazy, who was scheduled to perform at 12am, was not on. G-Eazy was running late apparently, as he was in Las Vegas prior to his performance at InfinityNYE. He ended up coming on at around 12:30am and performed a few songs and then promptly left. I cannot really pin this mishap on Eventvibe, but it just didn't add anything to the entire night. Afterwards, Illenium came on around 1am and played a pretty great set. It was definitely a good way to end the night!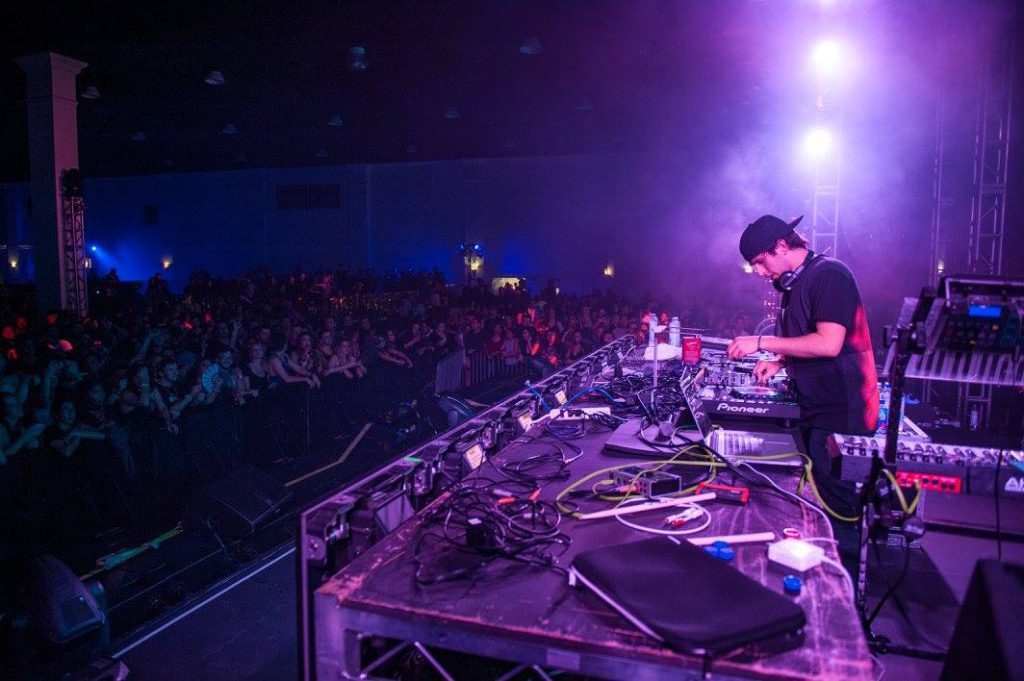 The day we were all waiting for was finally here – New Year's Eve!
My group and I excitedly headed to the venue around 9:30pm and were ready for a day filled with many more headliners than the first day was. My girlfriend received a Facebook message from someone working the event and he notified her that her entire wallet was turned into Lost & Found. Recovering the wallet would be a great start to the evening, as it also included her ID.
The hunt for Lost & Found was on!
The first thing we did when we got there was to speak with the people at Will Call and ask them where the Lost & Found was located. They instructed us that it was in the front of the hotel, in the lobby. So we ran outside, in the rain, around the building to the front lobby area. For some reason, there was no direct way to get to the lobby through the inside. Once we arrived, the lady at the front instructed us that the lost & found opens at 8am the next day and they had no way of opening it at that time. That made absolutely no sense to me, and was pretty inconvenient too.
So we ran back outside again, in the rain, and went back to Will Call to let them know that the Lost & Found was not open. The guys are Will Call instructed us to speak with the head of security. To his credit, he tried one more time to find the ID or even get into the Lost & Found, but said he was unable to locate the ID specifically. Alas, no ID tonight, but we were not going to let it get our spirits down.
Not only did Infinity have no real Lost & Found, but their staff was seemed to be unorganized and misinformed.
On the second day, we had no hiccups with security. The venue was considerably busier than day one, which was great to see. The first day was a little lacking on the amount of people in attendance. This time there were four stages open – the Deep Space Stage, Outer Space Stage, Galactic Bass Stage, and Infinite Stage. We headed over to the Infinite Stage to watch the beginning of Dillon Francis. It was a good choice, as he absolutely smashed his performance overall! He played everything from his catalog – from his classic songs such as "Masta Blasta 2.0" and "IDGAFOS" to his newer stuff like his remix of Calvin Harris' "This is What You Came For" and collab with DJ Snake "Get Low." He also had the honor of doing the countdown, which was spectacular.
Dillon Francis definitely brought the new year in right!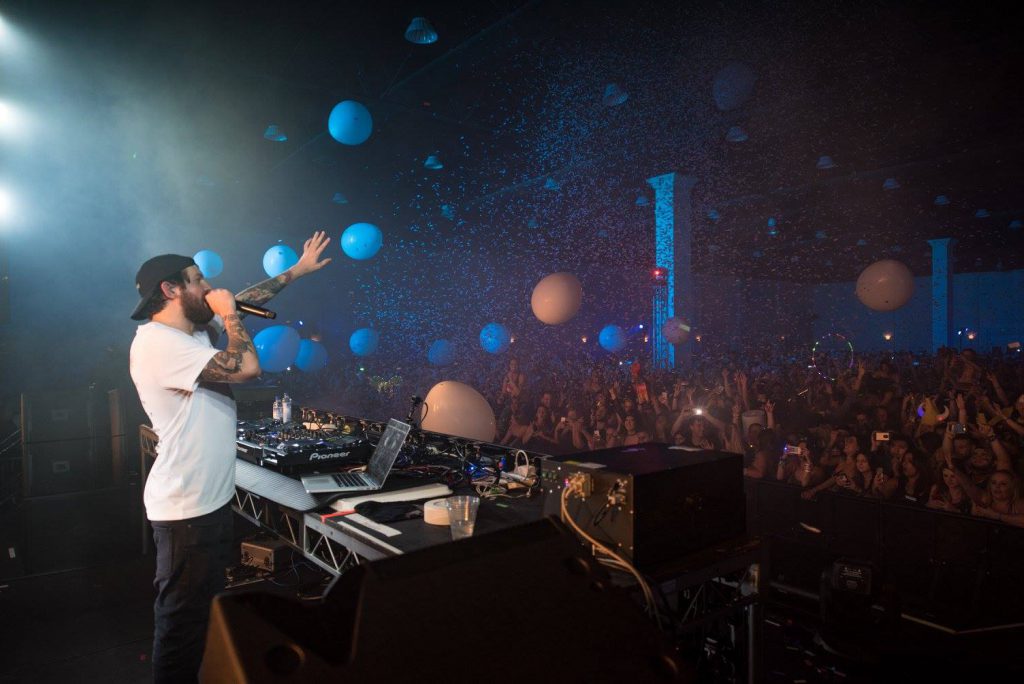 After Dillon Francis, Dada Life took the stage for their two-hour set. We went over to the Galactic Bass Stage to check out the beginning of Flux Pavillon and while the stage sounded and looked great, we didn't really enjoy how the house lights were on throughout the entire room. It took away from the stage itself and what was going on there. We only stayed for a few songs before heading back to Dada Life and sitting down to the side to relax.
We are not the biggest fans of Dada Life, so we waiting until about 1:15am when Boombox Cartel took the over on the Galactic Bass Stage. Even though the house lights were still on, we caught their set and they really threw down. To me, it was the best bass heavy set of the weekend! I chose to end our night with JOYRYDE, who played from 2am to 3am back at the Infinite Stage. He closed out the entire event and did a phenomenal job, he always brings a high energy set and electrifies the crowd.
Those great sets turned our night turned around entirely, and we thoroughly enjoyed Infinity NYE despite all the pitfalls we faced.
Eventvibe has a huge amount of stuff to work on to make this event successful in the future. Sure, they had their sound, artists and visuals on point, but the overall customer service and treatment of their attendees was unbelievably poor in my experience. Hopefully next year they are more organized and learn from the pitfalls faced this year.
---
Infinity NYE 2017 Pros:
Easy to get to if you're in San Diego and not in downtown San Diego.
Lineup was great.
Sound was phenomenal, better than some larger scale events I have attended.
Spacious venue.
Tickets were very affordable.
Infinity NYE 2017 Cons:
Lack of organization.
Communication among event staff was very poor.
Bathroom options are very limited if you aren't VIP; either you are outside standing in the cold/dark at the Porta-Potties or you have to walk all the way across the venue to use the actual bathrooms.
No actual Lost & Found – had to return to the hotel on the day following the event to retrieve lost items.
Without a doubt, check out the festival, hopefully they iron out these issues in years to come.
---
Connect with Infinity NYE 2017 for More Info: