Mark Sherry is a name that's synonymous with quality trance for over a decade.
---
At a time when many trance artists felt compelled to explore more commercial avenues, Mark Sherry has steadied the ship and is reaping the rewards by being the leading figure of the tech-trance genre. And by that, I mean back to the roots techno and trance. The type of music that feels gritty and raw. Music that has drive and energy on the dance floor. And that is not afraid to take chances. Over the past couple of years, we have seen a resurgence of shows that have one single purpose: to give the audience a real musical journey. To achieve this you need a few things:
A DJ that has a reputation of crafting long sets. The majority of such DJs tend to be old to the business. Over the years, they've acquired the knowledge and art form of mixing and reading the crowd. These skills allow them to bring to life an unforgettable experience.
A promoter that is willing to go against the flow of festival driven, short sets lineups and take a chance.
A club where the primary focus is on the audio experience. The more minimal the visuals, the more immersive the experience.
Mark Sherry's talent behind the decks has never been questioned. With his series of #Outburst Open To Close shows, he has put himself on the map as one of the must-see trance DJs for those that want to experience a musical journey. Luckily for me, Montreal has just the right ingredients to complete the list of requirements for such an event. Without further a due, let's jump right into the 7.5-hour long show review, shall we!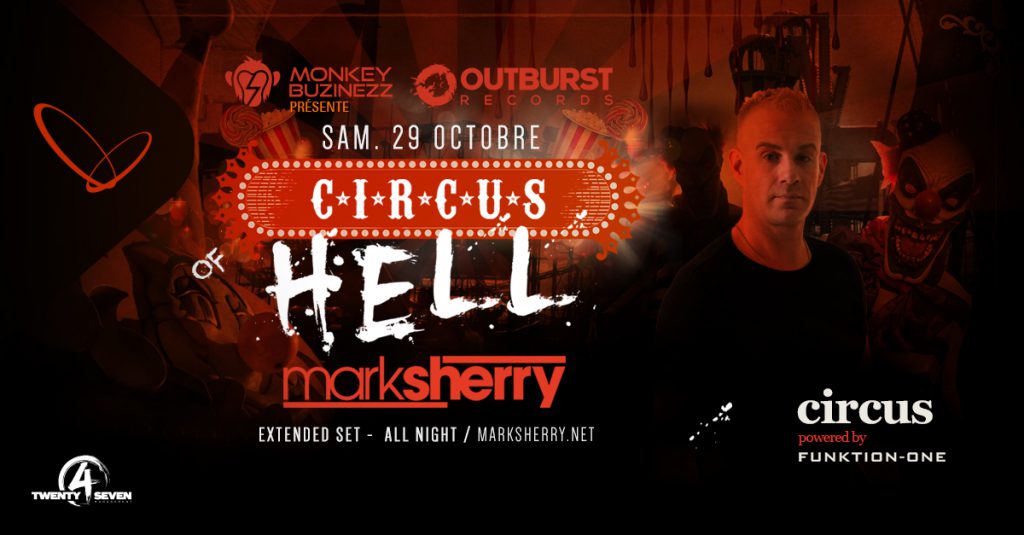 The City
Montreal is a city that many of you might not be familiar with, yet those that know of it call it the hidden secret of North America. If you were to take the best bits of Las Vegas, San Francisco, and Amsterdam, combine them together, and add 6 months of winter, you get Montreal! Between its large gay community, open stance on recreational marijuana usage and prostitution, and buzzing nightlife, there are plenty of things to love about this city. However, there is one added detail that makes this place special for passionate clubbers: Afterhours. When most cities go to sleep at 2 AM and bars and clubs close shop, we're just getting started! We party from 2 AM until whenever the DJ, club, or crowd can't go anymore.
The places of interest are Stereo Nightclub and Circus Afterhours. Stereo is predominantly a techno and house club and it's also the residency for people like Sasha, John Digweed, Guy J, Hernan Cattaneo, and Markus Schulz. Each year, these DJs put on at least one extended set, sometimes two. Just this past week Guy J and Hernan Cattaneo played for 15 hours and 15 minutes! On the other side of the street, you find Circus, the home of trance at 4 AM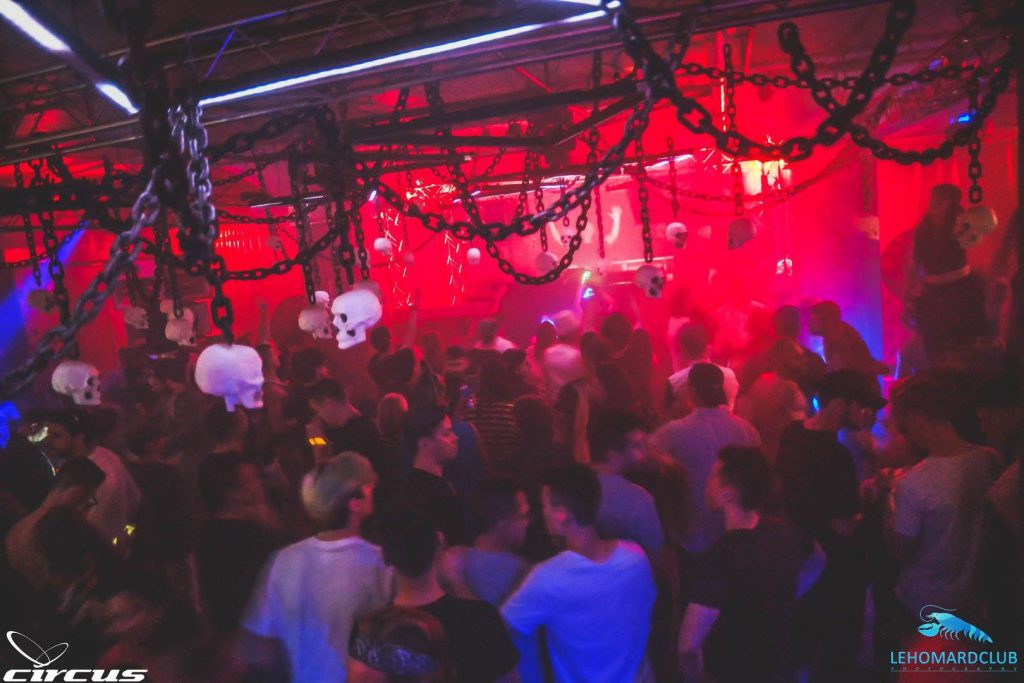 The Venue
Circus is not your average North American club. There's zero alcohol served. The club doesn't have a fancy stage. The lights display is kept to a minimum. However, if you're looking for a real audiophile experience, then this is one of the best places in the continent to attend a show. Ironically, the Mecca of sound in the club right next door, Stereo :). The club is situated in the heart of the gay village. This has a significant impact on a large portion of the crowd that attends events here. Clean drug usage is also quite high. It is also not uncommon that you'll see people dressed in debauchery styled costumes for specific events. It is a unique place that can easily put out those that are looking for a classy venue. This is anything but. However, most people that attend shows here come for the music, pure and simple.
As only a handful of clubs that features a Funktion-One system, Circus offers a unique experience. The moment you step onto the main room floor, you realise why that is. The layout is fairly simple. You have the small DJ booth at the very front, three bars on the sides, and 4 dancing pole platforms (2 at the front and two at the rear). There are three lasers alongside the DJ booth and LED lights hanging from the ceiling which gave just enough light to see your hands. In other words, you're virtually in the dark. This is great because it enhances your auditory senses. In each corner, you have a towering Funktion-One speaker, all orientated towards the middle of the floor.
The placement and the calibration are made such that you always feel surrounded by the music as long as you stay within the room. The only problem with this system is that if the crowd is very small, the volume is deafening. When you have 1000 people in a room, they absorb some of the sound wave energy. In order to compensate for that, the system is calibrated to output at a very high volume. The advantage of such a system is that you're able to distinguish details that you never heard before in tracks. The sound range, and most importantly, the sound quality, are second to none. Vocals are crisp instead of muddy. The base is sharp and powerful. The mids allow you to hear all the various percussion and mid-baseline work. For a musical genre such as trance, which focuses on the entire frequency spectrum, having quality speakers is essential to really appreciate the songs.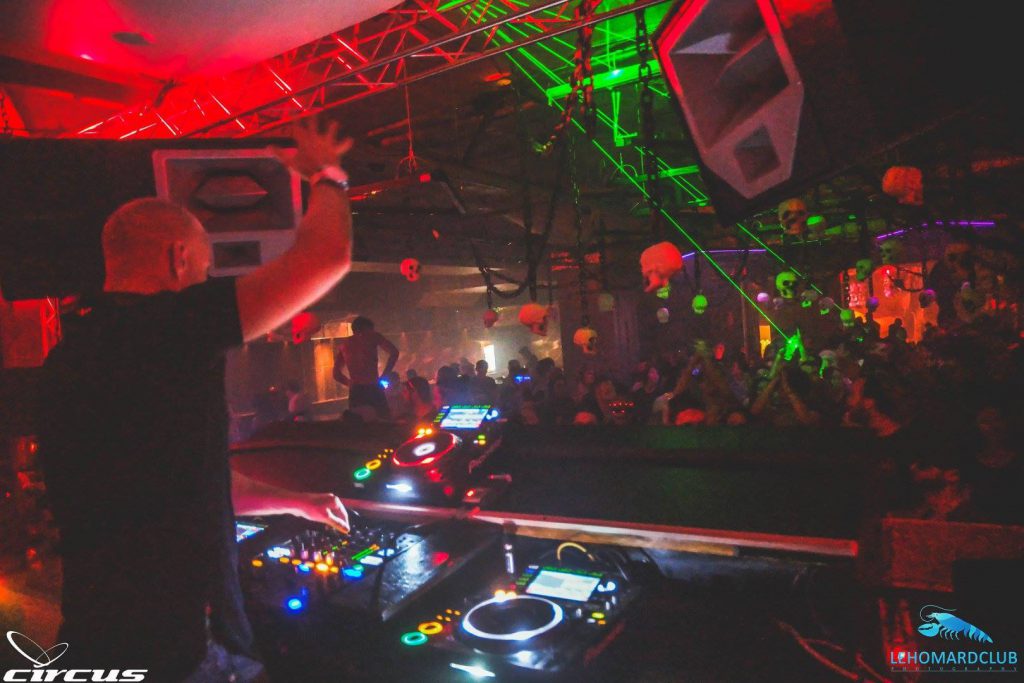 While this all sounds amazing, for this show there were some problems from a management point of view. Circus rarely does Open to Close sets, as their schedule usually runs from 2 AM to anywhere between 9 AM and noon. I love attending OTC sets from start to finish because each segment feels like a chapter in a long story. There's a purpose behind every track that is played. And Mark Sherry is one of the best at crafting such stories. Unfortunately, even though I, along with many others, were in line ahead of schedule, we simply could not get in. I waited 75 minutes just to reach the ticket checkpoint and then another 15 minutes for the coat check. I have never seen such a mess up in all my 6 years of clubbing. This being a Halloween show, they should have expected a larger crowd and longer count checks due to people being dressed up. Instead, we were left outside in freezing temperatures. Safe to say that the club lost customers after this debacle, which is a shame because the music experience once inside is amazing.
Crowd
As I've already touched a bit before, the crowds at Circus are not your regular club ones. Add in the Halloween theme, and you end up with a lot of interesting characters, no pun intended. There were superheroes, construction workers, scary monsters and even strippers. Young people, as well as older folks, were spread around the room. Some were avid fans of Mark Sherry, others were there simply for the event. Regardless of who they were, though, they all came for one thing: to enjoy a great night of music!
I have not seen the club this packed in quite some time. The beauty of it is that the three rooms are interconnected and there are side rooms where you can have a sit without disrupting the dance floor if you wish to take a break. This for me is important because the only reason why someone should be  in the crowd is to dance. Luckily, everyone has engaged. The majority of people stayed from start to finish as well. Given this was a 7.5-hour set, that was no small feat! Montreal people are not very knowledgeable when it comes to trance, however, that does not stop them from having a great time when they're out. Sometimes, that is all that is required.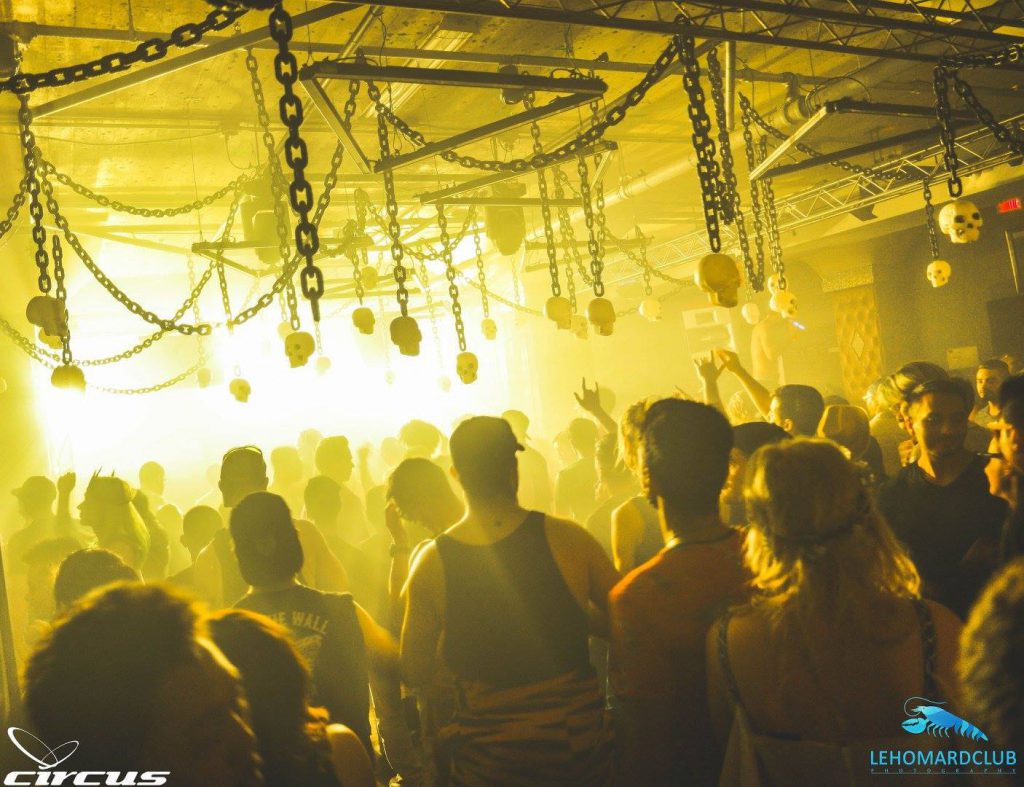 Music
Tech-trance DJs usually hover around techno, tech-trance, and psytrance when it comes to extended sets. Mark Sherry will also dabble into classics and one of my favourite genres, hard trance. However, they usually stay away from both deep and progressive house. That's because their sets usually portray a grittier, industrial vibe and the aforementioned genres don't gel that well. Which is why I was really upset to learn after the show that the opening hour (which I missed due to things out of my control) was exactly that! I find such a start essential to really long sets as it allows you to get into a groove. It gives you enough time to settle in and get ready for the music.
This meant that by the time I was inside, Mark had reached the techno segment. Out of all the genres that get played within trance sets, techno is the one I simply can't do for long periods of time. As much as I tried to stay engaged, there were times when I was bored and irritated. If I would have been able to hear to the first hour, I think things would have been better. Regardless, I'm taking nothing away from Mark. I understand and accept that tech-trance DJs will play techno. Mixing wise, I can't fault Mark one second either. Transitions, track selection, and flow were all on point. He managed to intertwine the more minimal and industrial techno tracks which ones that were a bit more melodic, and this really helped me.
Once things transitioned to more trancey beats, it was nothing but complete mayhem until the end. Mark is one of the few DJs that stays as much as possible away from this trend of high energy tech-trance productions. Instead, he focuses on songs that have a more minimal approach. Tech-trance, at its core, uses a techno-driven baseline with a trance melody added on top. Tracks like Marcel Woods – Advanced or Re:Locate – Rogue were very simple yet became huge anthems in the mid-2000's. It is this sound that Mark Sherry is attempting to bring back.
For 4.5 hours, we were taking on a well-thought out journey. Not one track felt out-of-place. Between the long and extenuating segment of high energy, you were given just enough of a break to recover before the next stint. There were many memorable moments. Listening to his track Gravitational Waves was amazing. It is the perfect follow-up to one of my favourite 2014 tracks, The Pillars of Creation. Both tracks feature a very melodic and spacey breakdown. Even the voice samples refer to astrophysics. However, the drops are very techy and industrial. This sharp contrast really makes the tracks stand out.
Created specifically for his Open to Close sets, his #Outburst mashups are a thing of beauty. This set featured two of them: Simon Patterson & Magnus vs. Coco – Miracle Evoke (Mark Sherry's #OutburstAUS mashup) and Will Atkinson vs London Grammar – Strong Hermosa (Mark Sherry's #OutburstNYC mashup). With these mash-ups, Mark manages to combine drive and euphoria to evoke (pun intended) a feeling of being in a trance. I find that the majority of today's mash-ups simply focus on sticking a vocal or an acapella over a driving baseline. Not much thought process goes into what sort of emotions you're supposed to experience when you listen to the song. However, Mark does this really well and it's a pure joy to hear his take on the mash-up.
Something that I found really cool was that Mark played his remix of Above & Beyond – Sun In Your Eyes precisely at the time that the sunrise was supposed to happen on that day. Granted, we were still in a dark room and I'm sure no one else noticed it. I'm not even sure that Mark planned it all so perfectly. Nevertheless, from past experiences, it's the really small details like this one that can make a night stand out!
My favourite segment, however, was hearing for the first time his brand new trance/drum 'n' bass collab with Jamie Walker called The Only One. In today's scene of template driven songs, no one is willing to take risks anymore. I'm not talking about fusing two genres like in this case. I'm referring to much simpler things, such as avoiding over-compression or no longer using sample packs. Seeing someone go to such length to create a unique track that will stand out no matter when it's played is refreshing. Pendulum is my favourite D'n'B band and this track is heavily influenced by their sound. The transition from trance to DnB and back to trance is perfectly executed. However, it is a real shame that today's crowds do not understand song structure anymore and are incapable of adapting to a changing rhythm mid track. Everyone around me looked puzzled and had no idea how to move.
To close things out, Mark played some ambient. Finishing a set on a banger might work when you play for 1 or 2 hours, but doing an open to close is a different type of set. You need a couple of songs that let you come back to a normal rhythm. It also allows you to think back to the journey and start to make sense of what you've experienced. It's precisely for moments like these that I prefer the club setting.
---
You can follow Mark Sherry on all his social accounts at the links below:
Facebook | Twitter | Instagram | SoundCloud