When music meets a cause incredible things can happen, join us tomorrow at LA Gives Back!
---
Around this time of year, I'm constantly looking for ways to give back. Whether it's in volunteering or a cash donation, there are so many causes to choose from. Tomorrow IHEARTCOMIX is helping simplify the process for you by presenting LA Gives Back. This 18+, benefit show, will take place on Wednesday, December 21st from 9 pm to 2 am at UNION and 100% of proceeds will go towards benefiting the LA homeless. With the help of Brownies & Lemonade, Ham on Everything, Emo Nite, Space Yacht, Free Grilled Cheese, Late Night Laggers and Restless Nites you can experience 6 rooms of dancing and a stacked lineup for $25 while contributing to the homelessness cause.
We can't disclose the lineup, but trust us when we tell you that it is going to be LIT!
Buy tickets here. Make sure you RSVP on Facebook and let your friends know you're going!
LA Gives Back 2016 Event Flyer: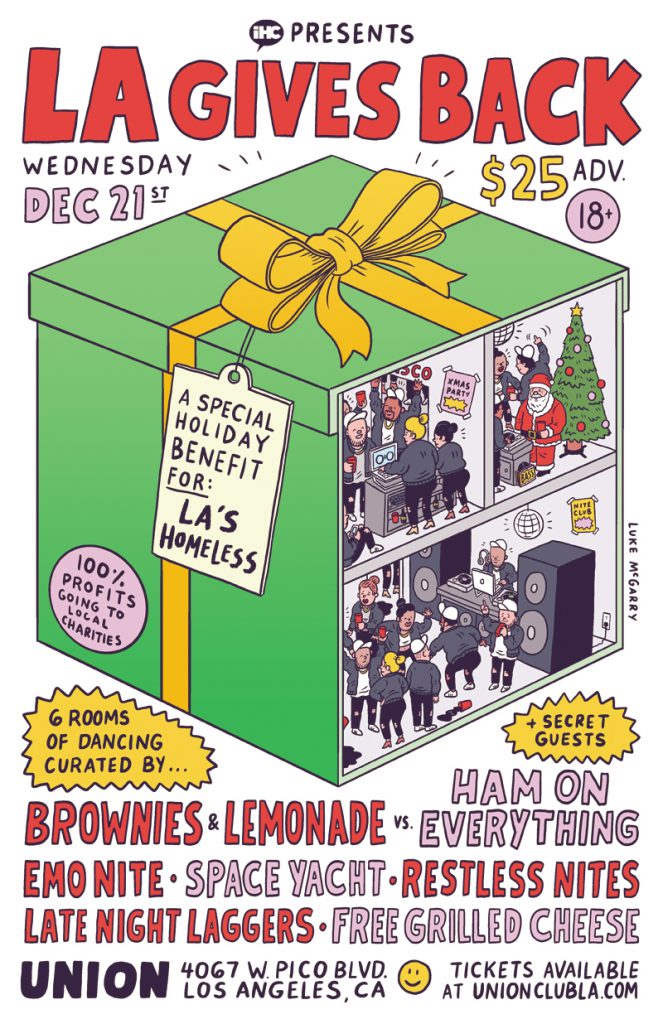 ---
LA Gives Back 2016 Event Info:
When: Wednesday, December 21st, 2016
Where: Union – 4067 W. Pico Blvd. Los Angeles, CA
Who: Lots of amazing acts from all over LA.
Ages: 18+
Facebook Event Page: HERE
Tickets: Purchase here
---
Local Charities Being Supported:
You Caring:
This is an initiative from the Monday Night Mission, an organization operating on Skid Row´s streets feeding the homeless from Monday through Friday, all 52 weeks of the year. In a partnership between Monday Night Mission and the San Fernando Valley Rescue Mission, our goal is to operate a mobile shower throughout Los Angeles. We will be collaborating with homeless outreach teams within the city and county of Los Angeles, the Veterans Affairs Administration, and other non-profits who offer homeless case management. This will not only offer the dignity of a shower, but also give direct referrals to housing, mental healthcare and veterans benefits as a means to a path out of homelessness. Join us and be part of an initiative that will build the capacity to better serve our community in a homeless condition.
Get more info on You Caring HERE!
My Friend's Place:
In collaboration with the leading social services providers and educational institutions in the region as well as over 400 volunteers, we offer a free and comprehensive continuum of care that combines emergency necessities with therapeutic, health, employment and education assistance, and creative arts services which all assist and inspire homeless youth to build self-sufficient lives.
Get more info on My Friend's Place HERE!
The Casa Libre/Freedom House:
The Casa Libre/Freedom Home is a project of the Center for Human Rights and Constitutional Law, Inc. It is a licensed emergency and long-term 14-bed shelter for minors under the age of 18 without homes, including unaccompanied immigrant and refugee children.
The program offers a range of services, including case management, educational testing and placement, referrals to no-cost health care providers, drug and alcohol prevention programs, family reunification services, living skills and leadership workshops, free legal and immigration services, and cultural activities. The program focuses on Los Angeles inner-city homeless children, and has a history of providing services to immigrant and refugee children, including unaccompanied minors.
Get more info on Casa Libre/Freedom House HERE!
---
Connect with the Organizers via Social Media:
IHEARTCOMIX | Ham On Everything | Brownies & Lemonade | Emo Night | Space Yacht | Restless Nites | Late Night Laggers | Free Grilled Cheese | Union Club