Trance is by far my favorite genre of music and the diversity within the genre is truly something special. If you want to hear music that makes you feel happy, cry uncontrollably, chill out, get pumped up for a workout, or even take your mind into the twilight zone… trance can take you there. I was lucky enough to attend Dreamstate SoCal last year, and it was an unforgettable, life-changing experience for me. I had never been to a festival dedicated to trance, so the range of emotions felt that weekend, along with the amazing people I met, changed me forever. The bar was set very high for Dreamstate SoCal 2016, and I was not disappointed.
Once I arrived at Dreamstate SoCal on Friday, I wandered around a bit to see how different it was from the previous year.
My group and I met up at 6 pm and we headed out with our trademark Psyduck totem to The Sequence stage to catch Triceradrops' set. It was a great start to the evening, as his blew me away with some very dark and heavy tunes. After his set, I headed over to the Timeless stage to catch the first hour of Neptune Project. The highlight of their set for me came when they played Factor B's remix of "Red Line Highway", that melody brought me and many others to tears. I then headed over to The Vision stage to catch Mark Sherry. While I was really excited for his set, the sound was sub-par at that stage which really frustrated me. Instead of sitting through the sound problems, I decided to go back to the Timeless stage to catch some more of Neptune Project's set.
Later on in the night I made my way to The Sequence stage and caught some epic sets from Berg, Freedom Fighters, and Ritmo. I was completely blown away by Freedom Fighters' dark and creepy set. The vibe was so intense at The Sequence that many of my friends began referring to it as the "Psy Dungeon". After a few hours in the dungeon, I crawled out into civilization and made my way back to the Timeless stage again. This time was to check out Binary Finary, who was one of the artists I was most excited for. Eventually, I floated back to The Sequence stage to catch out the last half of Captain Hook's set and returned to the Timeless stage to see the last hour of Binary Finary. I was taken on a magical journey of classics for that last hour. Despite my poor experience earlier at The Vision stage, I decided to return there for Pure NRG's set to close out my evening. The sound had improved a bit since I was in there earlier, which was a good sign at least. Solarstone and Giuseppe captivated me for the full hour, the highlight of their set for me was when they played a remix of "Smooth Criminal" into "Born Slippy" (one of my favorite songs) back into "Smooth Criminal." The sets on Friday blew me away and I knew we were going to be in for a treat on the second day.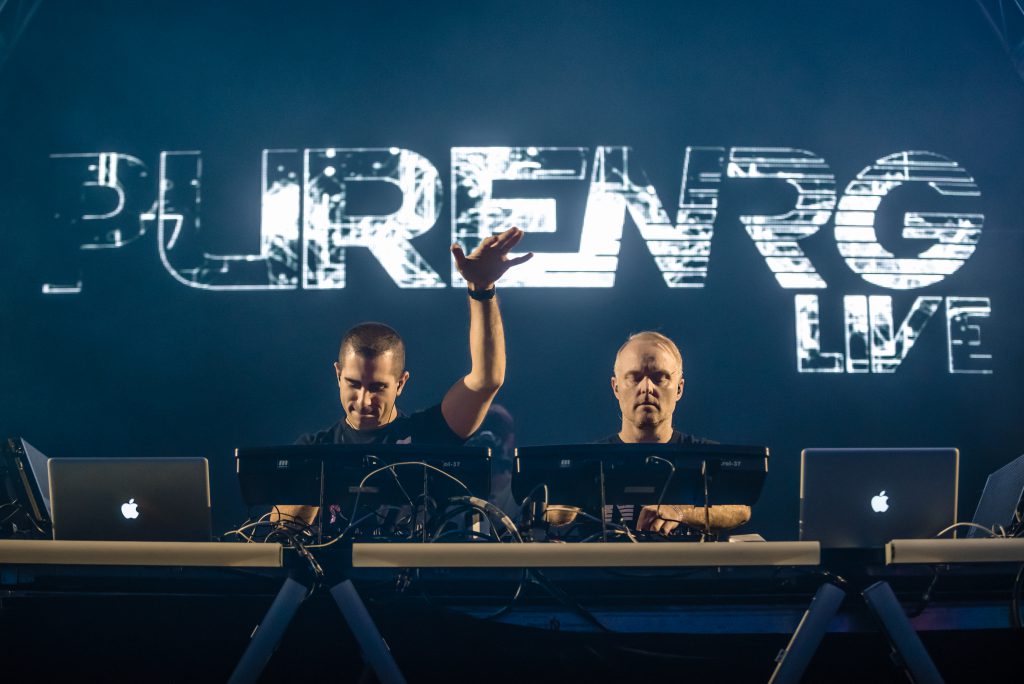 Saturday was much colder than the previous evening and rain also came and went throughout the night.
The lineup for Saturday, in my opinion, was far more stacked than Friday. I started off the evening with Simon O'Shine's gorgeous, lush, and intricate melodies. After his set, I headed over to The Vision stage for Sneijder. The sound was much better than the night before. Sneijder destroyed that stage with dark tech beats and brought the crowd to their knees with his mashup of "Satellite" and "Amber." I stayed for a bit Christopher Lawrence and then headed over to the Timeless stage to see some of Richard Durand's ISOS set. Durand got the whole crowd singing along to Tiesto's In Search of Sunrise remix of "Hide and Seek." Then my group and I headed over to see my favorite artist, John O'Callaghan. When you have super high expectations for an artist at a festival you tend to be let down. Somehow JOC found a way to exceed my expectations. He set a dark techy vibe early on with a few IDs from his Key4050 side project with Kearney. He blew us away with amazing uplifting tracks as well like "Stay With Me" and his remix of "Two Trees." After his
After his set, I went back to check out some of Talla 2XLC at Timeless for a bit then headed over to The Vision to see Will Atkinson. My group and I decided to part ways at Will's set as they wanted to see Ace Ventura too. Unfortunately, security was not allowing people into the stage. I tried to get into that stage a few more times throughout the night but wasn't able to get in there until Alpha Portal played. I had seen Astrix and Ace do a b2b set at EDC Las Vegas and was expecting their Alpha Portal set to be a similar style. I was way off. This was an in your face, full-on goa trance set. I decided to end my night with one of my all-time favorite artists, Simon Patterson and of course he blew my mind. His latest track "Spike" made everyone in the crowd go crazy and overall was a perfect close to the festival for me.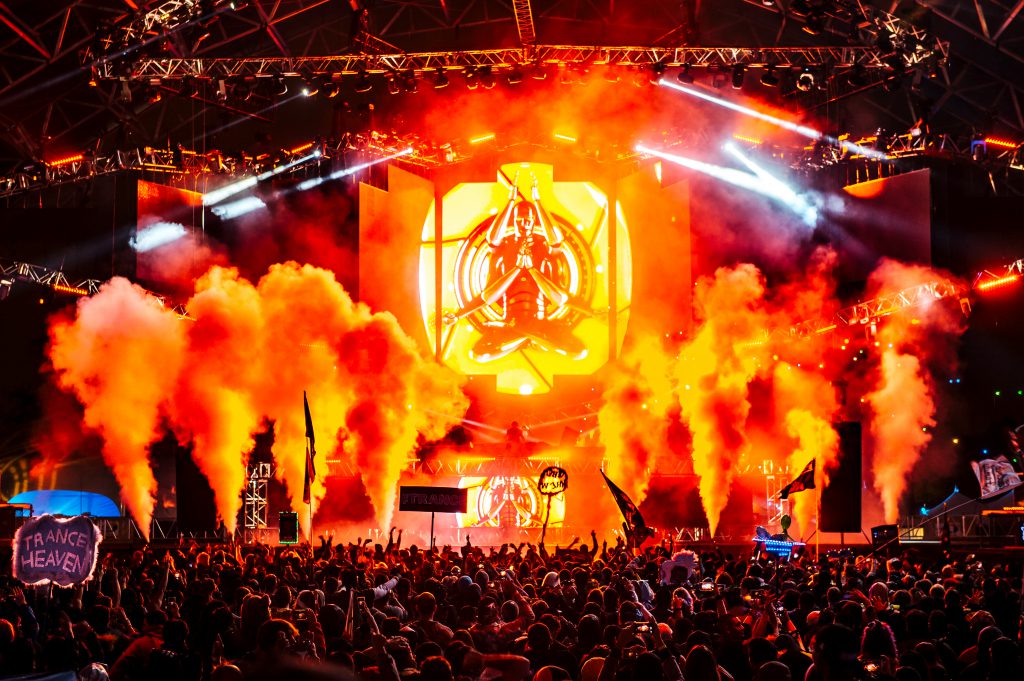 Let's talk about the stages, starting with The Dream…
The production at The Dream was fantastic with massive LED screens and booming sound. This stage also was the location of the VIP section as well. It was my first time ever choosing to go VIP at a festival, and I really enjoyed all of the perks they had to offer. I probably drank a gallon of hot chocolate over the course of the two days! Anyone who has been to a festival understands how big of a perk private bathrooms are as well. Although I only saw two full sets at this stage the whole weekend, both experiences were positive.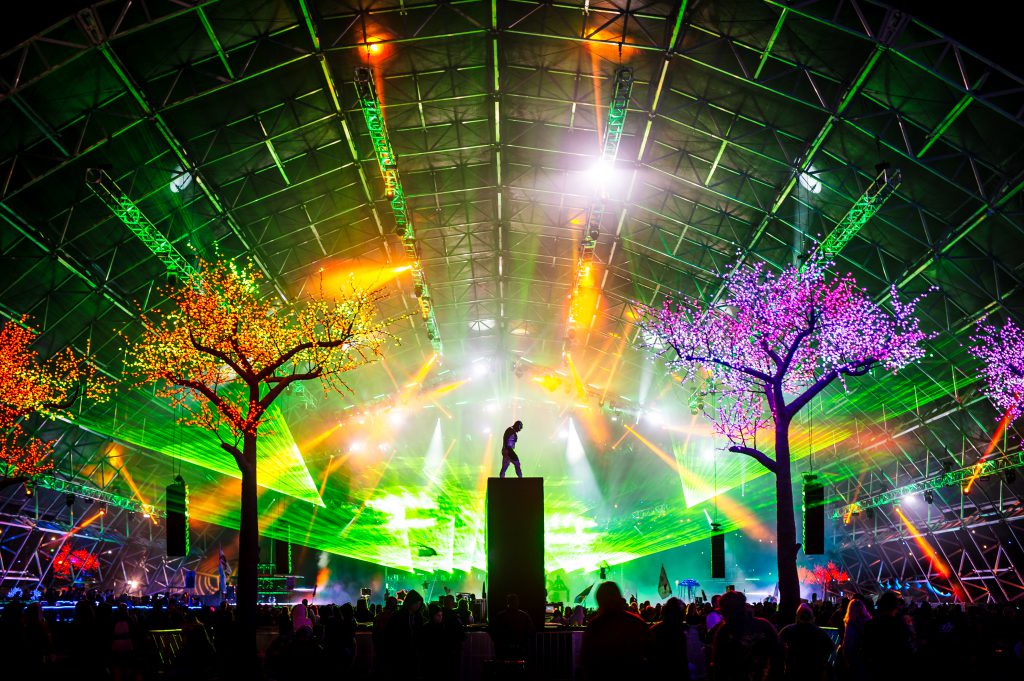 The Vision
I felt that this stage had a great set up. There was a giant triangle LED screen in the center, with smaller triangles constructed into a giant triangle on either side. Also inside were stands for refreshments or alcohol towards the back of the stage. Unfortunately, the sound at the stage was horrible the first day. You could barely hear anything and it sounded out of balance in a lot of areas the first day. The production team did seem to fix most of the sound problem by Saturday, but I still felt like the sound was inferior to most of the other stages overall.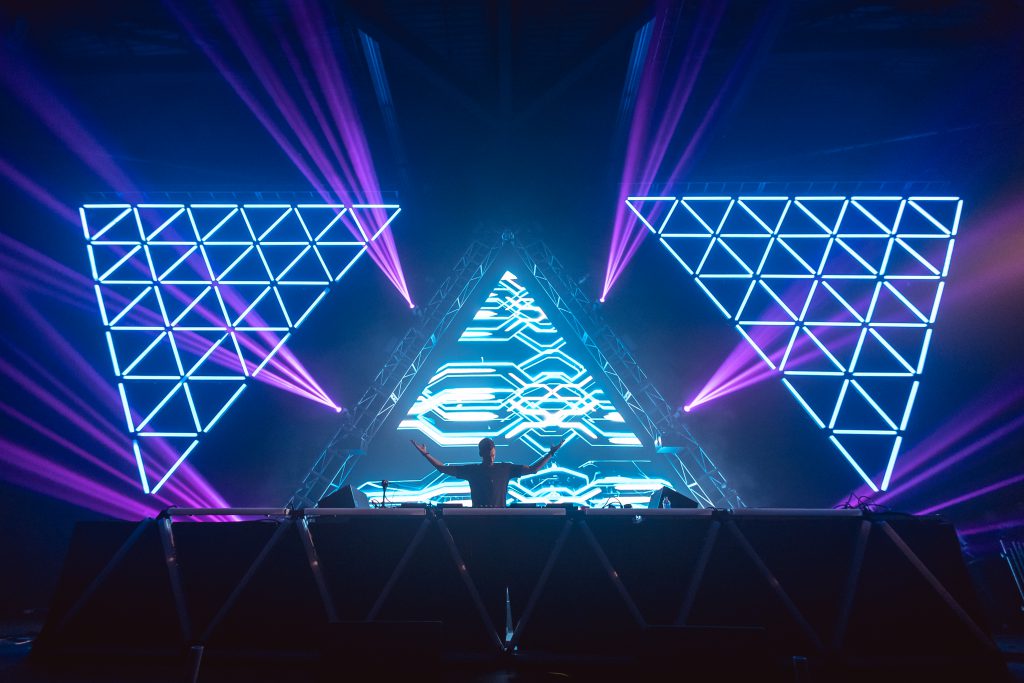 The Sequence
This was by far the best stage at Dreamstate. I did not plan on spending much time inside but ended up spending a lot of Friday there because the atmosphere was amazing. I felt that the sound at this stage was the best out of all of all four. Most of the visuals used at this stage on the LEDs were very trippy and I honestly felt like I was transported into another dimension every time I walked inside. A major setback came on the second day when the fire marshals prevented more people from entering as it had hit capacity. I had never dealt with anything like that at a festival before. The vibes at this stage were very fun, everyone there was looking to dance their hearts out.
Timeless
This stage's production was very simple, just a basic LED screen and fake grass, under an open air structure with a ceiling. There was some noise pollution from The Dream stage depending on where you were standing. Sometimes you had to get pretty close to the speakers or go all the way to the right of the stage to avoid this. This stage had the best vibes, everyone was super happy and kind, total trance vibes. It was nice having a stage that had 2-hour sets as well.
My final thoughts on Dreamstate SoCal this year…
I think Insomniac really took Dreamstate SoCal to a whole other level this year. The production this year blew last years out of the water. My only real complaints were the sound from The Vision stage, and not being able to accommodate the number of people who wanted to see acts at The Sequence stage. People will always try to compare Dreamstate SoCal to an event like Luminosity, but I think it will always be difficult for Dreamstate to reciprocate the lineups that Luminosity features. The issues with traveling and visas, which was evident with the cancellations from Liquid Soul and Allen & Envy, will always be problematic. Those issues aside, I feel that Insomniac should try adding in more progressive artists like Gai Barone next year. To me, it was a subgenre that seemed to be missing from this amazing trance event. I cannot wait to see what they will have in store for us next year!
---
My Top 5 Dreamstate SoCal Sets:
John O'Callaghan
Simon Patterson
Binary Finary
Sneijder
Pure NRG
Grab all of the available live sets from Dreamstate SoCal HERE!
---
Follow Dreamstate SoCal on social media:
Featured Photo Credit: Insomniac Events