Escape: Psycho Circus had issues with gate crashers and ticket scalpers over the weekend that caused headaches for many.
---
A half hour ago, Pasquale Rotella (CEO of Insomniac Events) released an official statement regarding the challenges Escape: Psycho Circus 2016 faced last weekend. Challenges included everything from gate crashers to thousands of fake tickets that caused an immense amount of stress for attendees and event producer Insomniac Events. The lines to get in were complimented by issues with entering the Chopping Block (Damus Building), as the ever popular Bassrush brand continues to attract more attendees each year. Even we here at EDM Identity were subjected to some of these problems, with both our coverage team and members of the team who were simply attending waiting in long lines to enter the event itself.
For those of you able to attend, we hope you had an amazing time and had nothing but good vibes. Let us know what your experience was like in the comments!
Interested in what the EDM Identity Team had to say about last weekend? Check out our daily recaps below:
Escape: Psycho Circus 2016 || Day 1 Recap
Escape: Psycho Circus 2016 || Day 2 Recap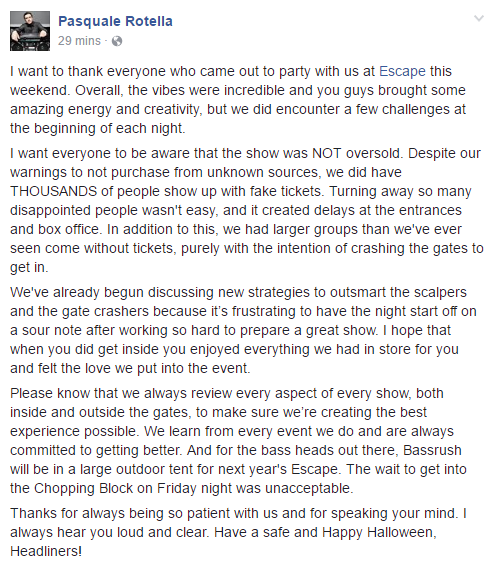 See the original Facebook post below or at THIS LINK.

---
Connect with Escape: Psycho Circus 2016 on Social Media:
Website | Facebook | Twitter | Instagram
Featured Photo Credit: Insomniac Events