As EDC Orlando 2016 inches ever so much closer, decisions on what to wear both days need to be taken into account.
---
For me it's always an adventure trying to decide what to do each year, better yet for each festival. Insomniac's Electric Daisy Carnival is a festival where I get to have my creativity fly free. Each year, I always wear my Tardi5mau5 outfit, which always proves to be a favorite among fellow headliners. She is getting somewhat of an update on her EL wire and adapter for EDC Orlando 2016, other than that it is remaining the same.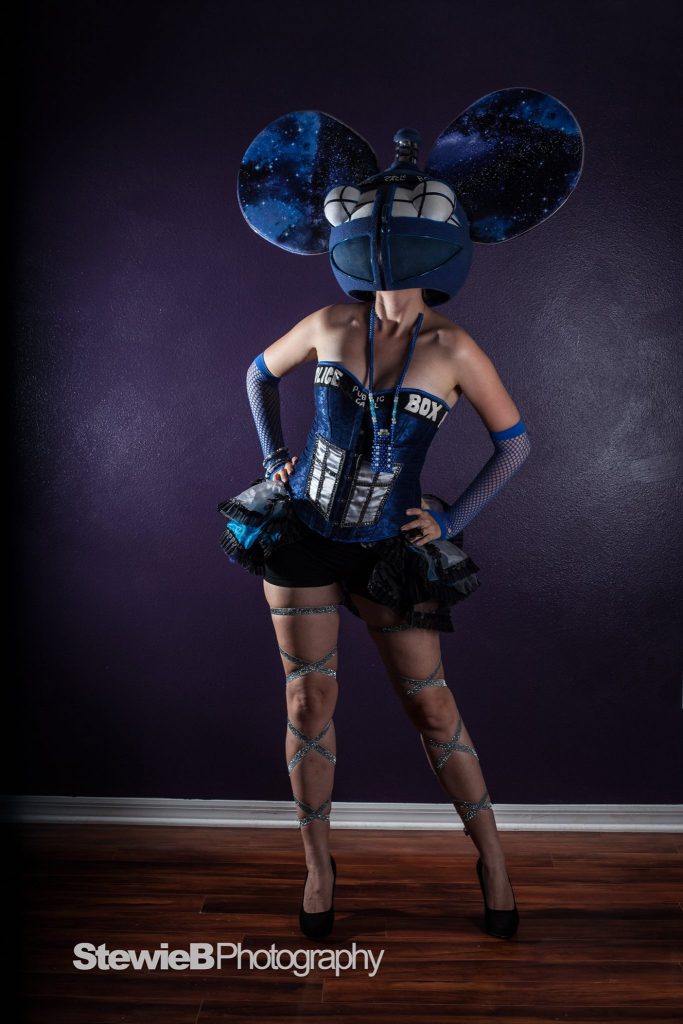 However, my second outfit is always different. Year in and year out, I always say I will do Figment for EDC Orlando, yet only true Disney fanatics will know who he is. This year I decided I wanted to do a Disney character, but one that is not commonly done. It came down to one of two options, Figment or Partysaurus Rex. After weighing the two options I decided to go with Partysaurus Rex. It's only fitting since after all we will be attending a huge party.
Designing the costume I wear each year is my absolute favorite thing, the possibilities are endless.
For those that don't know what or who Partysaurus Rex is, it is a Toy Story short by Pixar where Rex creates somewhat of a rave for the bath time toys. It is only fitting to do him this year. Kandi will also obviously be part of the costume as well as a bright pink tutu, a viking helmet and a tail.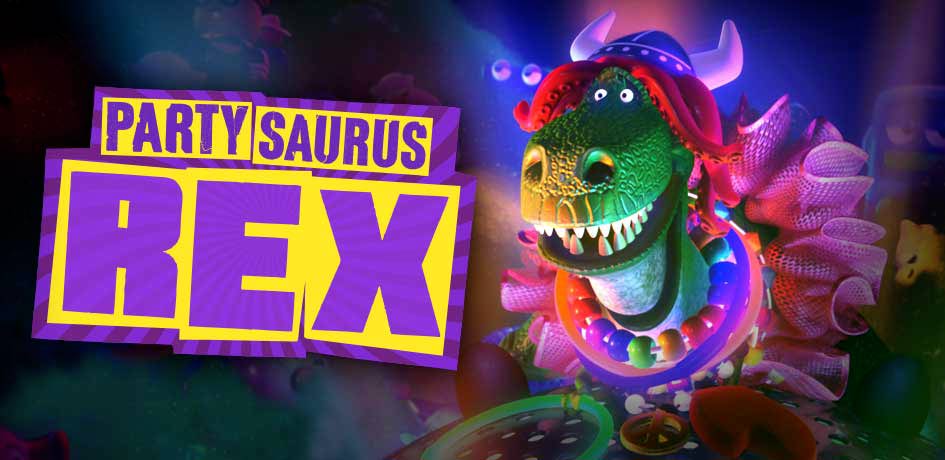 I was able to purchase some of the items online through Amazon. The corset, leggings, pink tutu, and viking helmet were all found on that site. My green wig was purchased from Party City, I love their Glamorous Wig collection. The wigs are all available to purchase in a variety of colors too, and they are definitely great quality. Elements I created from scratch include my tail, the octopus tentacles coming from my helmet and of course my kandi and perler necklaces.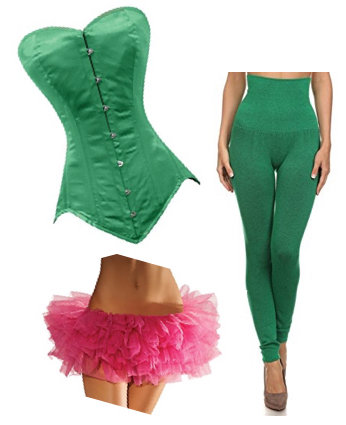 This year, I also decided that I will be trading kandi similar to the ones that Rex wears in the short. For whoever trades kandi with me, I hope you enjoy them! The thought and love that went into the making of the kandi and my outfit bring me joy. I'm glad that whoever I trade with this year will enjoy what I put into this costume like I do with all of my costumes. Trying to figure out how I am going to create each costume is what makes it so much fun, it's almost like puzzle solving. I was able to decide how to create the octopus tentacles and how to attach them. Also I added buttons for the suction cups and they turned out better than I could have asked for and definitely can't forget about my tail. Its great when you're designing your own costume, I love picking the right fabrics and coming up with the right designs and bringing them to life. Catering to every little detail is what makes it fun for me.
As the elements started coming in one by one, and as the costume comes together, I fell in love with this costume even more. The corset I had ordered is absolutely awesome and so were the leggings. I spent a good portion of my weekend creating the kandi pieces I will be wearing and handing out. The three singles include the yellow peace sign, a single with R.E.X. spelled out, and a rainbow single. I was able to create 11 sets, plus the three necklaces I will be wearing at the event itself.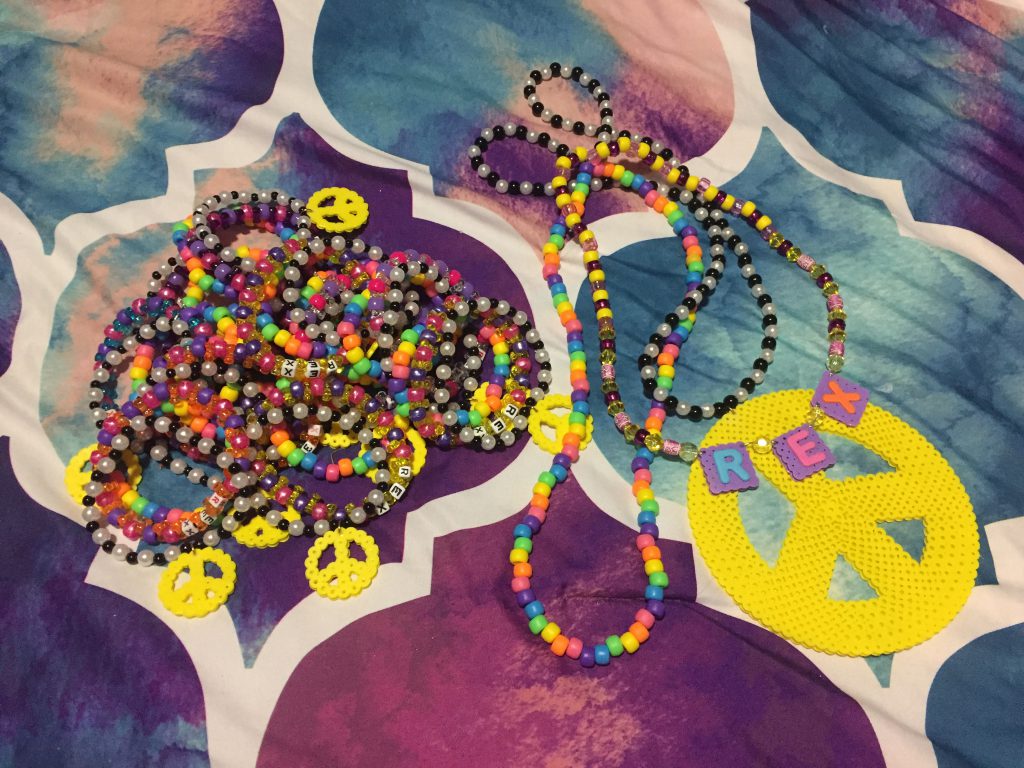 Now all that is left to create is my tail and the octopus that will be going between my wig and viking helmet. For the octopus tentacles, this was a trial and error kind of process. I was lucky with getting it on the first try, and I'm happy with the turnout. Basically I took a yard of both orange and pink felt, drew out my pattern for the tentacle, and then went from there. The circle that connects them all was just cut out in paper and placed on my head with the tentacles pinned to it. Once I was happy with how it looked, I cut it out of the felt and sewed it all together. The last detail to add would be the buttons and those I hand sewed on, one by one. Although it was time-consuming, the end product was well worth it. The last element left now is my tail. I already knew what the plan was for the tail, the problem was contacting my friend who had the base tail and getting her permission to use it as a template.
After contacting her, she gave me permission on one condition…that I go to her house to create the pattern. I agreed and let her know that I would be bringing muslin fabric to put it around the tail so I could create my pattern. The process took me about 30 minutes, and was easier than originally thought. After hanging out for a bit and creating the pattern, I went back home to finish the last piece of the puzzle. Once the tail itself was finished the pieces had finally come together and I am very pleased with the final product. I can't wait to show it off on Saturday during EDC Orlando this year. Now the picture below is the less sexy version I wore to Disney.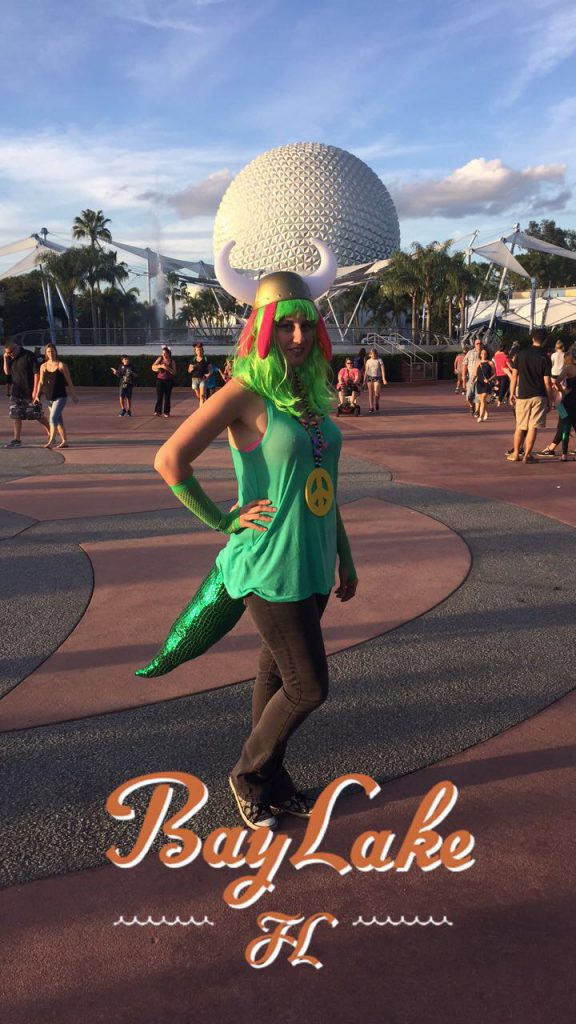 Now apart from the costume itself, one of my coworkers will be doing my make up and we are both excited to reveal that on day two of EDC Orlando. All that I will say now is that the ideas and inspiration come from none other than Pinterest and that glitter and paint, as well as traditional makeup, will be involved. This will be the most exciting makeup I will have done to date and I can't wait!
The journeys I go on to create the perfect EDC costumes are always fun ones. To reach the far corners of imagination is always a great way to get the creative juices flowing. Electric Daisy Carnival is one of the perfect places to let creativity shine through. Pasquale has been known to welcome costumes of all kinds to EDC, the only true place where I can show off my creative talent. In two weeks I will be raving it up with old friends, trading kandi, making new memories and meeting awesome new people. Until then, I can't wait to see you all once again, dancing under that beautiful electric sky!
---
Connect with EDC Orlando through Social Media: