Freaky Deaky 2016's Set Times, Guidelines, Shuttle Info & More!
The Midwest's spookiest Halloween festival is here! This Friday afternoon, Freaky Deaky will return to Brideview, IL, and Toyota Park will be filled with festival goers decked out in their favorite costumes, excited for a weekend filled with great music and great people. Here is everything you need to know before heading over to the festival!
Be sure to check out my Top Artist Picks for the weekend HERE! 
---
Freaky Deaky 2016 Essential Information:
Dates: October 28th, 29th, & 30th
Showtimes: Friday-Sunday 2PM – 11PM
Venue Address: Toyota Park, 7000 Harlem Ave, Bridgeview, IL 60455
Will Call Hours:
Friday: 1PM-10PM
Saturday: 1PM-10PM
Sunday: 1PM-8:30PM
Important Info:
Festival is ages 17+
Will take place rain or shine
Acts subject to change without notice if weather does not permit travel for artists
Alcoholic beverages available; must present government-issued ID to get a 21+ wristband.
Lockers with cell-phone charging available–info and booking HERE!
Single and 3-Day Tickets still available HERE!
Acceptable Forms of ID:
Any US government-issued driver's license or ID card containing a photograph and date of birth
US or foreign government-issued passport containing a photograph and date of birth
Unacceptable Forms of ID:
NO school ID
NO consular ID
NO birth certificates
NO photocopies of any ID
---
Freaky Deaky 2016 Set Times: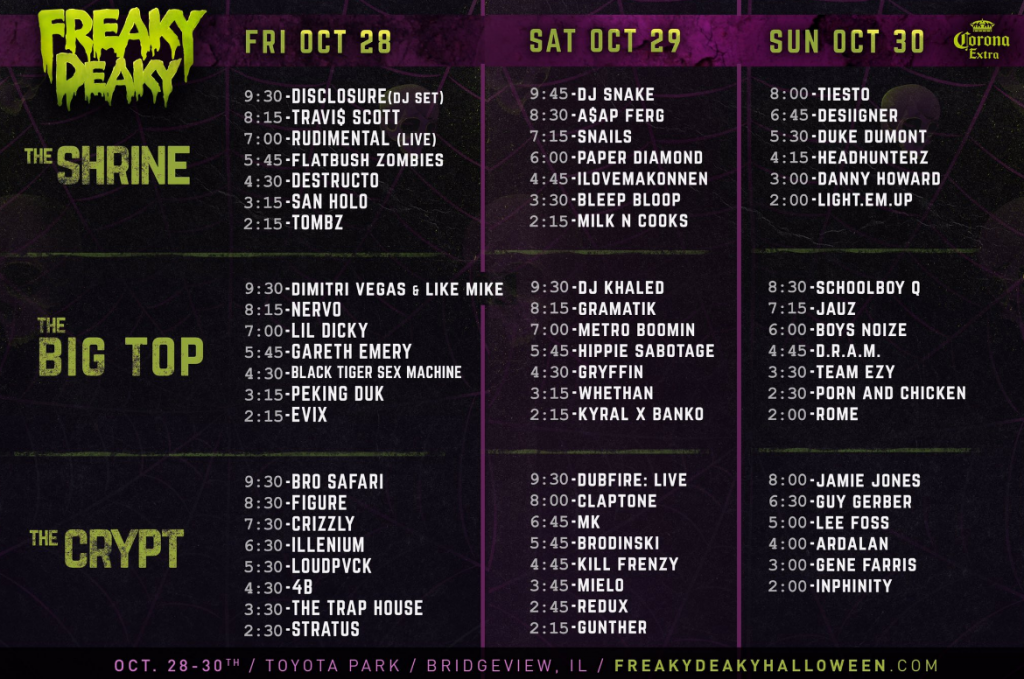 Add the artists you want to see and make your own schedule HERE!
---
Freaky Deaky 2016 Festival Map: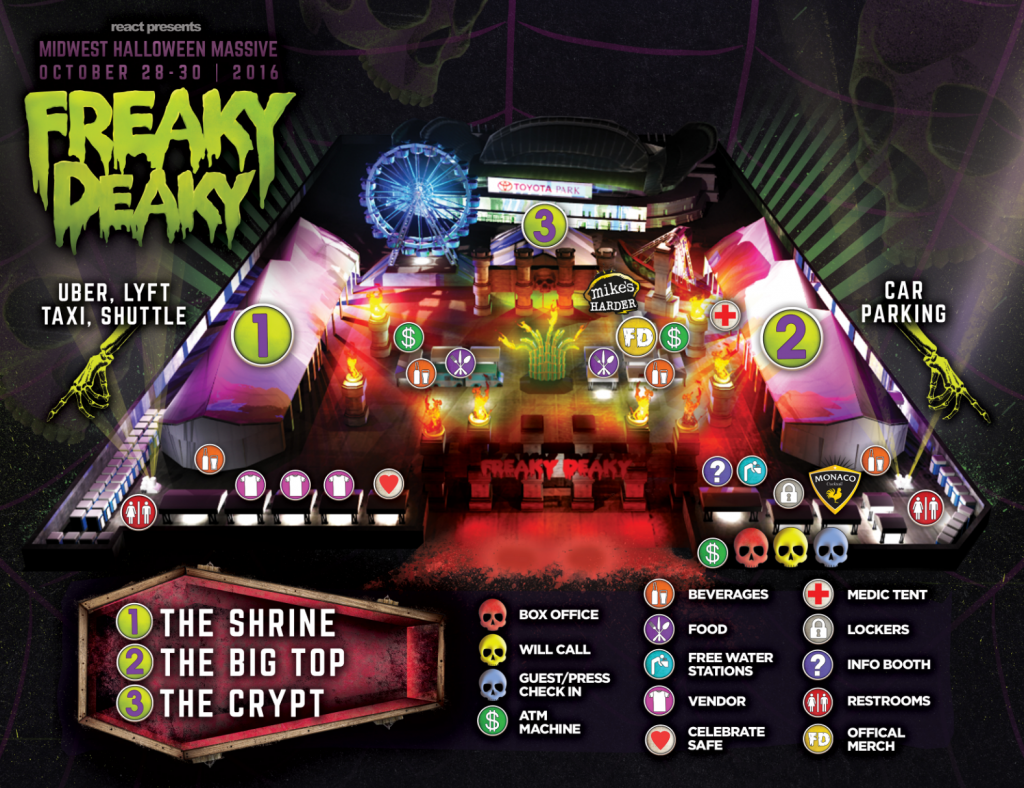 ---
Parking Info and Shuttle Schedule:
Parking will be available on-site for $20 per day or $45 for 3-day.  These will be available for purchase upon arrival at the festival, cash only.
Shuttles will depart from: Jaks Tap, 901 W. Jackson Chicago in the West Loop and The Hyatt Place McCormick
Also shuttles for those staying out in the hotel blocks. Pick up/drop off at: TGIFridays at 6600 S. Cicero
Shuttles $18-25 for single day round-trip; $45-60 for 3-day
Shuttles departing to the festival starting at 1PM, last shuttle leaves the festival at 11:30PM
Shuttles run every 30 minutes
Book shuttles HERE!
---
Be Prepared For The Weather: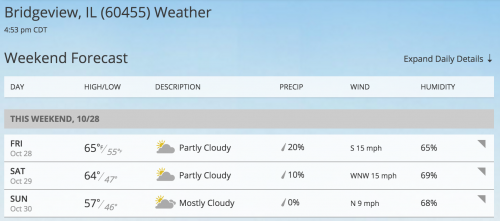 Looks like it'll be a little chilly at night–make sure to dress warmly or bring a jacket! Fun onesies are a great option to keep warm and still stay festive with a costume.
---
Reminder To Mind Your Belongings:
Unfortunately, this festival season, many people have reported pickpockets, bag slashings, and theft of wallets, smartphones, purses and other valuables during. While this small number of bad apples in the bunch doesn't define an entire crowd, there are opportunistic people who come to these events to take advantage of unsuspecting party goers and it's important to be mindful of your valuables while at the event.
Pay attention to who's around you and what's going on around you. Keep your wallet and phone in your front pocket(s) if you can. Treat your phone the same way you would treat cash; don't set it down on a table or bar and look away. If a friend isn't standing behind you in a crowd, be careful of your backpack or purse, and don't put valuables in a pocket that could easily be unzipped by someone behind in a crowded spot without you realizing.
---
Freaky Deaky 2016 Do's and Don'ts:
Acceptable Items:
Sealed cigarette packs
Digital phone
Point and shoot cameras,
Disposable cameras
Fanny packs
Empty camelbaks (you will be required to remove the pouch for inspection prior to entry),
Purses
European carry-alls
Average school-sized backpacks (keep in mind the more stuff you bring, the longer everyone will wait in line)
Blankets
Hoolahoops
Flags
Sunglasses
Hats
Lighters
Sun block
Lip gloss
Binoculars
Positive attitudes 🙂
Prohibited Items:
Alcohol
Drugs or drug paraphernalia
Large chains
Massagers
Laser pointers
Glowsticks
LED gloves
Spiked jewelry
Outside food or beverages
Open or refillable E-Cigs or vaporizers

Flag poles

or totems
Coolers
Lawnchairs
Tents
Frisbees
Large umbrellas
Unsealed tampons
Bota bags
Stickers
Poi instruments
Stuffed animals/dolls
Professional cameras

GoPros

 Audio/video recording equipment
Open cigarettes
Any illegal substance
Marker pens
Unauthorized solicitations, sampling or flyers of any kind
Dust masks
Musical instruments including whistles, cans/bottles/glass, animals (except service animals)
Pacifiers
Spray paint or aerosol cans of any kind
Weapons of any kind
Unsealed eye drop containers
Unopened over the counter medications
Unopened bottle of vitamins
Any other items deemed as posing a threat to the safe enjoyment of the concert by management, and bad attitudes.
---
Costume Guidelines:
Costumes are encouraged, but make sure to abide by these rules or you may be denied entry to the festival:
No realistic looking weapons or weapon accessories of any kind including knives, guns, swords, axes, etc. 

Costume must be able to be taken off if deemed necessary for a proper search, including masks, hats, shoes etc.
If your costume needs batteries, you will not be able to wear anything that requires more power than AA batteries.
No Police, S.W.A.T. or public safety costumes allowed
Absolutely no dust or gas masks of any kind even if they are part of a costume.  These will not be allowed.
---
Check out the Freaky Deaky 2015 After Movie:
---
Follow Freaky Deaky on Social Media: