Fashion designer Tyler Wallach's bold and colorful clothing and art is already taking the world by storm. EDM Identity had a chance to interview this talented designer and artist.
---
I first met Tyler Wallach at brunch with a mutual friend, and was immediately drawn to the shirt he was wearing. I had to have one. He told me he made it himself, and, like a true entrepreneur, wasted no time handing me a business card and encouraging me to check out his other pieces. When I ventured into the Tyler Wallach Studio webstore and social media channels, I stumbled into a mesmerizing wonderland of bright colors and bold patterns.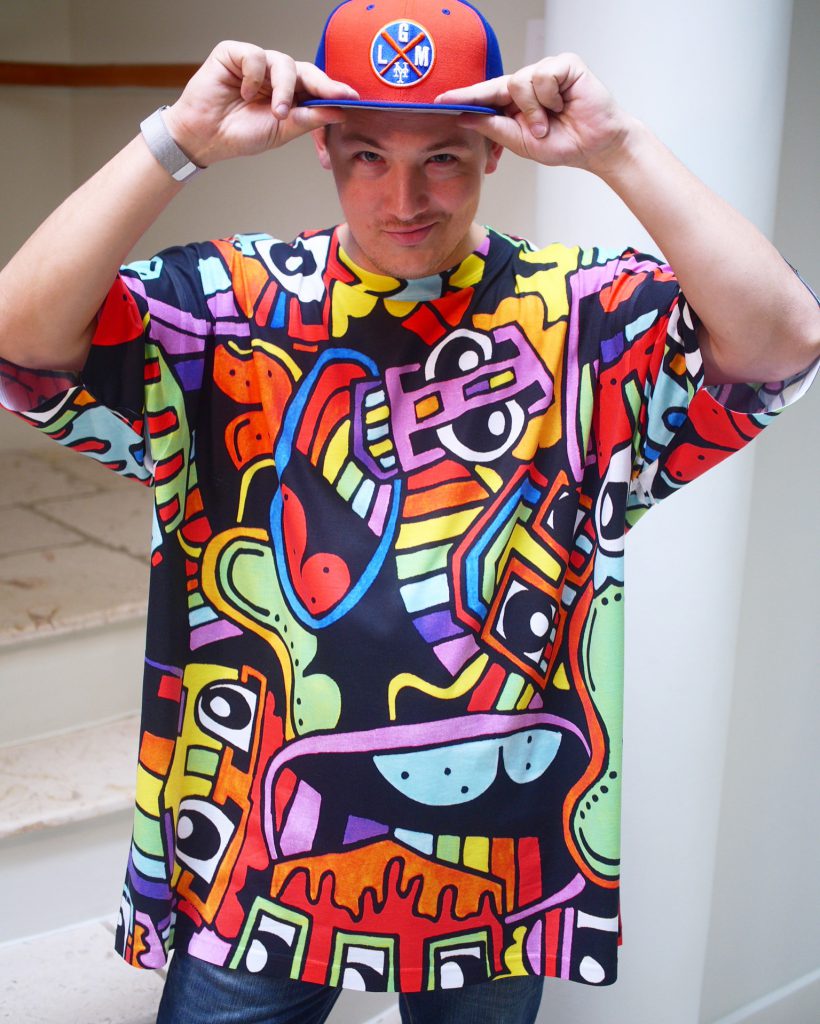 Tyler Wallach Studio 5XL Tees – (Purchase)
Calling his art "the 1988 love child of Keith Haring and Lisa Frank", Tyler Wallach's pieces are striking and impossible to ignore, and it doesn't stop at custom t-shirts. From tanks to totes and leggings to baby outfits and neckties, Tyler Wallach is consistently finding innovative ways to implement his creative vision into fashion, and has the ability to seamlessly integrate his art into any medium he chooses. His art is no doubt a platform to make a statement as well; Tyler is undoubtedly outspoken about inclusivity in fashion and LGBTQA+ issues.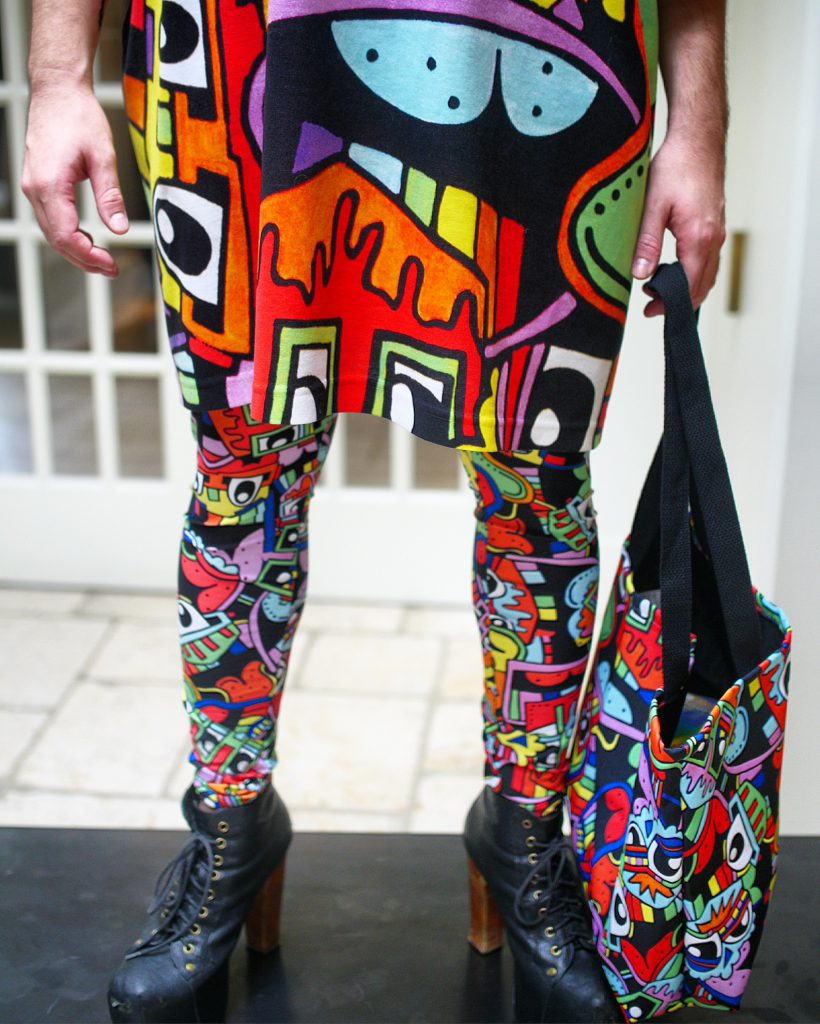 Tyler Wallach Studio "Ty Leggings" & "Ty Tote Bag" – (Purchase)
Tyler Wallach recently held a pop-up shop at Bushwig 2016 in September, one of Brooklyn's hottest end of summer events. His art was also featured at Mad Gallery in New York City, where his pieces sold quite well.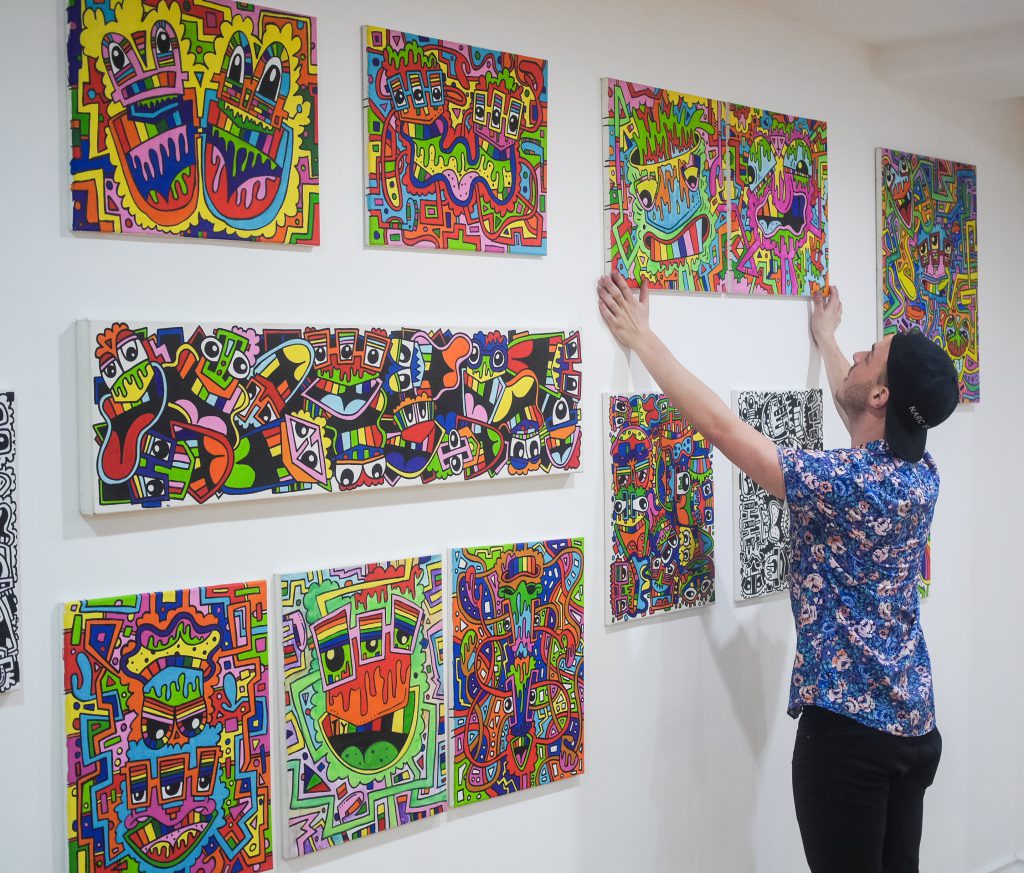 I had a chance to ask this talented designer and artist a few questions about his history, inspiration, his clothing and art pieces, and what's coming up next for him.
---
Did you originally start drawing and painting, translating your art to fashion later on, or was clothing your medium of choice from the get-go?
Tyler Wallach: It actually started with a fascination for stickers as a young child, specifically Lisa Frank. Some kids had rocks or baseballs cards, I "collected" colorful stickers of all kind and slapped them everywhere. Fast forward to college, I got my hands on some "Hello My Name Is…" name-tag stickers and started doodling all over them, painting them and sticking them up all over my college campus, and it took off from there. People in town would post about sightings all over town, and it became this wonderful public conversation between whoever found the next sticker and myself. The whole, rebellious, lengthy, process gave me a rush, a high, and I fell in love with the artistic and political aspects of the wordless conversation via sticker art.
With such a unique style that appears to lead and not follow, who or what has inspired you and influenced you to create?
I believe my lack of formal training in visual art or drawing has led me to unabashedly explore my own, personal and unique identity as a visual artist. Nobody every put me down because they never had the chance, I was in control. Never once did I ask anyone if I was good enough, I knew I was fucking good enough because I had nobody to impress and nothing to lose. It was art for the sake of art, which is art in it's best form – before money starts exchanging hands, then it gets trickier.
Artistically, I'm inspired by the patterns on the clothing worn on Saved By The Bell. Big bright color combinations. Nick Toons. Lisa Frank. Keith Haring. Kenny Scharf. Zedd. Empire of The Sun. Madeon.
A phrase I often see on your social media pages is "MORE COLOR!" How and when did your affinity for bright, bold colors begin?
Having been a child of the 1990's, neon was all the rage, and I never grew out of it. I remember wearing the sickest "Gecko Hawaii" clothes, seriously google that phrase right now, I wish they still made that shit. What a time to be alive.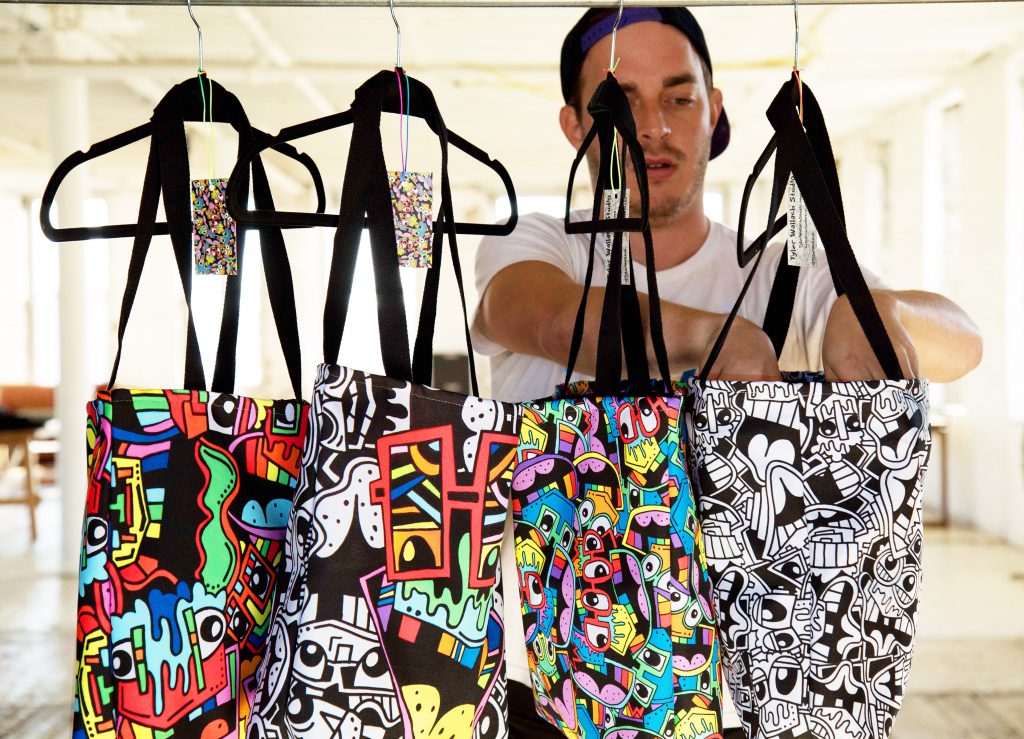 In a world full of aspiring artists, clothing designers and graphic designers, your patterns and color palettes are so uniquely identifiable. What approach do you take to make your art stand out?
I always try to cover the entire space given to me as well as always give my pieces a sense of color and movement, two important aspects of my work. The color process is the FUN part, the easiest and most enjoyable part by far!! That's when I put on the headphones, turn up LOUD jams (100% of the time EDM to keep the energy up, duh) – yeah, the color part is very natural to me, as an artist, I'm lucky to have a wonderful sensitivity and magic way with color and it's impact through repetition.
You recently had a pop-up shop at Bushwig. Can you describe the event and the community that is Bushwig for those unfamiliar? Were your pieces well received there?
BUSHWIG is a yearly drag festival in Brooklyn, NY that brings in hundreds of drag artists, LGBTQA+ performers, DJ's, designers and now, local vendors!! In association with BUSHWIG, Brooklyn drag queen, Alotta McGriddles branched out and hosted BUSHSWAG, a queer friendly market of local fashion designers and makers selling their wares. It's a beautiful weekend of inclusive art, music, political drag, vegan chorizo tacos and five dollar bud light.
Tyler Wallach Studio had a fantastic showing at BUSHWIG, sales were great, the community came to show love for local art and there is nothing more beautiful. Plus I met so many other incredible vendors, I can't wait to come back for 2017, bigger and better!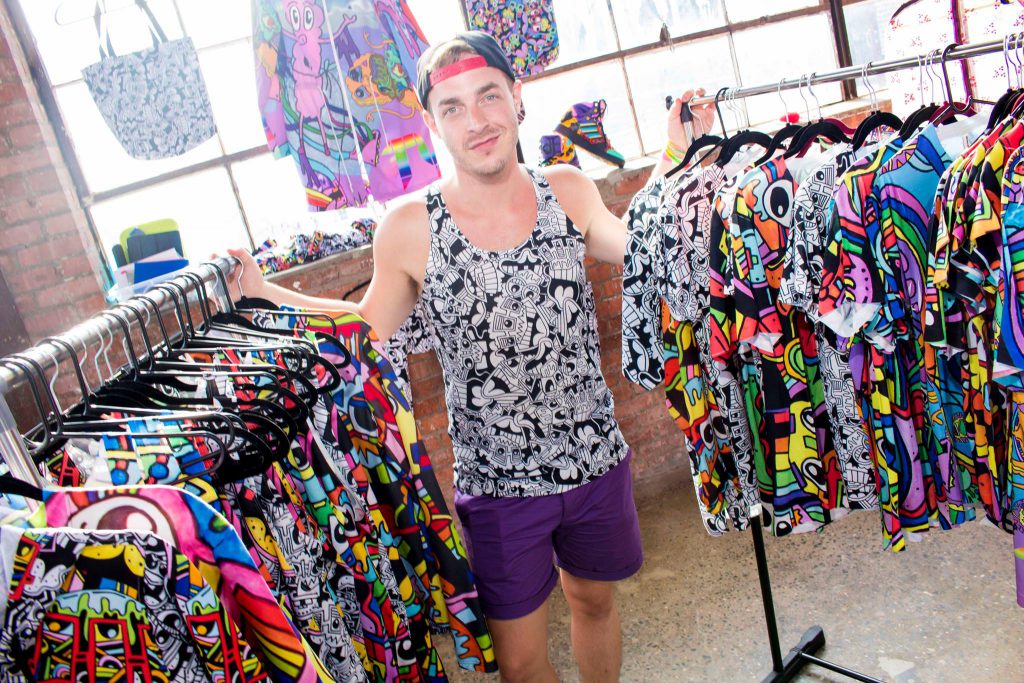 I notice you carry sizes ranging in XS – 5X. Is this a rebellion against the status quo of the fashion industry, which is sometimes exclusive to some shapes and sizes?
I do want to rebel against the idea that the size of someone or something can indicate beauty or value in any way. My philosophy behind my 5XL TEE campaign is my belief in saying to everyone "buy this big shirt!!" I don't want to just say that to big people, I don't target any size-group specifically or gender specifically, because I'm targeting everybody and any body. That's what inclusivity means to me. So whether than trying to fit into a small, I say to everyone "This 5XXXXXL t-shirt is badass, and it will fit you no matter what!! It will never shrink or fade and turns heads!!" -it's just a conversation about style, and everyone is invited.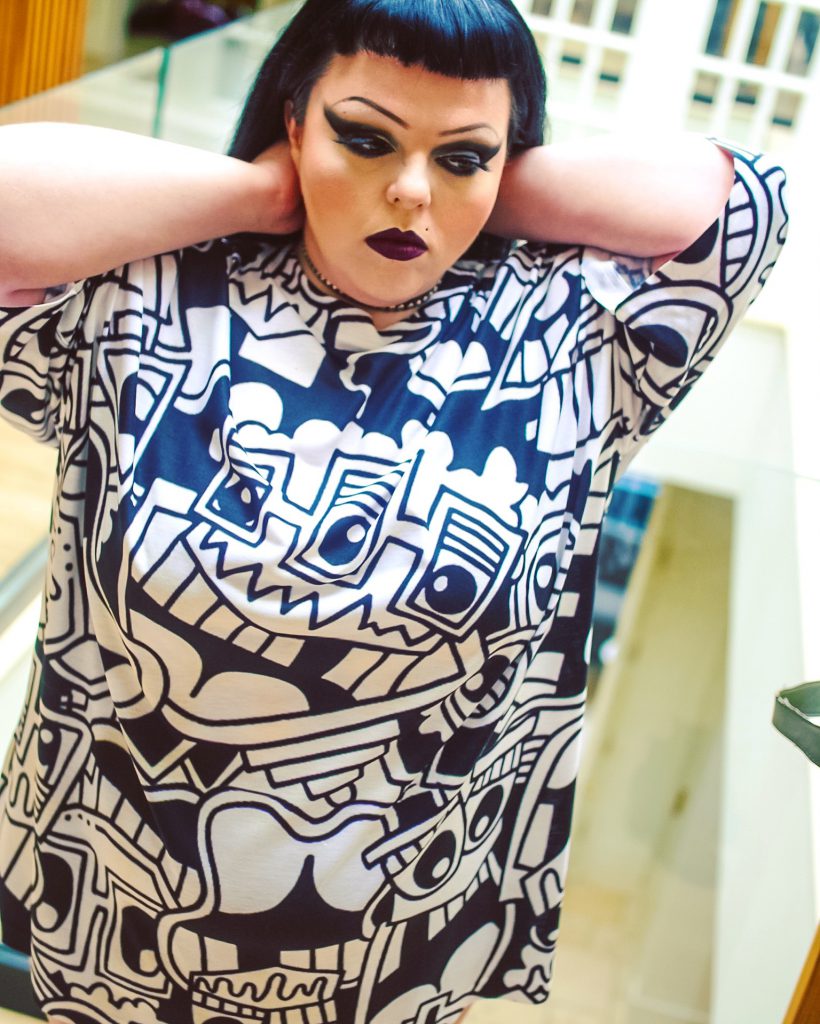 Do you have any exciting events or pop up shops coming up, or pieces you're working on that you'd like to share with us?
Yes! Come see me at the Shwick Holiday Market in Bushwick December 3rd and 4th as well as Brooklyn Makers Market: Holiday Edition, December 17th and 18th in Williamsburg.
What is your favorite medium when creating your art – fashion related or not?
I learned this from The Office a long time ago, Michael tells Dwight "K – I – S – S… keep it simple stupid" and this phrasing has never left me. Everything starts with the basics. Pen and sketchbook, good music and the rest is magic.
---
Check out Tyler Wallach Studio on Social Media: