As we are just a few weekends away from Halloween, all of the October events are really starting to ramp up. BOO! Arizona is just around the corner, are you ready?
---
Relentless Beats will be supporting a number of shows leading up to BOO! Arizona and then heading straight into their Wicked Ball. BOO! Arizona, presented by both Insomniac Events and Relentless Beats will be featuring Knife Party, who just released "Battle Sirens" with Rage Against the Machine and Prophets of Rage guitarist, Tom Morello; Excision; Snails; NGHTMRE, who recently collaborated with Zeds Dead on "Frontlines" from the upcoming Northern Lights; Ghastly; G Jones; Wuki and more. This 18+ event will be held at the Rawhide Western Town & Event Center in Chandler, on October 15th – the same place that Decadence AZ will be taking place in December!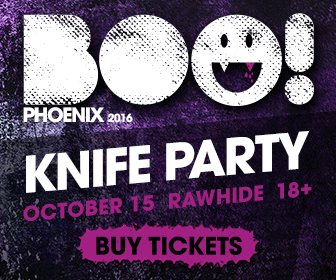 Click HERE to RSVP to the official event page on Facebook!
---
Book your accomodations for BOO! Arizona today!
If you haven't booked a hotel yet, Relentless Beats has a block of rooms reserved at the Arizona Grand Resort and Spa. Click here to book your stay. Currently the rate is $159/night
Don't have tickets yet? Don't fret, buy them here.
---
Important Things To Know Before You Go
Bring a valid ID and printed ticket
If you're driving, bring $10 for event parking
Things to Leave at Home

Things to Bring With

NO Illegal Substances
NO Drugs or Drug Paraphenalia
NO Pets
NO Massagers
NO Laser Pens / Pointers
NO Eye Drops
NO LED Gloves or LED Microlights used for Light Shows
NO Pacifiers or Dust Masks
NO Eyedrops
NO Glass, Cans, Cups, or Coolers
NO Markers, Pens, or Spray Paint
NO Large Chains or Spiked Jewelry
NO Stickers, Flyers, or Posters
NO Hard Balls, Frisbees
NO Tents, Large Umbrellas, Chairs, or Blankets
NO Backpacks Over 12″x12″ (except Camelbacs)
NO Bota Bags
NO Large Purses or Bags (Anything over 12″×12″)
NO Open Cigarettes, Lipstick, Chapstick, or Tampons (Upon entry)
NO Outside Food, Beverage, or Alcohol
NO Knives, Firearms, Pepper Spray, Fireworks, or Weapons of Any Kind
NO Toy Weapons or Real Weapons of Any Kind
NO Professional Cameras – SLR or Detachable Lens
NO Video or Audio Equipment
NO Native American Headdresses
OK Small Bags and Purses (maximum 12″×12″ inches)
OK Reusable Insomniac Aluminum Water Bottles (must be empty upon entry)
OK Camelbaks (empty upon entry)
OK Fanny Packs
OK Non-Professsional Still Cameras
OK Cell Phones
OK Small, Personal Umbrellas
OK Hats
OK Lighters
OK Sealed Packs of Cigarettes
OK Sealed / Wrapped Tampons
OK Sealed Packs of Gum
OK Earplugs
OK Sealed Chapstick and Lipgloss
OK Sunglasses
OK Removable Bandanas
OK Glowsticks
OK String Glowstick / LED Poi is permitted by must be performed 5′ from others (Please be responsible!)
OK Glowing / Illuminated Costumes or Jewelry
OK Hula Hoops (especially LED hoops)
OK Festival Totems (Pool Noodles or Lights, hollow decorated poles) See below for more info
OK Inflatables (deflated upon entry)
OK Flags/Banners or Handmade signs (no corporate or company-branded ones)
OK Handheld camera devices (eg Sony Action Cam, GoPro)
OK Plush Backpacks
OK GoPro Extendable Poles
OK Disposable E-cigs/Nicotine Vaporizer pens are OK, but none with refillable chambers containing visible liquid
OK Sealed, Unopened Hand Sanitizing Wipes
Still can't decide which BOO! to attend? Be sure to check out all the BOO! events HERE!
---
Connect with BOO! Arizona 2016 online: