The mix-perience starts today.
Today thousands of attendees will gather at the Del Mar Fairgrounds for a musical, comical, and food experience like no other. We've long awaited this experience and are very excited to embrace it this weekend. Whether you're coming for the music, the comedians, the food, the art work, or just the perfect beach vibe weekend there's something here for you. With amenities that include a spa and relaxation zone as well as artwork from internationally known muralists this is the kind of event you can't afford to miss. I hope I'll see you at KAABOO!
Haven't bought a ticket yet? Don't worry tickets are still available here.
---
Essential Information:
Dates: Friday, September 16 – Sunday, September 18, 2016
Gate Open Daily: 11:30am
Show times: Outdoor live music and amplified sound will end by 10 p.m. on Friday and Saturday nights, and 9 p.m. on Sunday.
Venue Address: Del Mar Racetrack & Fairgrounds 2260 Jimmy Durante Blvd Del Mar, CA 92014
Will Call Hours:
September 10th – 14th: 10 a.m. to 6 p.m.
September 15th: 10 a.m. to 10 p.m.
September 16-18: 10 a.m. to 9:00 p.m.
---
KAABOO Daily Schedule: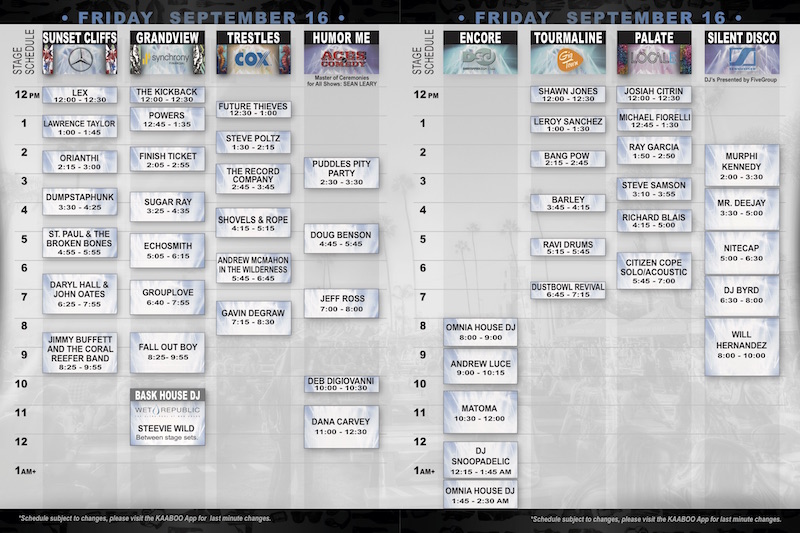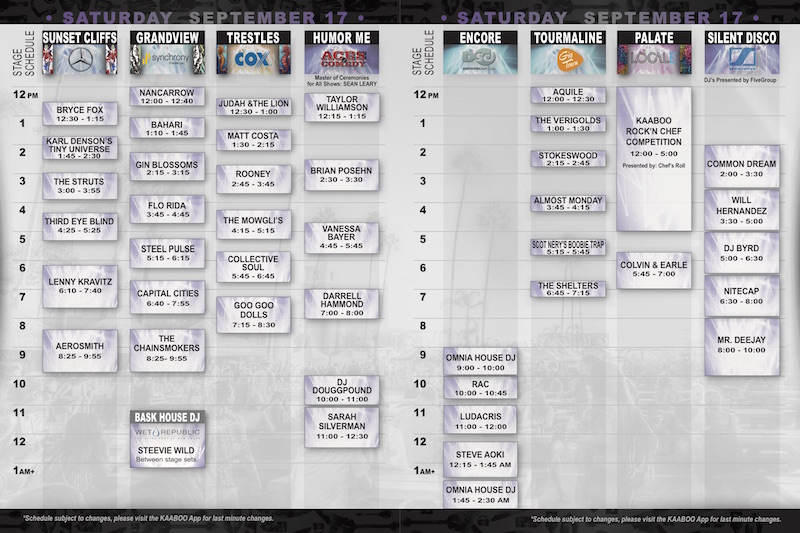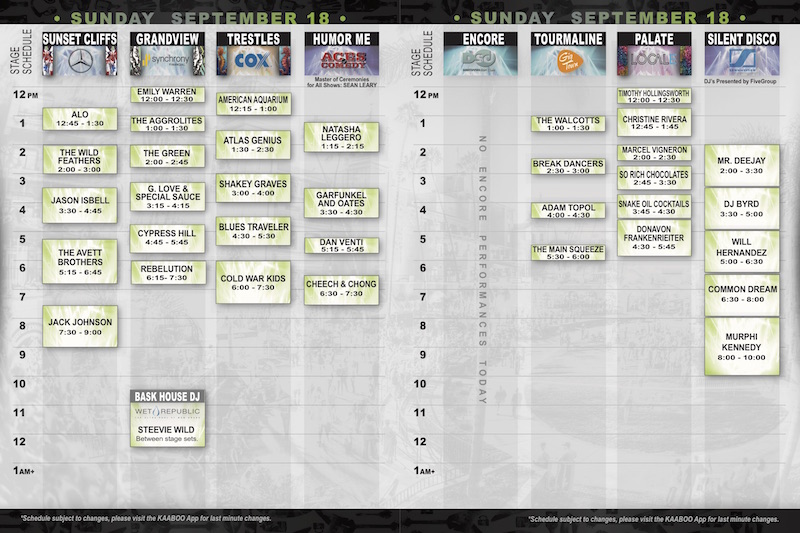 ---
KAABOO Map: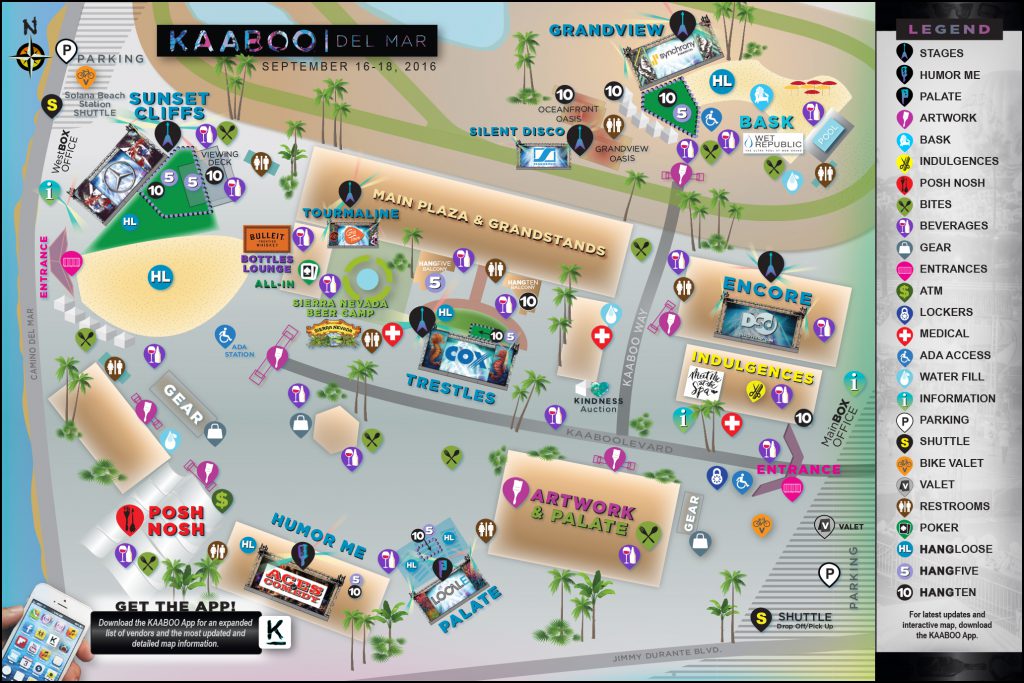 ---
Parking Info and Public Transportation:
Address:
Del Mar Racetrack & Fairgrounds
2260 Jimmy Durante Blvd
Del Mar (San Diego), CA 92014
There will be limited parking available on site, so arrive early. If you didn't pre-purchase a parking spot in advance you can do so as you arrive.
KAABOO highly recommends public transportation as an environmentally friendly and convenient way to get to/from KAABOO. NCTD and MTS offer a $12/day unlimited transportation pass for COASTER, SPRINTER, BREEZE, including all MTS/NCTD buses and trolleys.
Coaster/MTS/Amtrak:
KAABOO recommends the "RegionPlus Day Pass" offering riders unlimited rides on that calendar day for just $12. This pass is valid on NCTD Coaster, Sprinter, Breeze, and all MTS Trolley Lines and buses (except rural routes and access services) including Rapid Express buses. All NCTD and MTS transit service will operate on regular schedules. Please visit GoNCTD.com or sdmts.com for schedule information.
The closest stop to KAABOO is the Solana Beach Station, which is only about 1 mile from the venue. Upon arrival, you may choose to ride a shuttle for $5 each way ($10 roundtrip), which will drop you off at the main gates of KAABOO.
Please do not park in the surrounding neighborhoods or Solana Beach Station lots.
Please make sure to follow all laws and regulations on the Coaster/MTS/Amtrak! Don't forget, alcohol is now prohibited. (But, look on the KAABOO-side: Good drinks come to those who wait!)
---
Reminder to Mind Your Belongings:
Unfortunately, this festival season, many people have reported pickpockets, bag slashings, and theft of wallets, smartphones, purses and other valuables during. While this small number of bad apples in the bunch doesn't define an entire crowd, there are opportunistic people who come to these events to take advantage of unsuspecting party goers and it's important to be mindful of your valuables while at KAABOO.
Pay attention to who's around you and what's going on around you. Keep your wallet and phone in your front pocket(s) if you can. Treat your phone the same way you would treat cash; don't set it down on a table or bar and look away. If a friend isn't standing behind you in a crowd, be careful of your backpack or purse, and don't put valuables in a pocket that could easily be unzipped by someone behind in a crowded spot without you realizing.
---
Be Prepared For The Weather:
The past few days have been a little cooler than normal so be prepared with a light jacket or hoodie as the sun sets.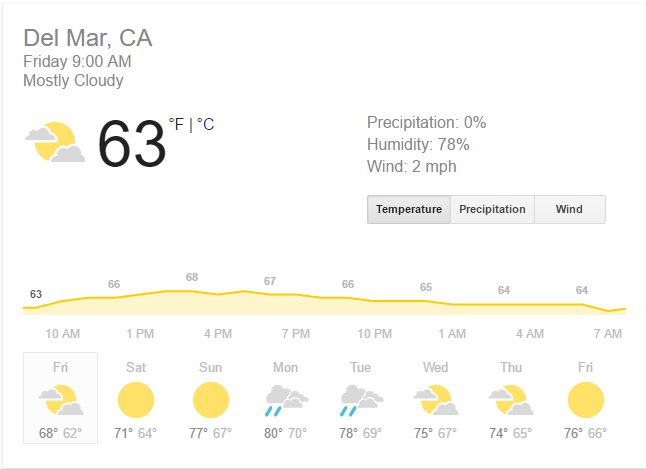 ---
Acceptable Items:
| | |
| --- | --- |
| · Blankets | · Beach towels |
| · Backpacks (under 17″ x 12″ x 10″) | · Empty water bottles |
| · Binoculars | · Point + shoot, non-professional-grade cameras |
| · Strollers | · GoPros (no poles or extenders) |
| · Wheelchairs/medical scooters | · Lighters |
Prohibited Items:
| | |
| --- | --- |
| · Weapons of any kind | · Drugs/drug paraphernalia |
| · Illegal substances | · Alcoholic beverages |
| · Glass containers | · Outside food or beverages |
| · Factory sealed water bottles | · Coolers |
| · Large bags or backpacks (over 17″ x 12″ x 10″) | · Fireworks or explosives |
| · Flags or totems | · Laser pointers |
| · Umbrellas | · Musical instruments, including whistles |
| · Lawn furniture | · Chairs or Tents |
| · Pets (except service animals with current rabies certification – enter through ADA Gates) | · Audio/video recording equipment |
| · Professional quality cameras | · Opened over the counter medications |
| · Personal shade tents or canopies | · Inflatable items |
| · Yard games | · Frisbees |
| · Bicycles (inside fairgrounds) | · Rope or items to reserve spaces |
| · Skateboards or scooters (except for medical scooters) | · Drones |
| · Stickers | · Stuffed animals or dolls |
| · Spray Paint | · Unsealed eye drop containers |
| · Opened bottles of vitamins | · Marker pens |
| · No unauthorized/unlicensed vendors allowed | · No unauthorized solicitations, handbills, sampling, give-aways, etc. |
---
Follow KAABOO 2016 on Social Media: