Life is Beautiful Music & Arts Festival announces another addition with the IDEAS Series. The series will feature live discussions and interactive Q&A sessions with globally-recognized leaders who use their passion, innovation, and transformation to impact the world at Life Is Beautiful 2016!
---
Headlining this year's IDEAS Series is television personality, model, author and drag queen, RuPaul, who has a set time on the Troubadour Stage on Saturday, Sept. 24 at 4 p.m. The IDEAS Series at Life Is Beautiful 2016 was curated by CatalystCreativ and highlights three different daily themes over the three-day festival: "Self Transformation," showcasing speakers telling their own journey of personal growth, inspiring listeners on how they can transform their own lives; "Local Transformation," surrounding topics on how to make an impact in your local community, whether through exercising one's right to vote or creating a new company; and "Global Transformation," informing listeners on how to impact and transform societies and old ways of thinking through big ideas, movements and community service.
"When the Life is Beautiful team came together to write its brand manifesto, we asked ourselves what the festival means to us, and to Las Vegas, and why we're committed to creating an even better experience for fans each year," said Amanda Slavin, founder and CEO of CatalystCreativ. "We're Las Vegans and we're proud of our city, but most of the world has a misconceived perception of Las Vegas. We want to transform that view by showcasing the creative, brilliant and talented minds that both live in and visit our incredible city. Guided by that goal, the daily themes for IDEAS focus on various levels of 'transformation' that will impact listeners on a local, national and global scale."
Life Is Beautiful 2016 Ideas Series Speaker Lineup By Day: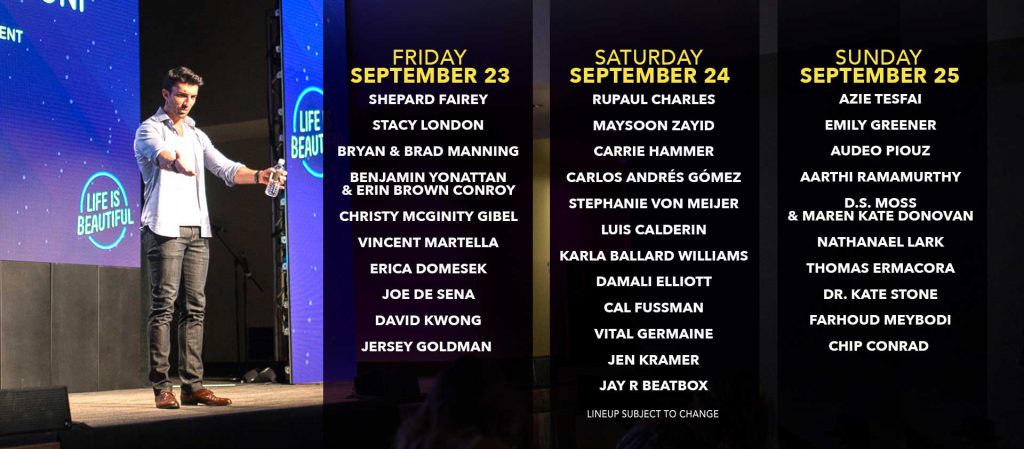 Life is Beautiful's IDEAS Series will provide festival attendees the opportunity to experience a variety of influential voices in today's generation including, but not limited to, CEO and founder of Lumoid, Aarthi Ramamurthy; Las Vegas-based spoken word poet, Audeo Piouz; actress on CW's "Jane the Virgin" and entrepreneur, Azie Tesfai;sensational teen dancer on "America's Got Talent," Benjamin Yonattan; founders of Two Blind Brothers,  Brad & Bryan Manning; New York Times best-selling Author, Cal Fussman; HBO Def Poetry Jam star and actor on "Inside Man," Carlos Andrés Gómez; Lifetime's "Little Women: LA" reality star, Christy McGinity Gibel;multimedia street artist, D*Face; founder of do-it-yourself lifestyle brand P.S. – I Made This, Erica Domesek;co-founder of I AM THAT GIRL, Emily Greener; founder and CEO of Spartan Race, Joe De Sena; founder and CEO of YING Bank, Karla Ballard Williams; digital interface innovator and founder of Novalia, Dr. Kate Stone; vice president of marketing and creative for Rock the Vote, Luis Calderin; entrepreneur and blogger, Maren Kate Donovan; actress and comedian, Maysoon Zayid; artist and author of I Can See Your Beauty,  Nathanael Lark;American contemporary street artist, graphic designer and illustrator, Shepard Fairey; fashion expert and host ofTLC's "Love, Lust or Run," Stacy London; American voice actor known for playing Phineas in Disney Channel's"Phineas and Ferb," Vincent Martella; top-selling author of "Flying without a Net," Vital Germaine; and more to be announced.
In addition, this year's IDEAS Series will feature a diverse lineup of entertainment including 2016 Female Magician of the Year by the International Magicians Society, Jen Kramer; Las Vegas entertainer, Jay R Beatbox; entrepreneur, Chip Conrad; and more.
"After receiving an overwhelmingly positive response from last year's program, we wanted to expand the opportunities the series can offer," said Justin Weniger, CEO of Life is Beautiful. "There are so many influential people in the world and IDEAS offers our attendees the unique opportunity to get up close and learn how to transform themselves, their community and the world."
Not sure what to expect? Check out Zach's 2015 Life is Beautiful Experience!
---
Connect with Life is Beautiful 2016 on Social Media: