Moonrise Festival 2016 Festival Map, Set Times, FAQ, & More!
Moonrise Festival 2016 is rapidly approaching. The lineup is stacked, the venue is covered in grass, and if you follow them on Snapchat (@moonrisefest16) you can see the stages are being quickly assembled! To help make your trip one that is unforgettable, we want you to be in the know so check out all this essential info!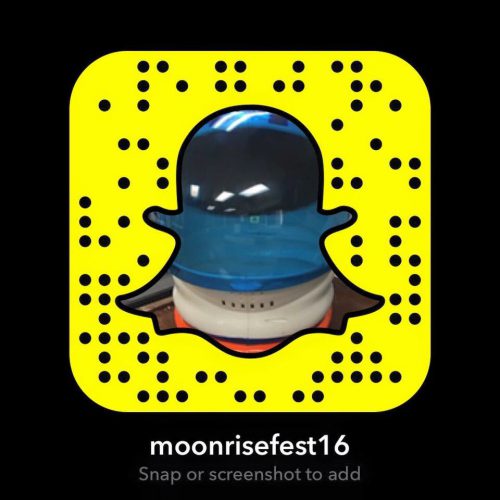 ---
Moonrise Festival 2016 Essential Info:
Dates: August 6th & 7th
Show times: Music starts at 11am ends at 11pm
Venue Address: PIMLICO RACE COURSE, 5201 Park Heights Ave, Baltimore, MD 21215
Haven't paid for parking or need tickets still? Click HERE!
Wristband Pickup Times:
Remember that you must pick up your wristband before you get in line for the festival. Also remember that each person needs to be present for the wristband regardless of how many tickets you purchased you will not be allowed to pick up multiple wristbands without the people present for who they belong. EXCEPT Sunday ONLY – you will not need wristbands for this day.
Thursday August 4th 3pm – 8pm
Friday August 5th 12pm – 8pm
Saturday August 6th 9am – 9pm
Sunday August 7th 9am – 9pm
To Pickup at Will Call You Will Need:
Valid ID (or Copy of ID if picking up under a different name)
Copy of Order Confirmation Receipt
Credit Card (or Copy of Credit Card of Original Purchaser) used to purchase online
---
Moonrise Festival 2016 Set Times:
---
Moonrise Festival 2016 Festival Maps: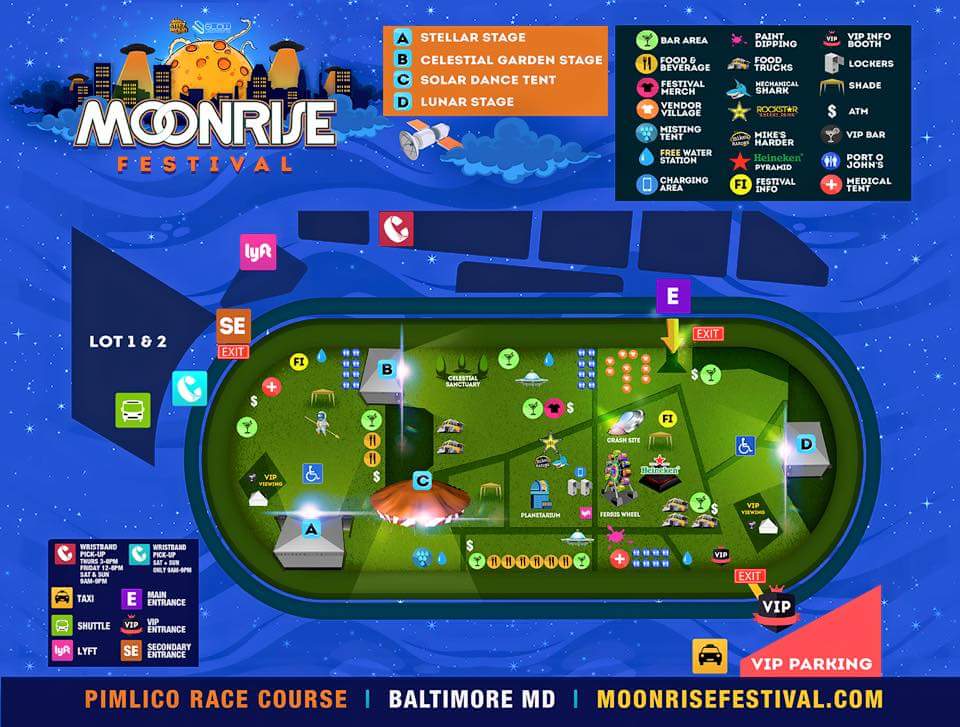 ---
Reminder To Mind Your Belongings
Unfortunately, many people have reported pickpockets, bag slashings, and theft of wallets, smartphones, purses and other valuables during this festival season. While this small number of bad apples in the bunch doesn't define an entire crowd, there are opportunistic people who come to these events to take advantage of unsuspecting party goers and it's important to be mindful of your valuables while at Hard Summer.
Pay attention to who's around you and what's going on around you. Keep your wallet and phone in your front pocket(s) if you can. Treat your phone the same way you would treat cash; don't set it down on a table or bar and look away. If a friend isn't standing behind you in a crowd, be careful of your backpack or purse, and don't put valuables in a pocket that could easily be unzipped by someone behind in a crowded spot without you realizing.
At Moonrise Festival as with many festivals, you may find yourself in a crowded environment in a line, crowd in the festival, elevator, or even out on the street where someone could slip your wallet or phone our of your pocket or bag in a matter of seconds. Stay alert, be careful, and make sure to not carry more than what you need!
---
Be Prepared For The Weather!
It's definitely important to stay hydrated all weekend, we cannot stress this enough. Also, keep in mind even if there are clouds it can still be a good idea to apply sunscreen! Additionally, it looks like there might be some scattered showers on Saturday, so bring a poncho because umbrellas are not allowed and it is a rain or shine event!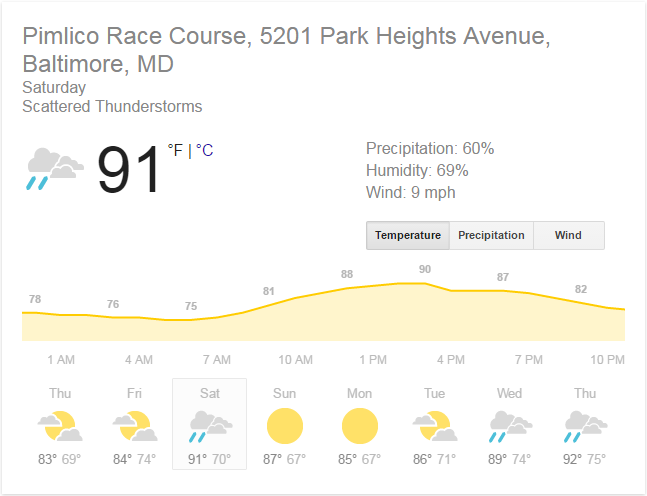 ---
Moonrise Festival 2016 Do's and Don'ts
ACCEPTABLE  ITEMS
Single Compartment Knapsacks CLICK HERE for Example
Single Compartment Fanny Packs
Small Cameras That Are Not Considered Professional
Sealed Cigarettes
Sealed Disposable E-Cigarette Packages
Empty Camelbacks
Flags
Totems*
Empty Water Bottles
Non-professional Video Cameras
Travel Size Sunscreen Bottles
Blankets
Smiles
High Fives
PROHIBITED  ITEMS
No Backpacks (Single Comparment knapsacks only, seen above)
No Duffle Bags
No Coolers
No Outside Food of Drink of Any Kind
No unauthorized goods for vending, sale, or distribution
No Glass of Any Kind
No non-disposable E-Cigarettes, Vapes, or any other E-smoking Device
No Open Disposable E-Cigarettes
No Open Cigarettes
No Laser lights or pointers
No professional camera or video equipment
No Cameras over 35mm
No Tripods
No Tents or Camping Equipment
No Balloons or Balls
No Fireworks or Sparklers
No Mace or Pepper Spray
No Grills
No Umbrellas
No Weapons of Any Kind or Any Item That Could Be perceived as a Weapon
No Illegal Drugs
No Items That Can Be Used to Smuggle Contraband
No Wagons or Wheeled Carts
No Chairs or Furniture
No Hoverboards
No SLR or Professional Equipment Permitted
No Ladders, Scaffolding, or Other Raised Devices
No Totems That Could Potentially Smuggle In Contraband
No Flagpoles That Are Not Transparent or Hollowed Out
No Flags, Totems, or Signs Displaying a Message of Hate or Negativity Directed at Other Festival Patrons or Individuals
---
Connect with Moonrise Festival 2016 on Social Media: