Hard Summer Music Festival 2016 Festival Maps, FAQ, & More!
HARD Summer Music Festival 2016 is now upon us!! With less than 24 hours until camping for the festival opens, patrons are finalizing their packing for the first HARD Summer with camping ever. Whether you're excited for the lineup, the new venue with CAMPING, or simply just excited to dance the night away, we are right there with you. To help make your trip one that is unforgettable, we want you to be in the know so check out the essential info!
---
Hard Summer Music Festival 2016 Essential Info:
Dates: July 29th(camping) July 30th & 31st(festival)
Show times: Music starts at 1pm ends at 11pm
Venue Address: AUTO CLUB SPEEDWAY 9300 Cherry Ave., Fontana, CA, 92335
Looking to grab a locker? Click HERE to rent a mobile charging locker for the weekend!
Box Office Hours:
Thursday – 11am-8pm
Friday – 11am-8pm
Saturday – 10am-10pm
Sunday – 10am-10pm
Camping Info:
Check In Hours:

Friday, July 29: 3:00pm – 9:00pm
Saturday, July 30: 8:00am – 6:00pm

Note that the line may take up to an hour, and closing times are strict. If you arrive late, we will not be able to admit you into the campgrounds until check-in opens the following day.

Check Out Begins:

Monday, August 1: 1:00am – 10:00am SHARP

All campers must be fully packed and vacating the campgrounds by 10:00am on Monday, August 1st.

Camping Box Office Hours:

Friday – 2:30pm-9pm
Saturday – 8am-6pm
ACCEPTABLE FORMS OF ID
Any US government-issued driver's license or ID card containing a photograph and date of birth
US or foreign government-issued passport containing a photograph and date of birth

NON US-RESIDENT ATTENDEES PLEASE TAKE NOTE: A valid passport is required for entry. Non-US licenses will not be accepted.
UNACCEPTABLE FORMS OF ID
NO school ID
NO consular ID
NO birth certificates
NO photocopies of any ID
---
Get pumped for this weekend with the HARD Summer 2016 Mixtapes:
---
A Message From Hard About Staying Safe:
---
Hard Summer Music Festival 2016 Set Times:
Download the app for iOS or Android for updates!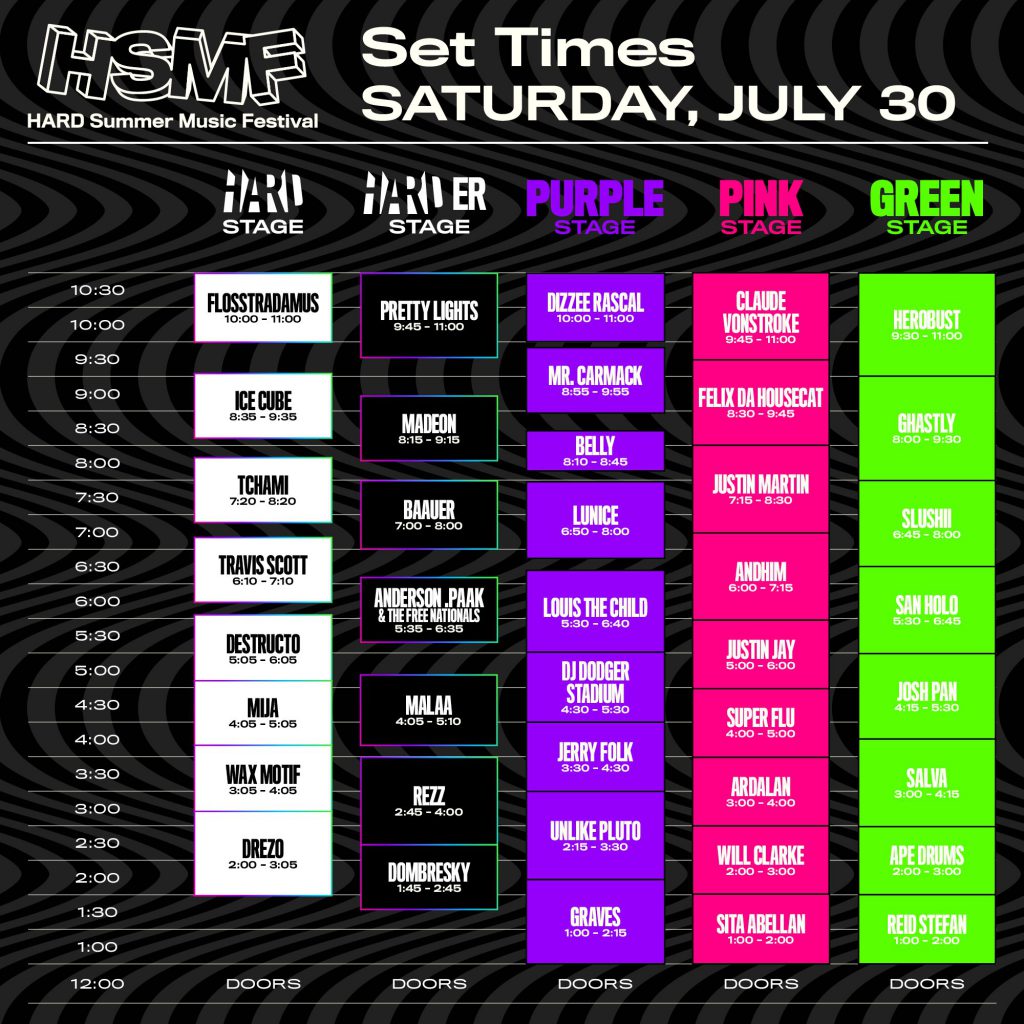 \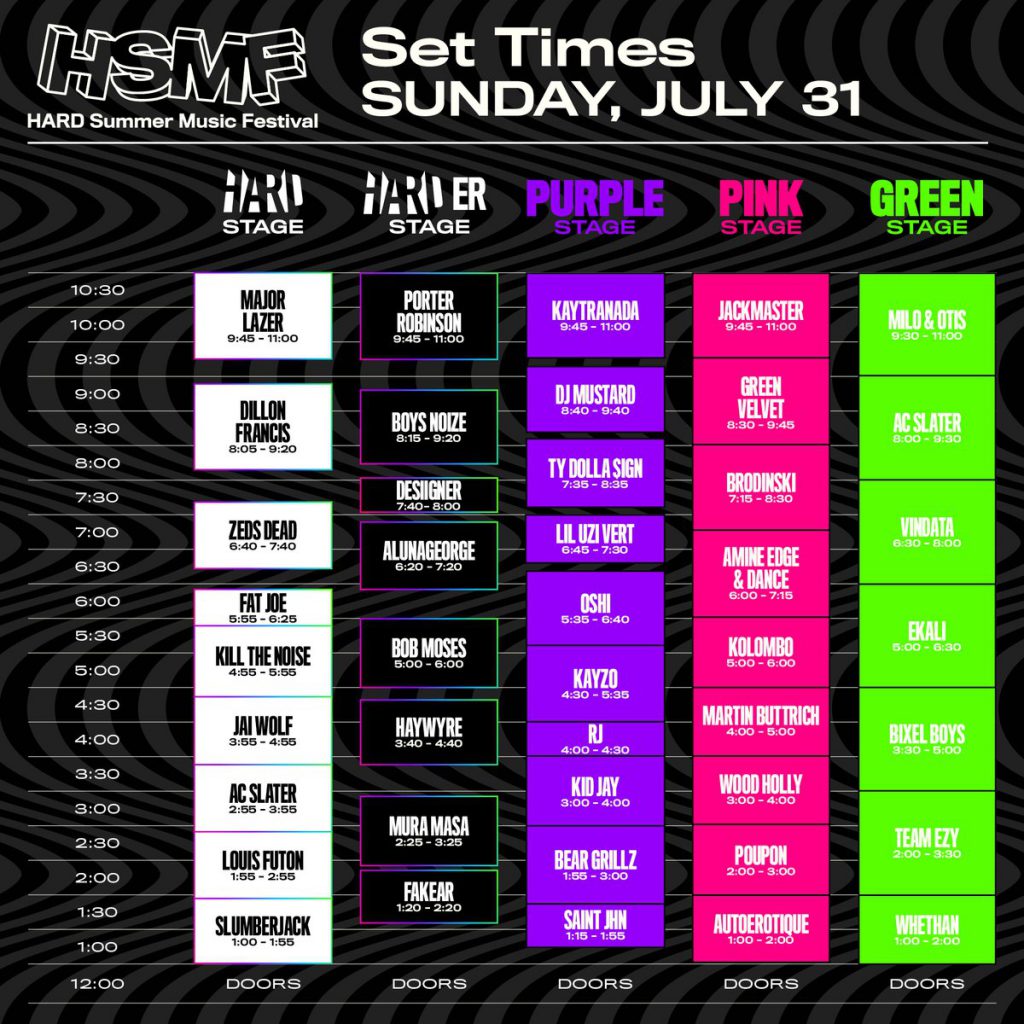 ---
Hard Summer Music Festival 2016 Festival & Camping Maps: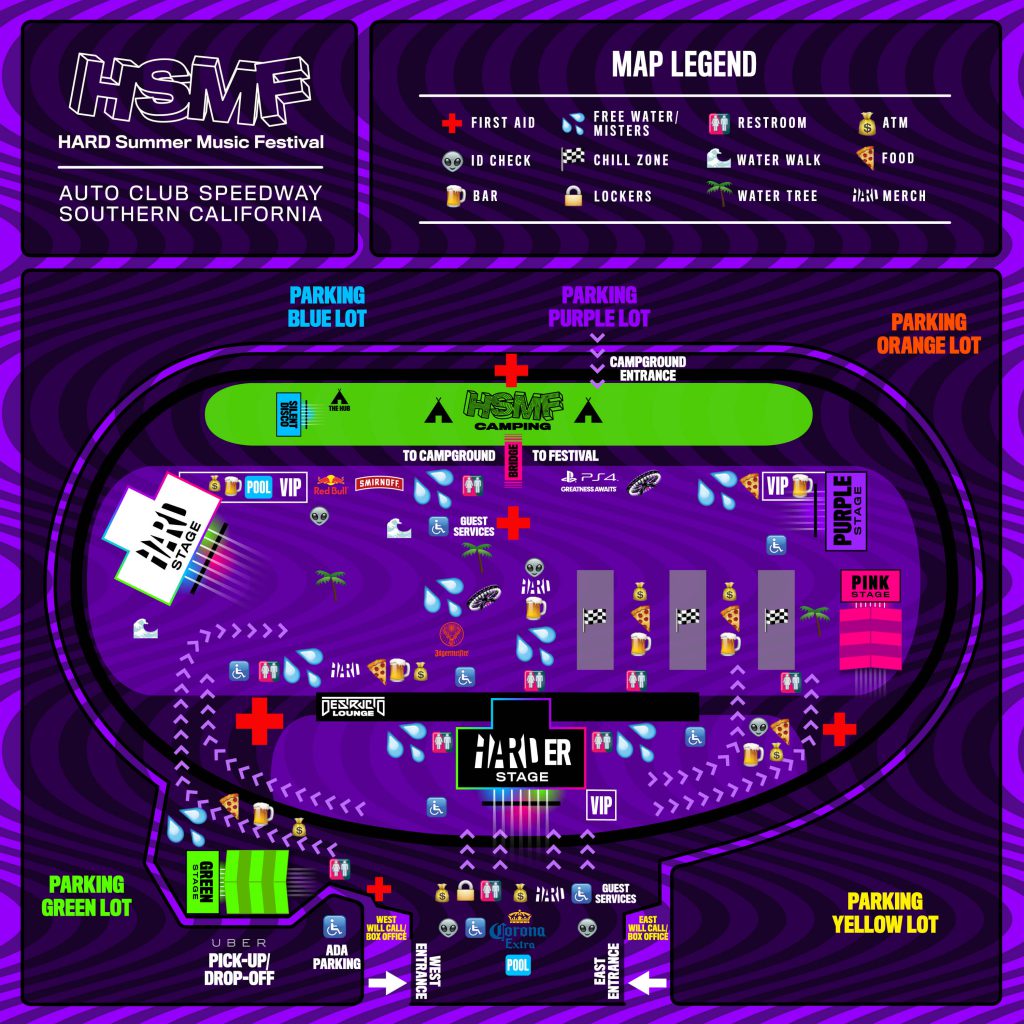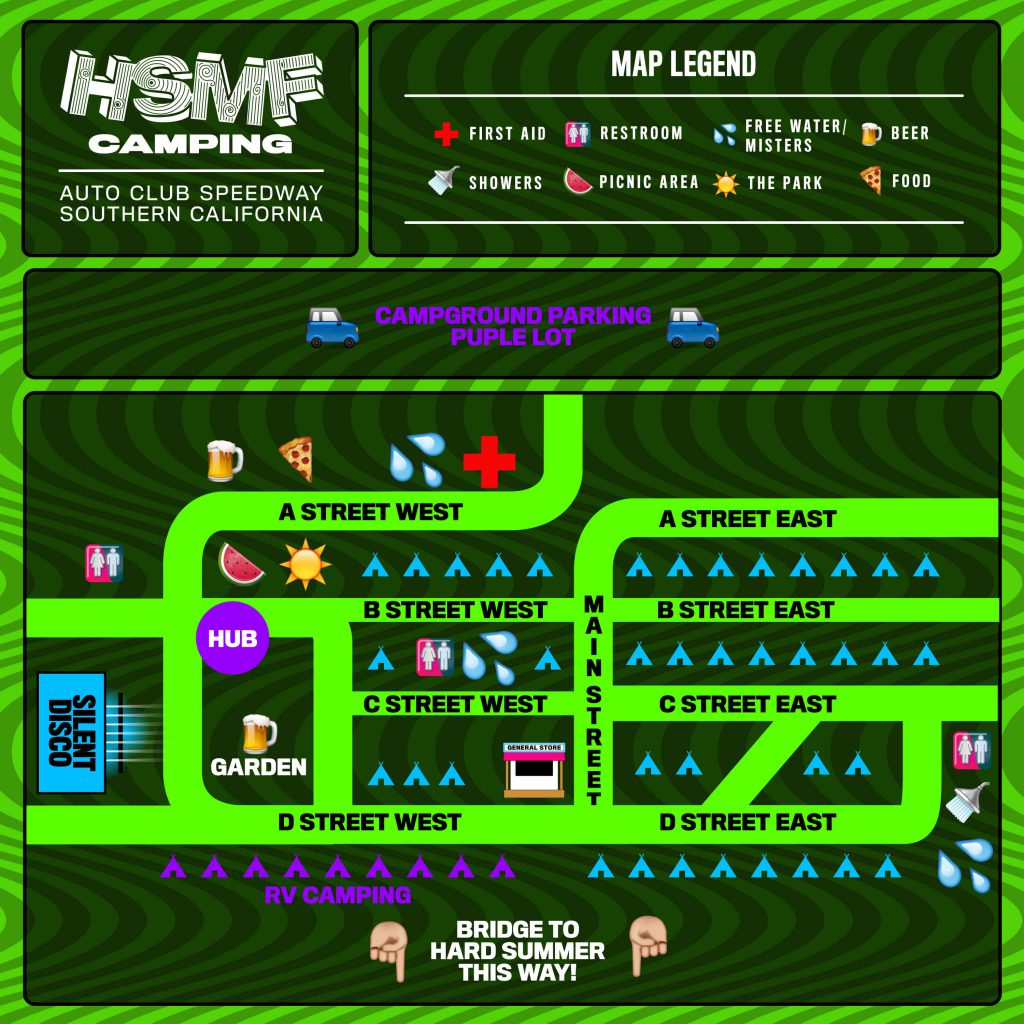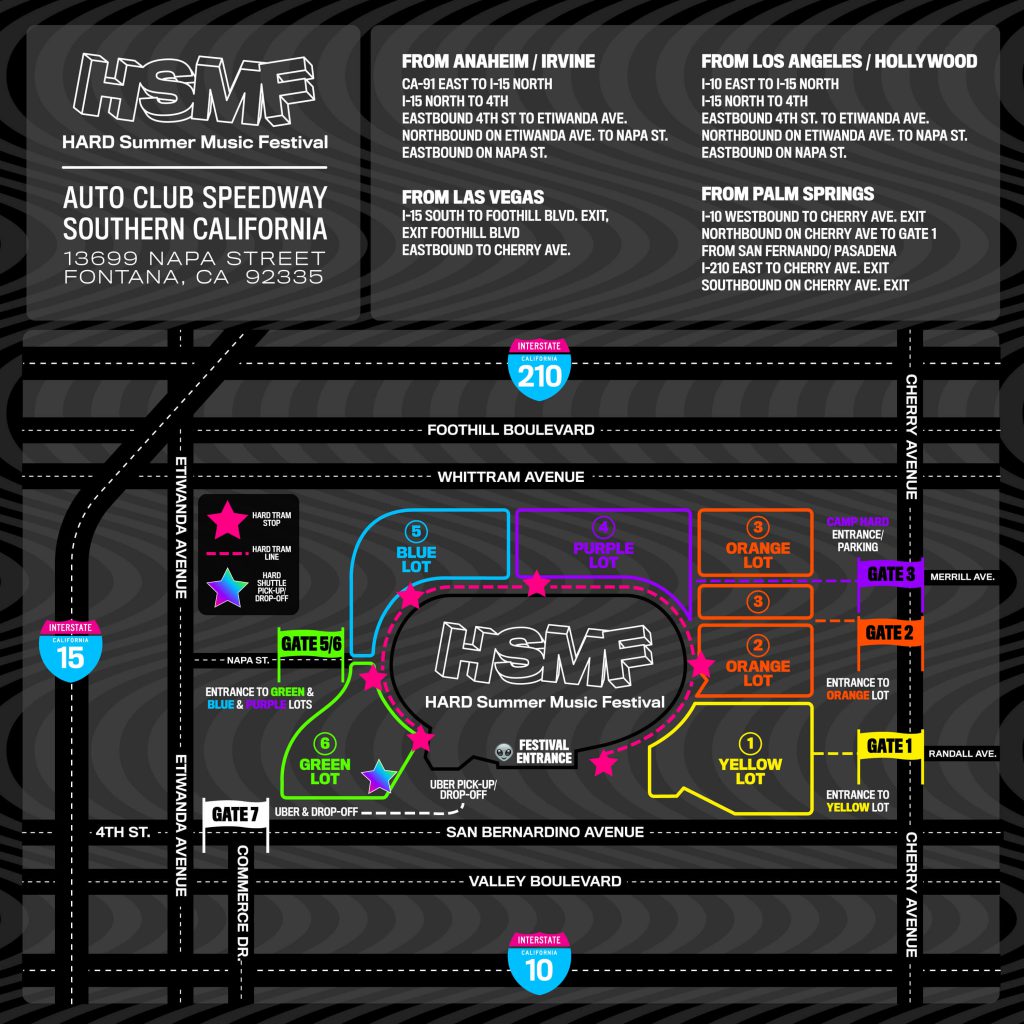 ---
Reminder To Mind Your Belongings
Unfortunately, many people have reported pickpockets, bag slashings, and theft of wallets, smartphones, purses and other valuables during this festival season. While this small number of bad apples in the bunch doesn't define an entire crowd, there are opportunistic people who come to these events to take advantage of unsuspecting party goers and it's important to be mindful of your valuables while at Hard Summer.
Pay attention to who's around you and what's going on around you. Keep your wallet and phone in your front pocket(s) if you can. Treat your phone the same way you would treat cash; don't set it down on a table or bar and look away. If a friend isn't standing behind you in a crowd, be careful of your backpack or purse, and don't put valuables in a pocket that could easily be unzipped by someone behind in a crowded spot without you realizing.
Hard Summer Music Festival and Festivals in general are a very densely populated place, and is a well-known as a place where pick-pocketing of unsuspecting people occurs. It's easy to find yourself in a crowded environment in a line, crowd in the festival, elevator, or even out on the street where someone could slip your wallet or phone our of your pocket or bag in a matter of seconds. Stay alert, be careful, and make sure to not carry more than what you need!
---
Be Prepared For The Weather!
It's definitely important to stay hydrated all weekend, we cannot stress this enough. Also, it's a good idea to apply plenty of sunscreen to protect your skin! It will definitely be a hot one so make sure to stay cool and be safe out there!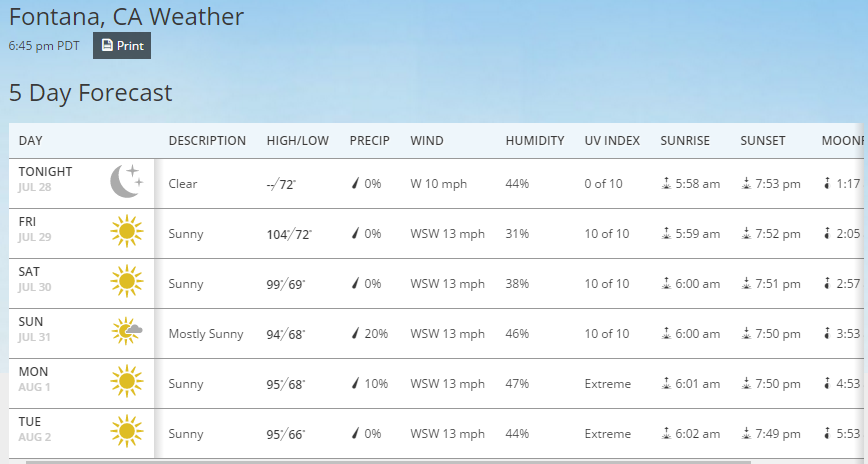 ---
Hard Summer Music Festival 2016 Do's and Don'ts
ACCEPTABLE  ITEMS
Camelbacks (must be empty)
GoPros
Hula Hoops
Face Paint (1/2 Face Only)
Small Bags & Purses (maximum 10″x10″)
Non-Professional Flash/Still Cameras
Cell Phones
Hats
Lighters
Sealed/Wrapped Tampons
Sealed Packs of Gum
Earplugs
Sealed Chapstick and lipgloss
Fanny Packs
Sunglasses
Flags (no poles)
Posters
Portable Phone Chargers
Empty Water Bottles (reusable and plastic OK)
Fat Heads
Sunscreen (Subject to search)
Misting Fans (must be empty)
Parasols (must be paper, no umbrellas, no metal, 2 ft. max width.)
PROHIBITED  ITEMS
NO Illegal Substances
NO Drugs or Drug Paraphernalia
NO Masks
NO Pets
NO Massagers
NO Laser Pointers
NO LED Gloves or LED Microlights used for Light Shows
NO Pacifiers
NO Eyedrops
NO Glass, Cans, Cups or Coolers
NO Markers, Pens or Spray Paint
NO Large Chains or Spiked Jewelry
NO Stickers or Fliers
NO Balloons, Balls, Inflatable Balls or Frisbees
NO Tents, Large Umbrellas, Chairs or Blankets
NO Large Purses or Bags (Anything over 10″ x 10″)
NO Stuffed Animals or Dolls (Including Plush Backpacks)
NO Kandi Bracelets or Kandi Necklaces
NO Open Packs of Cigarettes or Unsealed Tampons (Upon Entry)
NO Outside Food or Beverages (Including Alcohol and Candy)
NO Weapons of any kind (Includes Pocket Knives, Pepper Spray, Fireworks, etc.)
NO Professional Recording Equipment – Photo Video, or Audio (No Detachable Lenses, Tripods, Big Zooms or Commercial Use Rigs)
NO Video Cameras
NO Toy Weapons or Real Weapons of any kind
NO Electronic or Vapor Cigarettes
NO Wubs
NO Totems
NO Selfie Sticks
CAMPING GUIDELINES
Camping passes are only available for all (3) days – there will be no single day camping passes available.
Just like the festival itself, Campers must be 18 years or older and have valid ID. NO Exceptions
Only one camping pass must be purchased per car. Your vehicle's group will receive a single camping spot.
Upon arrival, each member of your group will receive a camping wristband, which will be required for campground entry.

Maximum of 5 camping wristbands per spot.
Camping spots and wristbands are non transferrable.

You may walk in and out between the campground and the festival, as long as you present your camping wristband.

There are no ins and outs from the HSMF Campground.
You WILL NOT be permitted into the campground without a camping wristband.

Upon arrival, you must present your camping pass and your event ticket. Every person entering the campground MUST HAVE TICKETS TO BOTH DAYS OF THE FESTIVAL. If your pass or tickets are at Will Call, you must pick them up before entering the camp grounds.
No Camping Walk-Ups.
Companion Car Camping Parking hours:

Vehicles can enter to park starting at 3:00pm to 9:00pm on Friday, July 29. Vehicles can also enter to park on Saturday from 8:00am to 6:00pm.

EVERY VEHICLE WILL BE SEARCHED UPON CHECK-IN BY LAW ENFORCEMENT.
You must travel with only the legal number of people that can fit in your car/truck and a maximum of 5 persons per campsite.
No vehicle EXIT or ENTRY from camping whatsoever from 9:00pm to 1:00am on both Saturday, July 30 and Sunday, July 31. NO EXCEPTIONS! These hours are subject to change depending on patron safety and traffic conditions.
Security and medical assistance will be available 24 hours within the festival site.
Noise curfew at 2:00am for all camping. SHARP!
We do not advise bringing valuables and HARD/Live Nation will NOT be held responsible for any loss or damage to belongings whilst on the festival and camping site.
Note that the more stuff you have in your car, the longer it will take to get through the line. Please help the process move faster by bringing only what you really need.
---
Connect with Hard Summer Music Festival 2016 on Social Media:
Website | Facebook | Twitter | Instagram | SoundCloud