Pemberton Music Festival 2016 was an unforgettable adventure. The five-hour drive from Seattle up to Pemberton was one of the weekend's most exciting aspects. Leaving on Thursday, I crossed the border into Canada with ease and admired the progressively shifting terrain along Highway 99. Crawling through dense urban traffic in Vancouver, hugging the breathtaking cliff side along the Sea to Sky Highway, and finally climbing into the immense, snow-capped mountains of Whistler. I made a brief check-in stop in Whistler to acquire my parking pass before trekking into the festival grounds to secure a camping space.
The camping area was broken up into segments named after Canadian provinces, I abandoned my car and set out to my weekend roost of Nova Scotia. This province was sparse, cozy and just beyond the eastern-most Mount Currie stage where the music was already booming. From that vantage point, one could hear a long, nearly 2-second delay of sound bouncing back off the northern mountain walls. After a moment of self-collection and absorption of the mountain scenery, I wandered in for the first time.
With just a few hours till sunset the festival was well under way, but still had ample sunlight for fresh, rambling eyes.
All stages, vendors, beverage-sponsored gardens, and "washrooms" were along the perimeter with a wide open field in the center. In this field were several large, brightly colored canopies under which one could eat, rest or simply perch for reprieve. People of all ages, ripe with excitement, were roaming and running about. My initial impression of the space was county fair meets raging frat party with the starkly diverse range of people, and the rowdy, drunken younger attendees aggressively taking advantage of their new carefree environment. There were, however, all manner of uniformed professionals from local police, fire department, private security, as well as festival volunteers constantly on the look-out for peoples' safety. All in all, it was a lively and fascinating space for an unlikely combination of people to convene and interact.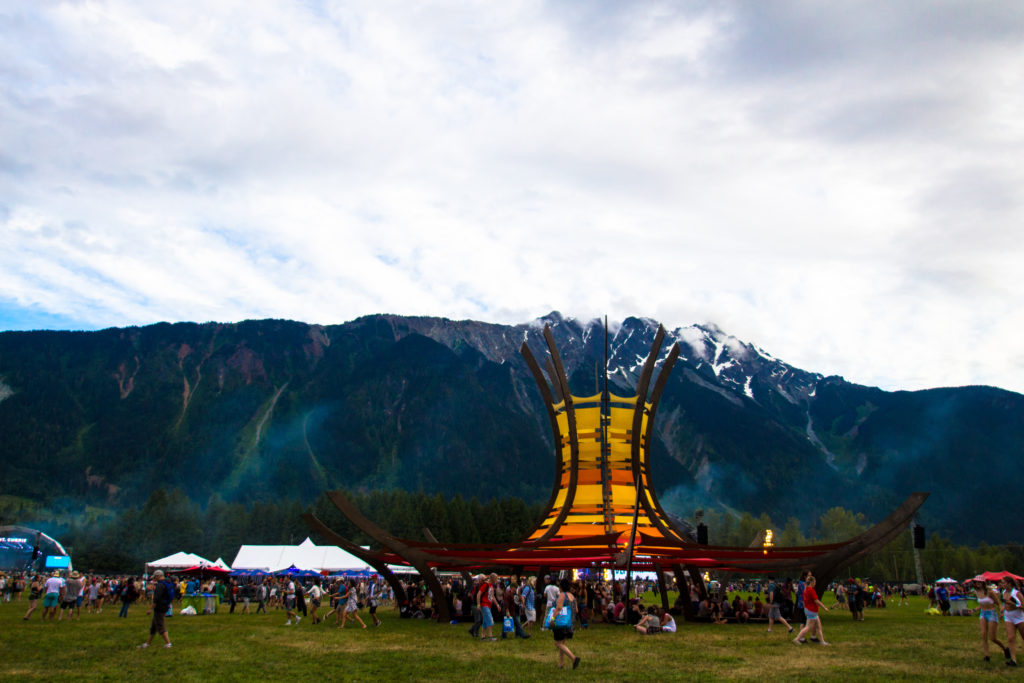 Each genre on the lineup was not designated to a particular stage. The one dubbed Bass Camp, however, tended to hold primarily hip hop and electronic music, as one might presume given its moniker. Most would not be surprised to hear that this was the first stop I made. Here, it was Thievery Corporation that jump-started my musical weekend. Their gypsy funk, acid jazz style perfectly suited the ambient backdrop of the evening's gently shifting atmosphere. 
As they tend to do, schedule conflicts inevitably arose. I remorsefully admit that in most of these instances I opted for music over comedy. However, I did make it to one comedy act: Maria Bamford. Of the multitude I could have seen at the grassy Whistler stage, I'm grateful it was hers. I appreciate and identify with Bamford's uncomfortably forward, self-deprecating humor. Making light of her issues and tragedies with a very awkward, relatable quality.
The next stop I made on my odyssey was at the Pemberton main stage. It became unquestionably clear who was taking to the stage once a large cloud of smoke suddenly accumulated overhead. Incited by the customary, self-gratifying tribute to none other than Snoop D-O-Double-G. Snoop Dogg's set was one that I had anticipated as much for novelty as nostalgia. After about 30 minutes, however, I retreated to my tent for some much-needed rest before coalescing to the rest of the night. Without exaggeration, this was the best feeling I'd experienced all weekend. Possibly even in all month. Curled up in my tent, smothered in my soft pillow, beneath my woobie blanket on a soft bed of grass, with still-audible Snoop Dogg not far in the distance. Perma-smile on my face, I took the most comfortable, effective power nap in human history.
My fill of nap came just in time for Bassnectar (fancy that…).  I have a difficult time saying his set was better than at Paradiso Festival just a few weeks prior, but as always it was certainly an experience. No one nearly comes close to creating that immense, otherworldly vibe quite in the same way. Much of the unsuspecting general crowd seemed to not really know what was going on. Which, I suppose, means a job well done from the bass magus.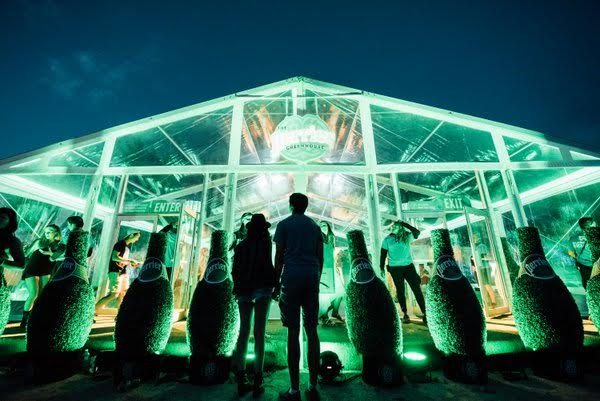 PMF had several GA-accessible beer, liquor and non-alcoholic beverage sponsored lounge areas strewn about both within and outside of the festival grounds. The Perrier Greenhouse was the only one I saw that was completely enclosed. With transparent tarp walls, and a green interior motif completed with Astroturf carpeting, it resembled that of a greenhouse. It was a 19+ drinking area with a large central bar that exclusively sold cans of Perrier in varying flavors with the option of gin, vodka or rum splashed inside. The sparse, wooden shelf behind the bar was embellished with delicate, fishbowl "Perrieriums" (terrariums with cans of Perrier inside, as if sprouting in their natural environment). My brief time in the humid space was set to Mark Farina naturally spinning house, apropos of the enclosure's theme. 
The final remnants of the first night were lost in the emotive immensity of Purity Ring. Lights blurred behind a misty veil like a cinematic dream sequence, set to an infant morning's soundtrack.
One of the most charming aspects of camp-in music festivals is waking up to the sound of music, regardless of the resulting inadequate sleep.
Not a moment after languidly slinking out of my tent on Friday, a firecracker was shot off from somewhere in the Quebec camping region. I hadn't realized until then that the small barn-like structure nestled at the edge of my campsite was in fact an active farmstead. It became apparent after about a dozen sheep, agitated by the blast, made themselves known by desperately bleating and fruitlessly sprinting in evasive loops. The ovine fluff balls still remained adorable even in their terror-stricken grief.
I sought to christen my first festival morning by indulging in a hot meal from one of the on-site food vendors, as I was already sick of subsisting exclusively on nonperishable snacks. To correct my culinary imbalance I opted for Taco Justice. After perusing the menu, it occurred to me that I'd visited this same food truck last year at Shambhala. My suspicion was confirmed upon noticing their distinctive "Green Bastard" taco, featuring delicious deep-fried avocado buried beneath a mountain of slaw. As I sat beneath the ominous, rapidly thickening clouds watching Hudson Mohawke, I enjoyed my expensive, yet justified, festival taco.
My second day at Pemby Fest was abundant with down time before the sets I was most anticipating later on in the day, which was a perfect time for people watching. Simply wandering around the field observing the stark level of diversity among the attendees was a thrilling activity in and of itself. There were people of all ages. From infant to elderly and everything in between, although the majority were probably aged somewhere between 19 and 35. There were people of all body types with all kinds of tattoos, clothing styles and accessories converging in the same space, having their own unique experiences. Until the following day, however, it felt as if people were more concerned with their own friend groups and less with the broader festival community.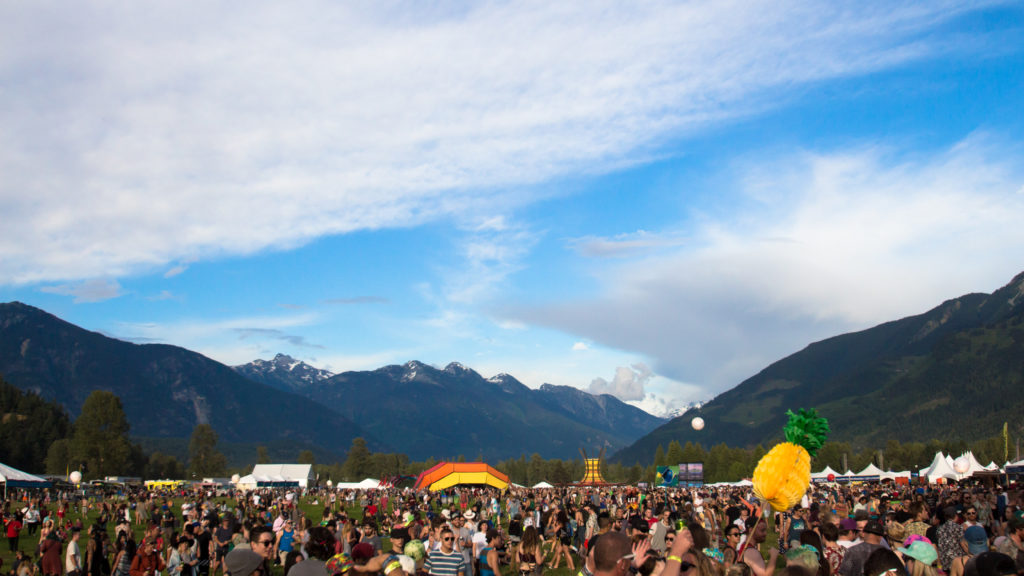 In meandering the grounds that warm afternoon I fortuitously caught Robert DeLong on the Pemberton stage. His name was one I'd vaguely recognized, but whose music I couldn't identify. His set, however, was the most creative and energetic stage performance that I saw all weekend (possibly all year). DeLong was a veritable one-man band. Though unlike Dick van Dyke's role in Mary Poppins, he didn't stand in place to play all of his surrounding instruments. Rather, he madly hopped from synth keyboard, to electric guitar, to full drum set, picking up a variety of controllers, including Wii and Xbox controllers, to add electronic loops and effects along the way. That's compounded atop his personal vitality and colorful getup, clad in a tie-dye, tiger-stripped shirt with a psychedelic green leaf painted on his left cheek. His set was both impressive and incredibly entertaining.
Daytime receded into afternoon, and the population appeared double as compared to the night before. Bass Camp was already packed to center field by the time rappers Method Man & Redman were slinging us back into 1999, in a nostalgic set sprinkled with quips and lighthearted banter. As the darkness creeped, so did the storm clouds manifesting the weekend's bleak weather predictions. The Cold War Kids seemed to conjure it further with their wistfully ethereal sound.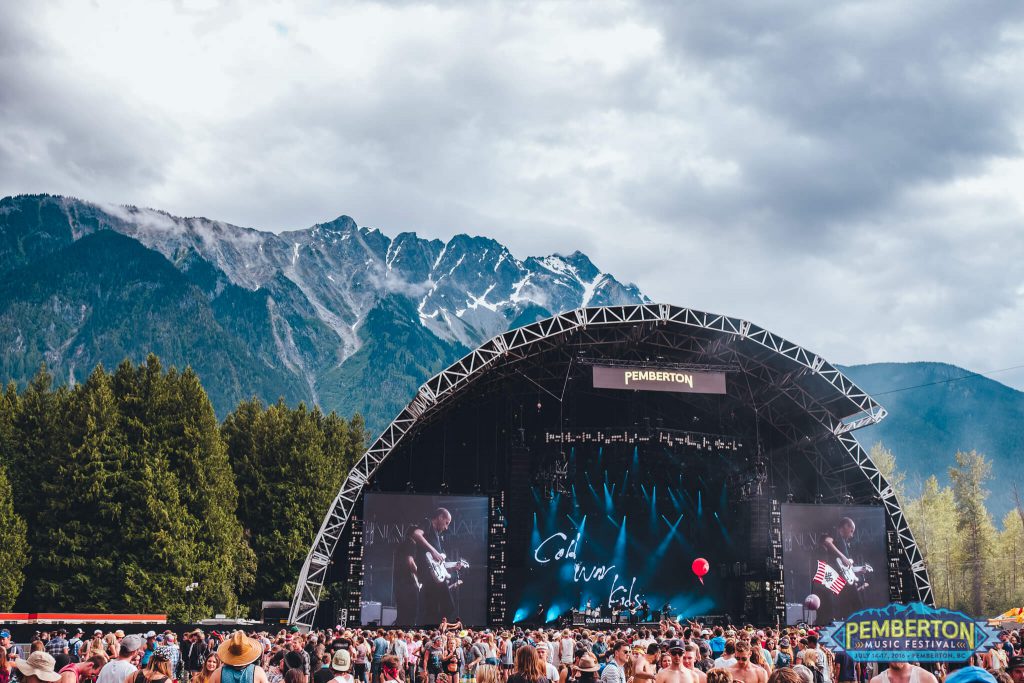 Back in my tent I took refuge from the rain, only to peek my head out when the sun made a brief appearance. It was still pouring out and, having become accustomed to the bizarre micro climates of Seattle, I knew there must be a rainbow somewhere. I partially unzipped my tent in a futile attempt to remain dry and sure enough spotted a full doubled rainbow standing boldly to the east. I heard the wave of hoots and shouts from the other provinces as onlookers began progressively noticing the magnificent arch overhead.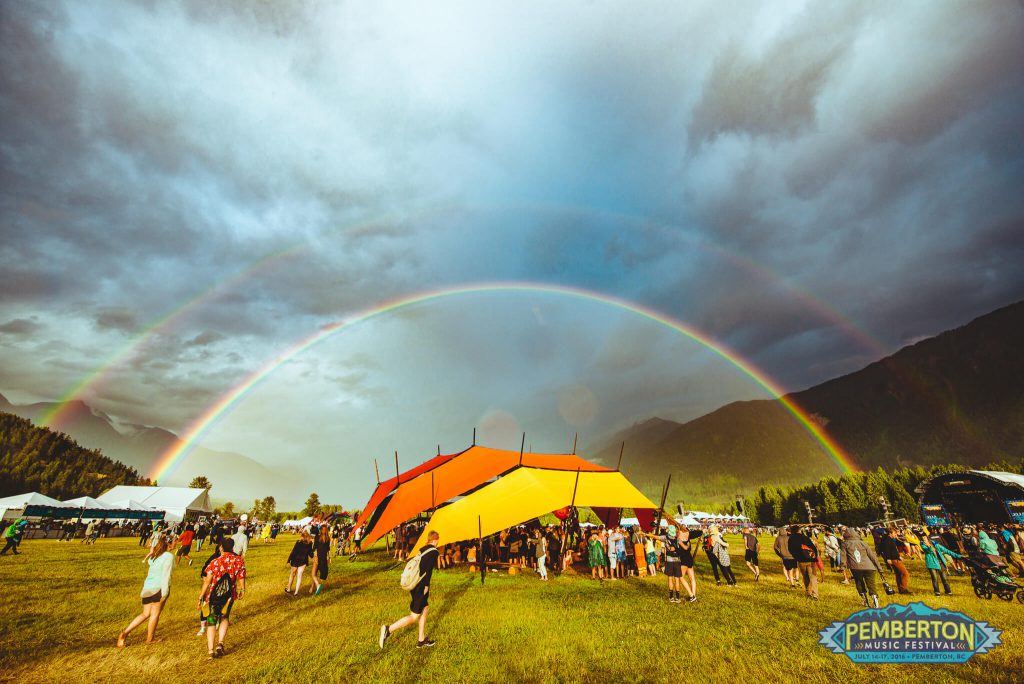 The multicolored miracle passed as soon as it had come and the sky continued falling down with torrential aplomb. I remained sheltered in my polyester fortress for hours on end, until I knew I had to come out for Kaskade and much-hyped Flosstradamus. However, as one less than enthusiastic about trap music, I left in search of greener (though inevitably moister) pastures. I was severely delighted to find Big Gigantic furiously rocking Mount Currie. Their vigorous, electro-funk style kept me grooving exhaustively through the entire set. It was the first time all weekend that I really felt the music.
Like an ocean shore at low tide, the crowd ebbed back into their campsites, leaving a mass of abandoned ponchos and umbrellas looking like helpless creatures in deserted tide pools. Soggy campers trudged through the mud to their campsite to join their brethren in debaucherous deeds and the much awaited battle royale. I tramped alongside to witness the nightly games for myself. Sure enough, people were in fact having terrestrial chicken fights. Dangerous as it may sound… It was. There were reports of injuries from the fallen, as one might reasonably suspect. Yet onward they battled to the depths.
My first order of business on Saturday lay just beyond the festival gates, up a small hill behind Bass Camp. To the zip line.
The zip line started atop a wooded grove, went through a curtain of evergreens, above a small pond, and over the exterior fence landing right back into the festival. With arms outstretched, flying high over the festival, set to the gorgeous mountain backdrop it was an exhilarating one-minute experience. The whole operation was run by a bunch of cheeky Aussies from a Whistler-based company called Superfly who were nearly, if not more, fun than the ride itself.
At the Blue Lounge, directly adjacent to the zip line check-in, was a full charging station with people crammed around several columns of USB ports. I'd seen other similar phone charging areas around the festival for those patient and eager enough to secure a space. I had heard that the festival also rented out portable power packs, a couple of which I'd seen floating around, but the primary issue with those was their short battery life and being too scarce to keep everyone charged all weekend. These were possibly inadequate options for a festival in 2016, but a vast improvement from the previous year as far as I gathered.
Despite the weekend's grim weather forecast, the worst of the rain had already passed. Leaving light, intermittent showers for the rest of the festival. Wintersleep created a perfect soundtrack for the moment, coming with perfect timing upon another diminishing drizzle.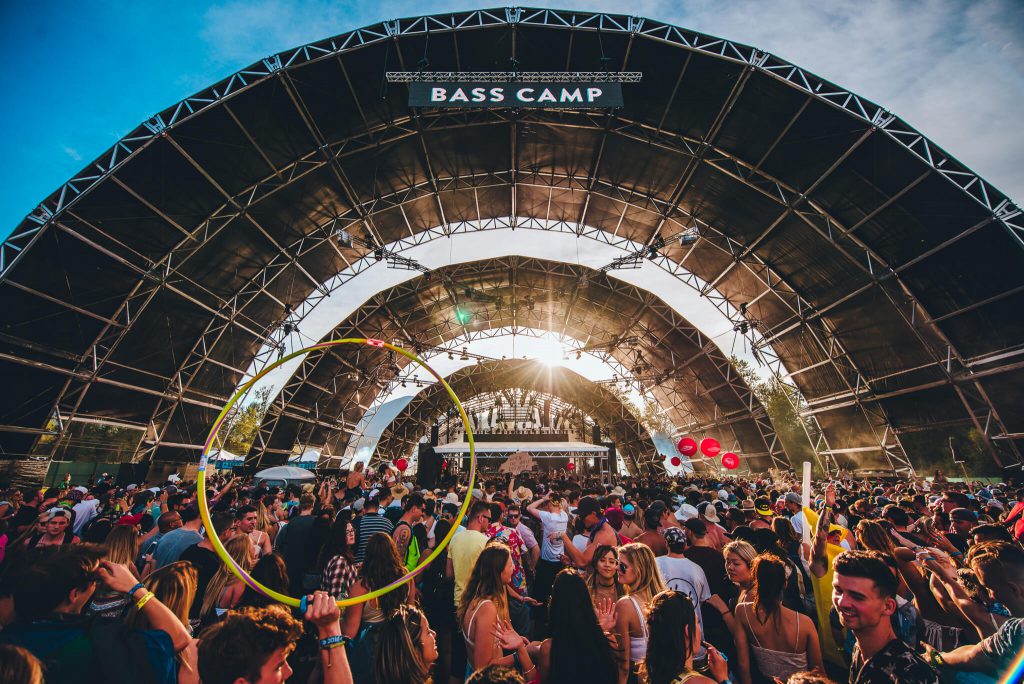 Hucci churned out some perfect trippy afternoon psy-dub, right before Datsik took to the stage. Despite the relatively commercial feel of this festival, Datsik didn't hold back in dropping a pretty heavy bass set. In spite of the hard music he plays and produces, Datsik always promotes camaraderie amongst his audience members coming on the mic to say things like, "Mosh pits are great, but if someone falls down, pick them the fuck up!"
I personally tend to favor music to which I can completely capitulate my mind and body through dancing. For me, heavy bass music is definitely one of those devices. This, among other reasons, is what made Datsik my favorite set of the festival. After a spine-crushing performance to which I mercilessly raged, he offered an encore to the crowd who pleaded with vigorous cheers. The final song he chose to play was "Under the Bridge" by the Red Hot Chili Peppers. It seemed starkly dissimilar to the rest of the set but a classic that everybody knows nonetheless. He played the song through to refrain and slowly faded out, letting the crowd sing the entire chorus together, a cappella. Datsik forced the entire crowd to come together and finish off his own set ourselves with not a word from the mic after the chorus was through.
It was an extremely communal display, one that I personally felt as a lone attendee at the festival. People were still singing the song long after the set had ended. 
A crack of lightning summoned another brief downpour. But as if to welcome the legend himself, a break in the clouds made way for a ray of sunlight to spotlight none other than Billy Idol. He brought that signature fist-pumping energy, beginning with my personal anthem "Dancing with Myself", set before majestic Mount Currie benevolently towering overhead. 
I certainly like all types of music. But I hadn't realized until this weekend that the live music I'm fonder of is more niche than I thought. Either that or I'm spoiled by the consistently amazing weekly bookings at my usual stomping grounds Foundation Nightclub back in Seattle, (for which I have a renewed appreciation). But even among my "people" (EDM folk) during The Chainsmokers set, I found myself largely bored and disinterested, save for a couple of mixes and the vibrant sunset behind.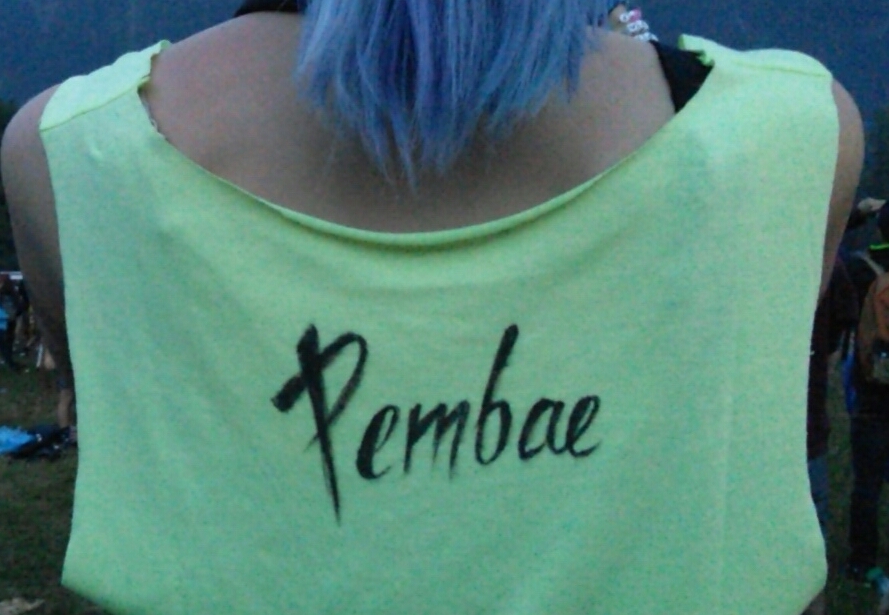 Picky about live sets though I may be, Zef stars Die Antwoord revived my excitement with an offbeat and entertaining performance. Their stage antics were not as obscene as I'd braced myself for, I assume due to the all-ages setting. Though it was certainly still on the odd side of the spectrum. Costumed dancers with sinister animal heads synchronously danced alongside Yolandi on an elevated platform while Ninja aggressively paced up and down the stage, and Hi-Tek mixed in the middle. Disturbing visuals of uncanny-valley figures, blood spatters and creepy close-ups, gave the performance that idiosyncratic edge.
With the synergy of sound, lighting and crowd involvement all converging excellently, it was perfect blowout finish to my third night at the festival. 
After Die Antwoord, I'd ventured out into Whistler and returned the following day. On a beautiful, brightly overcast Sunday afternoon I was able to stroll around the world-renowned Whistler Olympic Village, past various quaint little shops, through the small wooded walking trails. I stopped at a cafe for a bite to eat and watched the outdoorsy tourists and hotel-bound festival goers mosey around the promenade. I wandered out to one of the many shuttle stops bringing festival-goers back and forth every half hour. The shuttle system was efficient, and after a thirty minute drive I was back in the festival grounds amusedly watching zorb soccer in the "Backyard" area.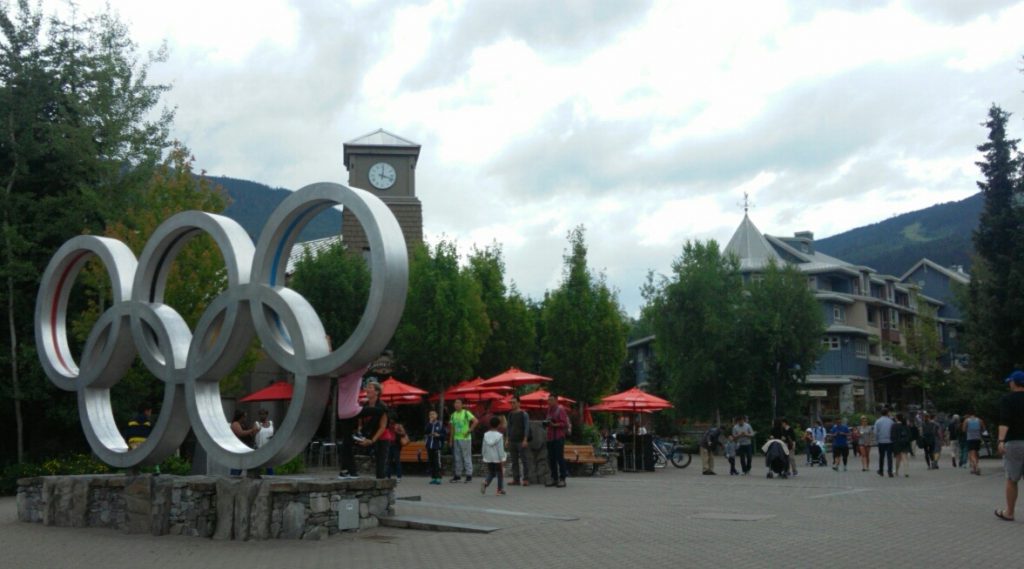 That sluggish afternoon, I weaved in and out of several fairly generic, commercial sets like Lido and DJ Snake. I enjoyed Halsey for several songs but couldn't really see past the white, 1950's diaper-like bikini in which she was threaded.
As the moon rose bright and round behind Pemberton, Pearl Jam took to the stage for the festival's final set. From rocking headbangers to tear-jerking ballads, just about everyone was affected by the breathtaking immensity of both band and crowd. Eddie Vedder is a god amongst men whose energy never wavered through the 2+ hour set. During breaks between songs he would talk soulfully about being kind to each other, being good to the environment, and how every once in a while the news should feature less morose headlines such as "Another Beautiful Sunrise in Pemberton". The whole show was indelible, where individual and sound coalesced into one communal experience.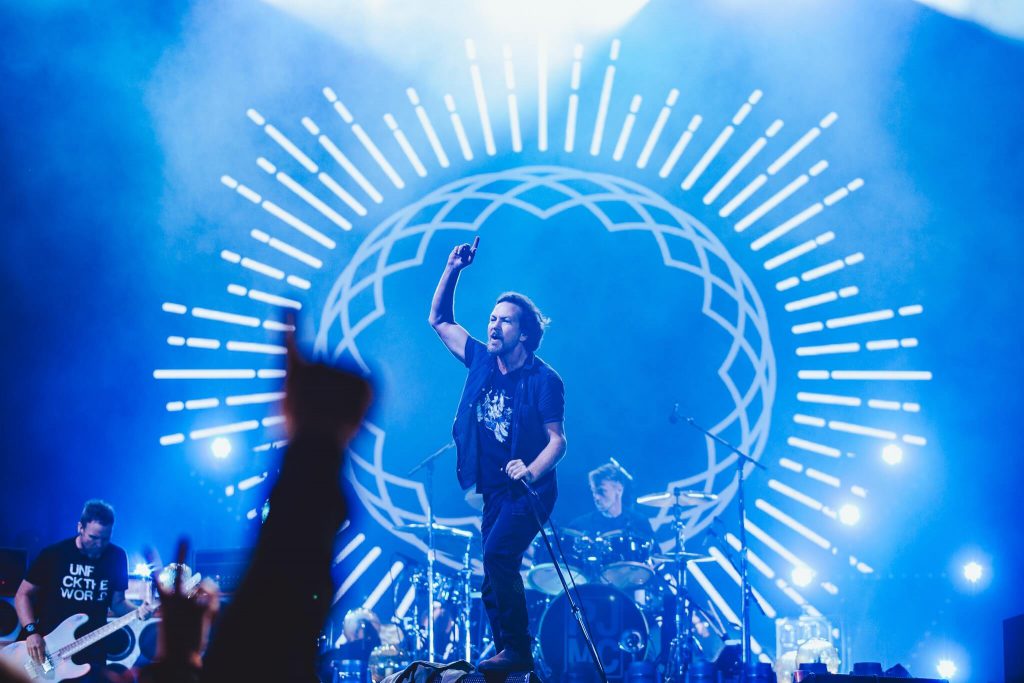 Mid-set, they briefly paused to commemorate 50th birthday of their youngest band member guitarist Stone Gossard. Including a touching speech about what an amazing role model, and avid environmentalist Gossard has been over the last several decades. The crowd all joined in singing "Happy Birthday" and watched as he blew out some candles on a cake.
As if to break the palpable emotional tension, Vedder chucked some of Gossard's cake into the crowd. Then they all rocked on significantly later than their set was scheduled to go. It finally ended with fireworks bursting high in the mountains behind Mt Currie. An absolutely earth-shattering performance. The only one well-equipped to close such a wonderful festival.
I knew that the exodus from the fairgrounds would be dismal at best, but rather than immediately rushing to pack up I opted to take my time.
On Monday I emerged from my tiny tent for the last time to soak up my final breaths of fresh mountain air, whilst also taking a moment to reflect on the last few days. I had met all kinds of people from over the world. Obnoxious to interesting, and everything in between. It began with a vibe that I initially felt was cold and self-serving, but which I later found to be communal and one that I was sad to leave. I met several quality people who helped reach into the familial fabric of an otherwise individualistic tapestry. Finding those people with whom I connected made all the difference in the world.
Overall, Pemberton was a beautiful festival. A rich valley of energy, culture and fervor nestled within a canyon of majestic mountain scenery. Despite my brutal 10-hour drive back, my heart was still full and my soul satisfied by the time I finally reached home.
---
Connect with Pemberton Music Festival 2016 on Social Media: