Pemberton Music Festival 2016 Set Times, Festival Map, FAQ, & More!
Thousands of people will be attending the Pemberton Music Festival this weekend. Stay in the know with this essential information about the upcoming 4 days of fun! Campers have already began to arrive today to set up and get prepped for the weekend ahead. Will you be at Pemberton Music Festival 2016? Let us know in the comments!
Pemberton Music Festival 2016 Essential Info:
Dates: July 14-17, 2016
Campgrounds Open: Wednesday, July 13th, at 2pm and will close Monday, July 18th, at 2pm.
Festival Hours: Thursday, July 14: 2:30 PM to 3:00AM, Friday, July 15: 12:30 PM to 3:00AM, Saturday, July 16: 12:00 PM to 3:00AM, Sunday, July 17: 12:00 PM to 1:00AM
Box Office Address: Whistler Creekside Village 2055 Lake Placid Rd #210 Whistler, BC V0N 1B2, Canada
Box Office Hours: Tues. July 12 – Sun July 17, Tuesday: 10am-5pm, Wednesday – Sunday: 9:30am-9:30pm
Venue Address: 1835 Highway 99 Pemberton, BC
Ages: Pemberton Music Festival is an all ages event. There are no age requirements to purchase a ticket to the festival or to camp onsite at the festival.
Lockers: Lockers are available by clicking HERE!
---
Pemberton Music Festival 2016 Set Times: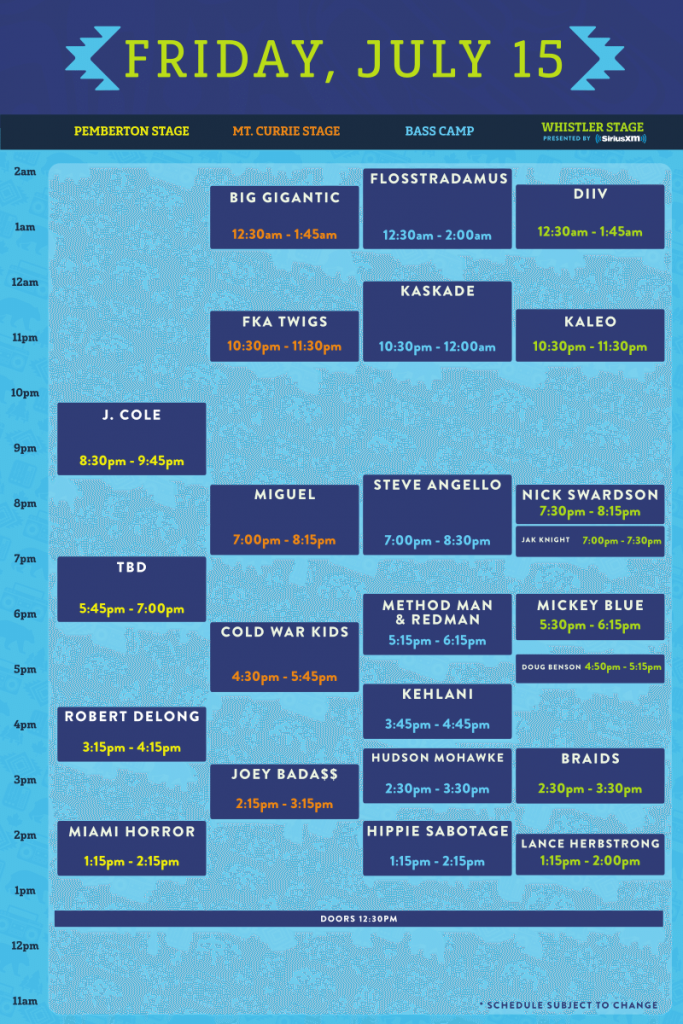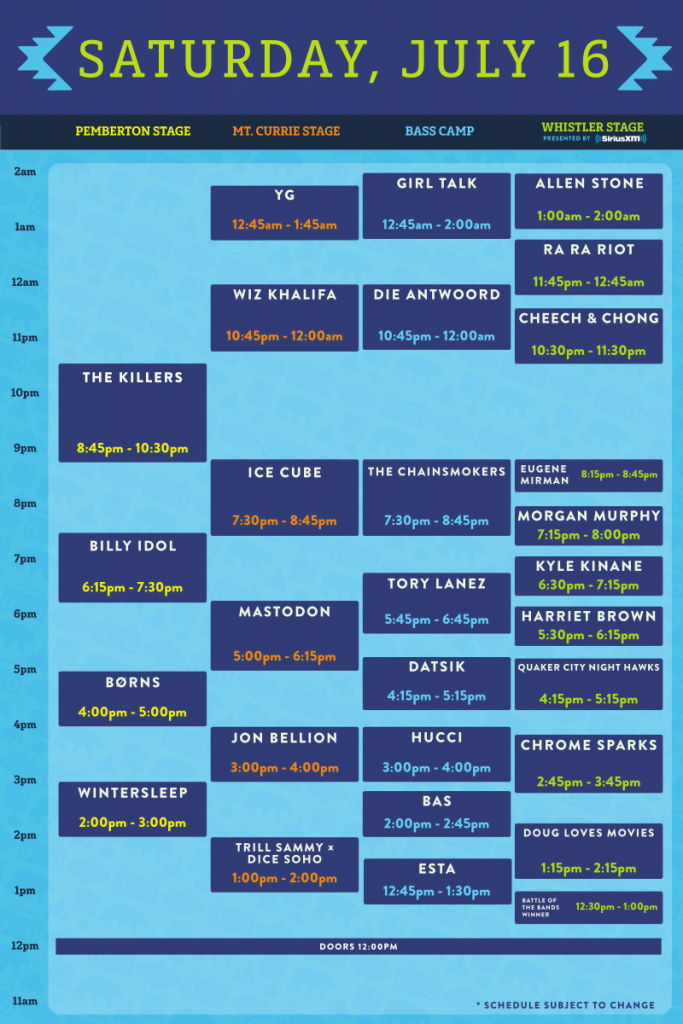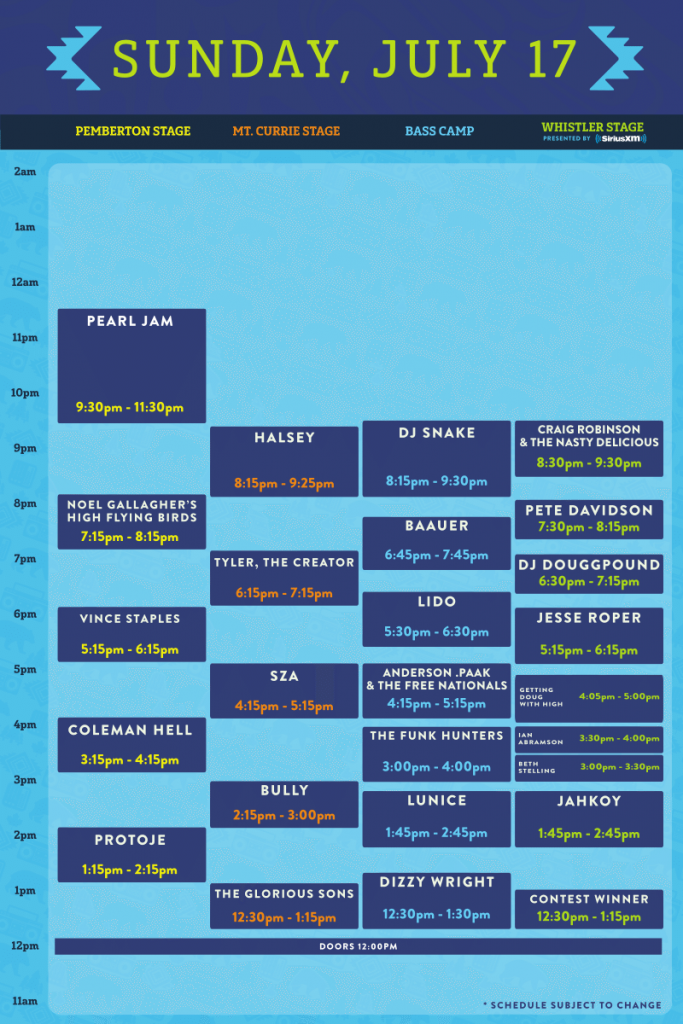 ---
Pemberton Music Festival 2016 Festival Map: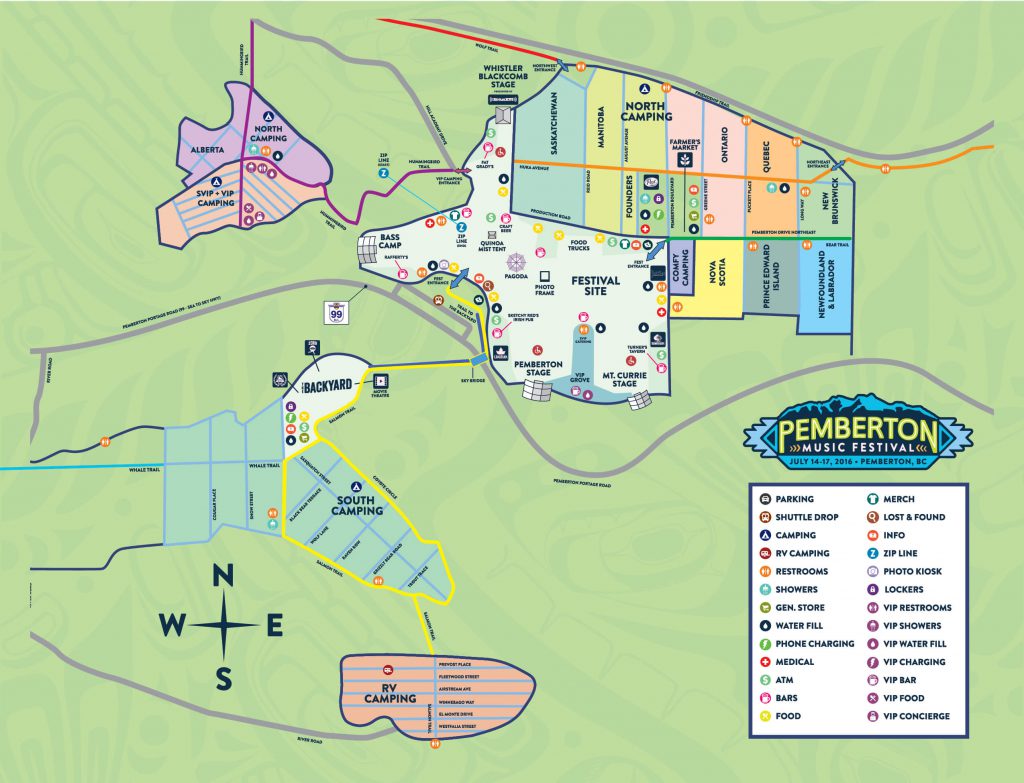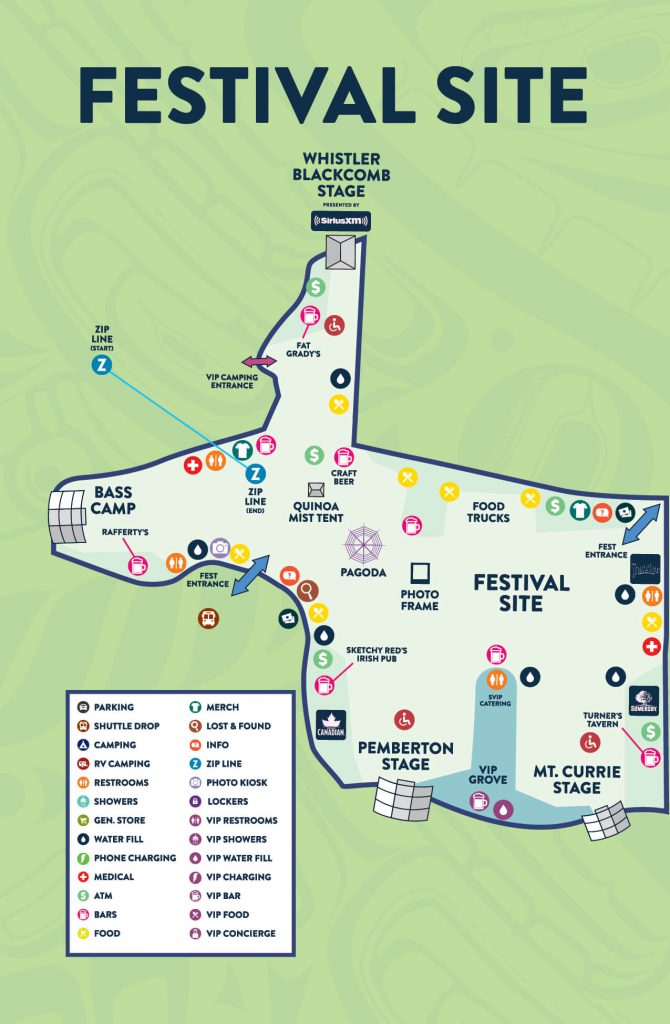 Pemberton Music Festival 2016 Campgrounds & Parking Maps: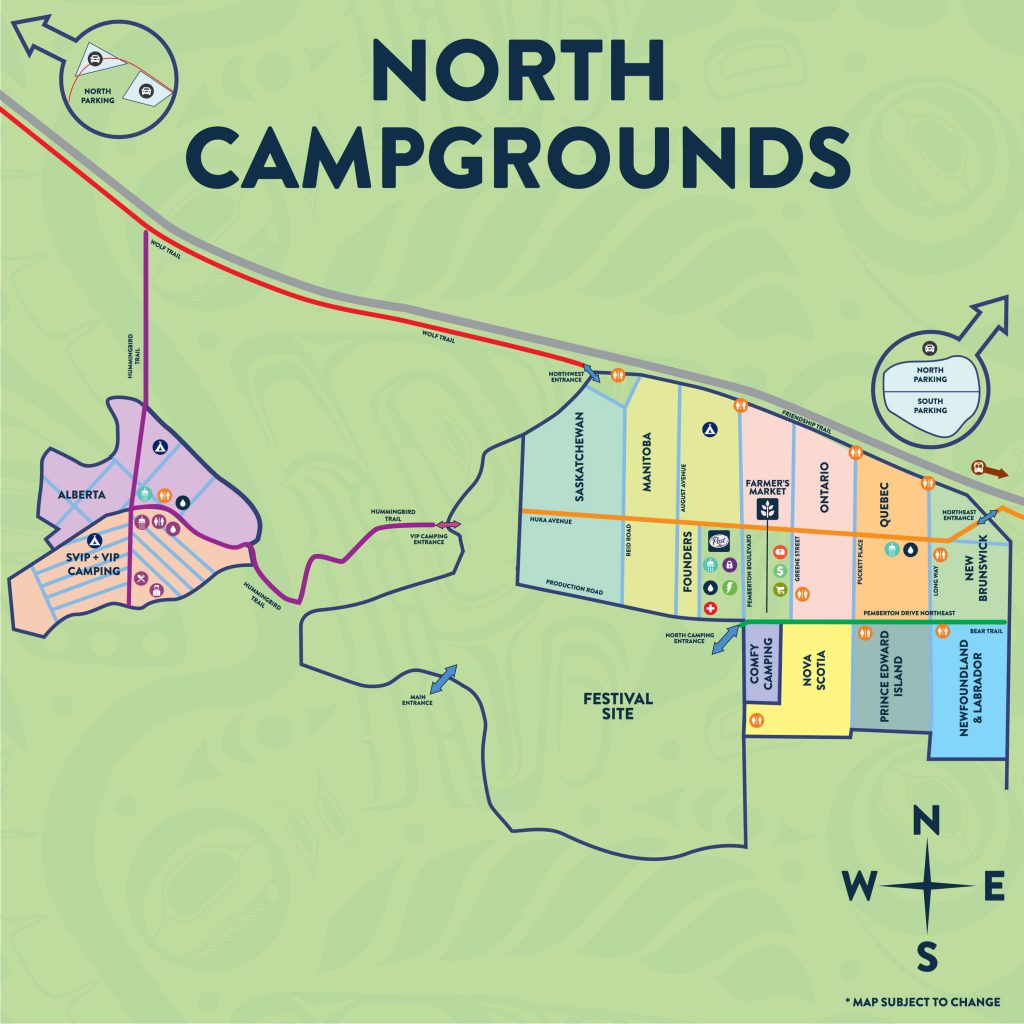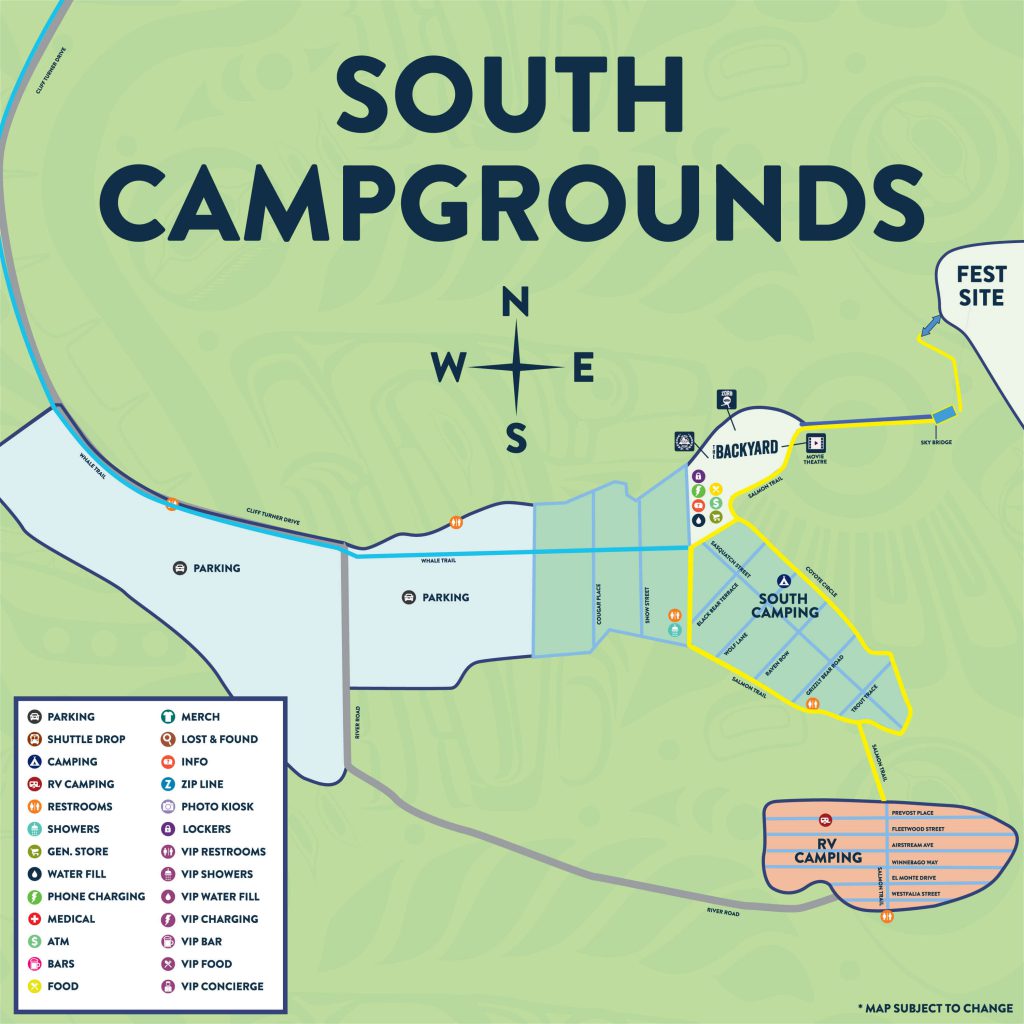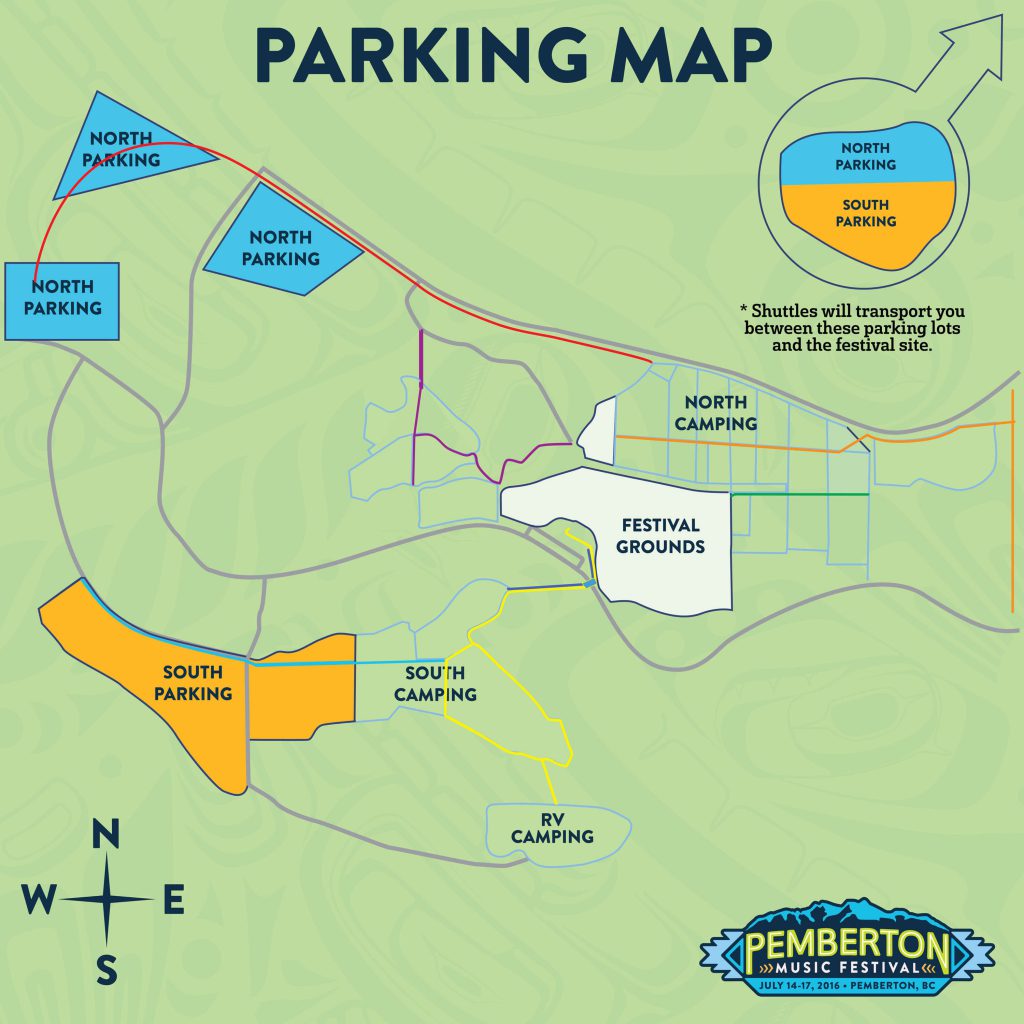 ---
Reminder To Mind Your Belongings
Unfortunately, many people have reported pickpockets, bag slashings, and theft of wallets, smartphones, purses and other valuables during this festival season. While this small number of bad apples in the bunch doesn't define an entire crowd, there are opportunistic people who come to these events to take advantage of unsuspecting party goers and it's important to be mindful of your valuables while at Pemby.
Pay attention to who's around you and what's going on around you. Keep your wallet and phone in your front pocket(s) if you can. Treat your phone the same way you would treat cash; don't set it down on a table or bar and look away. If a friend isn't standing behind you in a crowd, be careful of your backpack or purse, and don't put valuables in a pocket that could easily be unzipped by someone behind in a crowded spot without you realizing.
Pemberton Music Festival and Festivals in general is a very densely populated place, and are a well-known place where pick-pocketing of unsuspecting people occurs. It's easy to find yourself in a crowded environment in a line, crowd in the festival, elevator, or even out on the street where someone could slip your wallet or phone our of your pocket or bag in a matter of seconds. Stay alert, be careful, and make sure to not carry more than what you need!
---
Pemberton Music Festival 2016 Do's & Don'ts
FESTIVAL GROUNDS PERMITTED ITEMS
Blankets & Towels
Prescription Medicine. All prescriptions medicines MUST be in a marked bottle, along with proper matching ID
Baby Strollers (or) small wagons for the small toddlers.
Non-professional Cameras (detachable lenses NOT allowed)
One (1) sealed water bottle up to 2 litres in size
One (1) empty water container up to 2 litres in size
Camel packs are welcomed but MUST BE empty to enter (there are refill stations inside the festival)
Sunscreen
Proper identification for alcohol consumption
You will be permitted to go in and out of the festival grounds, you will however, be searched each time you re-enter.
FESTIVAL GROUNDS PROHIBITED ITEMS
NO Weapons of any kind (knives / batons / firearms / mace / pepper spray / tasers)
NO Illegal substances (including narcotics) or drug paraphernalia
NO Framed or large backpacks
NO Alcohol (for campers – you must leave this in your campgrounds)
NO Large poles or signs that can block your neighbor's view of any show.
NO Glowsticks
NO Glass containers (this rule applies inside the camping areas as well)
NO Outside food or any beverage besides water into the concert grounds
NO Skateboards
NO Motorized Carts or Scooters – unless ADA verified
NO Bicycles (inside festival grounds – bike racks will be available near the entrance)
NO Large chains or spiked jewelry (spikes longer than 3/4 of an inch will be confiscated)
NO Fireworks / Sparklers / Firecrackers
NO Chinese Lanterns
NO Umbrellas
NO Chairs of any kind in the concert field
NO Coolers of any size
NO Tents or canopies of any kind inside the concert field
NO Pets (except service dogs, dinosaurs & ponies with documentation)
NO Video equipment: NO video recording will be allowed.
NO Drones (with or without cameras) or any unmanned flying vehicle
NO Professional still camera equipment (no detachable lenses, no tripods, big zooms OR commercial use rigs)
NO GoPros
NO Selfie Sticks or Go-Pro Sticks or any sort of Camera Stick
NO audio recording equipment
NO unauthorized/unlicensed vendors allowed
NO large signs, flags or flag poles will be allowed in the venue

**List subject to change.
CAMPGROUNDS PERMITTED ITEMS
Warm clothes for cool nights, including a heavy sweater or coat
Tent / sleeping bag
Bug Spray
Sunscreen/sunglasses/hat for shade
Plastic trash bags
Extra toilet paper
A lantern or flashlight with extra batteries
A flag or balloon to identify your campsite
A small luggage lock for your tent (please don't bring any valuables – if yo must, keep them locked in your vehicle out of view)
A plastic container or two for water
Ear plugs
A camera (non professional. This means cameras with detachable lenses are NOT allowed)
Water / Ice
Food / Coolers
CAMPGROUNDS PROHIBITED ITEMS
ABSOLUTELY NO GLASS Containers of any size (this includes your alcohol containers)
Weapons, drug paraphernalia and drugs are prohibited
No animals will be allowed on festival campgrounds. Entry will be denied.
Fireworks, paper lanterns or any type of explosives are prohibited
No Parking in fire lanes
No unapproved vending of any kind is allowed.
No Drones (with or without cameras) or any unmanned flying vehicle
No box trucks, utility type trailers, ATV's, Golf Carts, Dirt Bikes or mopeds will not be permitted on site.
No Campfires of any kind will be permitted; this includes propane fireplaces.
No BBQ propane tanks, grills or charcoal grills. ONLY small propane bottle type cooktops / BBQs are approved.
No external generators will be allowed in the campgrounds.
THE GOLDEN RULE… Be respectful to your neighbours, and their campsite. Be kind to each other, share space, and help someone else who is in need…

** List Subject To Change. Also, keep in mind: Whatever you bring, you will be responsible for carrying to and from your car to the campgrounds as transportation assistance will be available, but is not guaranteed.
More information can be found by clicking HERE!
---
Connect with Pemberton Music Festival 2016 on Social Media: