Mysteryland USA 2016 was one of the best events I have ever attended…
In the beauty of the sprawling hills of Upstate New York, each individual has created their own unique story at the historic Woodstock Grounds. Mine begins when I was about 10 years old. During my last family road trip to Maine from Wisconsin, my parents decided to make a stop at Bethel Woods to check out the site of the original Woodstock Festival. At the time I didn't understand fully what was so big about this place, never had I thought I would return to this same site twenty years later.
Fast forward to 2016, after completing our 1,200 mile, nine state journey from Florida to New York, my imagination starts to run wild. As we get closer to the Holy Grounds Campground, we travel through back roads past farms and beautiful hills of the countryside. I imagine what the hippies saw back in 1969, traveling to the historic hillside, walking through the fields of wheat, running their fingertips through the wheat and walking barefoot through the fields. This was what was going through my mind. As we continued moving ever closer to the grounds, I began to catch the feels and become emotional, remembering to when I last was here with my family.
The First Day of Mysteryland USA 2016
We finally arrived to the Holy Ground Camping Parking Lot, seeing numerous others getting ready to make the small trek to the Campground. Mysteryland is similar to TomorrowWorld where you park your car and then walk your camping gear to the site. However, the small difference between the two is that the journey is about a 1/2 mile to 1 mile to your campsite not the 2 to 3 mile hike TomorrowWorld had. As we get to the entrance and security search, I stopped by the Box Office to acquire my wristband for the weekend. It did not take long and the staff were all very helpful with informing me of what I could do with my pass.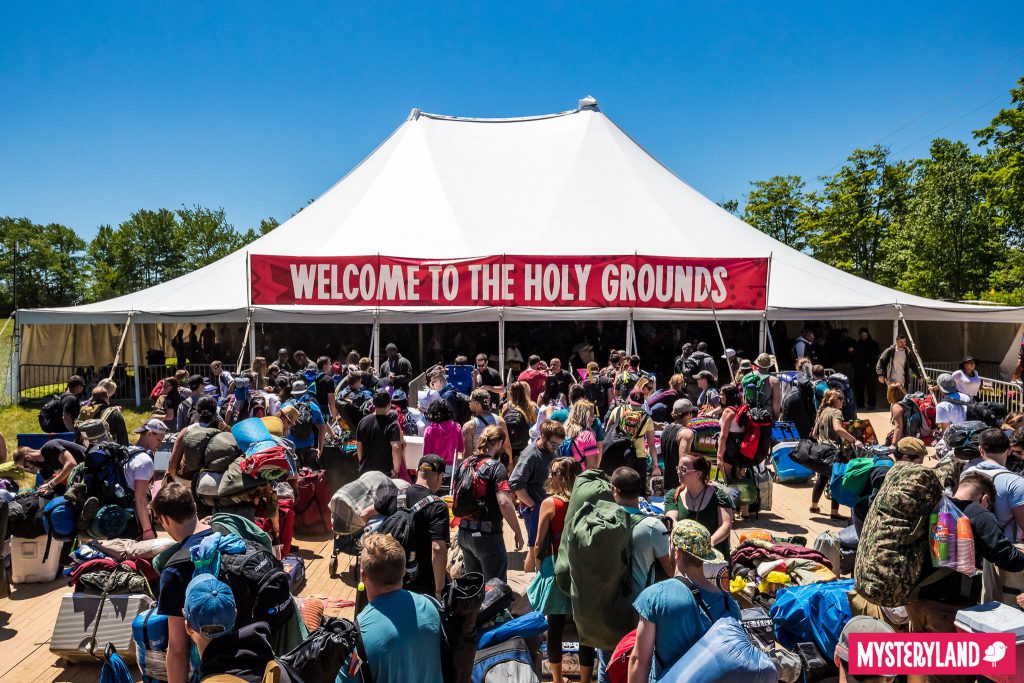 Security itself was very quick and simple, and after that we were on our way to our campsite. The campgrounds at Mysteryland were not very big. Unlike other camping festivals I have been to, Mysteryland was fairly condensed and small. Once my group and I became settled, we changed into some fresh clothes and headed inside to the venue.
Don't get me wrong, I feel that camping is always the best way to go for any festival if it is available. It makes the whole experience more special and unique. Walking to festival grounds at Mysteryland though was definitely a trek, because we had to walk down a small hill, down the road and then up a 45 degree incline to get into the actual venue. The huge hill we needed to walk up was the historic hill where the 1969 Woodstock Music Festival took place. This is where the actual historic stage was set up and then the 400,000 people spread out where the Mysteryland Festival now takes place. The historic location is marked by a peace sign in the grass and a plaque, and the Healing Garden was set up around this location as well as Guerilla Science.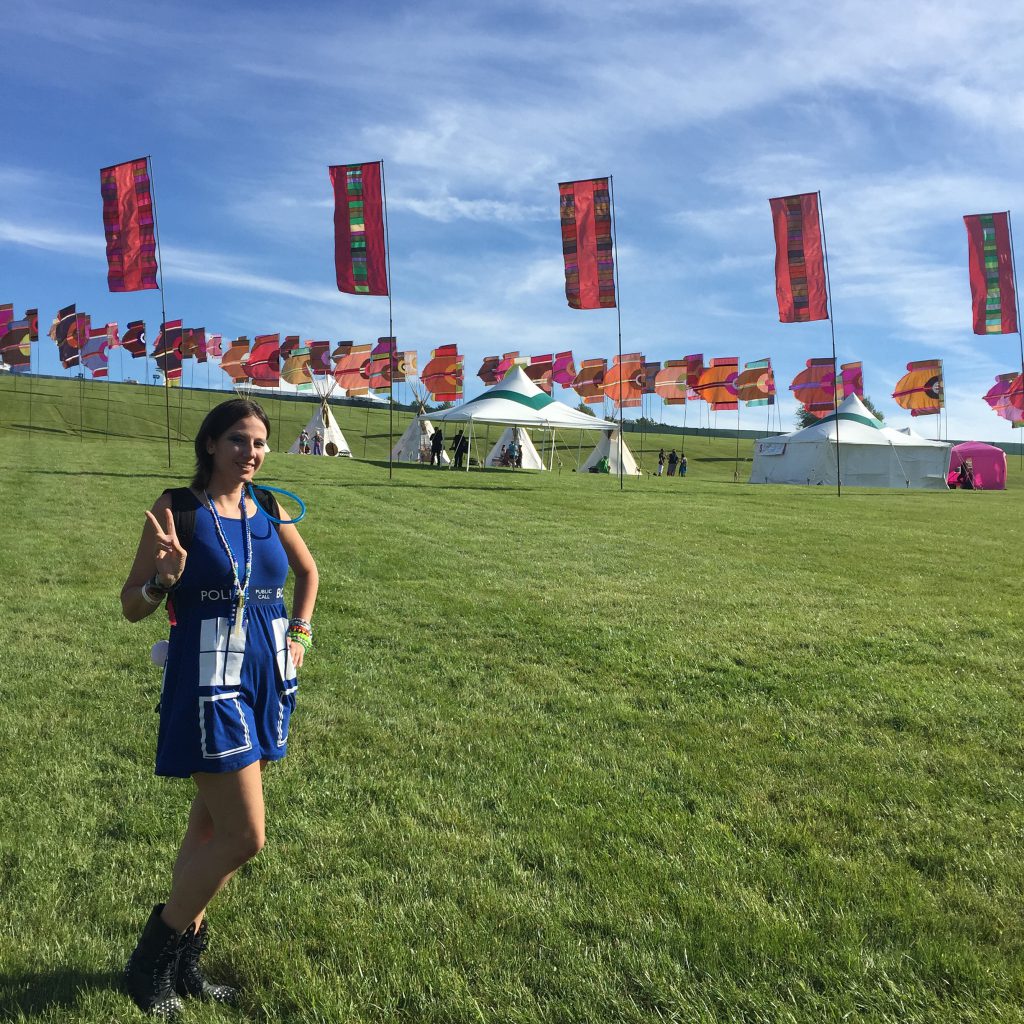 Walking into the venue, first thing that comes to my mind is water, I was definitely thirsty already! Luckily there was a water station right there as well as the entrance to the Bethel Woods Woodstock Museum, which was free to check out to Mysteryland patrons. I thought it was a great way for today's festival goers to learn about the festival that literally started it all for us.
While exploring Mysteryland, I discovered the five stages spread around the venue. The Main Stage, the Boat Stage, the Big Top, Spiegel tent, and the BangOn!NYC stage all were unique and cool. This year's main stage was absolutely beautiful; the combination hummingbirds and nature was very well done. I walked up to the top of the hill to explore all of the photo opportunity locations in the small tree area. Different things and abstract art, along with different vendors littered the space up here. While exploring I was approached by a gentleman who really liked my outfit (I was wearing my herUniverse Tardis dress). He saw I was working the event, and informed me he was going to try to get me an interview with Kate Raudenbush, the woman who designed the stage. Unfortunately, I wasn't able to secure that chat until a later date, but it boosted the beginning to my weekend experience.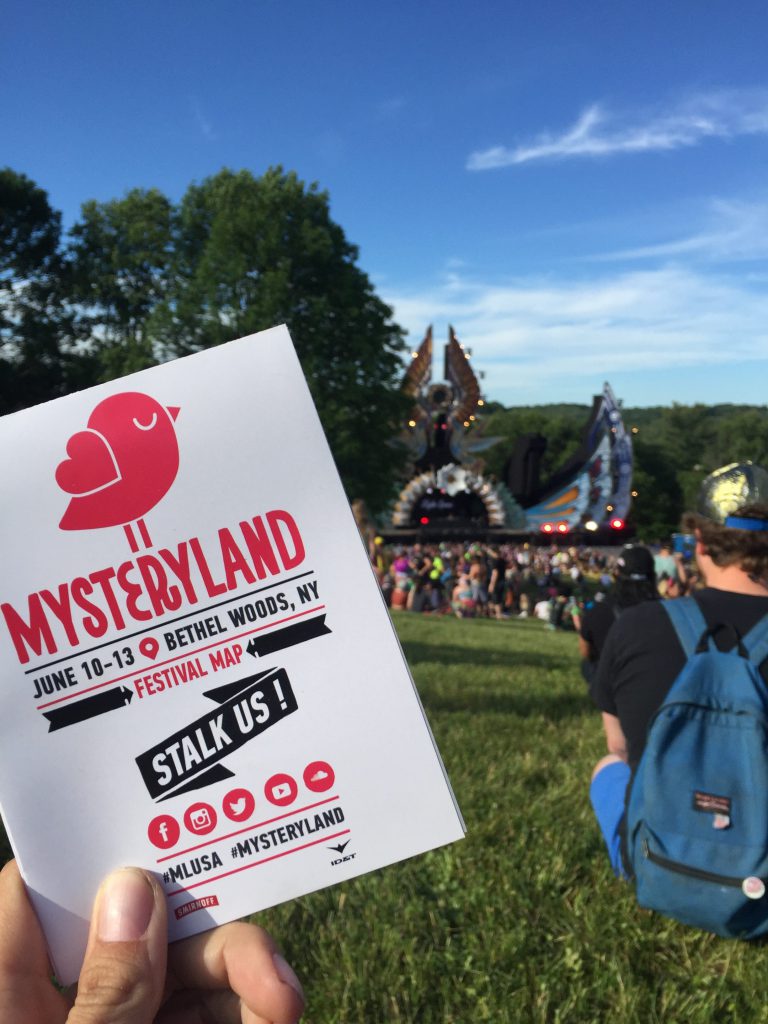 I headed back to camp to grab my Tardi5mau5 head with a friend before returning for the evening. As the sun set, the temperature began to decrease quickly. That night it got down to at least 45 degrees, a bit chilly but well worth it, as Odesza played an amazing set. As we walked back to our camp, I was able to watch the fireworks show, which made me feel as if I was back at the Magic Kingdom working. They went on for at least 15-20 minutes, and was a great way to end the first night of the festival.
Mysteryland USA 2016 Day Two
Waking up the next morning was surreal. I woke up to frantic text messages asking if I was okay, and I wasn't sure as to why. I didn't really know what had happened back in Orlando at this point. I responded to my friends saying that I wasn't in Orlando but I was in New York. I then looked on my Facebook feed, and there it was in plain black and white. The deadliest mass shooting in United States history had happened the previous night and my friends could have been there. This one event changed the mood of the weekend, I was sick about it. After I got ready for day two, while waiting in line for the bathroom, or anywhere else in the festival for that matter, I heard people talking about what happened. When I would meet new people at the event, eventually leading to the topic of where I'm from came up, the mood of the conversation would change immediately. I tried to not let that get to me but it was so hard.
The second day was exploring, and checking out areas I hadn't visited the day before. I ended up relaxing for a bit, charging up the phone and chatting with new friends. I was able to go to the Woodstock Museum and check the history of the grounds too. It was great to learn about the historic event, and being able to see it in person was so different than watching a documentary. I met a man named Jim who talked about his experiences and memories he had of the 1969 Woodstock Music Festival. I got his contact information to chat with him in the future about Woodstock and his experience at that groundbreaking event.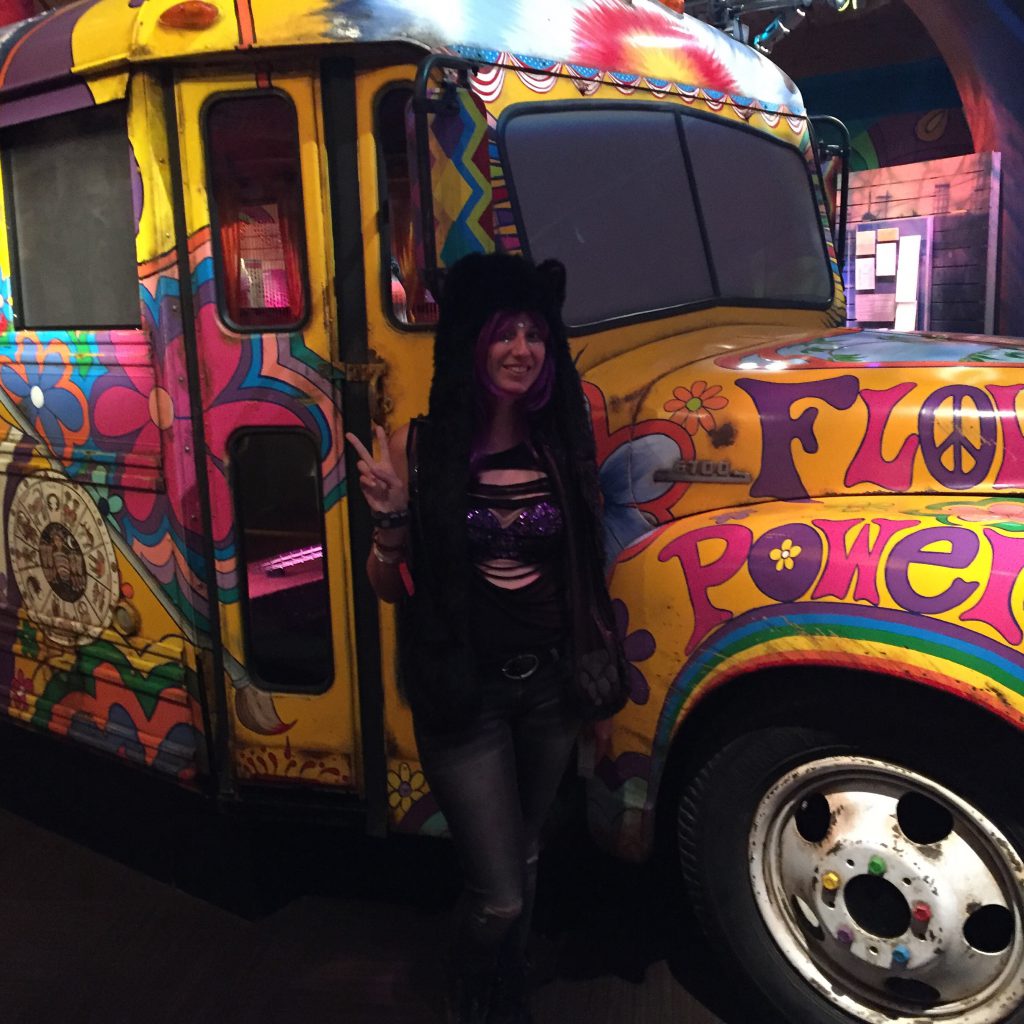 I made sure to catch Kellam at the BangOn! stage, and ended up meeting him for an interview. Let me tell you that Kelly Kellam is an amazing person with such an interesting yet intriguing story. While charging my phone I also got to meet the DJ duo The Golden Pony as well and spark their curiosity with my LED poi. All of the acts that I saw on Day 2 did not disappoint, The Chainsmokers, and Skrillex killed it and they were my top two acts of the day!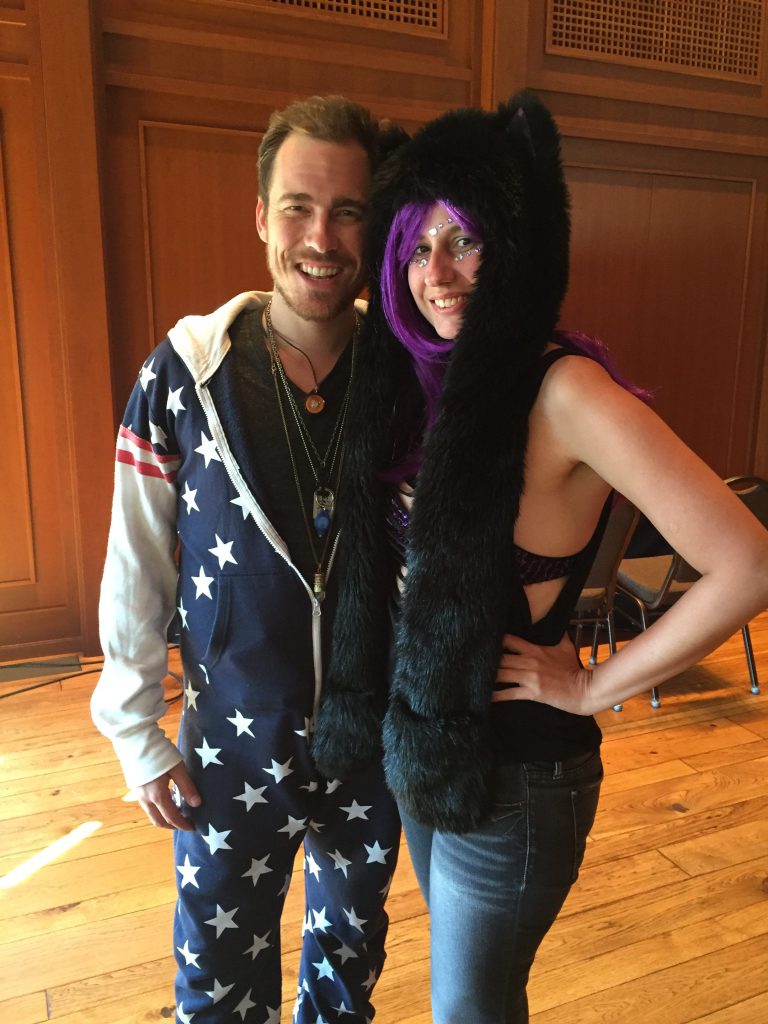 Mysteryland USA 2016 Day Three
The third day started out like any other, it was beginning to set in that it was the last day of the festival. I tried to suppress the thoughts that I was about to make that 1200 mile drive back down to Florida alone. While heading in I decided to explore more of the locations I had not gotten to see yet and got a bite to eat inside. While I was eating, a guy came up and asked to join me and of course I agreed. Little did I know my day was about to completely change. Peter Nathaniel was his name, and he introduced himself to me as a talent agent from New York City. We talked about everything and anything, music, where were from, our experiences at the event, and more. This one interaction helped make my Mysteryland experience even more memorable than I thought it would be. He introduced me to lots of people, many of which I didn't even realize were in the industry at the time. Sometimes it's hard to realize, but the people involved in the industry are regular people like you and me, they just get dealt the hand of having to manage some of the biggest acts in the world.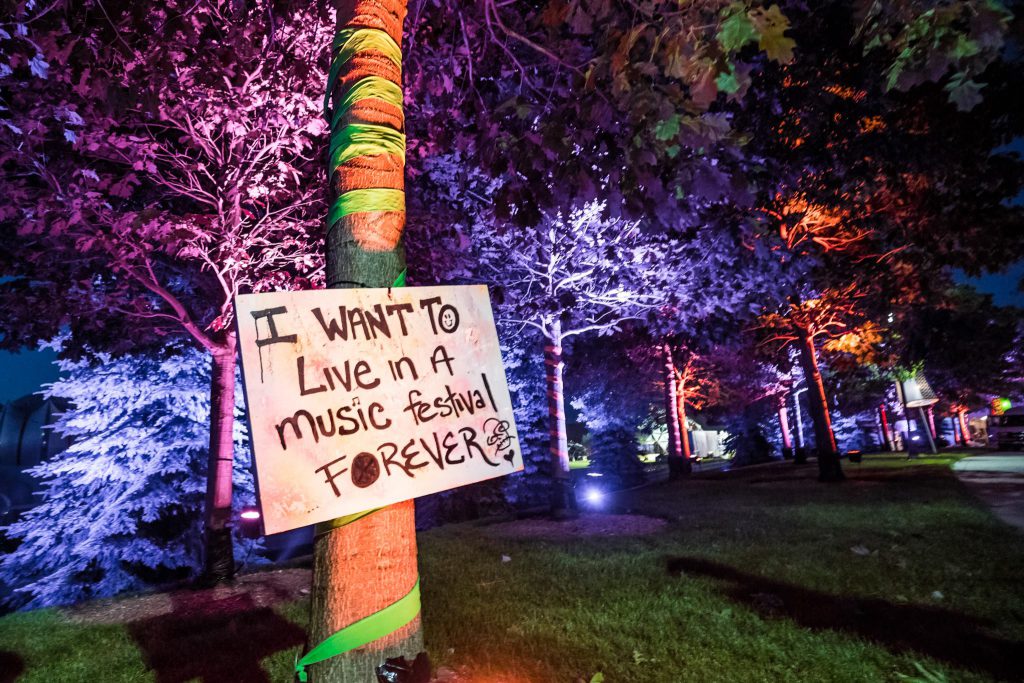 After that, I went with Peter to the BangOn!NYC stage and ended up finding out that he actually represents the DJ duo, The Golden Pony, of which Tim (one of the members) owns BangOn!NYC. They let me go to the top of the stage and it was a fun experience that I'll never forget. The festival ended with Bassnectar closing out Mysteryland, which was beyond magical, and was capped off with one last epic fireworks display. An epic way to end out an epic weekend.
Overall, my experiences and memories from this festival will last me a lifetime. The venue alone helped bring such positive vibes to the festival, and the people were all very nice as well. The 1969 Woodstock Music and Arts Festival will always have a special place in my heart. I feel it was where everything really started for the current festival scene that I am proud to call myself a part of. The festival helped solidify some of my friendships I already had going in and made them stronger, and also allowed me to make new friends too!  Until next year, Mysteryland you have a special place in my heart, and I cannot wait to return to those majestic Holy Grounds again!
---
Connect with Mysteryland USA 2016 on Social Media:
Website | Facebook | Twitter | Instagram | SoundCloud | YouTube