PARADOX Media, HUSHconcerts and The Chapel Present The First-Ever Indoor/Outdoor Playfully Patriotic Independence Day Celebration SPIRIT FORWARD!
The inaugural SPIRIT FORWARD! will be taking place at The Chapel on Sunday, July 3, 2016. Slated from 4pm to Midnight, PARADOX Media and HUSHconcerts are partnering to bring a unique experience for those looking to celebrate Independence Day weekend!
Headlining the indoor stage will be none other than DirtyBird Records superstar Christian Martin, joined by the Lisbona Sisters, Shiny Objects, MPHD and Sepehr. Outside, under the sun and long into the starry night, a two-channel, multi-genre silent disco dance party will be headlined by Popscene/Live105's Aaron Axelsen. Axelsen will be joined by Space Cowboys' Zach Moore, Deckard and mancub, MoM DJs' Gordo Cabeza and DJ Phleck, Nonstop Bhangra's Jimmy Love, sonic siren Corinne and Matt Haze.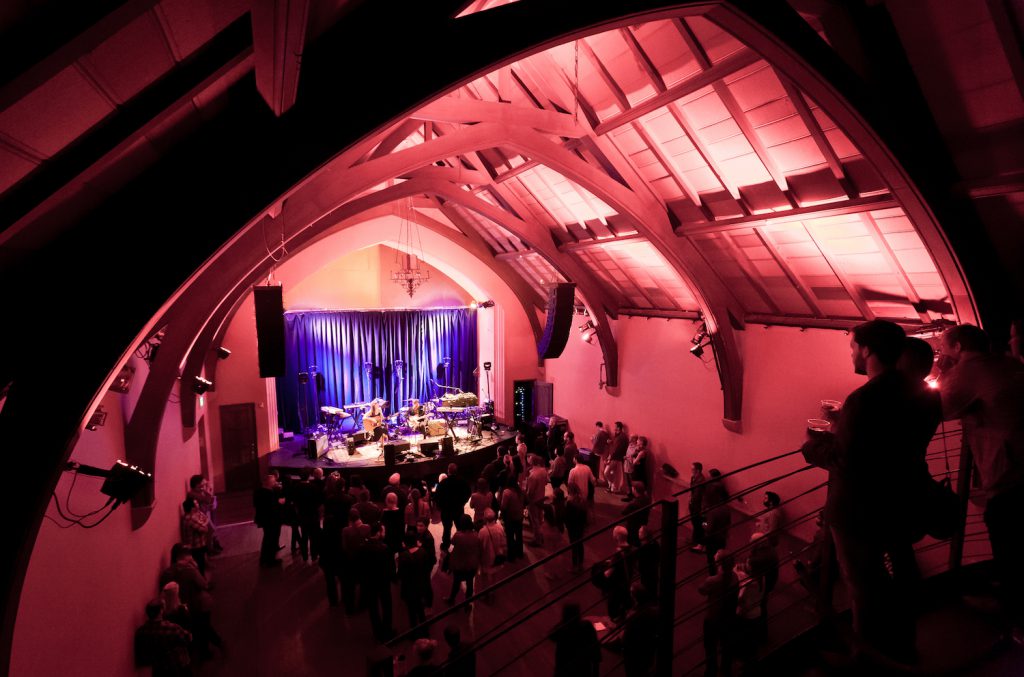 Other attractions, distractions and interactions include engaging Art Cars, carnival games, Bahamut the Dragon, beguiling and luscious libations, and a unique delectable menu, served all night long and specially crafted for this event by The Chapel's noted in-house restaurant, The Vestry. This will mark the grand opening of the new outdoor event space at the venue which also marks The Chapel's first foray into event co-promotion and co-production with two of San Francisco's most well-respected entertainment event and festival producers.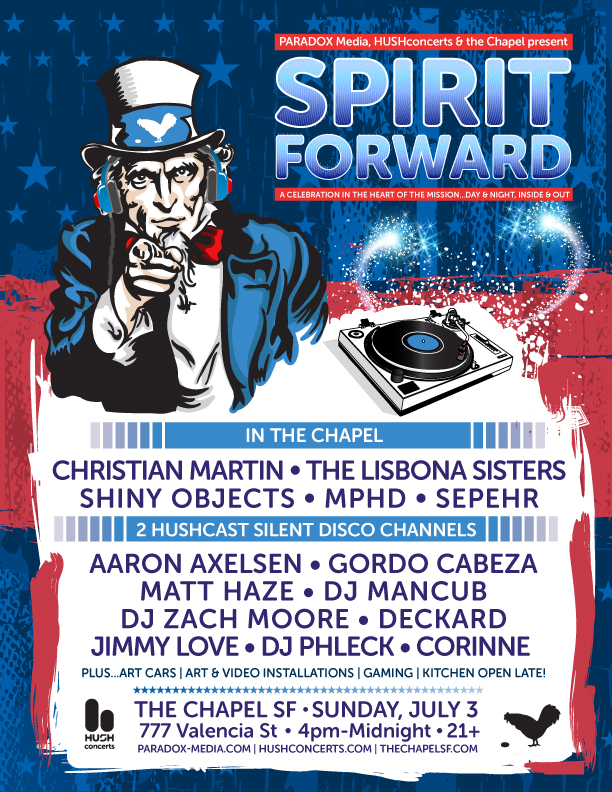 Spirit Forward! 2016 Event Information
What: SPIRIT FORWARD!
When: Sunday, July 3, 2016
Time: 4 pm to Midnight
Where: The Chapel, 777 Valencia Street, San Francisco, CA 94110.
Directions: Google Map – https://goo.gl/maps/L8GpsQrr63w
Ages: 18+ to dance and 21+ to drink
Attire: Festive, Spirited and Creatively Crafty.
Tickets: $20 – $40 Click HERE to purchase tickets!
Info: HERE
RSVP On Facebook: HERE
Public Transportation and Parking:
SF Muni bus lines 14, 22, 33, 49, and the J CHURCH light rail are all within walking distance of The Chapel.
The closest BART station is 16th & Mission – it's an approximately 10 minute walk from The Chapel.
The last BART trains to the East Bay typically depart around 12:20 am and the final Southbound trains around 1:00am. There are also "all nighter" bus routes available throughout the city and surrounding counties.
There is no parking provided onsite, but there are parking garages located in the neighborhood. One is the Mission & Bartlett Garage at 90 Bartlett St. (between 21st and 22nd Streets).  Another is the Hoff Street Garage at 42 Hoff (between 16th and 17th Streets). There is also some street parking available, with meter enforcement ending at 6:00 pm.