Do you love electroswing, and happen to live in NorCal? Well you're in luck because Trapeze Worldwide is bringing a great event for your swing-dancing pleasure. Hypno-Electropia will be held at The Chapel in the heart of the Mission this weekend on July 2nd!
Hypno-Electropia will be wooing electroswing lovers with burlesque performers alongside a fully customized and immersive high-definition projected video and visual stimuli for an evening of fun. If you caught Trapeze Worldwide's opening gig for Caravan Palace at the Fox Theatre on June 8th, now is your chance to experience the full spectrum of what they have to offer in a perfect environment. Joining DirtyVolt Records Blastronaut Delachaux and Funky Big Top Fugitive The Klown are renowned DJs Rhythm Renegade and Sultry Chanteuse Limbs Akimbo featuring Sevon Caneri, and Thundering Shnazzter Ezra Croft (The Speakeasy Syndicate).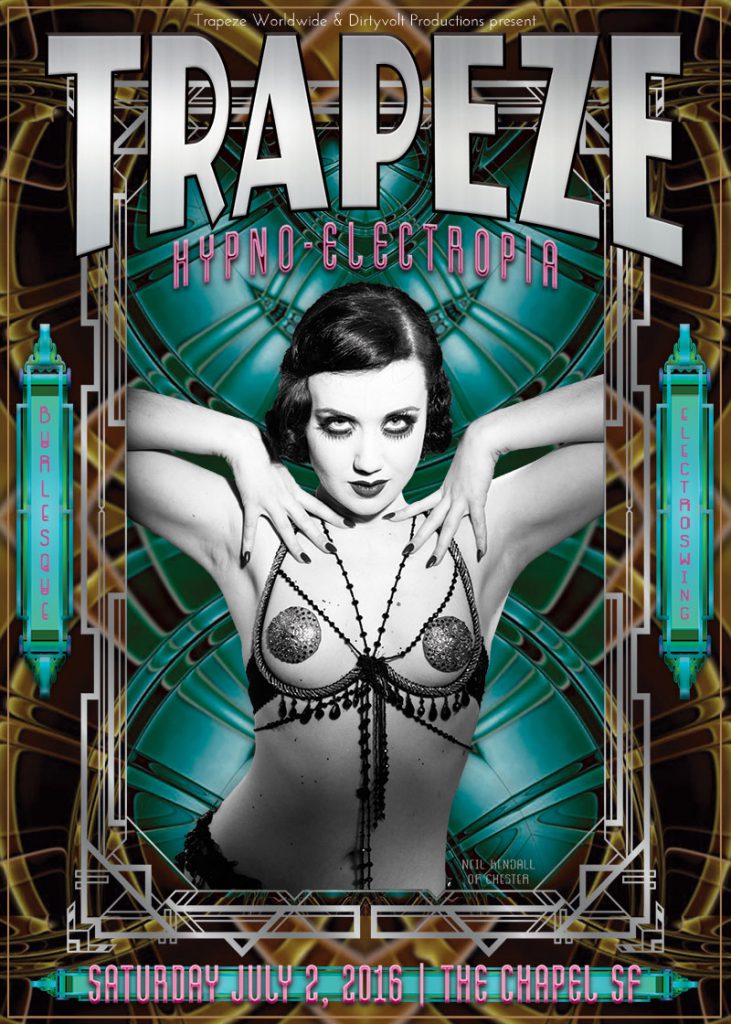 Check out Trapeze: Showgirl Swirl! on YouTube:
Hypno-Electropia's partnership with the Burlesque Beautification Society will feature burlesque performances from "Portland's irrefutable sex symbol and pancake queen," and "Singing, dancing, one woman arts district," the Torrid Tiki Temptress, Tana the Tattooed Lady; all the way from the UK, Eliza Delite; The Forbidden Femme – and there is none finer from Raleigh, North Carolina – Meka La Crème; Chicago's Windy City Whirlwind, Kitty Oaks; the Cunning Cabal of Carnality (classically trained dancers with a taste for indecency), The Wily Minxes; Fabled Fiends and Floozies, Fou Fou Ha!; plus Ferocious Femcee, Miss Emma Nation; and New Eccentric co-emcee, Jasper de Tarr.
Hypno-Electropia 2016 Event Information:
What: Trapeze Worldwide presents Hypno-Electropia
When: Saturday, July 2, 2016
Time: 9 pm to 2 am (doors 8 pm)
Where: The Chapel, 777 Valencia Street, San Francisco, CA 94110
Directions: Google Maps
Age: 21+
Tickets: $20 in advance and $25 at the door. Click HERE to purchase tickets! 
Event Info: HERE
RSVP on Facebook: HERE
Public Transportation and Parking Information:
SF Muni bus lines 14, 22, 33, 49, and the J CHURCH light rail are all within walking distance of The Chapel.
The closest BART station is 16th & Mission – it's an approximately 10 minute walk from The Chapel.
The last BART trains to the East Bay typically depart around 12:20 am and the final Southbound trains around 1:00am. There are also "all nighter" bus routes available throughout the city and surrounding counties.
There is no parking provided onsite, but there are parking garages located in the neighborhood. One is the Mission & Bartlett Garage at 90 Bartlett St. (between 21st and 22nd Streets). Another is the Hoff Street Garage at 42 Hoff (between 16th and 17th Streets). There is also some street parking available, with meter enforcement ending at 6:00 pm.
---
Connect with Trapeze Worldwide and Hypno-Electropia 2016 on Social Media: