Life In Color is a decade-old massive musical event that has taken place at venues, parks, and beaches all over the globe. Though it retains the same name, the theme varies from year to year as well as its location. One thing that remains consistent is its self-proclamation of being the "World's Largest Paint Party". It is one whose offering of paint is certainly nothing short of generous. This EDM circus travels with a seemingly unlimited supply of neon multicolored paint waiting to be loaded into various launching devices. Gallons of brightly colored liquid are blasted into the crowd at regular, irregular and dramatic musical intervals. The most minuscule of excuses is deemed acceptable to douse the crowd in the neon paint.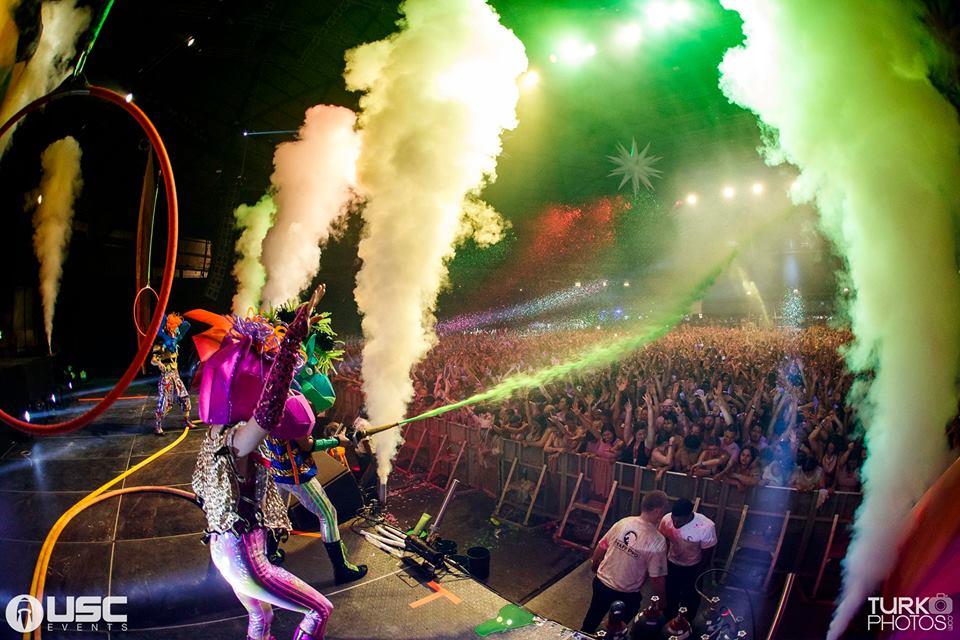 Guests were all donned in white, prepared to be the canvases on which the gaiety of the night would be violently strewn. Anyone attempting to escape would not have easily succeeded, for patrons could even purchase their own personal paint pistols with which to spray one another. The paint was something each attendee had come to celebrate just as much as the music, the setting and the collective amicable vibe.
The production for this event was immense and impressively varied. The stage prominently featured a massive inflatable lion's head gilded with an angular geometric surface, resembling the facets of a gem. There were all manner of performers before it, from mascots to dancers and aerialists who were also in charge of periodically drenching the crowd with paint cannons. Just like the dynamic lion's head centerpiece, the experience was a whole built upon many colorful facets.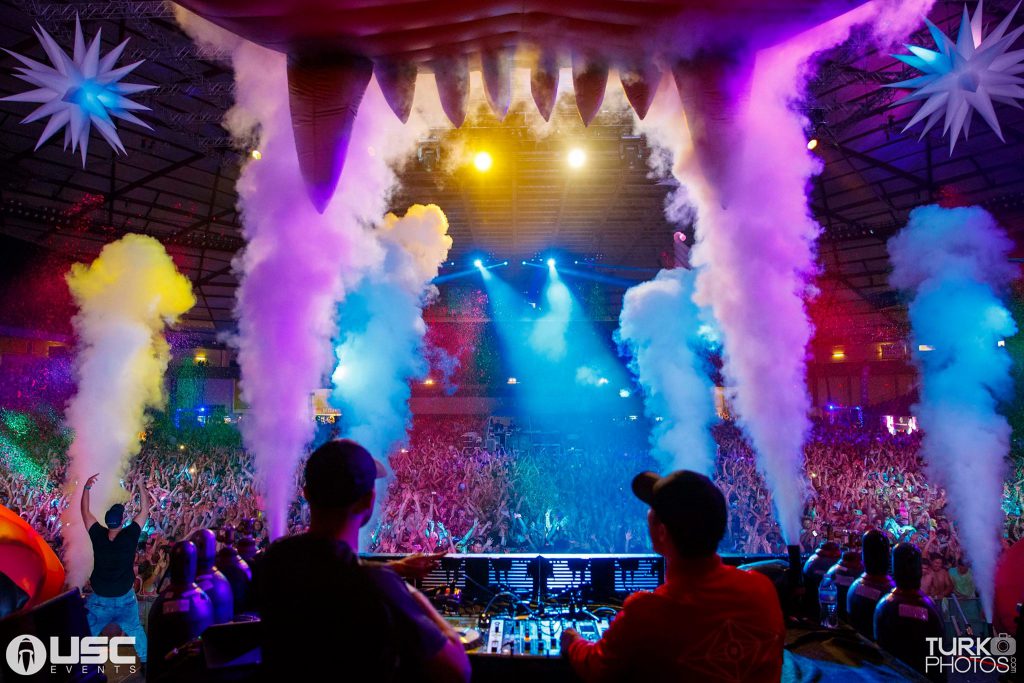 Slander was the first of three headliners to rock the decks at this stop in the tour. They brought that dose of bass that the Pacific Northwest can't live without, throwing down a heavy set and the crowd aflame in a way that only a pigmented flood could possibly quell. Tritonal followed next with unparalleled energy. The pair were bouncing around, stopping only to wave a banner bearing their stylized moniker. They brought those feel-good trance vibes, urging people to hug those next to them. Perhaps deviously ensuring that those with any visible void would soon be affectionately covered with paint. Finally, Knife Party set the stage as the final headliners of the night, finishing off any residual vestiges of energy and unmarked white spots. Their set was a current of high, energy-filled drops and dramatic, soothing breaks. Their versatile set ranged from melodic trance to skull-bursting dubstep and made sure to stop at all the hits along the way. A perfect blowout ending to a massively colorful experience
It's no wonder what with the variety of talent, expert coordination and wholly captivating stimuli, that Life in Color is always a remarkable experience in every part of the globe that it shakes.
---
Follow Life In Color on Social Media:
Website | Facebook | Twitter | Instagram | SoundCloud