Electric Forest 2016 is soon opening to attendees who are all on their pilgrimage to Sherwood Forest. To help prepare yourself, I've compiled essential information to make your weekend as successful as possible. The mobile app is a MUST have if you're attending. Download it on Android/iOS by searching "Electric Forest" in your respective app store. Sadly tickets are no longer available for this event and are completely sold out for both GA and VIP.
---
Electric Forest 2016 Essential Info:
Festival Location is at 7100 South Water Road, Rothbury, Michigan 49437
Festival hours

Thursday, June 23   3:00pm – 2:00am
Friday, June 24   12:00pm – 3:15am
Saturday, June 25   12:00pm – 3:15am
Sunday, June 26   11:30am – 2:15am

Bring your ticket/wristband and a government-issued ID that contains your picture and birthday.
Re-entry is allowed, this includes vehicles as well; however, your vehicle is subject to be searched again upon re-entry.
ATMs, 21+ bars, food, beverage, and a general store will be on festival grounds (see map below).
Festival is all ages.
---
Electric Forest 2016 Official Venue Map: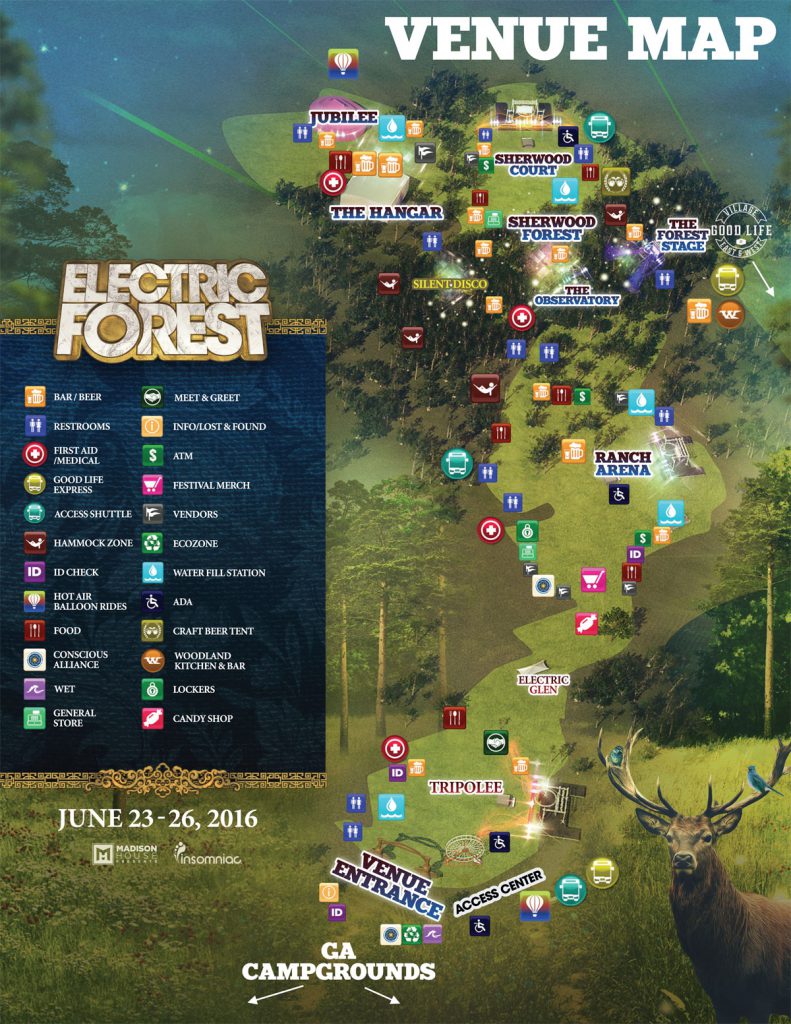 Electric Forest 2016 Official Camping Map:
Electric Forest 2016 Official Good Life Map:
---
Electric Forest 2016 Set Times:
Set times are listed online or through the Electric Forest app.
Thursday: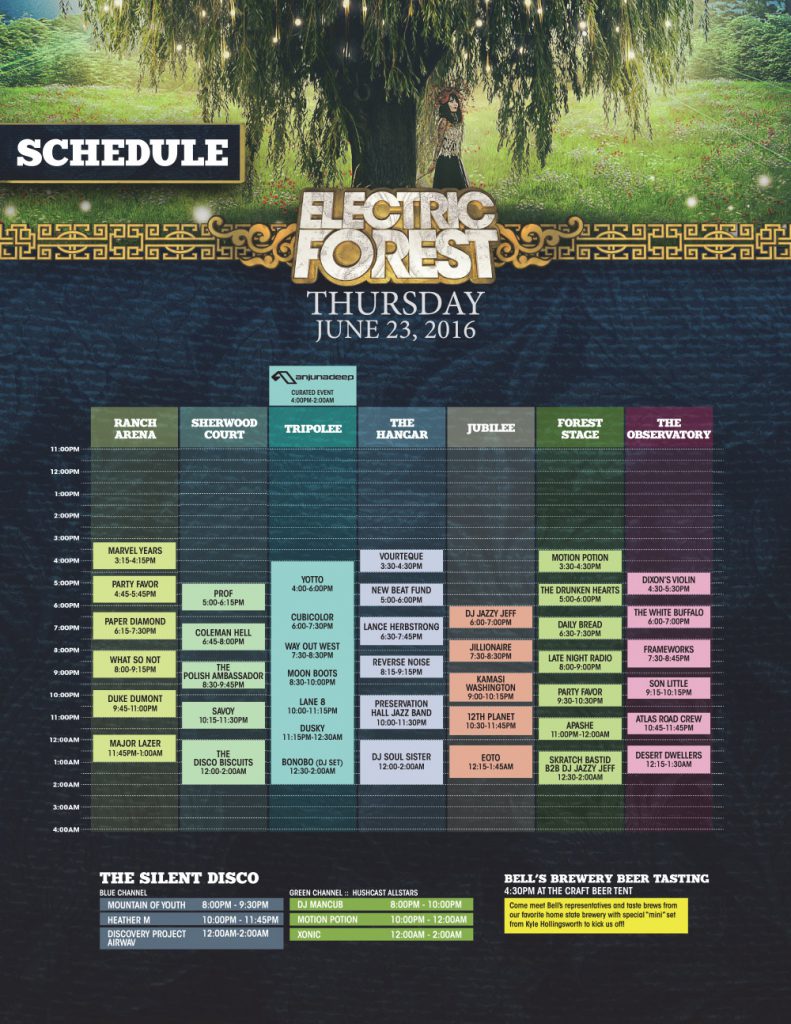 Friday: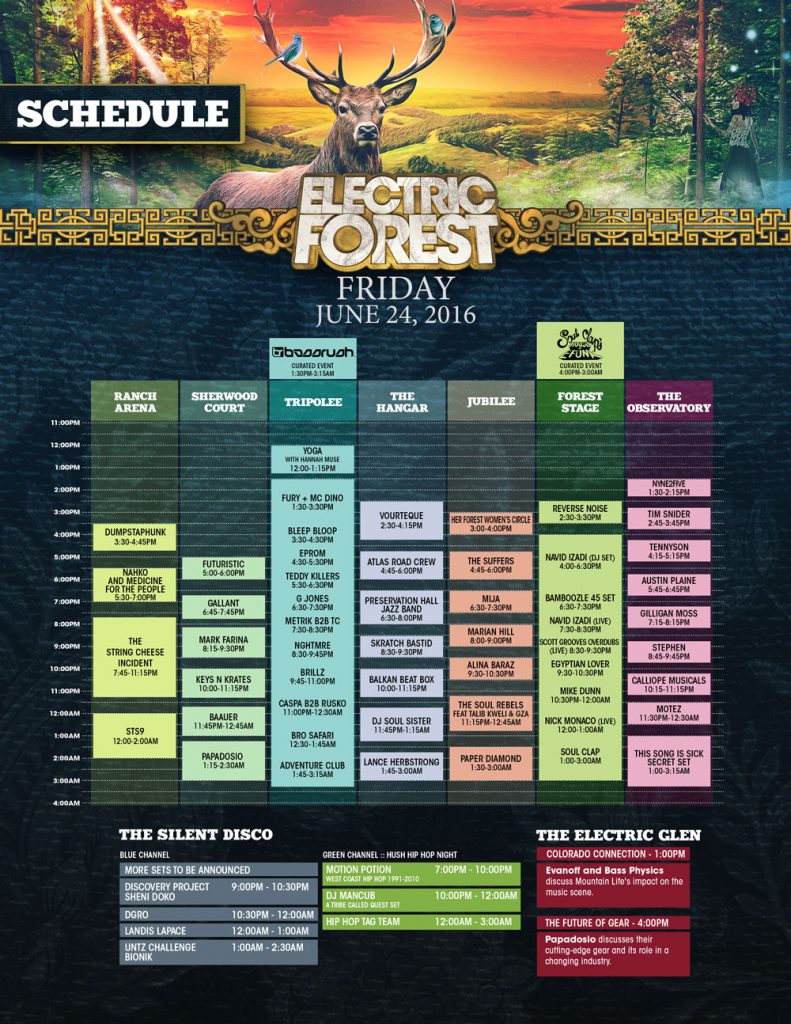 Saturday: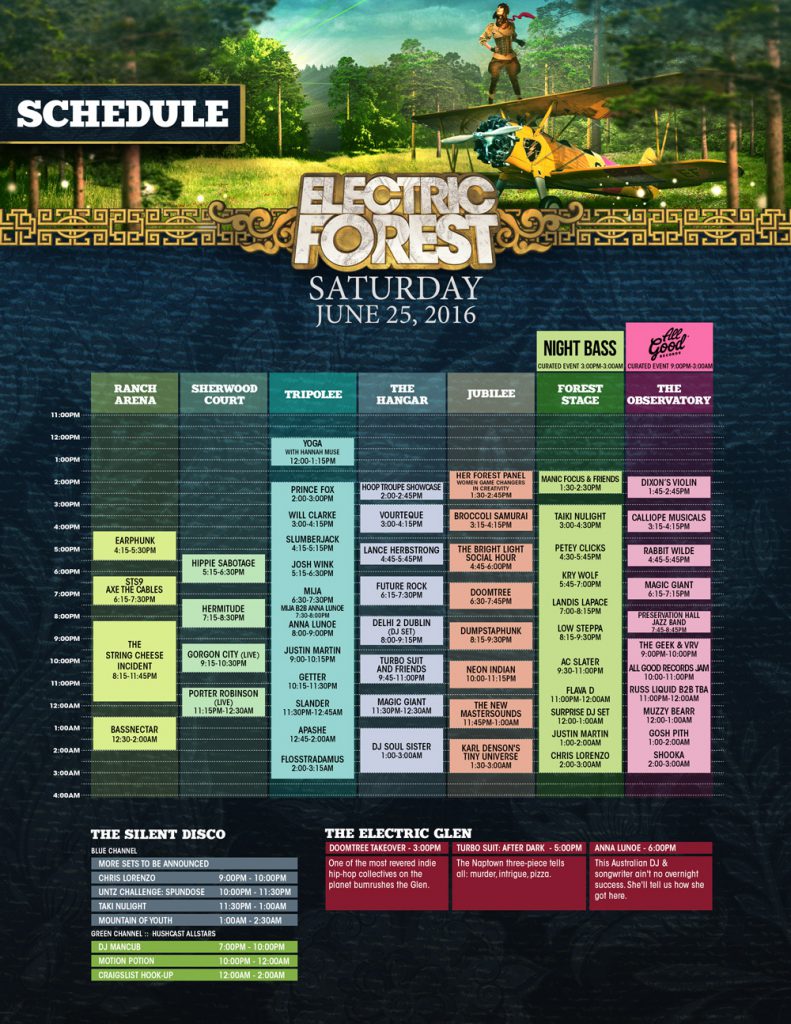 Sunday: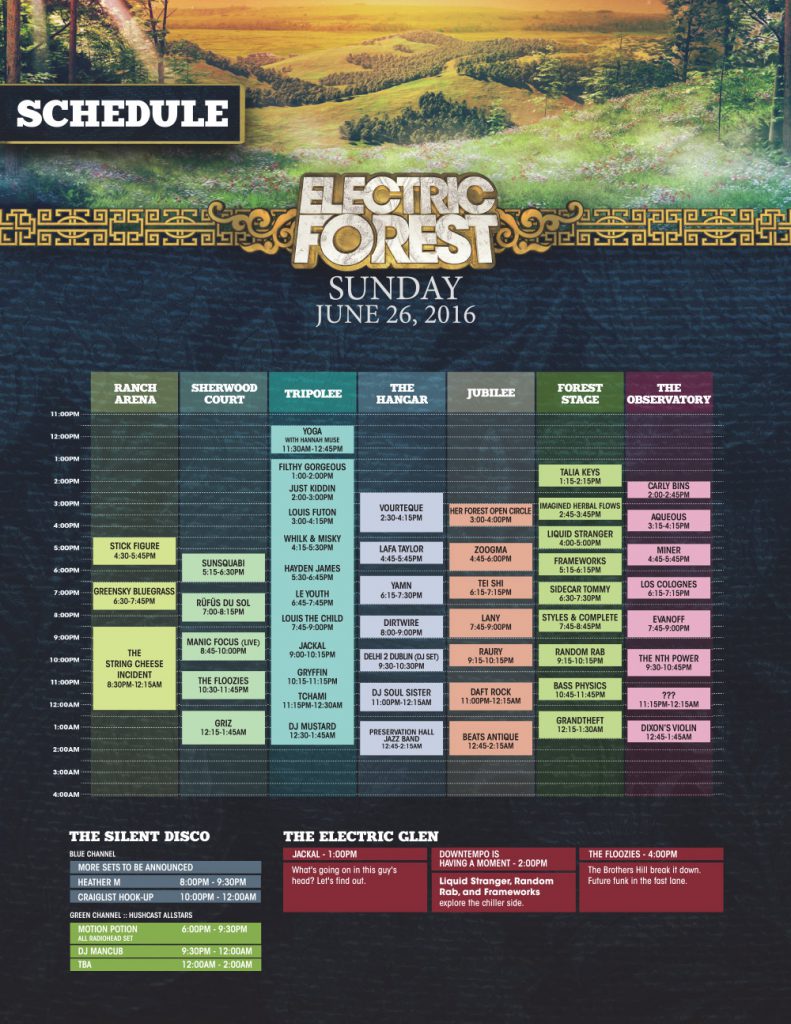 ---
Parking:
Parking is included and you will be allowed to park next to your campsite.
For those traveling to the Forest with a single occupant vehicle, you must purchase a single occupant parking pass for $70. You can purchase this ticket by clicking here.
I suggest carpooling with your friends.
---
Reminder To Mind Your Belongings
Unfortunately, many people have reported pickpockets, bag slashings, and theft of wallets, smartphones, purses and other valuables during this festival season. While this small number of bad apples in the bunch doesn't define an entire crowd, there are opportunistic people who come to these events to take advantage of unsuspecting party goers and it's important to be mindful of your valuables while at EF.
Pay attention to who's around you and what's going on around you. Keep your wallet and phone in your front pocket(s) if you can. Treat your phone the same way you would treat cash; don't set it down on a table or bar and look away. If a friend isn't standing behind you in a crowd, be careful of your backpack or purse, and don't put valuables in a pocket that could easily be unzipped by someone behind in a crowded spot without you realizing.
Electric Forest and festivals in general are a very densely populated place, and is a well-known as a place where pick-pocketing of unsuspecting people occurs. It's easy to find yourself in a crowded environment in a line, crowd in the festival where someone could slip your wallet or phone our of your pocket or bag in a matter of seconds. Stay alert, be careful, and make sure to not carry more than what you need!
---
Lockers:
Lockers are a safe and secure way to secure your belongings during the festival.
The lockers are about 11″ x 13.5″ x 18″.
Each locker includes a charging unit for iPhone/Android.
Entire festival locker rental is $50, and single day lockers are $15. Rent one here.
---
Electric Forest 2016 Do's and Don'ts:
Acceptable Items
| | |
| --- | --- |
| · Small bags, single compartment backpacks, plush backpacks, & purses (maximum 12″×12″) | · Glowsticks & glowing/illuminated costumes or jewelry |
| · Official Insomniac water bottles—must be empty upon entry | · Sealed packs of gum |
| · CamelBaks with no more than two main compartments and one smaller compartment—must be empty upon entry | · Prescription medication (must show physician's prescription and consult with a safety officer upon entry) |
| · Cell phones | · Hula hoops (including led hoops) |
| · Fanny packs | · Inflatables (must be deflated upon entry) |
| · Sunglasses & hats | · Flags/banners or handmade signs (no corporate/company branded and no hard flag poles) |
| · Lighters and sealed packs of cigarettes | · Festival totems or decorated pool noodles (see TOTEM GUIDELINES below) |
| · Earplugs | · Non-professional flash/still cameras, handheld video devices under 6" (sony action cam, GoPro, etc.), and GoPro extendable poles |
| · Sealed lip balm & gloss | ·   Single-use/disposable E-cigs or vapes that do not have refillable liquid chambers |
| · Powder makeup and sealed tampons | |
Prohibited Items in Campgrounds
· No fireworks, flying prayer lanterns or explosives
· No laser pointers
· No illegal substances
· No weapons of any kind
· No tiki torches
· No golf clubs
· No hammers
· No American Indian headdresses
Prohibited Items in Venue
| | |
| --- | --- |
| · No outside alcohol, food, or beverage (exception: One sealed bottle of water, no more than one gallon. Camelbaks and re-usable water bottles must be empty upon entry.) | · No frisbees |
| · No laser pointers | · No American Indian Headdresses |
| · No chairs, beach chairs, or lawn furniture | · No threatening signs or apparel |
| · No audio recording equipment/pro cameras/video equipment | · No illegal substances or drug paraphilia |
| · No glass or glass containers of any kind | |
| · No knives of any kind | |
| · No framed or large backpacks | |
| · No picnic baskets | |
| · No tents or umbrellas | |
| · No bicycles, skateboards or scooters | |
Totem Guidelines
Maximum height is 7'.
Your totem stick should be made of something light (makes it easer to carry anyway!) – use PVC pipe or similar, no wood or metal!
Don't put anything that could gash a head or poke out an eye on the end of that totem. If it looks like you're preparing for a medieval joust, security may take it away.
No threatening messages on totems.
Any item deemed dangerous will not be allowed.
---
I cannot mention enough how excited I am to experience Electric Forest for the very first time. Bring good vibes and nothing but love and this will be amazing! See you all in the Forest soon!
---
Connect with Electric Forest 2016 on Social Media: