Over the past 20 years, Insomniac Events' Electric Daisy Carnival has provided long-lasting memories for attendees.
For today's #EDC20 segment we are giving you the third part of Robert LeSage's epic eleven year run of attending this event.
New to the story? Click HERE to read Part 1 – The NOS Years to catch up on the saga!
Miss Part 2? You can check that out HERE!
---
Eleven Years Of My Life (Part 3.1 – The Vegas Years)
Eleven years of my life. Eleven years of EDC, and I don't regret a single moment. While I believe this sentiment wholeheartedly, it's been a bit tough explaining my loyalty and love to such an amazing escape. While I made the journey home in the past, whether it was San Bernardino or Los Angeles, it was constantly difficult to describe this alien environment of unity to the locals back in Las Vegas. We've had somewhat-large music festivals try their luck in 2005, 2006, and 2007 (RIP Vegoose), but success was very lackluster (even with Daft Punk as a headliner one year), so native Las Vegans had no clue or a barometer as to what I was rambling on and on about. Eventually it became a moot point to discuss why I always ran away to California for a weekend every summer, so I always danced around the question with vague answers. "I'm just seeing some friends." "I'm going to a concert." "I'm just going to California."
This would continue even after the tragic events of EDC 2010. Even more so, I dodged any conversations relating to rave culture. It was becoming a bit too taboo, so I attempted to separate my attending festivals with the other facets of my life. I still planned on attending these festivals, but I had to do so under the radar at this point. Little did I know that this "hidden" aspect of my life wouldn't last long.
---
EDC Las Vegas 2011
One thing that I've failed to mention in the previous parts is that I was able to work the last two EDCs in California by handing out set times and maps during the beginning of the show and flyers to future shows afterwards. This allowed myself to attend for "free." Fun fact: when you volunteer to aide in the show, your friends will automatically assume you have all the inside knowledge. In reality, you're just like them except with responsibility. So naturally, after the tragic events of 2010, all my friends came clamoring to me asking if EDC is being kicked out of the coliseum or if they plan to take a hiatus like Nocturnal Wonderland did in 2002. I was just as clueless as they were. I was also just as worried. I felt like a piece of my soul was about to be ripped out and crushed. What eased my mind a little bit was the fact that the Insomniac team and Pasquale were involved with discussions and meetings to try to keep EDC in Los Angeles. Still, for a west coast electronic music fan, these were trying times.
Eventually, it was announced that the Los Angeles Memorial Coliseum and Sports Arena were to no longer play host to our beloved electronic music festivals. So long Together As One, Monster Massive, and especially our EDC. Cue the mass of chickens running about with their heads cut off. I was worried, but glad we didn't make our travel arrangements. Eventually, I eased my mind off the topic by focusing on school. It wasn't too difficult to separate considering the multi-faceted aspects of my social life at the time.
I don't recall the particular day (sometime in April), but I remember being contacted by one of the Insomniac head promoters that I should look forward to an announcement regarding EDC the following day. His exact words were, "you're going to love it." Just like that, I was both eager and anxious at the same time. He was right.
2011 will be the year that Insomniac moves EDC to the Las Vegas Motor Speedway for THREE days. I was speechless and ecstatic. No longer will I have to arrange these travel plans and make my way down to California year after year and for once I can sleep in my own bed! I immediately posted this new-found information to Facebook and messaged everyone interested in going. With that said, it was now apparent that my lives will soon be clashing.
That year most of my friends were staying at some budget motel off the strip. They were under 21 at the time and had difficulties booking a hotel. On top of that, they drove into town around 2 A.M. I recall greeting them and attempting to hang out with them until check in at 3 P.M. (I failed miserably and ended up going home, but it's the thought that counts.)
We didn't know what to expect. I've been to the speedway for various events (D1 Grand Prix (Drifting), Midnight Mayhem (Drag Racing), etc.), but I was still curious as to how they would use the venue. Since EDC was most likely going to be affected by the bad media, I was wholeheartedly prepared for a slimmed down event. They would probably just use portions of the parking lot next to the drag strip for a few stages. I was pleasantly surprised when they used the inside of the main oval track.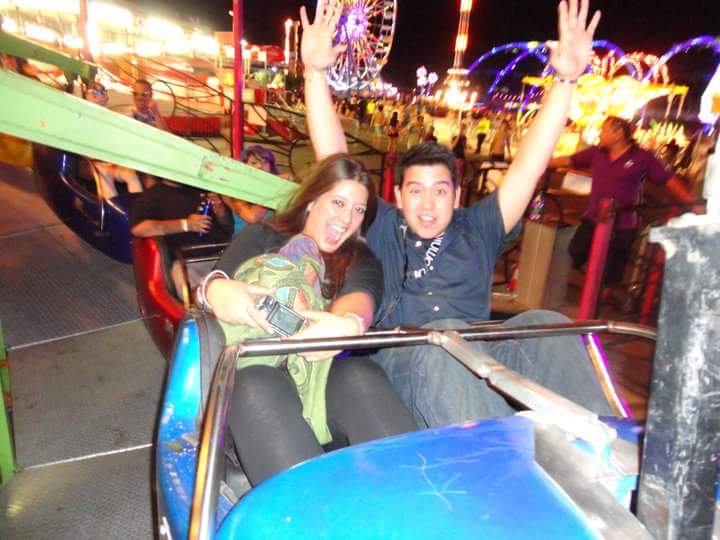 Walking through those tunnels under the grandstands had a similar vibe to the coliseum, except this time you can see the entire expanse of what EDC truly is, rather than just Kinetic Field. It was a neon utopia of sorts. Kinetic Field was massive with even more LED panels than the year prior! The mega structure from Nocturnal Wonderland 2010 was also brought in to be used for Circuit Grounds, albeit in a more expansive form. Instead of being covered, it was left wide open and was much taller. They even ran a few misting lines across the trussing in an attempt to keep the crowd cooled! Although it was welcome, I distinctly remember the nozzles clogging up and they just became futile. I'll always remember watching the fireworks from under Circuit Grounds, a memory that would eventually be recreated year after year.
Circuit Grounds that year was home to most of the trance artists. Our group decided that the best place to meet was the front left of the stage. It was much easier to navigate on the outside of the megastructure than cut through it. I was able to experience Tritonal, John O'Callaghan, Markus Schulz, Ferry Corsten, Cosmic Gate, and a set featuring both Sean Tyas and Simon Patterson that year. Sean Tyas and Simon Patterson absolutely stole the show for me and a couple of my friends. It was just absolute tech trance destruction. They played Bryan Kearney's "Ridiculous" track that just got me going crazy. I want to say it was the Mark Young and Damo Kay remix. Simon Patterson even played, "Miss You," and that just sent me soaring.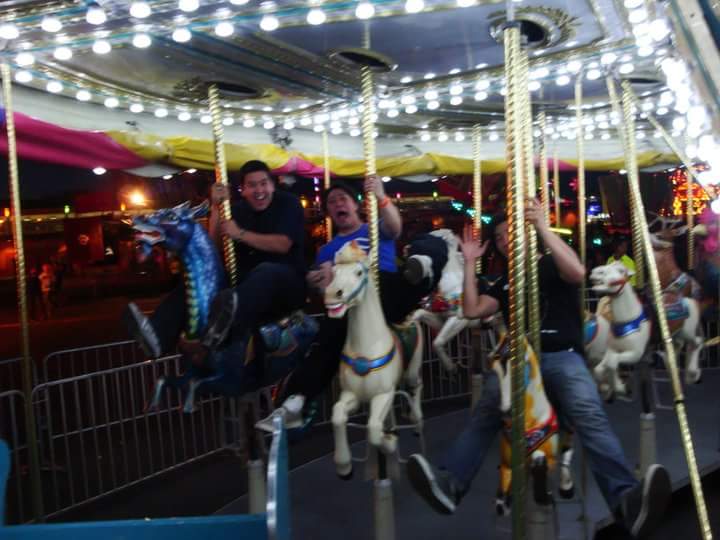 The Cosmic Meadow stage wasn't as extravagant as it would be in recent years. It was the typical rectangular festival stage, but it was facing down the lawn instead of towards the grandstand. There was actually a little piece of lawn hidden away behind the stage where i&i Soundsystem would set up play reggae throughout the night. I recall taking a quick disco nap in that area before running off to see SubFocus and Plastikman LIVE.
My absolute favorite memory that year was seeing Plastikman LIVE on Cosmic Meadow. I was exposing two friends to the relentless madness of techno, but the icing on the cake was Richie Hawtin's visuals. I thought I was having the best time of my life. Then, the fireworks started firing off. Plastikman, Richie Hawtin visuals, AND fireworks?! On top of that, Sub Focus (Live) was coming on directly afterwards. He had this LED ring setup surrounding him and when he dropped his remix of Rusko's "Hold On," I recall being enamored by the colored flames being shot from the stage. Another favorite was when he played "Timewarp." Something about that track gets me going and I was just happy to finally hear it live.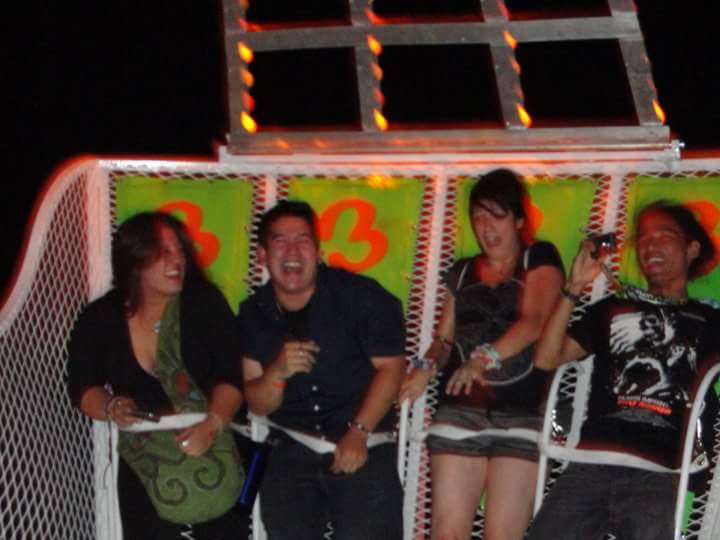 ---
EDC Las Vegas 2012
As exciting as 2011 was, 2012 would just be bigger and crazier. As you progress through the years that EDC spends in Las Vegas, there's one notable thing. It gets brighter. 2011 was pretty dark compared to how it is nowadays. 2012 would turn up the lighting a big more, but also be marred by Mother Nature.
EDC Las Vegas 2012 was getting closer, many of the friends I've made on GSC and EDC were planning to go. Coming from as far as New York, New Jersey, and even Florida. That year most of them stayed at either Circus Circus or the Cosmopolitan. They would offer me a place to sleep during the EDC festivities, but I opted for my own bed. Kind of idiotic of me, considering I live 30 minutes away from the strip and would constantly drive back and forth to hang out with them all and sometimes play chauffeur. The Cosmopolitan was an EDC Headquarters of sorts. That year we ran into so many artists by just walking through the hotel. Armin van Buuren at Secret Pizza, Kaskade in the elevator, and even Jono from Above & Beyond walking through the lobby!
Year after year, we wait for our annual reunion, and finally it was time for day one! I remember being particularly excited for the lineup this year as it would be filled with three days of non-stop trance! I'm ashamed for my actions, but that year I was pretty much parked at Circuit Grounds all three days. Err, make that two and a half days.
Day One went off without a hitch and I was able to see Norin & Rad, Gabriel & Dresden, Above & Beyond, and Mat Zo. If you were to ask me which set stole the night, it'd have to be a toss-up of Gabriel & Dresden or Above & Beyond. Hearing Gabriel & Dresden's signature mash-ups just had me going crazy. It was like hearing classics that were renewed. Josh Gabriel's mashup of Deep Dish's "Say Hello" and Wolfgang Gartner's "Yin" just shot memories of EDC 2007. They even played a mash-up of "Mindcircus" by Way Out West. That was the song that originally got me hooked on Gabriel & Dresden, so to finally hear them play it was amazing. On top of that, the Eric Prydz private remix of M83's "Midnight City" made its way into their set.
Above & Beyond opened their set with a remix of "Stealing Time," but no matter what other tracks they play, it'll always be the classics that gets their audience going. "On A Good Day" will never lose its charm. Also hearing Zoe Johnston's vocals on "No One On Earth" was heavenly, especially as the sky daisies were firing off into the sky. It was otherworldly and that track is still my favorite track by them. They even played a new Zoe Johnston track from the Group Therapy album titled, "Love Is Not Enough."
(TimeStamp: 1:31:30 – No One On Earth + Fireworks)
Day Two was a completely different story. I opted to ride with a few friends who came in from the east coast (Rai, Guy-Ana, and Spazz, I love you guys), so I drove down to the Cosmopolitan to park. As we were heading to the venue we noted how windy it was. I, being the typical Las Vegas resident, said it was nothing and that we're used to that kind of weather. We got to the venue and headed in, nothing seemed out of the ordinary. We explored a little bit before parking ourselves at the A State of Trance hosted Circuit Grounds where we met the rest of our group. We were able to see Jochen Miller and Rank 1's complete sets. Beautiful as usual, but it was during Markus Schulz that we realized something was going wrong. The wind had picked up more than usual and the speakers hanging above us were swinging pretty wildly. Eventually, officials told Markus Schulz to cut the music off and to direct us to the grandstands. While I'm glad there were precautions and safety taken into consideration, I was still a bit disappointed. We didn't want to sit around and wait for the wind to POSSIBLY die down to get the party started again, so we notified our group that we were heading back to the hotel. We were going to have an impromptu hotel party! I played navigator so we could take the surface streets to get back to the Cosmopolitan even quicker.
One of our friends at the time was a DJ back in New York, so we were able to spin some trance and keep the party going. We were joined by a few more friends (Lectra, I miss you! Mike, this was the first time we met!) and being the glowstickers and dancers that we are, we cracked a few glowsticks. It honestly felt like the old Pre-EDC meet-ups we used to have in California. We had such an amazing time that we would later start a new tradition. The official unofficial EDC Day Four.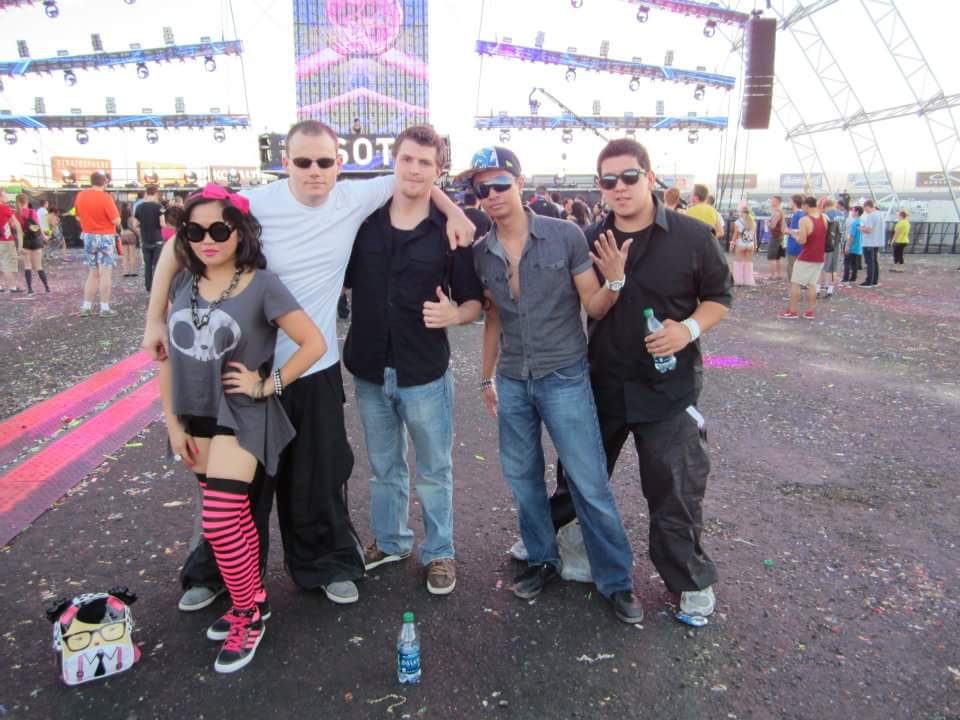 To get there, we actually have to progress through Day Three! Circuit Grounds was hosted a second time by A State Of Trance. Kristina Sky was opening that night, and she definitely threw it down. I was so amazed by her set that I absolutely couldn't stop moving. Playing amazing tracks like Adam K & Soha's vocal mix of "Need to Feel Loved" and Jaytech's "Synergy." It was beautiful.
We were saddened that due to the winds on the prior day, we wouldn't be able to hear Armin van Buuren's set at Circuit Grounds. This sadness wouldn't last long as he somehow shifted set times around so that he could play a "surprise" set. Just as he was getting on, a few friends were walking away to grab some food. They immediately ran back when they realized who was playing. However, the set I was looking forward to almost all day was Aly & Fila. I was hoping their track featuring Jwaydan, titled "We Control the Sunlight," would play as the sun was rising, and guess what. It happened. It was just as magical as I had it portrayed in my head. A lovely ending to a weekend full of trance and marred by winds.
"We Control The Sunlight"
We've finally reached Monday. The official unofficial day four. We had amazing vibes at our little hotel shindig during day two, so we figured why not do it again? We played some more music, albeit with some difficulties connecting to the TV/speakers. We actually had to call concierge multiple times to help us fix it. Eventually, the glowsticks and the alcohol started to flow. We were having an amazing time catching up and hanging out. I didn't mean to, but that night I was quite inebriated. I was given the alter persona of "Vegas Rob" due to some of the antics I unintentionally performed and otherwise would not have if I was sober. Some vent covers were knocked off, lampshades were worn, and somehow I ended up with glasses upside down and a bruise on my forehead. Nothing too bad and we were still able to clean up the room as we sobered up.
From this point forward, we continued this tradition of just chilling out at the hotel for an extra day. It gave us a time and space to just get away from the madness and catch up. Essentially, we just replaced our Pre-EDC tradition with an After-EDC tradition.
---
Stay tuned for Part 3.2 of Robert's story 'Eleven Years Of My Life', The Vegas Years!