EDM Identity strives to highlight all aspects of the electronic music community, and that includes flow arts! Stay tuned for more guides in the future!
---
Welcome to Hooping 101
Starting your hoop journey can be exciting and daunting at the same time. The most common question that comes from beginners always seems to be, "What kind of hoop should I buy?" With so many different variables involved in choosing a hoop, it is easy to see why it is overwhelming. There are many different tubing widths, material, diameters, and types of hoops to choose from out there. Breaking all of these different options into categories makes it a lot easier to narrow down your search and find the perfect hoop for you.
If you haven't decided if you really want to invest your time into hooping, you can go pick out a hoop from your local department store. Just drill a hole, and drain the sand or water from the hoop. You can also purchase tape to make it the color(s) and design that you prefer! These hoops work just fine and will allow you to see if you enjoy it enough to look into specialized hoops.

Tubing Diameter
Perhaps the easiest decision is choosing the appropriate diameter of tubing. While most hoops come in 3/4" or 5/8" diameters, you can also find them in diameters of 1/2" or 7/8". Generally, most people start out using a 3/4'" hoop. It fits in your hands well and is not too large. If you are looking for something thinner, 5/8" tubing is a bit smaller and will feel lighter. 1/2" is the smallest practical size tubing available for hoops. The smaller you go, the more the hoop will bend when it is used. 7/8" is the largest tubing and it is the least commonly used diameter. It keeps its shape the most out of all the sizes, since it has less give.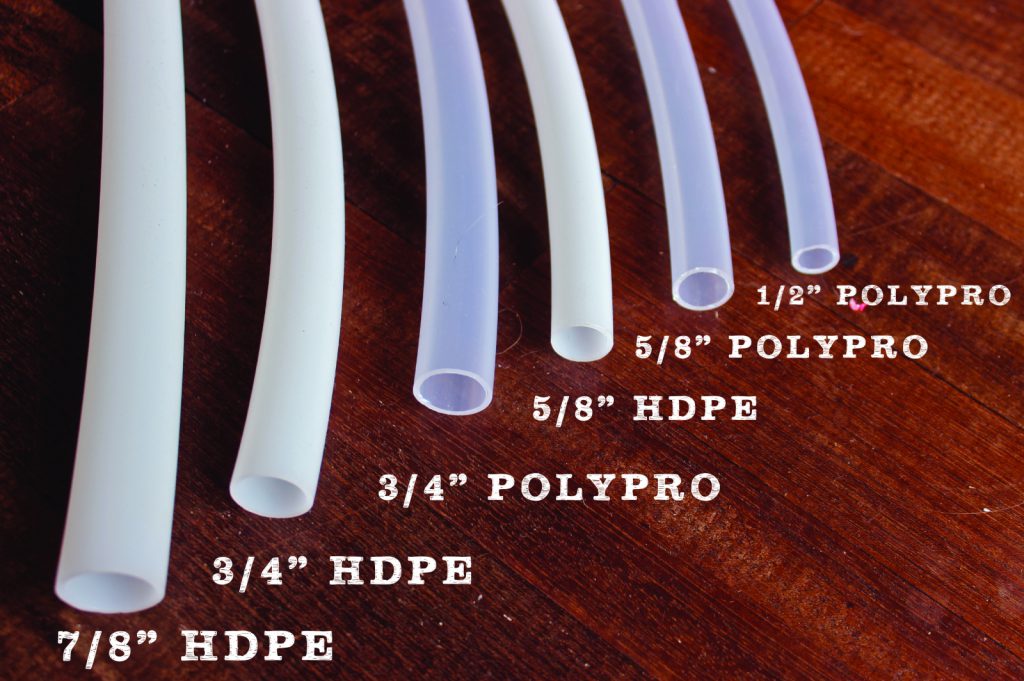 Tubing Material
The next choice to be made is which type of tubing material you would prefer. The two most common materials used in hoops that are available for purchase are HDPE and polypro. You may also come across PSI or irrigation tubing. This is typically found at hardware stores and can be used to build your own hoops at home.  It is fairly heavy and rigid and is good for beginners who may need a bit of weight to get the hoop going. I personally recommend an HDPE hoop for new hoopers. HDPE hoops are bouncy and absorb shock well. HDPE is heavier than polypro, but is a lot more forgiving. It is easiest to see and feel the difference between polypro and HDPE when you are doing transitions. An HDPE hoop is slower to react while the polypro reacts immediately. HDPE is durable to the elements, but you may run into problems with the tube kinking.  Polypro is very light and rigid. However because of this, it is more fragile and can shatter or break when exposed to the cold. Another difference between the two is the opacity, which is mainly a factor in LED hoops. HDPE hoops are more opaque and will have a softer look. The lights will be slightly muted and you will not see the individual LEDs. Polypro is more clear and if it is an LED hoop, the lights will appear brighter and more crisp.

Hoop Diameter
Now the next option is a bit more difficult to figure out what will work best for you. Many people will tell you that the correct beginner hoop size should be the number of inches between the floor and your belly button. While this may work for some, the size of your hoop really depends upon your ability. If you already know that you can waist hoop, I would recommend a bit smaller of a hoop. If you are a complete beginner, the bigger the better. Most beginner hoops are 36" to 40", these are going to be the easiest to keep spinning around your body because they have a bit more weight and go slower. Depending on your ability, you may size down rather quickly.
Personally, I started with a 36" and purchased a 30" a month later so that I could practice on-body tricks with my 36" and off-body moves with the 30". If buying a couple of hoops is an option for you, I would definitely recommend getting a larger, heavier hoop to start off with and then also purchase a smaller, lighter one that you can practice off-body tricks with. If you aren't able to buy two different sizes, something like a 34" or 36" may be the best option as the transition between on and off-body tricks is a bit easier at that size.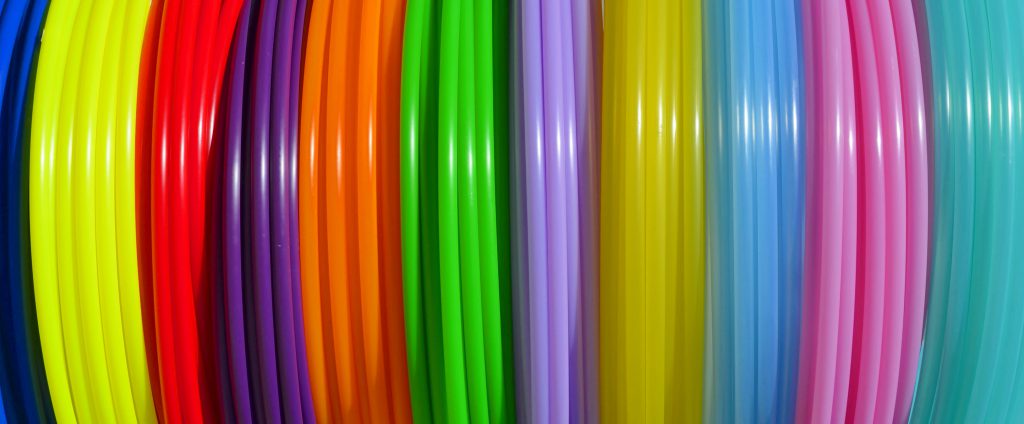 Hoop Type
This option is usually pretty easy to choose. There are many different hoop types and the ones available vary from hoop shop to hoop shop. There are bare, LED, reflective, color morph, decoratively taped, and even fire hoops. If you are reading this to figure out your starter hoop I would recommend you stay away from the fire hoop for a while—everything else is fair game.
The average day hoop would be considered the "bare" option.  It is a plain colored hoop and will probably be the least expensive option.  

An LED hoop is a hoop that incorporates LED lights into the hoop. This hoop is more expensive and needs to be taken care of more than an average day hoop.  

Reflective, color morph and taped hoops are all different ways to decorate your average day hoop.  They include special tapes to make your hoop look amazing!  
To really see the difference between these hoops you need to check out your favorite hoop smith (or go on Etsy/Google to find one) and check out what you like best! Check below for my recommended shops!
In the end, it all comes down to personal preference.  It doesn't matter how quickly you size down or if you size down at all.  Whatever size hoop you feel the most comfortable with is the right size for you.
---
Katie's Recommended Hoop Retailers: