Walt Disney World Summer Raverday 2016 is just a few days away, so I have compiled some essential information to make your Sunday as successful as possible!
---
The My Disney Experience mobile app is a MUST have if you're attending. You can download it on Android/iOS by searching "My Disney Experience" in the app store. If you are not a Cast Member or Annual Passholder for the Disney Parks, tickets are available for $117.15 through Disney World's website (Florida Resident Tickets are also available through the website and at your local Disney Store).
Click here to purchase tickets!
Walt Disney World Summer Raverday 2016 Meetup Times and Locations: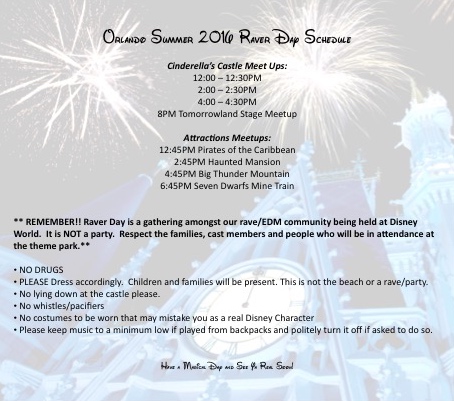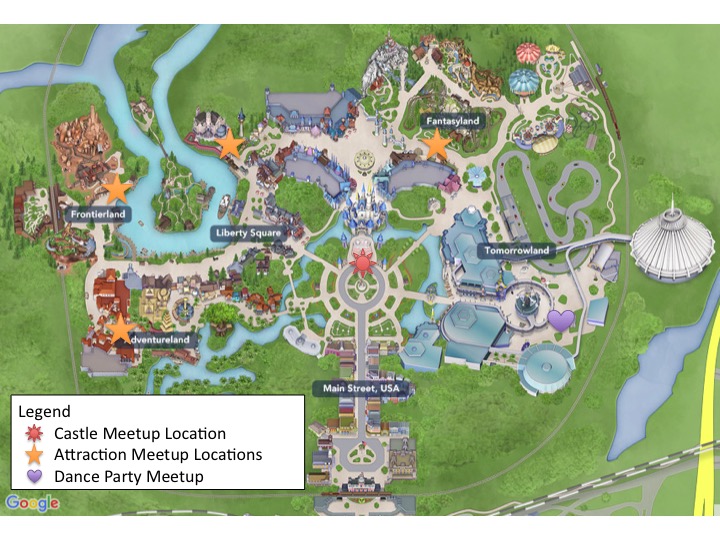 ---
WDW Summer Raverday 2016 FAQ
Walt Disney World Winter Raver Day will be taking place at the Magic Kingdom.
Park Hours are 9:00am – 11pm
Bring your ticket/magicband.
Re-entry is allowed.
ATMs, various merchandise locations located throughout the park (there is not any specific raver day merch available).
Event is open to all ages.
NO DRUGS!!!
PLEASE dress accordingly. Children and families will be present. This is NOT the beach or a rave/party.
Parking
Parking for the Magic Kingdom is actually located across the Seven Seas Lagoon at the Transportation and Ticket Center. In order to get to the Magic Kingdom you must take either the Monorail or Ferry to actually arrive at the park from the Parking Lot. Now be sure to take down which lot you parked in and the number of the row because it can be very confusing if you lose your car. If this happens let a parking cast member know right away and they will help you locate your car. Parking costs about $20-22, and this you are able to use at other parks if you choose to park hop. Parking is free for Annual Passholders and Cast Members.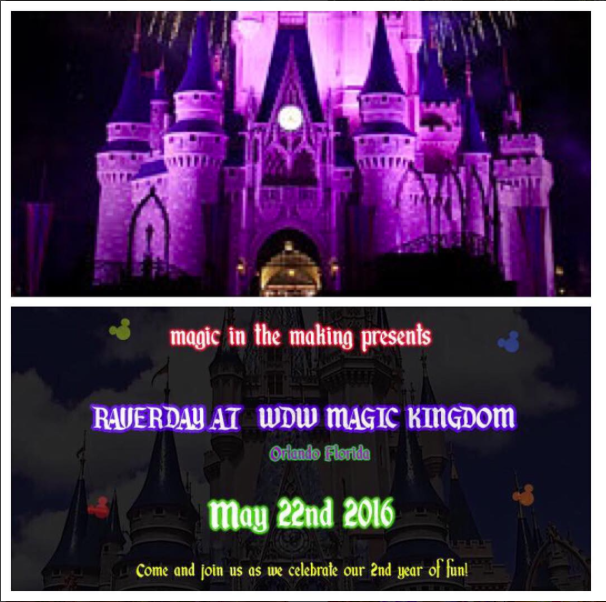 Prohibited Items
Selfie Sticks (Hand-held extension poles for cameras and mobile devices)
Alcoholic beverages or any illegal substances.
Masks (unless they are for medical purposes)
Recreation devices with wheels, such as skateboards, scooters, inline skates or shoes with built-in wheels.
Strollers larger than 36″ x 52″ (92cm x 132cm)
Suitcases, coolers or backpacks, with or without wheels, larger than 24″ long x 15″ wide x 18″ high (61cm x 38cm x 46cm)
Any trailer-like object that is pushed or towed by an Electronic Conveyance Vehicle wheelchair or stroller, or pulled by a person, including wagons.
Wheeled mobility devices with less than 3 wheels or devices that cannot maintain stability and balance when stopped, unpowered or unoccupied. Training wheels or similar modifications are not permitted.
Devices must be manually or electrically powered and operated at a walking pace. Devices should be single rider and not exceed 36″ (92cm) in width and 52″ (132cm) in length.
Weapons of any kind, or objects that appear to be weapons.
Folding Chairs
Large tripods
Glass containers (excluding small containers such as baby food jars)
Pets or other animals, except approved service animals (e.g., dogs). Service animals must be under the control of the owner at all times and should remain on a leash or in a harness. Due to the nature of some attractions, service animals may not be permitted to ride certain attractions.
Other items that Disney determines as harmful or disruptive
Dress Code
I cannot stress enough that this is a family park. Please dress accordingly. It is not a rave/party, so please be tasteful in your clothing. Below is what I will be wearing. Now keep in mind you don't see any kandi in this picture, however I will be sporting my kandi proudly.
Feel free to bring kandi to trade with fellow ravers and with other guests, LED hoops, and gloves. Above all, have fun!! This is a chance for our community to show what PLUR and the raver community is about. It is a way for us to break through the negative stereotypes cast upon us by media and show case what everything is about, Love and Acceptance. I will see you all there bright and early at 9:00 am. If you see me, be sure to stop by and say high and trade kandi. See you all real soon!
---
Don't forget to check out the teaser trailer for WDW Summer Raverday 2016 made by yours truly!
---
Connect with Magic in the Making and WDW Summer Raverday 2016 on Social Media: