Apart from the more than 90 musical artists performing in a little over a month in Bethel Woods, Mysteryland USA 2016 has now released their plans for the arts and cultural aspect of the festival. With myself attending this festival for the first time, I am extremely excited to see what this festival will offer. For the art and cultural aspect, Mysteryland will offer a full sensory experience curated and hosted by NPR personality Anya Kamenetz, The Healing Garden, the Incendia 50′ fire dome, House of Yes, Modern Gypsies, Nova Zef and Pendulum People, Funkrust Brass Band, and Guerrilla Science, among numerous others.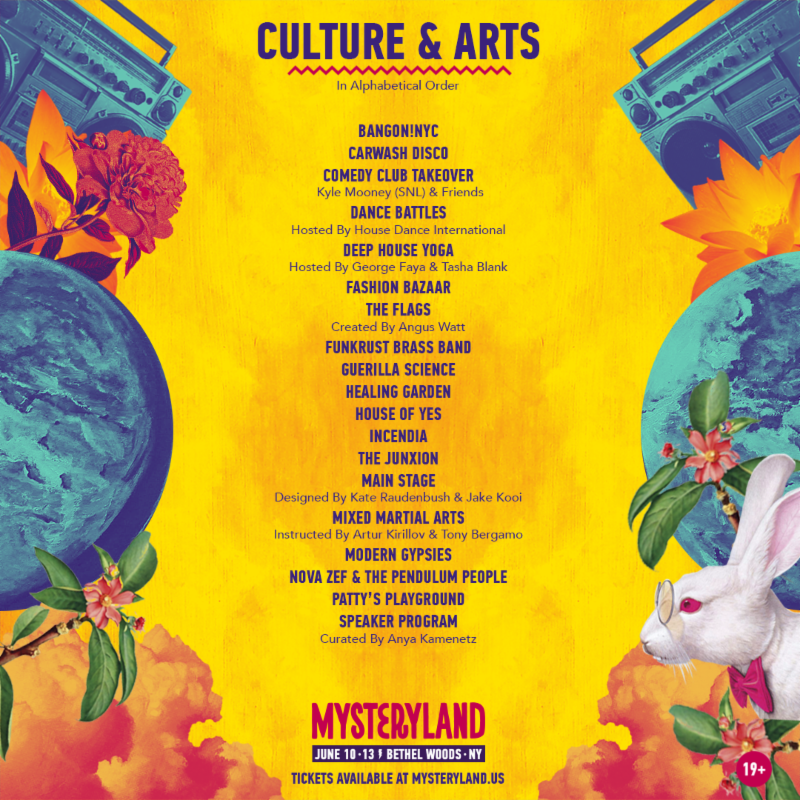 I'm excited to feature so many different artistic communities at Mysteryland this year. Nearly every project at this year's festival is created by a collective, much like how a festival itself is the result of so many different people unifying to create something beautiful. Mysteryland is a special festival for the arts and artists, even by ID&T's impressive creative standards. This festival is dedicated to making arts and culture an integral part of the experience, and not just calling it 'decoration.' Mysteryland is special in the way that it champions artists in the same way as the musical performers. Needless to say, all of the artists are thrilled to be working on the hallowed grounds of Bethel Woods, and presenting their work to audiences that have often never seen anything like it before.

– Kevin Balktick, the Art director of Mysteryland USA
Below is a breakdown of each of the artistic and cultural offerings at Mysteryland USA 2016:
Incendia 50′ Fire Dome
Having actually been able to check this artistic installation for myself, this installation will mesmerize your senses. This artistic piece is back by popular demand. This 50′ fire dome illuminates the night with its beautiful and enticing flame effects with fire performers.
Healing Garden
Located near the festival center, these tipis and tents will offer a great alternative to the relatively hectic festival lifestyle. Curated by Sarah Schroder, whom not only has curated the healing garden for the last three years with the Mysteryland USA team, but also for over a decade in the original Mysteryland in the Netherlands. The Healing Garden will offer yoga, healing, meditation and workshops throughout the weekend. Click here to check out the healing options that will be offered.
House of Yes
This performance-obsessed nightclub and creative collective in Bushwick, Brooklyn mixes dancing, spectacle, music, aerial, circus, nightlife entertainment, video, weirdness, glitter, cocktails, sex, brunch, theatre, art, food, magic and everything else that inspires people to connect and celebrate life. This will be something I will be checking out.
Nova Zef and the Pendulum People
Pendulum People have teamed up with recording artist Nova Zef to bring a live show packed with earth-shaking dance, galactic uniform and mind-bending visuals to the sounds of global bass. Pendulum has transformed their individual talents and years of cypher performances into a collective of futuristic consciousness,expressing global change. They hypnotize their audience, taking them on a journey with their unique spectacle. With original music, words, choreography, costuming, mask design, puppetry, live drumming and visuals, their goal will always be to elevate the people.
Modern Gypsies
With their love of crafts, skill and originality, Modern Gypsies have combined these forces to create unique and unforgettable festival experiences. This group will bring forward their perfected, and world-renowned innovative and immersive performance concepts, while incorporating breath-taking stage acts and visual elements to Mysteryland.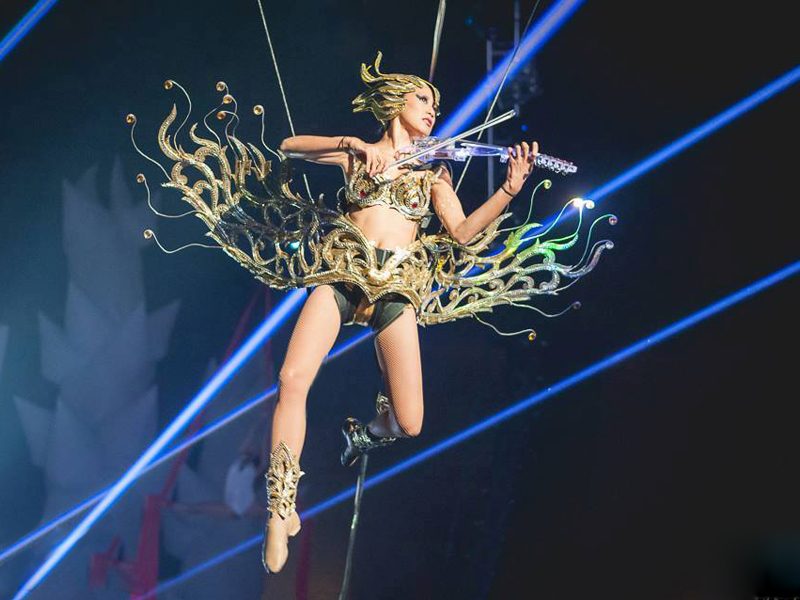 Funkrust Brass Band
This New York-based twenty-piece band has found a way to create original music that combines elements of punk, disco, EDM,metal, funk, Balkan brass and New Orleans second line. Apart from the amazing blend of completely different music genres, the Funkrust Brass Band incorporates glam outfits, choreography and megaphone vocals to create a memorable one-of-a-kind experience.
Guerrilla Science
This group has been known to create unique installations and events for not only festivals, but museums, galleries, and other cultural clients as well; these are all done while finding fun and new ways to incorporate science. During Mysteryland this year, Guerilla Science will have offerings such as Flavor feast, where attendees will explore the science of attraction through sensory speed dating, other worldly travel with Intergalactic Travel Bureau, among many other awesome surprises along the way.
House Dance International
House Dance International or HDI is the first Urban Dance Festival dedicated solely to the art form of House Dance. Hailing from New York, this collective group will feature face-to-face competitive dance offs in categories of House, Vogue Waacking, Hustle, and Experimental, along with the first Group House Battle (5×5). So this should be very interesting.
Bangon!NYC
If you haven't ever gotten to experience an old-fashioned warehouse party, never fear. Bangon!NYC brings the old Brooklyn warehouse party atmosphere and feels to Bethel Woods. With a multitude of closing structures, line-up of loft party heroes and New York's finest party people, Bangon!NYC will definitely be something I will be checking out!!
The Junxion
Anchored by mobile art cars and buses the Junxion is a mobile unit that will form like Voltron at Mysteryland USA this year. Their art cars will not only transport the party, but define what a party can be with top DJ's, performers and artists whose deeply personal expression will touch a cord with all who witness. Their mission — to Elevate what is possible for parties and entertainment.
Fashion Bazaar
The fashion bazaar for Mysteryland 2016 will be curated by Festy Besty, set to make its debut in Bethel Woods this June. Featuring clothing from pop-up shop The Vintage Twin, to designs from Minkpink and bedazzled jewels from Body Bauble, the bazaar will be able to fix any festival fashion emergency. To view all shops, click here and here!
Deep House Yoga
While embracing styles ambient to groovy house, deep techno and more, Deep House Yoga deepens our yogic practice by connecting people in a way only great music can. Graced with great music, yoga instructors will lead festival goers through an exercise of the mind, body and soul.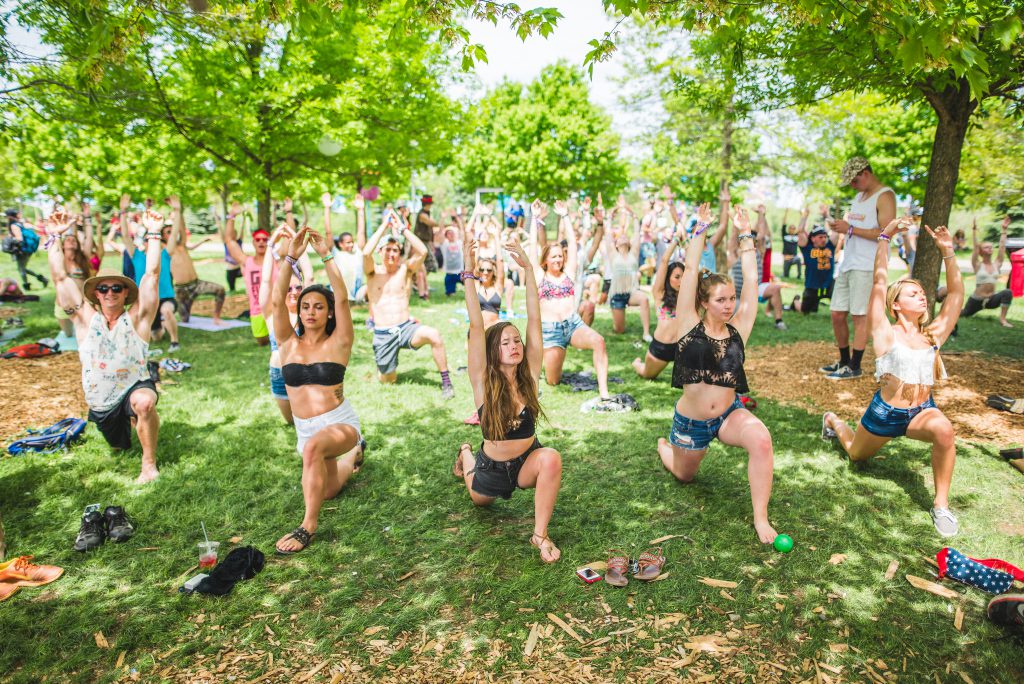 Mixed Martial Arts
Nomads of Mysteryland USA can expect a little bit of meditation, a dynamic warm up, a few elementary techniques and escaping holds, how to tactically get up off the ground, execution of a few strike combinations, calisthenics and stretching.
Food Lineup
Food offerings this year at Mysteryland USA will entice any Nomad's appetite. Featuring a wide variety of choices from local upstate N.Y. favorites and universally loved NYC eats. Nomads could get lost sampling this plethora of food options alone. For a full list of food options, click here.
Dripped On Productions
Dripped On Productions will offer variety of unique immersive experiences to include: Dripped On (featuring live painting, body painting and dope beats) and DO Graff City ( Dripped On artists will provide body painting and "design your own" graffiti hats and t-shirts).
Comedy Tent
For the first time ever, Mysteryland USA will host a comedy tent curated by Sirius XM's Brett Siddell and will open Friday night with a headlining performance from writer/perform or Kyle Mooney and friends taking over the Spiegel tent.
Late Night Movie Night – "Going Furthur"
Saturday late night will include the East Coast debut of "Going Furthur." Check out the official website by clicking here. The documentary will screen at midnight, 2:00AM, and 4:00AM in the campgrounds on Saturday night. A synopsis of the film is as follows: Fifty years after the iconic first Trip, Ken Kesey's son Zane took the Furthur Bus – and his father's legacy – back on the road, for its longest running tour in history. Armed with a new band of Merry Pranksters, the Furthur bus traveled over 15,000 miles in 75 days, riding into music festivals, community events, tribal gatherings and national landmarks, reestablishing itself as a symbol of radical self-expression and cultural revolution all across the country. Through archive footage as well as over 400 hours of film, it explores the roots of a culture birthed in the early sixties, and how the mission of those first few idealists have influenced a new generation. This is an on-the-ground account of how Ken Kesey, the pranksters and the acid tests helped to generate a non-conformist society of free thinkers, artists and altruists who are now pushing the evolutionary envelope of human potential.
Speaker Series
Mysteryland's speaker series will be making its return with a wide range of thought-provoking and mind expanding talks and panels. The talks will have a "how to" theme this year, helping nomads solve the core mysteries of their lives.
Highlighted Speakers and Workshops Include:
How To Be Your Own Healer with Kezia Vida
How To Create Transformative Art with Kate Raudenbush (designer of the MainStage at Mysteryland 2016) interview by Anya Kamenetz.
How To Put Down Your Damn Phone And Interact With The World with Anya Kamenetz (I will definitely attend this talk/panel)
With Mysteryland fast approaching, a wide variety of tickets are still available for purchase. Click here to purchase one of the different tickets still available.  Don't be left out in the dark with this amazing festival. For a breakdown of each of the tickets and their amenities be sure to check out my article as well as another that breaks down lodging and transportation.  Hope to see you on those holy grounds June 10-13, 2016!!!
---
Connect with Mysteryland USA 2016 through Social Media:
Website | Facebook | Twitter | Instagram | Soundcloud | YouTube