Whenever I travel (which lately seems to be more often than not – The EDM Identity Team has actually given me the nickname "suitcase") I always try to attend live events or explore and discover interesting places I may not otherwise find at home on the west coast. Since NYC has very deep rooted DJ and dance music culture, I decided to see what else I could find besides a local club event. I had been toying around with the idea of moving to NYC,  and with some down time after an extensive and exhausting apartment hunt and with no events to attend, I decided to explore Manhattan for something else interesting.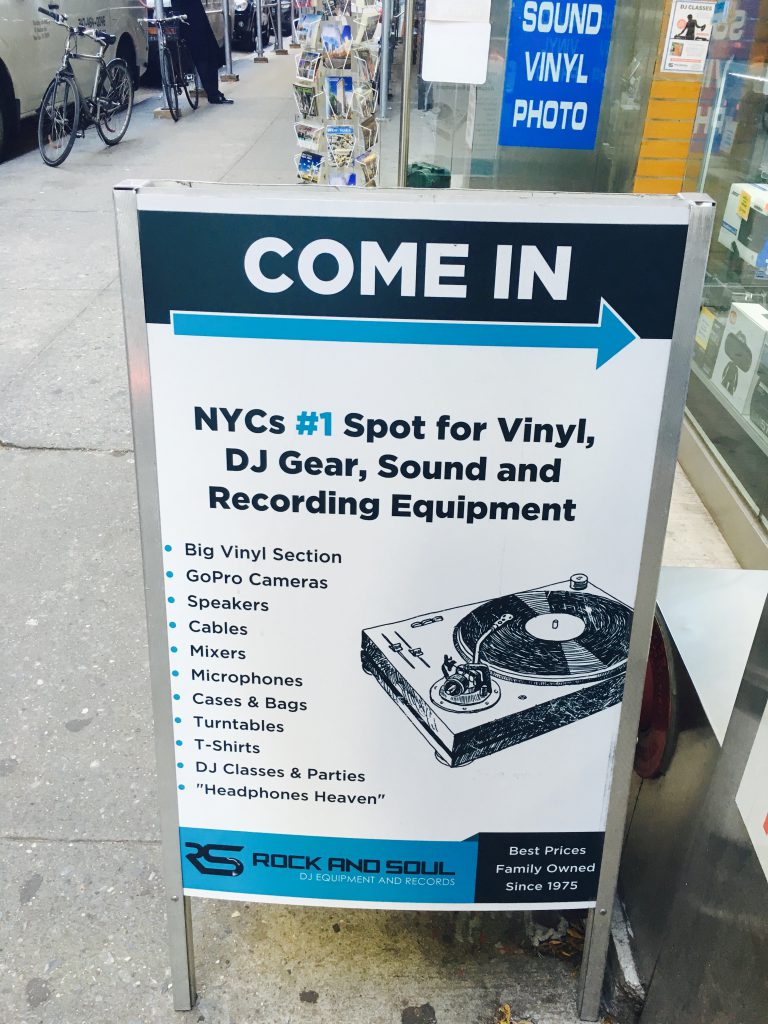 I was pleased to discover Rock & Soul on West 37th and Broadway – just a few blocks from my hotel. After a short walk over, I was greeted by popular and modern EDM tracks blasting over the speakers outside and I knew I had found the right place. Immediately upon entering, I was almost overwhelmed by the amount of gear I saw on the high rising shelves that stretched all the way to the ceiling and the insane amount of stuff in the glass cases. Almost every kind of CDJ deck (various models of Pioneer, Serato, NuMark, etc), mixers, speakers, drum machines, and more. The sign outside advertises Rock & Soul as "headphones heaven" and they weren't lying – adorning the walls was collection of professional and high quality headphones so large that it almost made my head spin.
The staff did not want to be interviewed or photographed, but were very pleasant and more than happy to show me around, give me a run down of the place and allowed me to take all the photos of the store I wanted. I was told that Rock & Soul has been a family owned business since the 1970s, offering buy/sell/trade arrangements on everything from gear to CDs to vinyl. The vinyl and CD collection in the back room was tons of fun to explore. Their collection wasn't as large as places like Amoeba Music, but was very diverse. I found everything from new to used records of all kinds: underground and mainstream hip hop, alternative, classic rock, and of course, dance music, from disco to house to recently released albums on 7″ and 12″ vinyl and CD.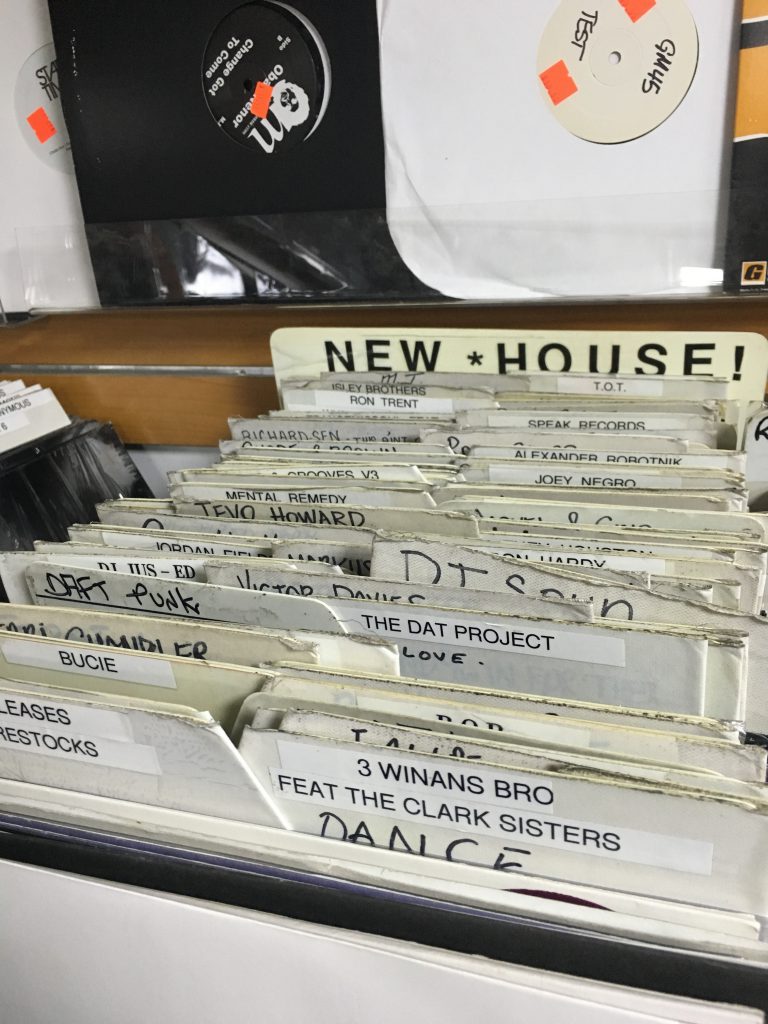 Upstairs, I found even MORE equipment, mostly vinyl decks but also accessories such as carrying cases. An employee upstairs told me that Rock & Soul offers DJ demonstrations and classes (either CDJ or Vinyl) to people of all ages and skill levels, and even hosts parties for groups of people who are interested in improving their skills, trying their hand at DJing, or just want to have some fun.
Rock & Soul is a one stop shop for a DJ of any skill level –  beginners and experts could find everything they could possibly need for their setup at home. Since they buy, sell, and trade anything, I'm sure their music collection (and gear selection) is constantly rotating and I imagine it would be worth it to stop in from time to time to check out the selections. All in all, this was a very interesting and fun place to explore. I highly recommend any east coast native or visitor to check out Rock & Soul for the purposes of exploring the wide variety of everything in the store, and supporting a historic family business in Manhattan as well.
Take a peek inside Rock & Soul!
---
Want to explore their collection and check out Rock & Soul for yourself? Here's their info!
Rock & Soul
10 W 37th St
New York, NY
(212) 695-3953