For those of you heading to Miami Music Week, Danny Avila and Tujamo will be presenting their newest musical endeavor CREAM. The event takes it name from their correspondent track "Cream" that was released at the end of the last year. It will be hosted at the exclusive SET Nightclub in South Beach on Wednesday March 16th and they will be joined by Deniz Koyu, Jewelz & Sparks, plus special guests.
Buy Tickets: Purchase Here
LINE UP
Danny Avila
Tujamo
Deniz Koyu
Jewelz & Sparks
+ special guests
SET Nightclub
320 Lincoln Rd – Miami Beach – FL 33139
Doors open: 10pm – 5am | Minimum Age 21+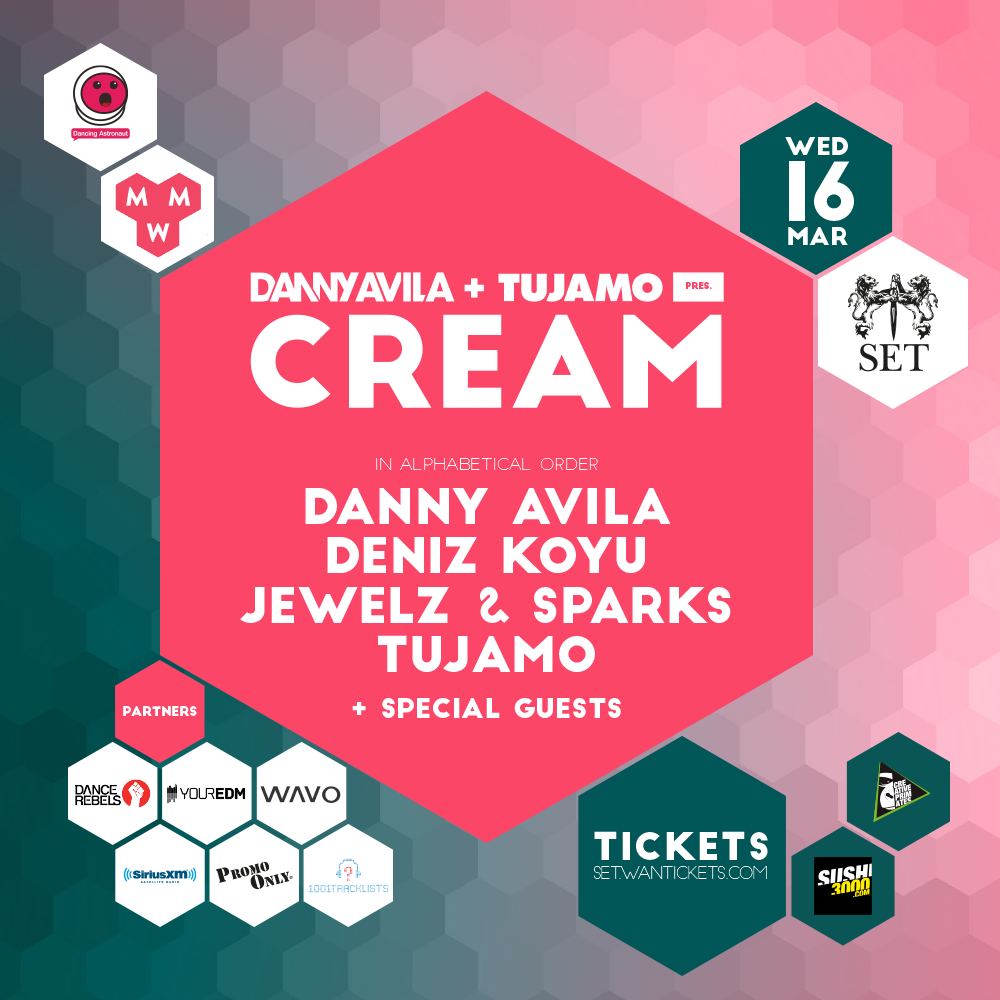 About Danny Avila
To have achieved what Danny Avila has at the age of 20 is phenomenal enough. But to have done it with such integrity and passion is something even more special. With a feisty production sound that has seen him release music on Interscope, Sony/Columbia, Spinnin' Records, Dim Mak and Musical Freedom and a similarly varied unique DJ style that takes in techno, house and EDM, he is a breath of fresh air in a world where too many artists are happy to stick to a single formula. Danny Avila is passionate about music, and it shows. In Danny's eyes, dj'ing is a form of art, and a way to take people on a journey. This mentality has been a rewarding one to say the least; his #60 position in the revered DJ Mag Top 100 2015 is the perfect validation. What's even more remarkable is that Danny is the only Spanish DJ in the entire list. On top of that, he's one in three of the list that's under the age of 21, alongside Martin Garrix and Oliver Heldens.
About Tujamo
German-born producer Tujamo, first discovered his passion for music as a teen, before learning his craft and creating under the moniker, back in 2006. As we lead on from where he kick-started his sensational career back in his native homeland, Tujamo's music delivers a truly unique style, with many attempting to imitate his oh-so-popular, one-of-a-kind sound. Tujamo's style has led to more or less the creation of his own genre, leading him to play out his productions in far-flung countries including the best venues in Australia, through all major European cities, along with a South America tour including world #1 – voted club, Brazil's Green Valley and key clubs and festivals in Asia and North America – including at the prestigious Wynn Resort during his "Around The World Tour" in 2014. Tujamo's fan base swells, so does the support throughout the industry from Tujamo's peers with each and every release.