Crush SoCal || Carlos's Experience
My experience..
I've been to the NOS Events Center in San Bernadino a number of times. It's where Insomniac's Escape All Hallow's Eve and more recently where Countdown was held. The Crush festival was actually held in 3 additional cities (Chandler, Dallas, and San Francisco) on the same day — February 13. Each city had it's own unique lineup and ran from 6pm to 3am in each time zone respectively.
This was my first Valentine's Day rave. I was third-wheeling it with a couple I had met at Nocturnal Wonderland last year and to be honest, I was mildly nervous that the couple atmosphere would be overwhelming. However, there were almost as many groups of friends as there were couples, and the vibe of support and free love permeated the atmosphere from the moment you walked past security. Our first goal was to take pictures at the Crush banner, get water, determine where the bathrooms were, and then get ready for Wiwek at 10pm. The single stage was located inside a long warehouse. At the end of the warehouse was the DJ's platform, and behind him were three huge hearts that made up the visuals. High above us were wavy trusses that would move up and down periodically as the colors of the hearts and lasers rotated between red, pink, blue, and green.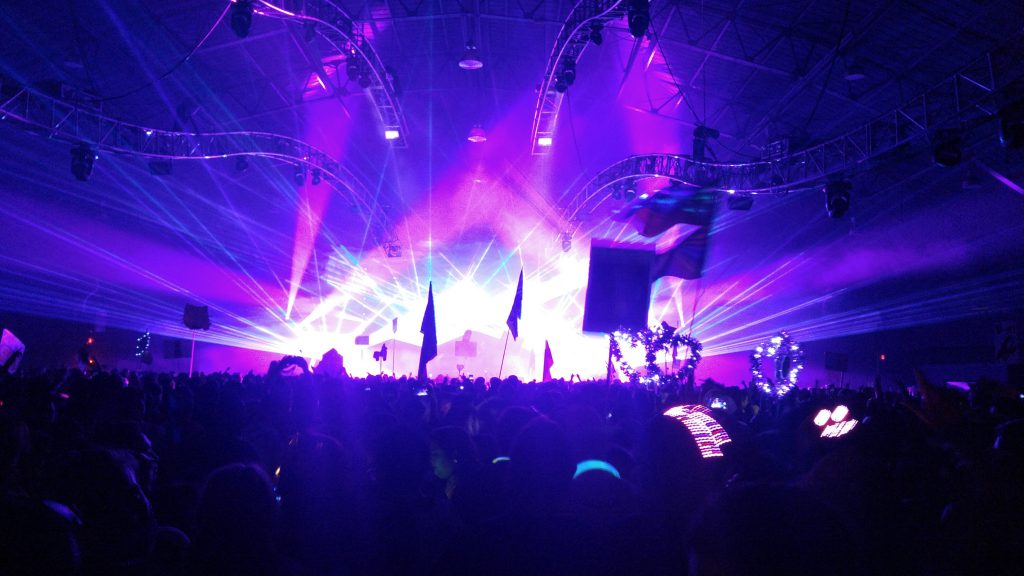 Wiwek did not disappoint as he dropped what could only be described as filthy trap which was a great lead in for Don Diablo's set. From there, the night continued with iconic songs from Borgeous and Tritonal and finally wrapping up the night all the "feels" you could ask for in Dash Berlin's set. Whether you were there thinking of past love with Dash Berlin's Hello rework or thinking of current love with I Take Care, the transition from raging to feel good house was a valentine's dream.
Throughout the night, I had the opportunity to meet a number of wonderful souls. The first two were named Breanna and Audrey, two friends that were local to San Bernardino. Breanna was dressed as an angel and we met while in line for the ATM. This was their first rave of 2016 and they were excited to see Dash. We talked about their next rave (Ultra) and how friendly everyone was. After a while I realized my group was probably wondering where I was, so exchanged numbers and I headed back inside. Once back inside, I ran into a group of guys holding a "forever alone" totem — three single gentlemen that came to find their potential rave bae. During the conversation, we talked about how LED Anniversary (the next night) would be their next event, which coincidentally would be mine as well.
After exchanging numbers, it was finally time to find my group. Luckily, there was plenty of space and locating them was easy. By this point, Dash Berlin's set was about to begin, and we knew it was time to lock in and stay together. As the night started to come to an end, I looked around the venue watching groups come together and noticed one final future friend standing off by himself. He was clearly entranced by the song but didn't seem to have anyone around him. I introduced myself and he said his name was Evan. It had been a long night but he loved the people and the community. He hadn't been to very many events like this. As the last song, Till the Sky Falls Down was coming to an end, it was time to say good bye so I hugged him, and tears started coming down his face. He said it was the combination of the music and how friendly everyone had been throughout the night.

Finally, it was time to gather the squad and make the short trek back to our car. I've always been a single pringle over Valentine's Day and this year was no exception. The only difference between this year and last year was that this was the first year that I didn't feel alone physically or emotionally. Crush SoCal was the kind of event you could take your friend, your girlfriend, or your boyfriend to and leave feeling more love than any Hallmark card could ever emotionally evoke. Exhausted, but so warmed by the community and the people I had met, I couldn't wait for the next night.
Pros and Cons of Crush…
Pros: The entrance line didn't take more than 30 minutes, and parking was well marked and reasonable at 15 dollars. The decorations were amazing. Red lanterns adorned the sky from the security gate all the way into the warehouse. They had a banner that had the CRUSH logo and hearts so that you could take pictures. The line was consistent and every one took turns taking pictures for the next people in line. There was a variety of food booths, beverages, and also water booths which are always done well at Insomniac events where they have workers helping fill your camelbaks.
Cons: Security was intense for the females. It made me uncomfortable just watching. I didn't see or feel anything in the male line. The bars were cash only. They did have an ATM but there was a 6 dollar transaction fee. Other than the banner and the lanterns there weren't any art installations — not so much a con as it is something I've come to expect from Insomniac events.
The event as a whole was better than I expected. It's definitely something I would go to again, especially at the price of the early tier. They chose the lineup perfectly and not only that but put each artist the right spot. The mood of the event followed the music — we raged to some filthy and dirty trap to start and slowly built into a swaying house vibe that let everyone get close. It was perfect because after raging who doesn't just want to sway while holding their friends?
Follow Crush and Insomniac Events on Social Media:
Facebook | Twitter | Crush Website
Photo Credit: Carlos Lopez