Crush SoCal 2016 has officially sold out and is three days away! As the Valentine's Day weekend quickly approaches, couples, friends, and the 'stag' crews are all looking forward to filling up the Damus Building of the NOS Events Center for another electrifying love day. The anticipation intensifies and last minute plans fall into place. Here is a little information to make sure you have everything ready to go for the weekend…
Crush SoCal 2016 Set Times:
Make sure you know what time your favorite artists is playing so you don't miss it! Also, plan your rest breaks and meet up times!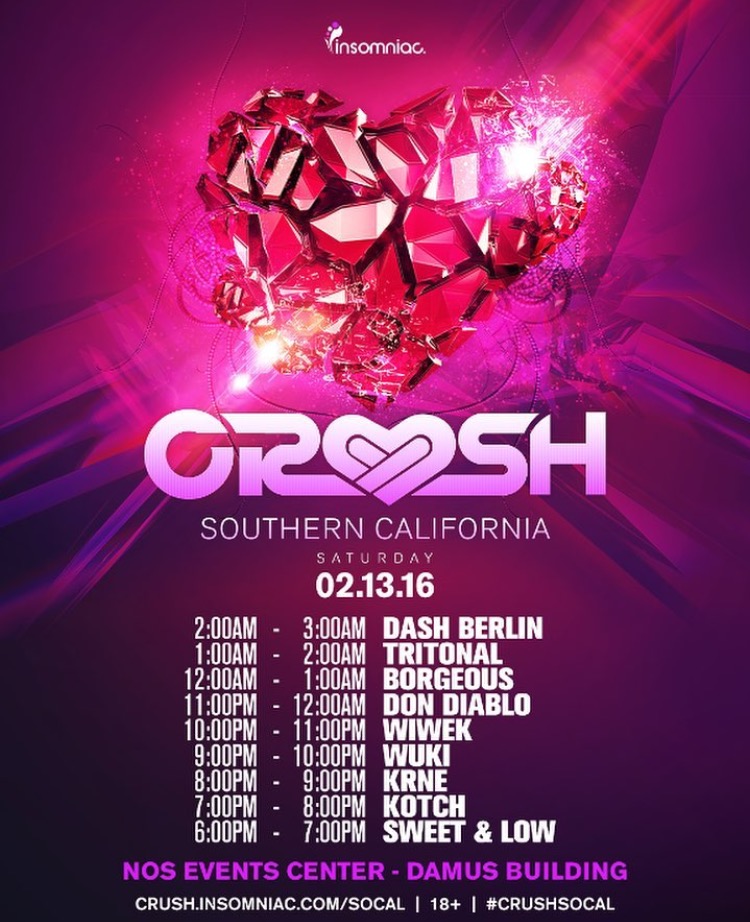 Crush SoCal 2016 Playlist:
http://soundcloud.com/music-lovers-anonymous/sets/crush-socal-2015-zachs-picks
Last Minute Reminders:
Make sure your squad knows the plan for the day and evening: what time you're leaving, exchange phone numbers, what sets everyone wants to see, a meet up spot for if someone gets lost, etc.
TICKET AND VALID IDENTIFICATION – Definitely don't leave the house without these and be careful with third party sellers if you are trying to buy a ticket from an unauthorized seller!
HYDRATE – If you are like me and enjoy seeing every set make sure to hydrate for the 9 hour dance sesh with your refillable water bottle and bring extras for the ride home!
CHAPSTICK AND GUM – Because it's the little things that matter! Don't kiss your date with gross breath and make sure your lips are ready to rock! Sealed packs ONLY!
BRING THE GOOD VIBES – After all, it is Valentine's Day. Spread the love <3 Come in peace or not at all.
---
Acceptable Items:
| | |
| --- | --- |
| · Small bags, single compartment backpacks, plush backpacks, & purses (maximum 12″×12″) | · Glowsticks & glowing/illuminated costumes or jewelry |
| · Official Insomniac water bottles—must be empty upon entry | · Sealed packs of gum |
| · CamelBaks with no more than two main compartments and one smaller compartment—must be empty upon entry | · Prescription medication (must show physician's prescription and consult with a safety officer upon entry) |
| · Cell phones | · Hula hoops (including led hoops) |
| · Fanny packs | · Inflatables (must be deflated upon entry) |
| · Sunglasses & hats | · Flags/banners or handmade signs (no corporate/company branded and no hard flag poles) |
| · Lighters and sealed packs of cigarettes | · Festival totems or decorated pool noodles (see TOTEM GUIDELINES below) |
| · Earplugs | · Non-professional flash/still cameras, handheld video devices under 6" (sony action cam, GoPro, etc.), and GoPro extendable poles |
| · Sealed lip balm & gloss | ·   Single-use/disposable E-cigs or vapes that do not have refillable liquid chambers |
| · Powder makeup and sealed tampons | |
Prohibited Items:
| | |
| --- | --- |
| · Illegal substances | · Large chains or spiked jewelry |
| · Drugs or drug paraphernalia | · Stickers, flyers |
| · Pets | · Balls or Frisbees |
| · Massagers | · Tents, large umbrellas, chairs or blankets |
| · Laser pointers and air horns | · Bota bags |
| · LED gloves or LED microlights used for light shows | · Large purses, bags or backpack (over 12″×12″) |
| · Pacifiers, dust masks or gas masks | · Stuffed animals or dolls |
| · Eye drops (available inside festival at the general store) | · Open packs of cigarettes (upon entry) |
| · Over-the-counter medication | · Outside food or beverages (including alcohol and candy) |
| · Liquid makeup or unsealed tampons (upon entry) | |
Totem Guidelines:
Maximum height is 10'.
Totems must be made from a lightweight material (e.g., foam, PVC / no solid metal).
Collapsible/telescoping camera extenders that follow the above guidelines are OK (lightweight/hollow aluminum/polycarbonate).
PVC, light wood, aluminum poles must be no thicker than 1" in diameter.
Decorated pool noodles work great for easy entrance through security.
Inflatables attached to totems must be deflated upon entry.
Any item deemed dangerous will not be allowed.
---
Have a great Valentine's Day weekend and be safe at Crush SoCal!