Holy Ship! Feb 2016 Essential Information!
Holy Ship! It's that time – you're embarking tomorrow on a three-day musical cruise through the Caribbean. I've compiled all the Holy Ship! essentials that you need before you sail away! Here you'll find itinerary details, theme information, onboard activities, pre-party info, and more.
Embarkation Information:
Holy Ship! departs from Terminal F at PortMiami.
Check-in will begin at 1:00 PM on the day of departure.
Check-in will close at 5:00 PM.
You must be on the ship by 5:00 PM – NO EXCEPTIONS!
Port of Miami Address:
1015 N. America Way Miami, FL 33132
Parking is $20 per night
Further driving directions and parking information here.
Luggage:
There is no limit to how many bags you are allowed to bring on-board, however storage space in cabins is very limited. Both carry-on and checked bags must go through security. Make sure your luggage is tagged with the MSC luggage tags you will receive at the port.
No illegal substances or paraphernalia, alcohol, non-alcoholic beverages, food, weapons or pets. The use of illegal drugs is strictly prohibited on Holy Ship!. All local, federal and state laws pertaining to drug use and/or possession must be respected.
Don't forget to bring: passport, sunglasses/hat, sunscreen/aloe, bugspray, reusable bottle/cup, rain gear, warm clothes, camera, ear plugs, and your festival gear!
All passengers are required to have a valid Passport as well as a government issued ID.
Holy Ship! Feb 2016 Official Pre-Party:
For those who can't make it aboard, too!
Each day on Holy Ship! brings a unique and exciting experience.
Day 1: Miami
The party will start immediately leaving port with RL Grime b2b Baauer, Dirty Bird Players, Rezz, Flux Pavilion, and more!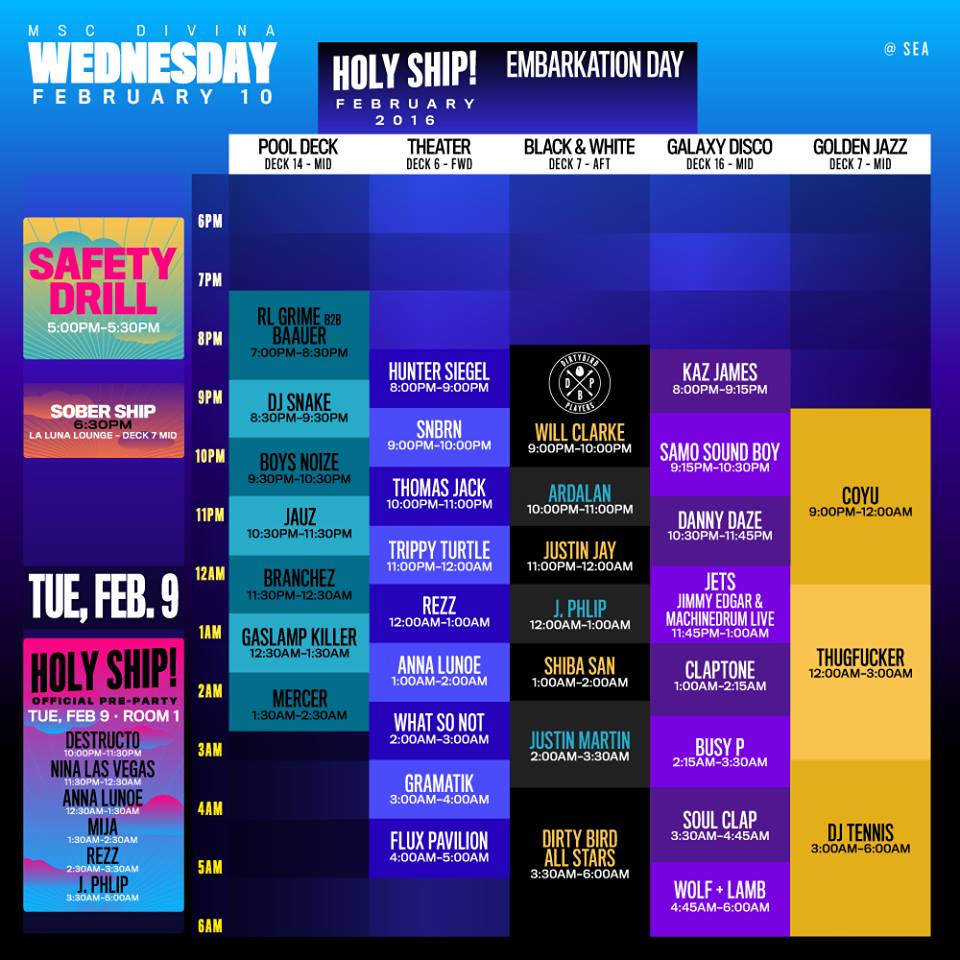 Day 2: Nassau, Bahamas
The ship will dock at the first destination for a beach party at the Fish Fry. Don't forget to dress accordingly as the theme of the day will be 'Under The Sea'. Enjoy acts from Felix Da Housecat, Alex Metric, a special surprise guest, and many more!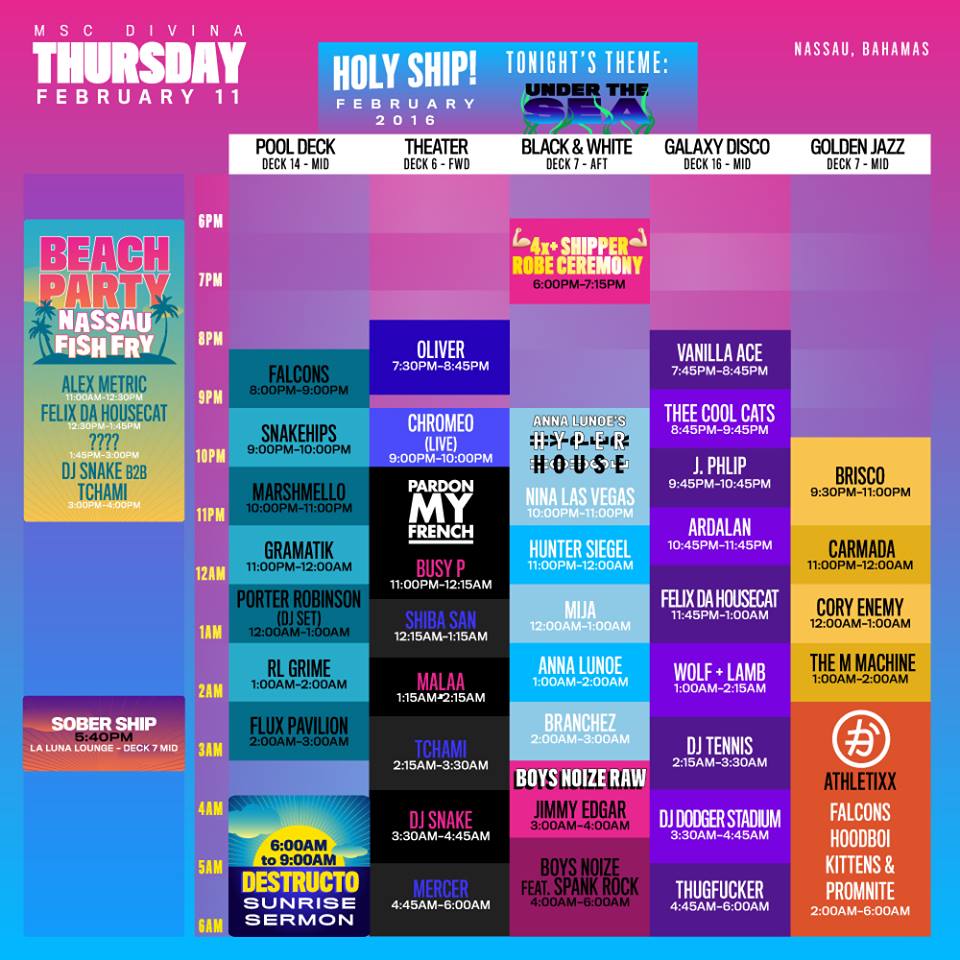 Day 3: Day at Sea
The last day at sea, the ship will be filled with a  'Super Hero' theme alongside acts from Justin Jay, Clapton, a sunset set with Thomas Jack, and much more. The party will also play host to several other fun activities, such as dolphin races and Jauz karaoke to name a few!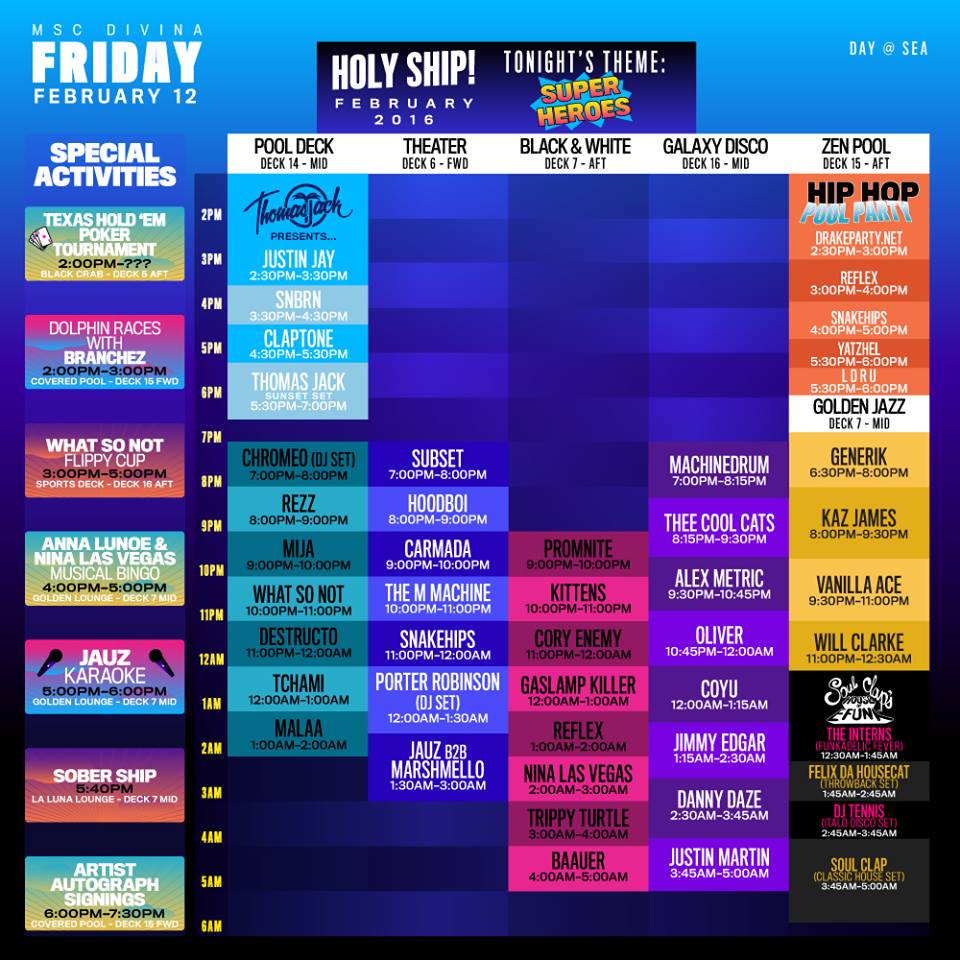 Day 4: Back to Miami
All good things come to an end. Morning has arrived and the ship has set port back in Miami. Disembarkation is scheduled to begin at 8:00 AM on the last day of Holy Ship!
Header photo by Erik Voake.