Shaun White recently announced a fresh bunch of artists set to play Air + Style, the global music and sports festival coming to Expo Park at LA's Coliseum February 20-21, 2016. The newly added acts include big and diverse names such as Kaskade, Gramatik, Danny Brown, Allie X and Kaneholler. This is to be added to an already impressive list of previously announced artists, including J. Cole, Incubus, HAIM, Big Grams, All Time Low, Action Bronson, Rudimental, A-Trak, Netsky, A$AP Ferg, Flatbush Zombies, Travis Barker (Drum & DJ set), The Struts, Migos, and more. Air + Style LA's two-day event will have two stages for music along with art, fashion, and technology to appeal to the all ages crowd.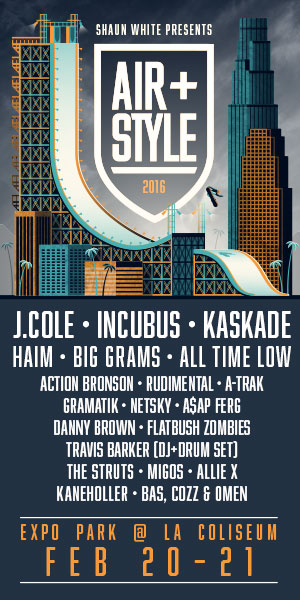 The sports highlight for this year's Air + Style will be seeing the world's best snowboarders going head to head on a massive, 16 story jump for Big Air Snowboarding, the new Winter Olympic event established by Air + Style. In addition to showcasing today's premier snowboarders and artists, Air + Style is turning Expo Park into a highly interactive festival with activities for every age group. Big Bear Mountain Presents Learn to Snowboard & Ski, a mini ski slope where festival goers can snowboard and ski on manmade snow. Rides like bungee trampolines and a drop tower give attendees the chance to experience the thrill of Big Air Snowboarding. Ambitious music lovers can take guitar lessons, learn to make beats or take the opportunity to live out their rock star dreams at the Pabst Wax recording studio, where they can take home a copy of their set on vinyl as a keepsake. For you fellow foodies, Air + Style features gourmet bites from "Chinatown," "Austrian Village" and "Downtown LA," named after the festival's big three tour stops. Art lovers can also check out works on display by featured artists including Bonethrower, Jeff Soto and more.
Full lineup includes:
J. COLE
INCUBUS
KASKADE
HAIM
BIG GRAMS
ALL TIME LOW
ACTION BRONSON
RUDIMENTAL
A-TRAK
GRAMATIK
NETSKY
A$AP FERG
DANNY BROWN
FLATBUSH ZOMBIES
Travis Barker (DJ Set and Drummer's Set)
THE STRUTS
MIGOS
ALLIE X
KANEHOLLER
BAS
COZZ
OMEN
Tickets for Air + Style are available HERE with ticket prices of $75 for 1-day tickets and $135 for 2-day tickets.VIP tickets are going for $125 for 1-day tickets and $220 for both days. Kids under the age of 10 are FREE with an adult ticket holder.
Air + Style was founded in 1993 by Andrew Hourmont and was the first Big Air snowboarding competition of its kind. By combining a major, world-class sporting event with live music in prominent stadiums, Air + Style is a pioneer of modern sports entertainment. Since 1993, Air + Style has held 27 editions of the competition in Austria, Germany and China, drawing in hundreds of thousands of fans to witness some of the sport's greatest moments in Olympic stadiums in Innsbruck, Munich and Beijing. The list of champions reads like a who's-who of snowboarding, names like Shaun White, Terje Haakonsen, Kevin Pearce, Travis Rice, Jim Rippey, Ingemar Backman, Stefan Gimpl, David Benedek, Mark McMorris, Sebastien Toutant and Peetu Piiroinen. The Air + Style Company is also the world-leader in design and construction of artificial snow ramps. From 1999 to 2001, the company held three Air + Style skateboard half pipe competitions in Austria with skate legends such as Andy McDonald, Tony Hawk, Sandro Dias and Sergie Ventura taking part.
This year's Air + Style LA, staged by Shaun White Enterprises and hosted by White, sits in between the Beijing event, which took place at the iconic Bird's Nest Stadium on December 5-6, 2015 and the Innsbruck event, which is scheduled for February 6, 2016 at the Olympia World Stadium. Air + Style events are exclusively live streamed on go90, a free mobile-first, social-entertainment platform that can be downloaded via the App Store or  Google Play.
---
For more information and details on Shaun White's Air + Style check out the following links:
Website
Facebook
Instagram
Twitter.