EDC Mexico 2016 may seem like a long way away, but it's really just around the corner. This February will mark the festival's 4th annual year, and one of its best lineups. The weekend of February 27-28, 2016 will be full of different musical genres and a chance to see both big and up and coming names alike. Coupled with the incredible production and the positive energy of the event, EDC Mexico is sure to be a complete delight.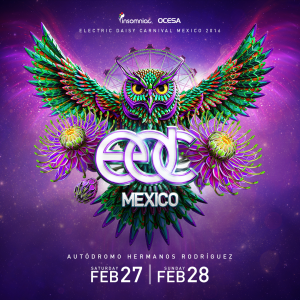 Individual timings haven't yet been released for either day of the festival, but there are quite a few artists to keep your eye on. Check out my top artists who will be performing at EDC Mexico!
Christine's Top 10 for EDC Mexico 2016:
Above & Beyond – This progressive trance trio is a legend. With catchy songs and incredible energy charged performances, this is a show that can't be missed! You'll get a chance to hear huge electro songs that take you on a journey while feeling powerful interaction from the audience. Who knows? You may even get the chance to push the button!
Adventure Club – If you're ready to move to the beat of electro house and melodic dubstep, the Adventure Club stage is the one to be at! You may hear some classics like "Crave You," "Gold," and "Wonder" as well as some newly remixed tracks by this chill-step powerhouse.
Axwell Λ Ingrosso – Once part of the incredible group, Swedish House Mafia, these seasoned musicians have continually topped DJ Magazine charts to the point in which fans have been begging for a live performance. EDC Mexico 2016 will be just that! I personally can't wait to shuffled the night away to their progressive house big room tunes!
Dada Life – This duo will throw down an incredible set. As promised in the likes of Dada Land, "Get ready to arrive beautiful and leave ugly. There are no rules but the land of Dada." I expect this electro house duo to have a high-energy set that will leave you craving more!
Giuseppe Ottaviani – This EDM legend is known for his beautiful trance approach and energy. His remixes and collaborative efforts are well known throughout the dance music world. If you're looking for a beautiful collection of tracks that will move you, Ottaviani's performance will be the one to see!
Lady Faith – All you Q-Dance and Basscon fans won't want to miss the queen of hardstyle. Her harder dance tracks mixed with Persian influence melodies will have you stomping on the dance floor and jumping to the beat.
Lost Frequencies – Known best for his remixed single "Are You With Me," this Belgian DJ/producer has a knack for creating catchy tunes that make you want to sway along with the music. Since he's newer to the EDM scene, I'm excited to see what deep house, trap, and dance-pop set he'll have to share.
Oliver Heldens – If you're looking for a place to groove, look no further than Oliver Helden's stage where he'll feature both future and big room house. His global touring experience and major hits like "Gecko" and "Koala" will have you shuffling right along with him!
Paul Van Dyk – You won't want to miss Grammy Award-winning superstar, Paul Van Dyk. This trance musician was one of the first ever DJ/producer's to be ranked as No. 1 DJ. His trance and electronica combo is truly the work of a legend.
Slander – This LA-based duo is known for their creation of heaven trap – a style based in trance and trap with influences of LA hip hop. The punchy bass will have you raising your arms and jumping around with good vibes all around.
Well, there you have it! No matter whom you choose to see at EDC Mexico 2016, it's sure to be an amazing time! Take a look at the lineup, take note of who you're most excited to see, and have the time of your life!