Jessica Tessene
After reminiscing about my favorite moments from this year, it has been extremely hard to choose just one. Instead, I choose all of them with one common lying factor. That factor is family. All of my favorite memories involve the new and awesome rave family I have acquired throughout the year!! Whether it be meeting new people and adding them to the huge close family I have acquired or strengthening the bonds I already had. 2015 has been an extremely rave family heavy year. If it wasn't for my rave family, I would have never gotten to meet Pasquale and Holly.  If it wasn't for my rave family, I would have friends to spend a memorable 30th birthday with next February. Sure I've had some awesome moments this year, but they wouldn't have been possible with out the goofy, amazing people I call my rave family.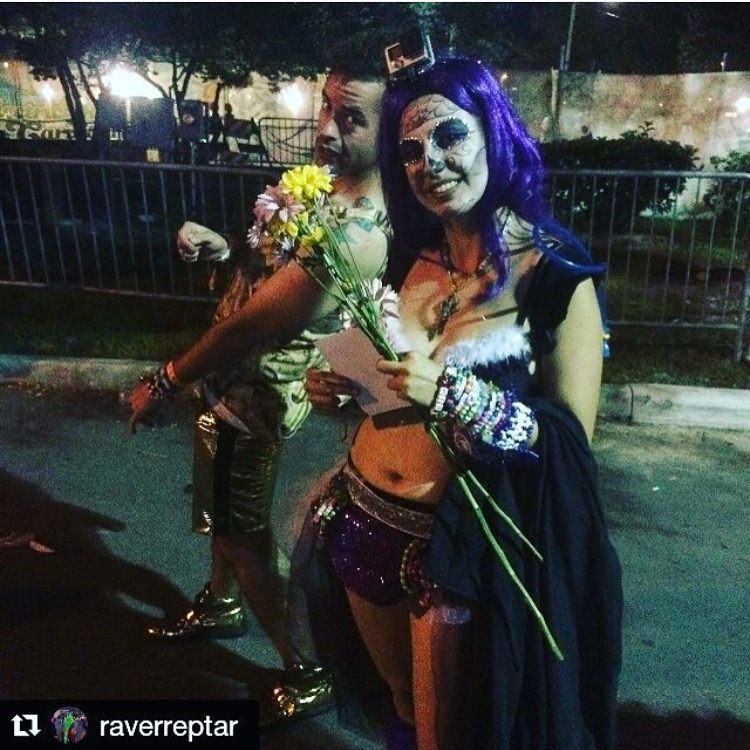 Favorite set would have to either be Kaskade at EDC Orlando 2015 or Slander at TomorrowWorld 2015.
---
Maria Clinton
My favorite moment of 2015: Markus Schulz's speech during Gouryella "Anahera" at EDC Vegas. My favorite moment took place at none other than the epic EDC Vegas. Markus Schulz has always been one of my all time favorite DJ's so of course I found myself at his set at Circuit Grounds on the final night of the festival. During his set, Markus dropped one of the best tracks ever created called "Anahera" by Gouryella. What was special about this moment was during the melodic piece of the track, Markus took to the mic and addressed the crowd. He said, "Remember the first time you heard trance. Remember that moment. Remember where you were and how you felt. Everybody close your eyes and think of that moment." Incredibly, my first memory of trance was when I attended a Markus Schulz show at the Guvernment, Toronto! The first man that I ever heard play a trance set so many years ago, was now asking us to remember our first time! In this moment, chills flooded my body and the beat rumbled back in and with such power and emotion. My trance journey came full circle in that moment. And that is why it is my favorite moment from 2015!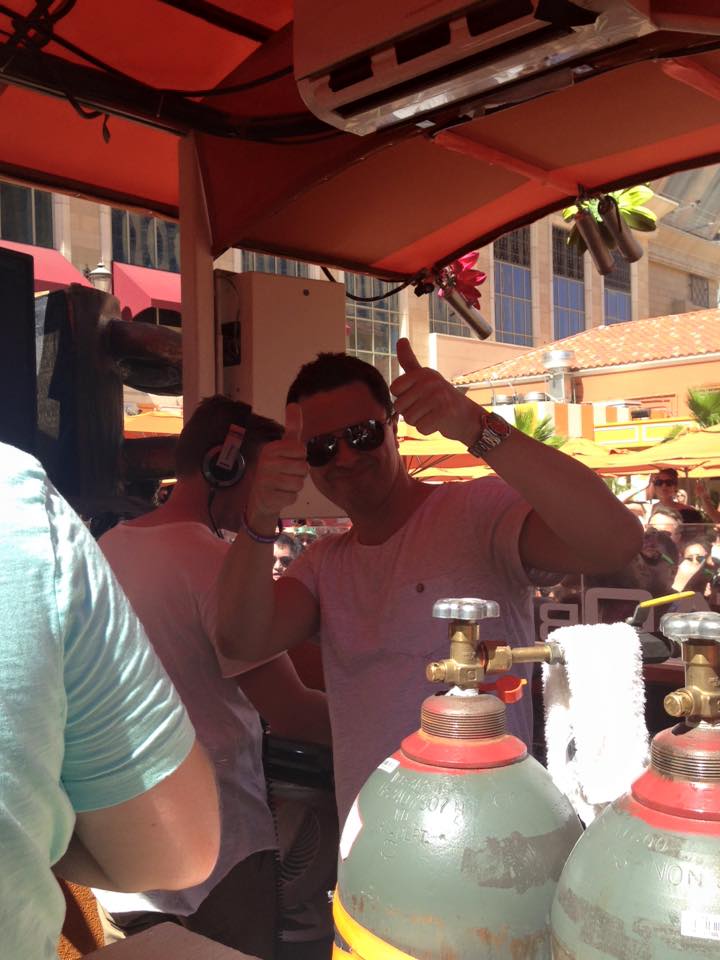 Favorite track of 2015: Gouryella "Anahera"
---
Zachary Lefevre
With 2015 winding down, it is difficult to narrow down all the amazing memories to just one favorite. So I have to describe one particular week that was, no doubt, the best weekend of my life. Not only was it extremely memorable as far as the events that occurred, but it really helped motivate me to continue following my passion of writing and music.
I saw Cherub at the House of Blues in San Diego on November 21. It was the third time I had seen them, but it was the first time they were playing a live show with a full band and it was nothing short of an off-the-chain dance party. I stayed after their set because the venue was playing September by Earth, Wind, and Fire and everyone just kept dancing. I realized that Jason had come down to the front to mingle with fans and take pictures. I waited my turn and ended up meeting and talking to him for a little bit! Then I went to the merch booth to check out some Cherub gear and Jordan was there! I did the same thing with him! They are so down to earth and really nice guys. It had been awhile since I met artists that I respected so much and it was such a great feeling. Then on Sunday, I saw Big Data and RAC at the Music Box in San Diego. After the show, I stuck around to see if any of the artists would be mingling with their fans and RAC did. Two days in a row, I was able to meet members of my favorite bands! It was totally unreal. RAC even gave me their set list and autographed it for me. Then 4 days later, I had the opportunity to meet and interview DJ duo GTA before their set at the House of Blues. Seriously…This was the icing on the cake. I've been writing for EDM Identity for about 3 months and it is so amazing the opportunities that I have come across in such a short amount of time. The interview went really well considering it was my first time interviewing a group as big as GTA. They engaged in the interview, gave me great answers, and were just really nice people in general. It was a crazy week, but crazy good. Now I am motivated more than ever to continue pursuing my passion. What a week, and what a year!
Favorite Song: Porter Robinson – Flicker (Mat Zo Remix)
Favorite Set:
Caribou's set at Coachella changed my life. So much so that I bought a HARD Summer ticket just for their set. I have to say that their HARD Summer set was even better than their Coachella set, but the Coachella set is something I will never, ever, forget. Also, Gesaffelstein's live set at Coachella was nuts. I cannot choose between either set for my favorite. They are both number one for me.
https://soundcloud.com/armovanburren/gesaffelstein-coachella-2015-live-set
---
 M.W.
My favorite moment from 2015 was seeing Adventure Club at Drai's in Las Vegas, Nevada. The show was really upbeat and had a great atmosphere. I met Adventure Club before the show as they walked into the booth. I got to watch them come on and watch the crowds reaction and energy. Adventure Club brought a high energy combined with lots of flashing lights, a chandelier that moved and great views of the night club from behind the DJ booth. Seeing one of my favorite artists in a great environment is always a great, but they surprised me by ending on a slower note versus one that had you hyped up till the very end. I loved this set because it went hard the whole time and then switched at the end. The show ended on a great note and everyone in the crowd had a great time.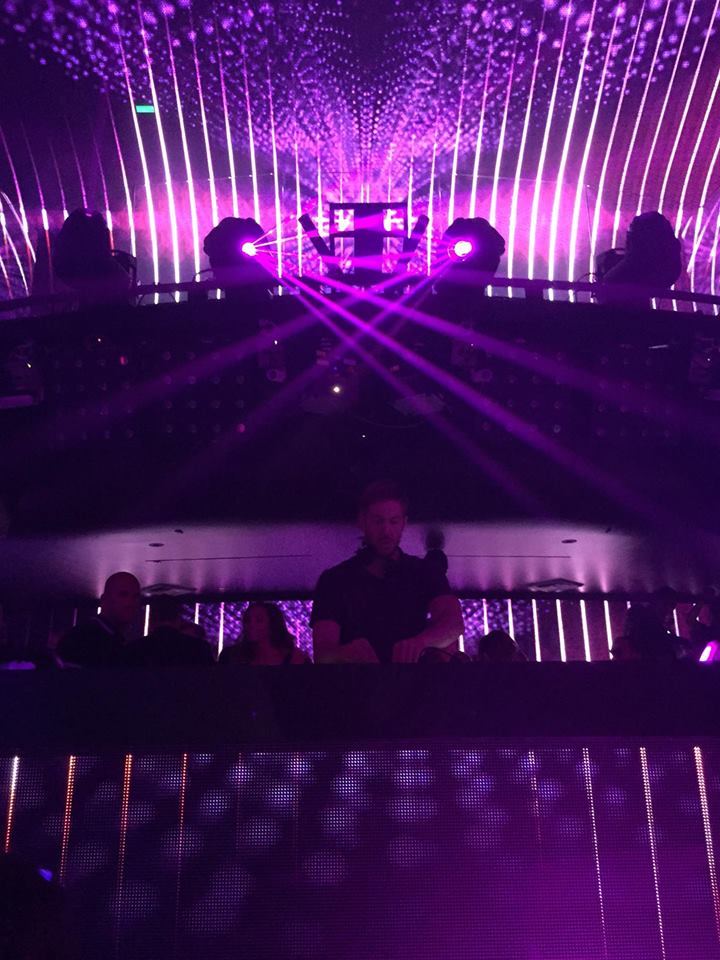 ---
 Dase JT
2015 has been an amazing year with so many memories, it's hard to isolate just one favorite.  However I feel that the one factor that brought it all together is connection.  I moved out to Florida a few years ago. However, I have always flown back home to the West Coast for all of my festival needs.  My Stranger With Kandi family is out there, my festie – bestie's, and my soul siblings are all still in Cali. I used to feel isolated, out here on the East Coast. Then I committed myself to attending raver day at Magic kingdom.  And thanks to Vince and the magic in the making team, I was surrounded by new friends.  Well, days turned into nights under our electric sky both in EDC Las Vegas as well as Orlando.  And friends became family.
If I really have to chose one moment in time from this year that touched me the most, I have to say it was day one of EDC Orlando.  Two new friends, Pau & Sol, had joined group for a set.  The music was hot, and the darkness of twilight was upon us,  Pau lit up her shoes and started shuffling her ass off, to me cheering and encouraging her, shortly after her sister Sol pulled out an orbit and shyly started playing at first.  After a little bit of her sister and I cheering her on, you could see her smile and confidence building.  Now it may sound like this was a gift I was giving them, however the truth of it, is they gifted me the inspiration to pull out my gloves and preform too.  To all my rave family, old and new.  I thank you all for the memories and wish you all an amazing 2016!
---
 Christine Mattapillil
My favorite memory and moment this past year was at EDC Las Vegas. It was the second day of the festival, and I had one objective in mind. I had to hear "We're All We Need" by Above & Beyond at their EDC set with my best friend by my side. This song and group meant so very much to me because it represented incredible moments of the past year that has thoroughly shaped my life – finding my best friend and true love, delving into my passion, and choosing a life of freedom, adventure, and true happiness. I had never seen Above & Beyond live before, which built up the anticipation that much more.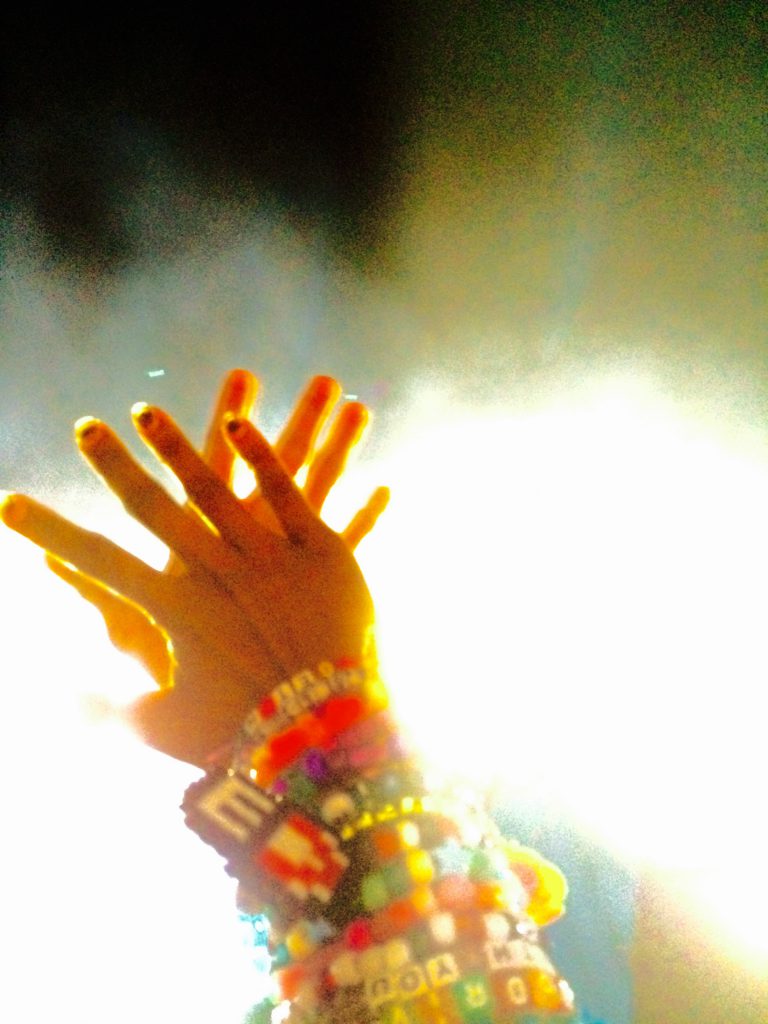 We had been running late that night and for some reason, my wristband didn't work when I got the gate. I was about to be sent to the extremely long will-call line, but by some miracle, my wristband beeped and the light flashed green at the last second. My boyfriend and I rushed through the gates, knowing that we had barely 5 minutes to run through the entire festival to make it to Kinetic Field in time! We raced through the grounds, leaping over people, dodging others, and holding back floodgates of emotion.
Then, as the clock struck midnight, we ran gasping for breath into the crowd at Kinetic Field. Suddenly, a stream of fireworks burst in incredible color above us…and we heard that beautiful first note of "We're All We Need." That note brought back every crazy moment that my boyfriend and I had gone through the past year and we were engulfed in overwhelming triumph and joy. We had made it! The energy that we felt at Above & Beyond's EDC LV show kept our spirits and energies soaring sky high that night. It's a moment that I'm eternally grateful for and one that I'll never forget!
https://soundcloud.com/ahmed-el-keiy/were-all-we-need-feat-zoe-johnston-above-beyond
---
Cameron Corricelli
My favorite memory of the entire year is finally getting to see Aly & Fila at EDC Las Vegas. It was truly a life changing moment; watching someone I so greatly envy play one of the best sets I've ever experienced as the sun rose on the last day of EDC. Towards the end of his set, he dropped an ID which has now released as the song Napoleon and it put me in another place. I felt a certain kind of happiness that I can't even begin to explain. Between that song, the crowd energy, and the pure excitement on Fadi's face it was a moment I will forever cherish and never forget! Then getting to meet him after his set and talking with him briefly made my entire weekend. Fadi is one of the most humble individuals I've ever had the pleasure of speaking with and I can't wait until I get to experience FSOE again!
---
 Cliff Moore
Picking my favorite moment of 2015 with EDM Identity has been hard. There have been so many fun times in so many places, from Crush Arizona and EDC Las Vegas with the EDM Identity team, having an opportunity to travel to nightclub events all over the country, shooting our first music video with artist D.R.U. and acclaimed director Lan "Yellow" Nguyen. It's been a great year – and it's been amazing to be a part of something greater than myself; it's provided me with a creative outlet, a platform to express myself and my interests, an avenue to meet new people with similar interests, and a good distraction and coping mechanism for life's difficult struggles.
I think my favorite "moment" was everything about EDC Las Vegas this year. Spending so much time with my team, getting to know everyone better (we are spread across the country and don't often unite together) and seeing so many great artists play so much great music live for days and nights on end. It's been a great year and I can't wait for what's next for us – and for the scene as a whole. I am counting down the days until EDC 2016.
I think my top track for the year is Galantis – "Call If You Need Me". It's one of my go to tracks for driving or going to the gym and it's a song I always enjoy and come back to.
---
 Anna Tenaglia
2015 was a year filled with growth and dancing for me, it was my first official year as a California resident and West Coast raver. However, there was one night that will forever make an impact on my musical and daily life. I was finally given the chance to see the artists that pulled me through tragedy and heartbreak, a legendary group that has brought love and light to many. This group is Above and Beyond, and in February I was lucky enough to experience the miracle of seeing them live. I went with a friend, but ended up roaming around the crowd, dancing, singing and crying along with my fellow trance family. An angel graced me when he saw tears slowly rolling down my face, as alone as I felt after losing my friend in the crowd, I knew I was not really alone. This angel, who's name is actually Angel, hugged me tight and sang the melodic lyrics filling the amphitheater, reminding me how lucky I was that this music makes strangers feel like family. During this night, I discovered my true happiness of moving to California and sincerely felt settled with my life.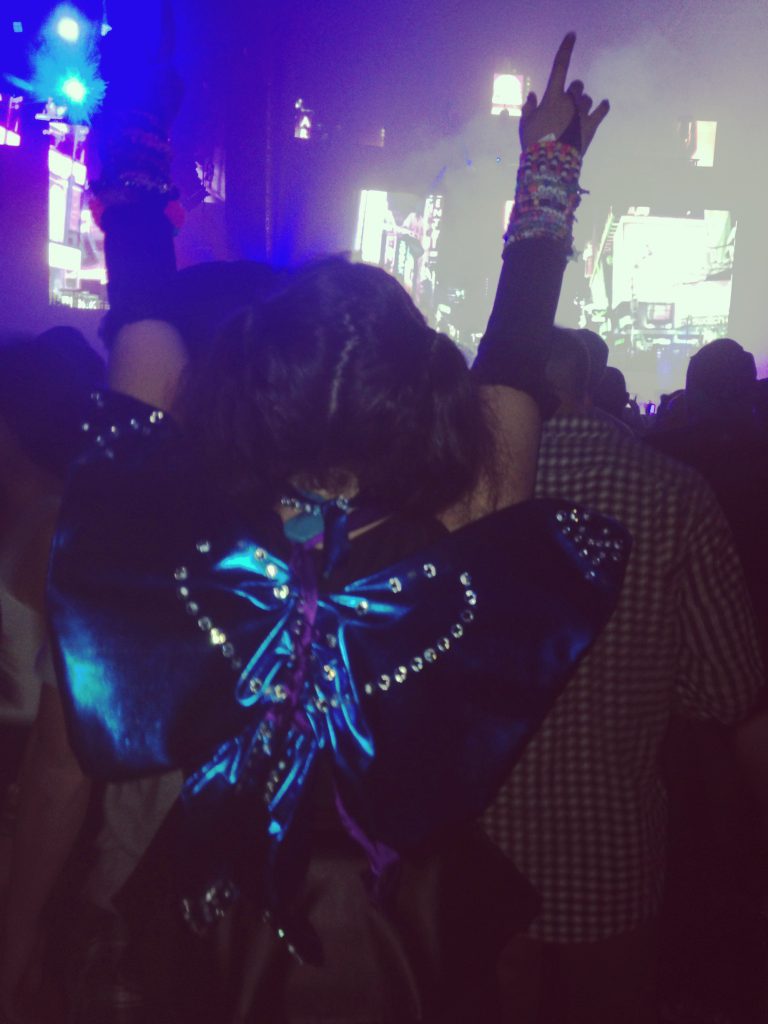 ---
Airy Peterson
Favorite Moment: My favorite moment from 2015 was at Dreamstate in San Bernardino, CA. I had planned to go since the event was announced, and it was going to be my first event since moving back to California. I was even more excited for Dreamstate because a good number of my friends from across the country were coming as well. On Day 1, I was able to meet up with friends from Canada, the East Coast, and friends I haven't seen in a long time in California. Day 2 is when we all found each other by the left side of the stage and we were all able to hang out. The only time I'm able to be with all my raver friends across the world is normally at EDC Las Vegas so to be able to experience Dreamstate with them (and to be able to see them more than once a year) was a blessing.
Favorite Song: I'm a huge Crookers fan – one of my favorite moments ever was walking into EDC 2013 and the first thing I saw and heard was Crookers throwing down a great set at the Cosmic Meadow stage hosted by Hard Events. When he released "I Just Can't" earlier this year, my ears fell in love and even more so when I first heard the Panic City remix.
Favorite Photo: Photo from a Meet and Greet with Yellow Claw
I won tickets to Moonrise Festival in Baltimore back in August, and also won a Ferris wheel ride + meet and greet with the members of Yellow Claw. Day 2 was when the meet and greet was taking place, and I was able to bring a couple people along with me. My friends that I went to the event with didn't want to miss Dillon Francis (who was playing at the same time we would be meeting Yellow Claw) so I was trying to figure out who would like to tag along! Luckily, I ran into my friend that I had met at Dreamscape, Fuji, and his friend, Jon. we ended up seeing Die Antwoord and Snails during the day. After Yellow Claw played at the Solar Tent, we headed over to meet up with the promoters for the meet and greet. The promoters let us come backstage to wait. There were air hockey and Foosball tables, a beautiful light up tree, and free liquor. After being backstage for thirty minutes, we headed to the Ferris wheel where we met Bizzey and Nizzle from Yellow Claw. I was so nervous and excited to meet them! Both of them were very down to earth and nice. We rode the Ferris wheel and I told them some artists I would love to see them collaborate with in the future. Afterwards, we took a couple pictures and my group headed back to the Solar Tent to wrap up the night with more bass.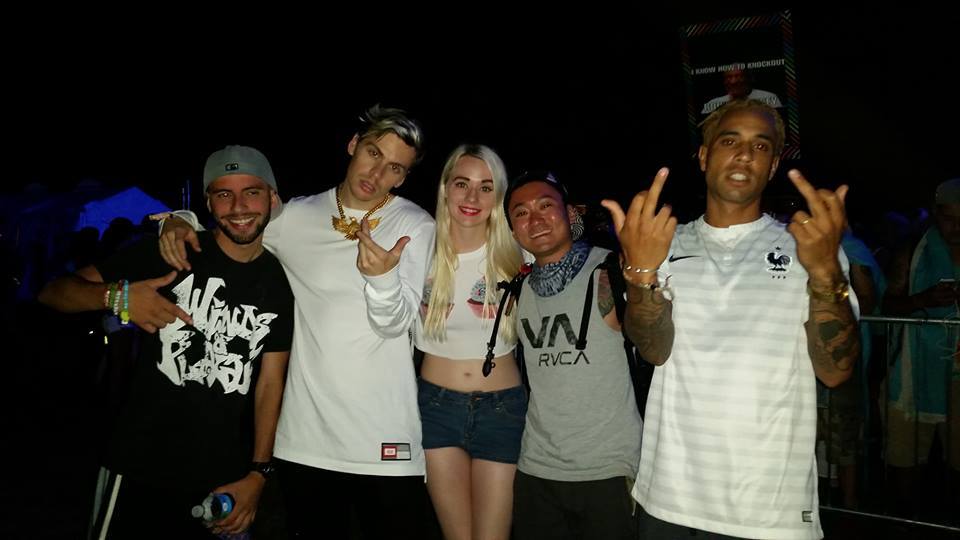 ---
Maggie Kern
My stand out moment this year would be Summer Set 2015. That particular weekend was terribly hot, but still a ton of fun hanging out with two of my friends I don't get to see on a regular basis. We spent the entire weekend hiking up steep hills, getting devoured by bugs, and making stupid jokes. Plus we finally got to see deadmau5 live! I wouldn't trade that weekend for the world.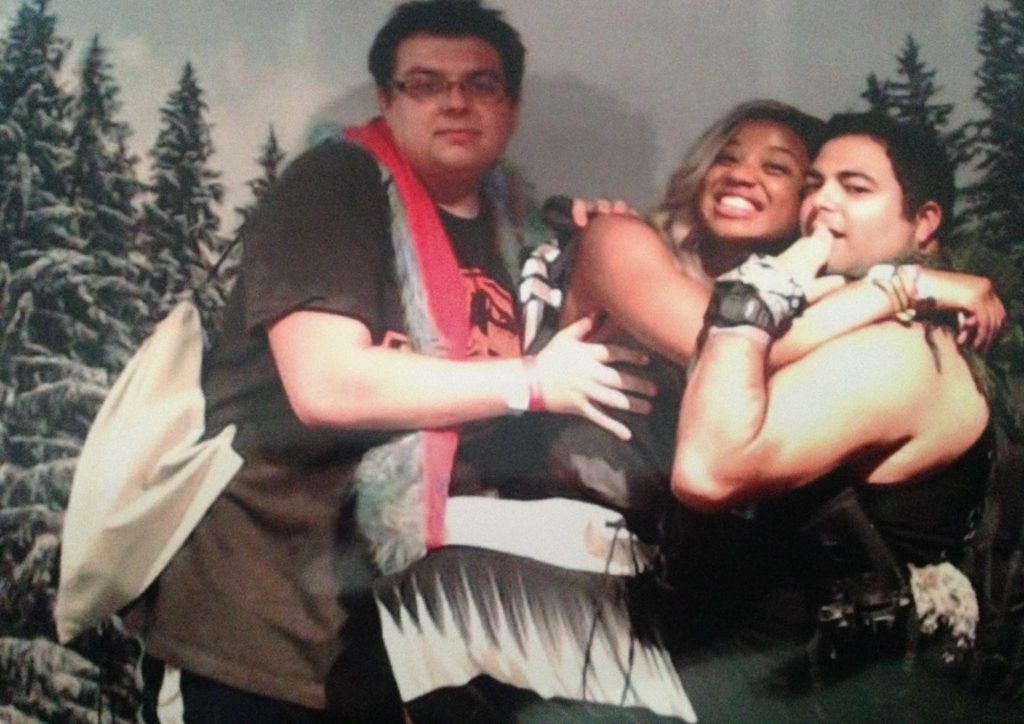 ---
Agueda Zarate
My Favorite memory of the year was being able to get my professional camera into Coachella. That moment lead me to take this photo of my favorite live set of the year; NERO.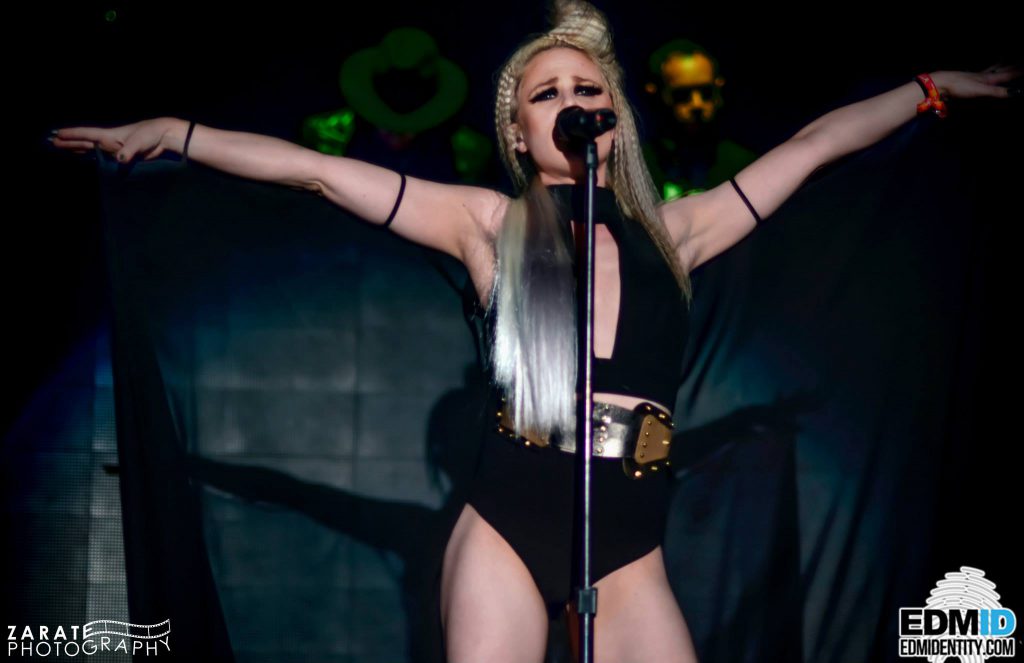 They also take the cake for my favorite track of the year; their essential mix which made me cry within 5 minutes of listening to it! THAT.GOOD. It has been a very NERO year for me, Between II Worlds was also released this year and worth the wait. Catch them with D.R.U. Sounds at Avalon on Jan 2nd to start making 2016 memories!