Step back into a world like no other at New Bohemia NYE at the Armory, home of Kink.com. Now in its 3rd year, Vau de Vire & Opel Productions will present the next evolution in co-creating, in association with Opulent Temple, Distrikt, Dusty Rhino, Kink.com, and more.
Bringing together your favorites from the Burning Man Playa, New Bohemia NYE will be a truly immersive and unique experience that pushes the limits. There will be performances and spectacles throughout the night by Vau De Vire as well as live bondage demos.
Below you'll find your guide to New Bohemia NYE and a glimpse of what to expect if you decide to join Vau de Vire and Opel Productions to bring in 2016.
New Bohemia NYE Event Details:
Date: Thursday, December 31, 2015
Time: 8:00pm-4:00am
Location: The Armory – San Francisco
Age Limit: 21+
Dress Code: Not really, but sky is the limit on your creativity! The playa meets Moulin Rouge is our costume suggestion.
Facebook Event Page: RSVP Here
Tickets: Purchase Here
The Vision Behind New Bohemia NYE:
New Bohemia is not just the 3rd Annual NYE's event at the iconic Armory, it's also a special and co-created place. A world like no other. Part the velvet red curtains to find an SF twist on those timeless bohemian values of Truth, Beauty, Love and Freedom. Further into the castle find cutting edge sounds, SF's most dynamic creative communities, and the synergy of intentional revelry on the precipice of a new year.
Poets and performers, aerialists and DJ's, burlesque dancers and live painters, acrobats and absinthe hawkers, Art Cars and visual treats, crimson busts and decadent costumes; are all to be found in different markets, plazas, private upstairs chambers and titillating dark corners and streets inside New Bohemia NYE.
We intentionally don't go 'mega headliners', because we're much more interested in creating a community based spectacle of art and talents amongst friends and the amazing people of the SF artistic underground. And – we wanted to keep the ticket prices accessible for a party this big and offering so much on NYE.
The curtain is raising again on the show worth getting excited about New Years Eve. Let's ring it in together.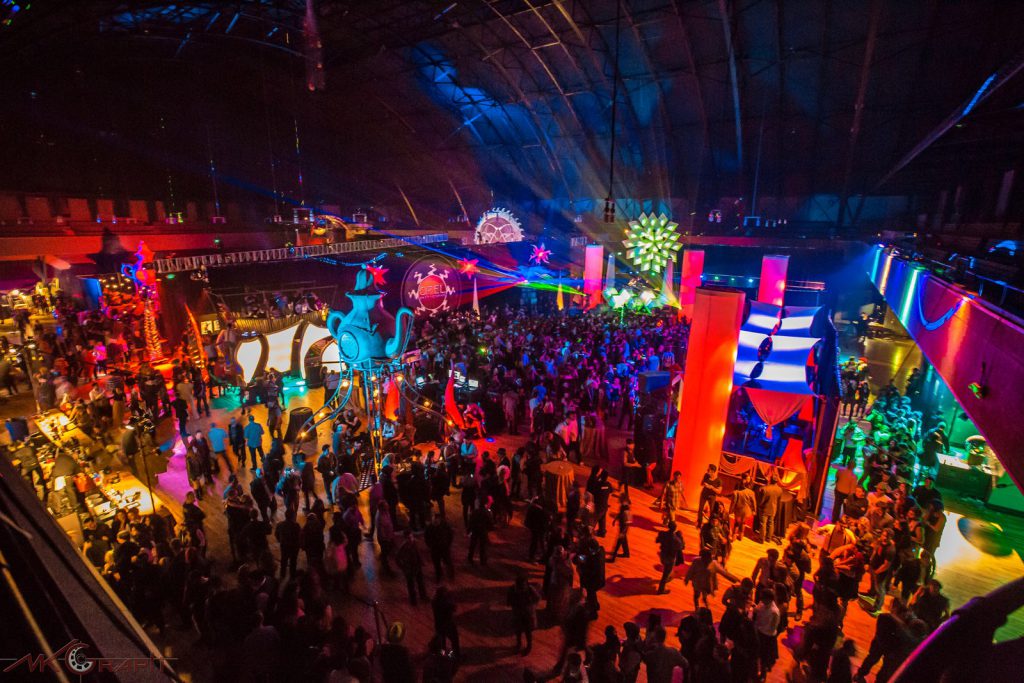 Music Across 4 Stages:
STANTON WARRIORS
Punks Music, UK
stantonwarriors.com
facebook.com/stantonwarriors
soundcloud.com/stantonwarriors
THE SCUMFROG
Special All Night Set, start to finish, on the Upper Floor VIP
Knee Deep in Sound, NYC
scumfrog.com
facebook.com/ScumfrogArtist
soundcloud.com/thescumfrog
MEAT KATIE
Lot 49, UK
meatkatie.com
facebook.com/meatkatie
soundcloud.com/meatkatie
BEN CODA
Lot49, Iboga, Flow, Nanoplex, UK
www.facebook.com/bencoda
www.soundcloud.com/bencoda
www.soundcloud.com/nanoplex-1
Unified Midnight Countdown Performance by Vau de Vire Society & More TBA
Syd Gris (Opel / Opulent Temple)
Ben Seagren (DISTRIKT, Stereo Productions, Selected Records)
Matt Kramer (DISTRIKT)
Kimba (Opel / Poison Promise)
Vinkalmann (Opulent Temple)
Nugz (Dusty Rhino)
Paul Geddes (DISTRIKT)
Mystr Hatchet (Dusty Rhino)
New Bohemia NYE 2015 Video:
New Bohemia NYE 2015 from Blackbird Films on Vimeo.